What has it got in its nasty little pocketses, I hear you ask? Well, here is a more or less exhaustive list of the kit that I was packing as of June 2015. (Mar 2017: update coming soon with changes to this list, although substantially the kit has remained the same)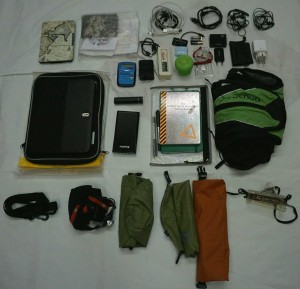 Front left pannier contents: Kindle Paperwhite + case; ziplock bag with photocopies of essential documents, spare wallet, addresses etc.; card reader for online banking; universal mains plug adapter; USB to mini-USB cable; 3x USB to micro-USB cables; Hohner Marine Band harmonica in C; 3-in-1 converter: micro-USB to USB, SD & micro-SD; plastic case containing SIM cards + mini SIM adapter, 8GB USB flash drive, 2 spare 64GB micro-USB cards; 3x spare AAA batteries; European mains to USB adapter (1.5A); 4-gang USB splitter + cable; Phillips over-ear headphones; Sennheiser in-ear headphones; bluetooth speaker; compass; nylon bag for headphones, leads etc; 2A Samsung mains adapter + 3 pin to Euro adapter; Samsung Galaxy Tab 10.1 tablet with bluetooth keyboard/ case; neoprene soft case & drybag for tablet & Kindle; 12,000 mAh cache battery; 3,000 mAh cache battery; 2x notebooks in poly bag; 2x pens; Decathlon 10l running backpack (day sack); Trekmates waterproof phone case; 3 x Exped dry bags; LED Lenser headtorch & cover; pannier shoulder strap. (Washbag also lives at the top of this pannier, forgot to include it in photo).
Front right pannier contents: MSR Dragonfly stove + pan set bag; windshield & ground reflector for MSR stove; GSI Javapress; Nalgene 35cl hipflask (current contents: Georgian brandy, previously Jura malt whisky, Italian rum); washing-up liquid + sponge; basic maintenance kit for MSR stove; pan handle; bag for stove; wooden stirring spoon, Kuhn serrated knife, Decathlon spoon, lexan spreading knife & spindle for GSI javapress; pasta (at least 2 days worth ideally); 2x Primus non-stick pans; chili flakes; cod-liver oil & multivitamins; olive oil (normally carried in a 500ml Fanta bottle, last one was looking a bit decrepit when I bought this oil, needs to be replaced before I hit the road again); tahin-bal (tahini & honey paste – decent high calorie substitute for peanut butter); Ortlieb folding wash basin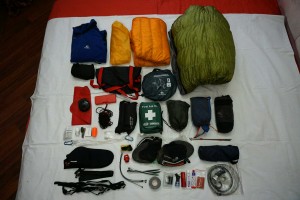 Back left pannier contents: Mountain Equipment windstopper jacket (probably the best value, most versatile and abused piece of outdoor clothing I have ever owned – still going strong (just about) after nearly 8 years of more or less daily use); silk sleeping bag liner; Mountain Equipment Helium Solo sleeping bag; Mountain Equipment Xero 550 sleeping bag; Coleman compression stuffsack for sleeping bags (for some reason ME can't make a stuff sack to save their lives!); Decathlon mosquito net; MSR 6l dromedary water bag; MSR Dragonfly stove expedition service kit; spare bungee cargo net; Katadyn Hiker ceramic water filter; first aid kit (*see separate section); hammock; Mountain Equipment Firefly Goretex jacket; OMM Kamleika waterproof overtrousers; spare spokes (4 rear drive side, 2 rear non-DS, 2 front); Endura neoprene overshoes; survival guide; iodine neutralising tablets (vit C); flint & steel striker; waterproof matches; wax covered matches & emergency phone numbers in waterproof casket; fish hooks; mini karabiners & cord; Rooster neoprene socks; Dyneema belt; 2x ratchet straps.
In the front pocket of pannier: toolkit for bike (** see separate section); stopper for fuel bottle; long & medium cable ties; gaffer tape; sewing kit including high tensile thread (I can't snap it!); superglue; Seamgrip & Tenacious repair tape; rubber compound; Exped mat patch kit; spare brake cable, gear cable & cable hose; spare Shimano holotech bottom bracket; bike cleaning sponge.
* First aid kit: non-adherent dressings (2x 10*11cm; 1x 7.5*7.5cm; 5x 5*5cm); 9x steri-strips; over counter co-codamol tablets x 14; co-codamol 30/500 x20; triangular bandage (90*90*127cm); conforming bandage (7.5cm*4.5m stretched); small roll of zinc tape; 5x safety pins; Boots emergency dental kit; Sudocrem 30g tube (half emptied to save weight); tweezers; soft toothbrush head (for cleaning grit out of wounds); Micropure Forte MF 1T water disinfectant tablets (troclosene sodium 103mg/g; silver chloride 2.8mg/g); Savlon dry antiseptic spray (povidone iodine); alcohol free sterile cleansing wipes x5; selection of sticking plasters; Boots spray plaster (easily the most used piece of my first aid kit to date, I'm pleased to report); pair sterile vinyl gloves; Dioralyte oral rehydration electrolyte sachets x10; domperidone tablets; sudofed tablets; 1 course of Clarithromycin antibiotic tablets (broad spectrum); 1 course of Metronidazole antibiotic tablets (for flaggyll/ giardia).
** bike tool kit: Topeak Hexus II multi-tool with chain link tool; Leatherman Wave multitool + bit extender + bit kit; full size allen keys (6mm, 5mm, 4mm); 8mm socket spanner; 2x plastic tyre levers; NBT2 / hypercracker cassette tool; Parktool spoke key; Zefal self-adhesive tube patches x6; Zefal puncture repair kit wih 22 tube patches (varios sizes); spare power link; spare connectors for Schmidt Son dynamo hub; spare nuts, bolts, washers (various sizes); 1 complete set of replacement brake pads; blue threadlock; 2x metal hoseclamps.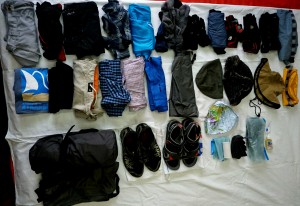 Back right pannier contents: Cycling clothes (lightweight shorts, LG mesh back gilet, Polaris DWR cycle trousers with vents, UV proof, synthetic shirt, Decathlon wedze base layer); off the bike clothes (T-shirt, merino wool shirt, lightweight cargo trousers, 2x thin cotton shirts, cotton shorts); large Exped dry bag for clothes; 2 pairs Smartwool PHD socks; 1 pair long wool socks; 4 pairs cotton trainer socks; 4 pairs wicking underwear; track mitts, Endura ergofit gloves; RSP winter gloves (if they were ever waterproof they're not now); 2x Exped dry bags; sun hat; (fake) fur-lined deerstalker; merino wool beanie; Decathlon sandals; Inov-8 Roclite 295 trainers (either these or the sandals worn); Exped Synmat 9 LW sleeping mat; Exped chair kit LW; inflatable globe.
In the front pocket of pannier: toilet paper in poly-bag; spare inner tube; bike cleaning kit (rag & toothbrush); chain lube; 3x Parktool tyre superpatches.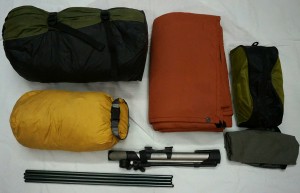 Rear rack drybag contents: Mountain Equipment Dragonfly 3XT tent; down jacket in drybag; Exped Synmat (nylon covered foam mat, as thorn proof as I could find); Turbomorph pump with gauge; poles for Exped chair kit; wash bag & microfibre towel (actually these live in my front left pannier but I left them the bathroom when I took that photo, *** separate section).
*** Washbag: toothbrush; 50ml toothpaste; bar of teatree oil soap; scrubbing mitt; small plastic nailbrush with handle filed off; Crystal Spring travel deodroant; 50 SPF sunscreen 100ml; Compeed antichafing stick; Muffles earplugs x 6; Dr Scholl nail clippers; 30ml shampoo; 30 ml liquid soap; baby wipes; antihistamine tablets; arnica cream; moisturiser 100ml; coconut oil 100ml; ibuprofen tablets; eye drops.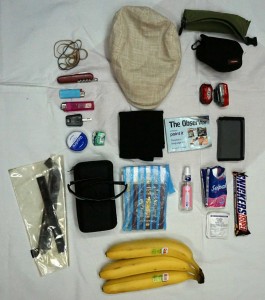 Bar bag contents: linen cap; Sony Alpha 500 micro 4/3 camera + case + dry bag; Moonshield 1W rear light (USB charged); Smart 1W rear light (spare, battery powered); day wallet; 'Point it' picture book; buff; chewing gum; Vaseline; key for bike lock; lighters; Swiss army knife; Elastic bands; sunglasses + case (should also be yellow-lens, low light specs but I lost them two weeks ago); ziplock bag with passport, driving license, yellow fever certificate, passport photos & other identity documents; map case for bar bag; at least 3 bananas & 1 Snickers; antibacterial hand cleanser; tissues; oral rehydration sachets.
In addition to the above items, I have also recently acquired a Leatherman Micra scissors tool and a Coghlans backpacker trowel, plus Schwalbe Marathon Extreme folding tyres and Schwalbe downhill inner tubes, which I will carry until Kazakhstan and then use to replace the Schwalbe Marathon Pluses I've been running since I set off.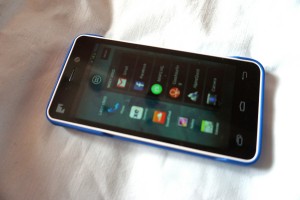 My main navigational tool and communication device is a Fairphone FP1 'smart' phone, which lives in my pocket.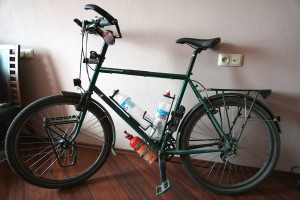 On the bike, I carry a 1 litre SIGG fuel bottle of petrol for my camping stove; 2 x 1.5l PET bottles of water; an Arbus type folding bike lock (hopefully soon to be replaced with a 1.5m Yale motion senser alarmed cable lock, as the folding lock is too short to secure the bike to anything when loaded with panniers); Moonshield 300 lumen USB rechargeable light; Edelux dynamo light.
For complete bike spec see separate review for Thorn Sherpa Touring bike (to follow).
Weight of kit:
Front panniers: 11.2 kg (weight includes food pictured plus peanut butter – in Europe add another kilo of food for typical on the road weight)
Rear panniers: 15.7 kg
Bar bag: 3.3 kg (including phone)
Rear dry bag: 4.8 kg (inc 3 bungees) + 2 kg new tyres and tubes between Georgia & Kazakhstan
Total luggage: 37.0 kg
Bike weight: 18.9 kg dry weight (no water or fuel)