At the border crossing into Azerbaijan from Georgia things looked more serious than previous frontiers. Armed military police controlled the approach of traffic to the passort control gates and my bags got their first proper going over, 'what is this?' (an inflatable globe, what does it look like?), 'what is that?' (a melted, half eaten Snickers). The customs staff were chatty, though, apparently on some kind of charm offensive, probably connected with the European Games that had just commenced in the capital, Baku. As that was where I was heading, people along the way constantly asked 'Olympiad! Olympiad!', asssuming that someone riding a bike must surely be here to watch other people ride bikes and jump over things. After several failed attempts to explain that my presence in their country at the same time as the games was a complete coincidence, I just smiled and nodded. I knew next to nothing about this country, other than it had lots of oil and that it cost me $118 for a restrictive visa, and that I had no choice but to go there in order to slip into Central Asia through the pinch point between impassable Iran and visa nightmare of unattractive Putin's Russia.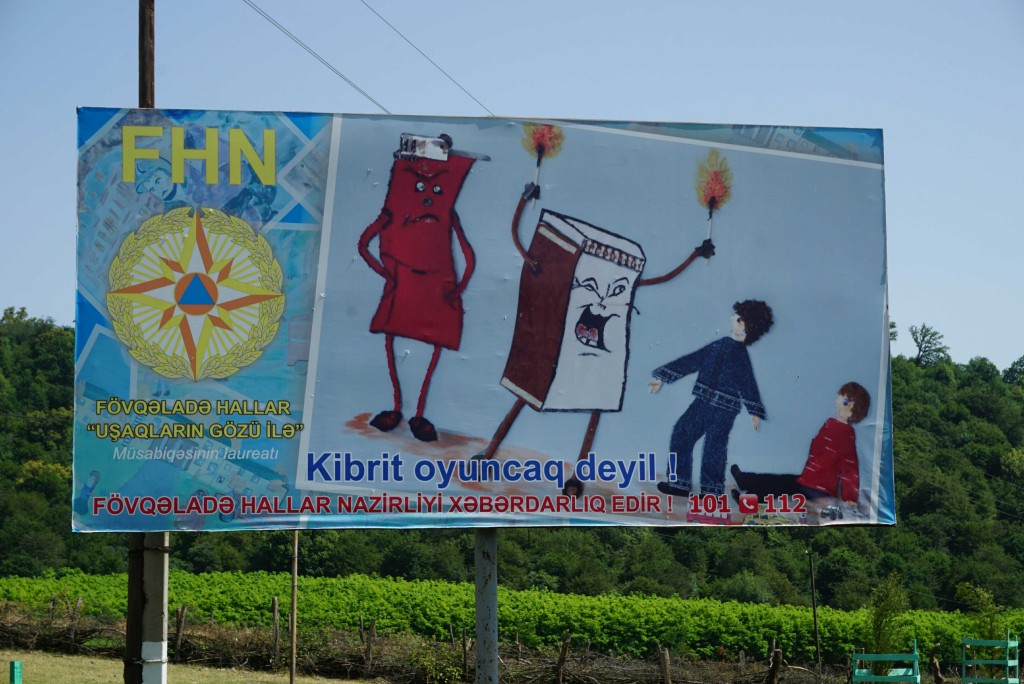 The first few days riding in Azerbaijan revealed the extent to which Georgia is the cultural oddity in this part of the world, compared to its neighbours Turkey and Azerbaijan. Riding into Azerbaijan felt like riding back into Turkey in many ways; the language is closely related with many common words, food and customs also remarkably similar. Confusingly, when entering Georgia I felt as if I was riding back into Europe, indeed Georgians look to Europe rather than Asia as their cultural and economic family. I had to address my parcels to 'Georgia, Eastern Europe', mostly to avoid them ending up in the USA, but it also bespeaks a close resemblance to Eastern European states in its landscape, religion, love of food and booze and general outlook. Azerbaijan seemed like a much more conservative culture, akin to central Turkey. Amongst other things, women were largely absent from public life here – I saw only one woman driving a car until I arrived in Baku, women were normally in the back seats, usually holding a baby.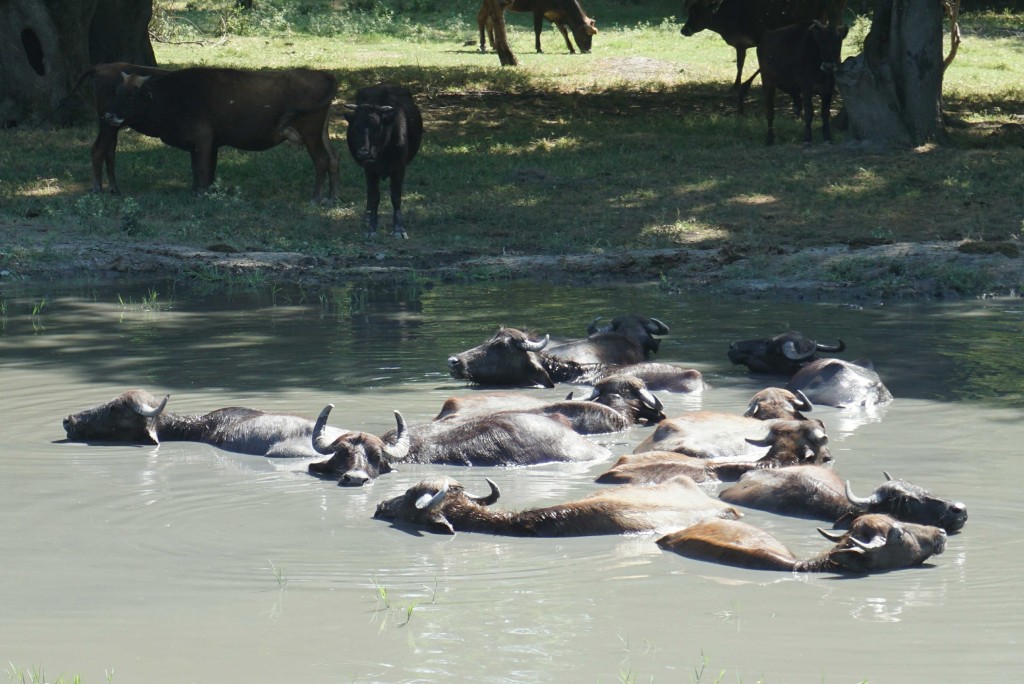 My first night in Azerbaijan I struck gold with a great hidden campsite in a grassy hollow near a large stony river bed. It was just what I needed, peace and quiet after a tough day of high temperatures, border control nonsense and havinghad a sleepless previous night. However, my own private hideyhole turned out to be the spot where local lad Emin came to pray five times a day, his house being very close by. I don't think he could have been more pleased to have a visitor if he'd just discovered a leprachaun camping at the bottom of his garden and willing to grant him three wishes. My determination to get an early night eventually triumphed over Emin's highly persuasive urge to bring me back to his house and put me up for the night. In the end we agreed that I would come for breakfast, but how would I find his house? No problem, he would come back in the morning and we'd go together. Waking fairly late after a good kip I emerged to find Emin's wireless headphones hanging on the fence next to my tent, his calling card from his 5am prayers. Soon after Emin himself returned and ran alongside as I pedalled back around to his house, where I was treated to my first taste of Azerbaijani hospitality. Although to be strictly accurate, this was Avarr (from Russia) hospitality, as Emin's village was another ethnically displaced enclave, one of many that I had found in the Caucasus.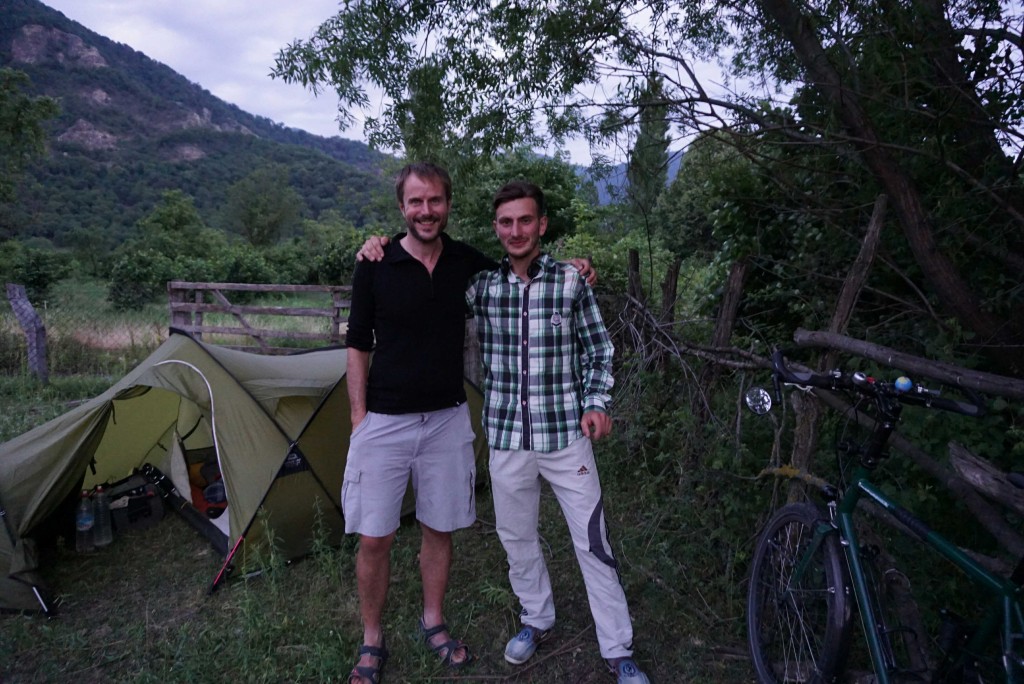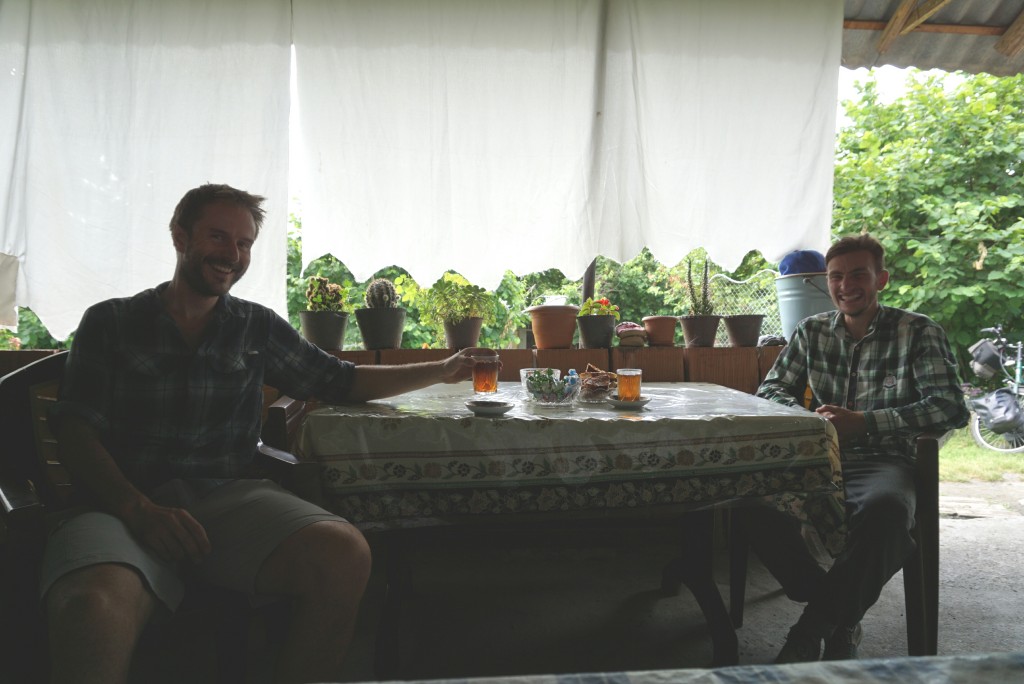 Leaving the leafy calm of Emin's garden I headed out into the hot noon sunshine of mid June. A surprise 20km section of unsurfaced rough road between Zaqatala and Qax wore down my good cheer and by late afternoon I was starting to feel decidely weak from the heat and poor nuturition, as roadside food options were exclusively sugar or meat based. All day every day men sitting outside cafes and cay shops would shout exhortations to join them. I normally just waved, said 'salaam' and pedalled on. Finally I decided it was time to accept an invitation and see if some meat free sustanence could be negotiated. The locals ushered me round to a much nicer garden cafe out of sight of the road and via Google translate we came up with a plausible sounding option, pamidor – basically the same as Turkish menemen (or melemen depending on the region), sort of half cooked scrambled eggs with tomatoes and a bread basket that you could fit your weekly laundry in. I scoffed the lot in about two minutes, while ten or so local fellas sat and watched transfixed, whether by my utter lack of table manners, unkempt appearance or general novelty value of a fool Englishman on a bike the size of a camel – who knows. After the customary photos and backslapping I was once again touched by local generosity as they refused to let me pay a single kopek for my dinner.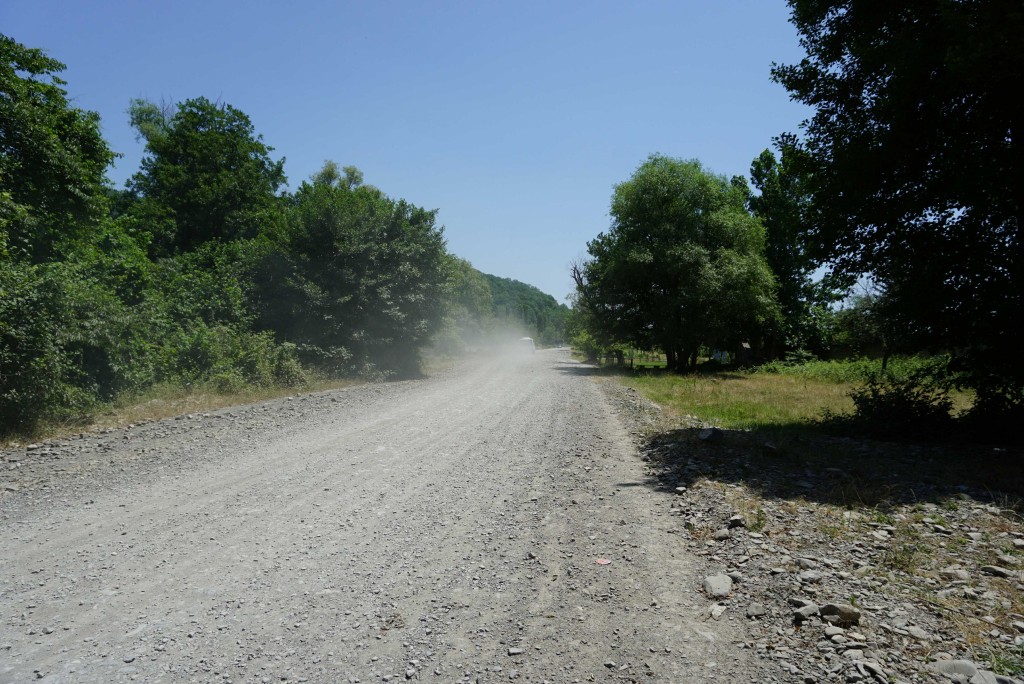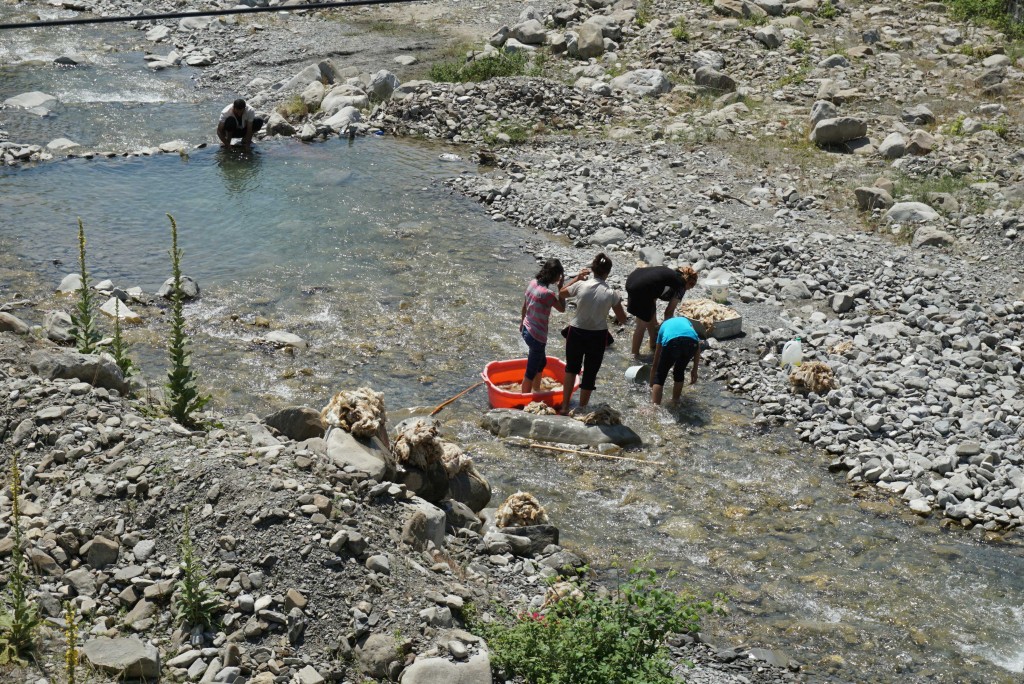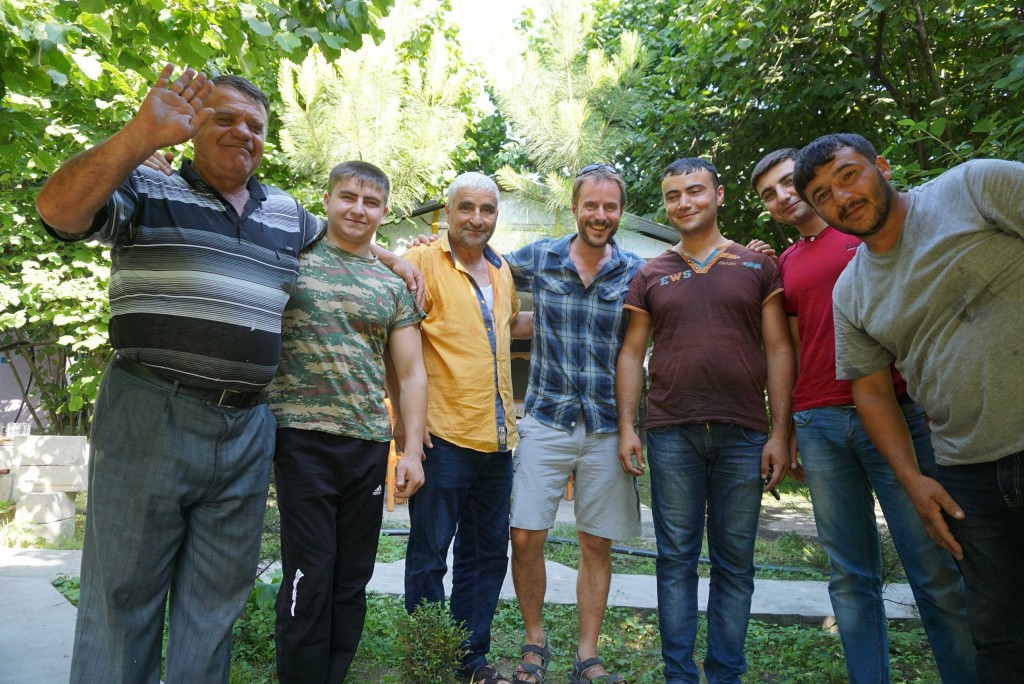 But despite the face to face hospitality, I was finding it hard to fall in love with Azerbaijan. On the four day ride from the border to Baku the daytime temperatures crept ever higher. Struggling to stay energised and hydrated, the constant attention was starting to get on my nerves, both on the bike (not just the friendly calls of 'hello my friend, how are you?', 'cay cay', but the horn honking that started in earnest in Turkey, became tedious in Georgia, was taken to a new level of obnoxiousness by the Azeris) and off it (I calculated that I usually had between ten and thirty seconds after stopping at the roadside before the local layabouts would start to be drawn into my orbit – where the hell did they spring from?! – so I had to be quick about having a pee or getting some food down me before the interrogations began again). One particularly hot and bleary afternoon in Aghdash, I eventually lost my rag with a group of young men who called my bluff about not touching my bike while I was in the supermarket. As I looked over my shoulder one of them was trying to mount my locked bike (my current lock is only long enough to lock the back wheel to the frame while the panniers are loaded, hence wanting a longer lock with a motion sensing alarm to deter this kind of tampering while I'm shopping – I received the keys by post in Georgia, but not the lock. D'oh!). To my shame I flipped out, forcibly removing the idiot from my bike and yelling at them all to leave my stuff alone. My tirade seemed to do the trick, but had the strange side effect that the supermarket staff now clearly took me for a nutter, and detailed four or five staff to closely mark me as I wandered round the aisles stuffing provisions into my basket.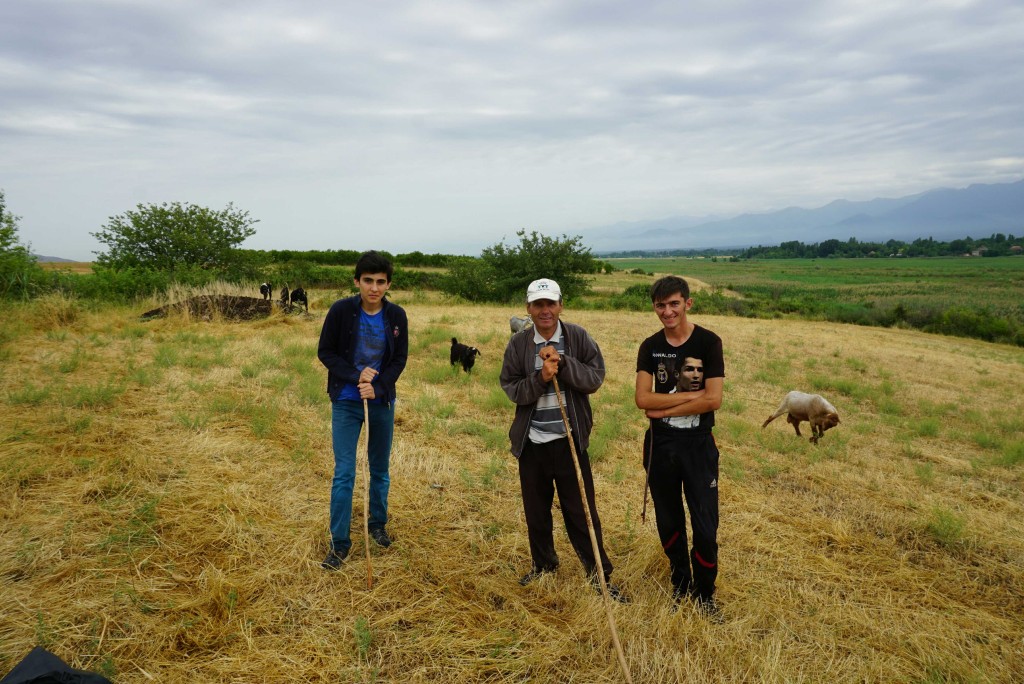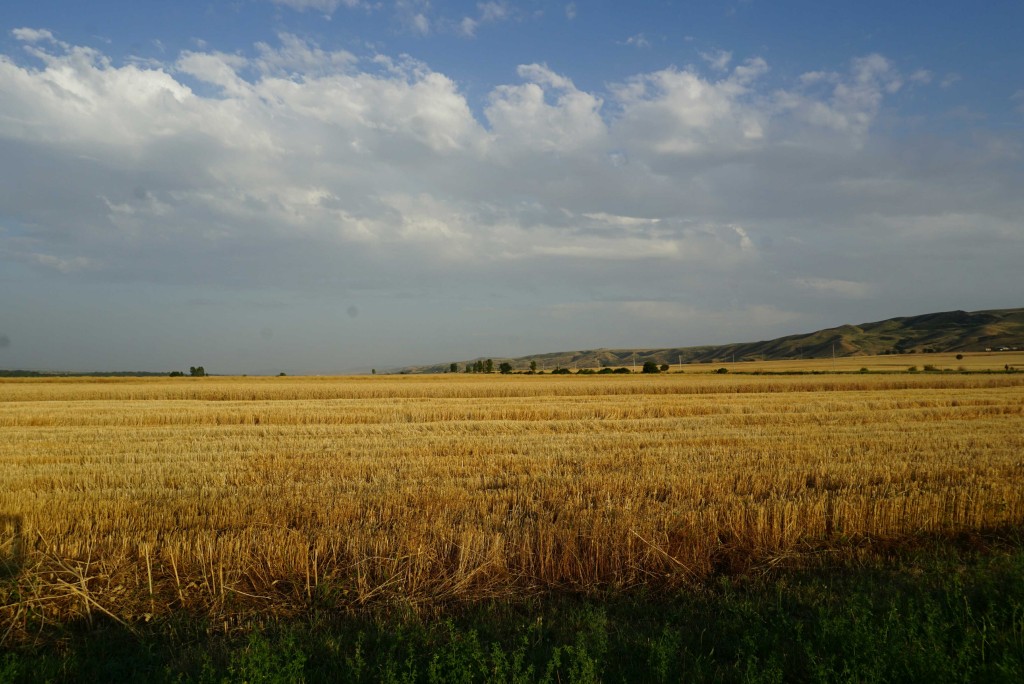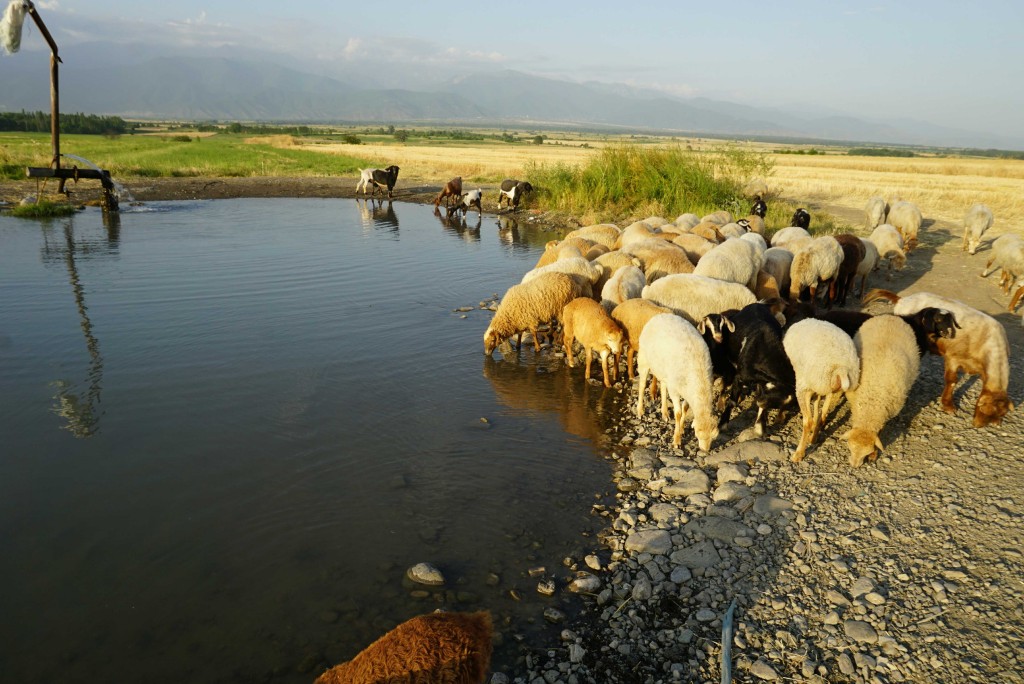 My sense of humour started to recover once I had a couple of bananas, pint of milk and a family size Snickers bar inside me, and I chatted with the would be meddlers (also workers at the supermarket it turned out!) outside the shop for ten minutes as I packed my supplies into my bags. I say chatted, it was the usual barrage: 'what is your name where do you come from how old are you why are you not married why don't you drive a car where are your children how much does your bike cost?'. As I pedalled off to get a few evening miles between me and the madhouse town I started to think how much I would appreciate some company to share the burden of handling this kind of stuff, when lo and behold another cycle tourist appeared coming in the opposite direction. Mindol, a young Korean, Francophile and aspiring cinematographer, had set off from Seoul in April and cycled and taken the train across China and Kazakhstan to the Caspian Sea boat from Aktau, and was now heading west towards Portugal. Although it was still earlier in the evening than I planned to stop, Mindol pointed out that there was an orchard just off the road exactly where we met, and didn't that look as good a campsite as any I'd seen in this country? There was no arguing with this logic, especially not from someone who had just appeared out of thin air as if to prove the efficacy of cosmic ordering (or the wonder of coincidence, 'sup to you innit). With a calm serenity that belied his eighteen years, Mindol negotiated with the by now swarming locals a place for us to stay amongst the cherry trees and set out his fantastic table cloth, our dining room for the night. While the locals picked fruit from the trees and donated it to our communal larder, I made a quick foray to a nearby pub for a carry out and we got a few communal dishes bubbling away, swapping stories, info, and donating to each other our now defunct currency. Most interesting to me was that Mindol had spent five days on the boat from Aktau to Baku, the same boat I would take in the opposite direction. Apparently they had boarded then waited in port at Aktau for three days, then a 24 hour crossing, then another day waiting before coming into port at Baku. Luckily for Mindol meals were provided on his boat, but it was the first time I'd ever heard of that happening.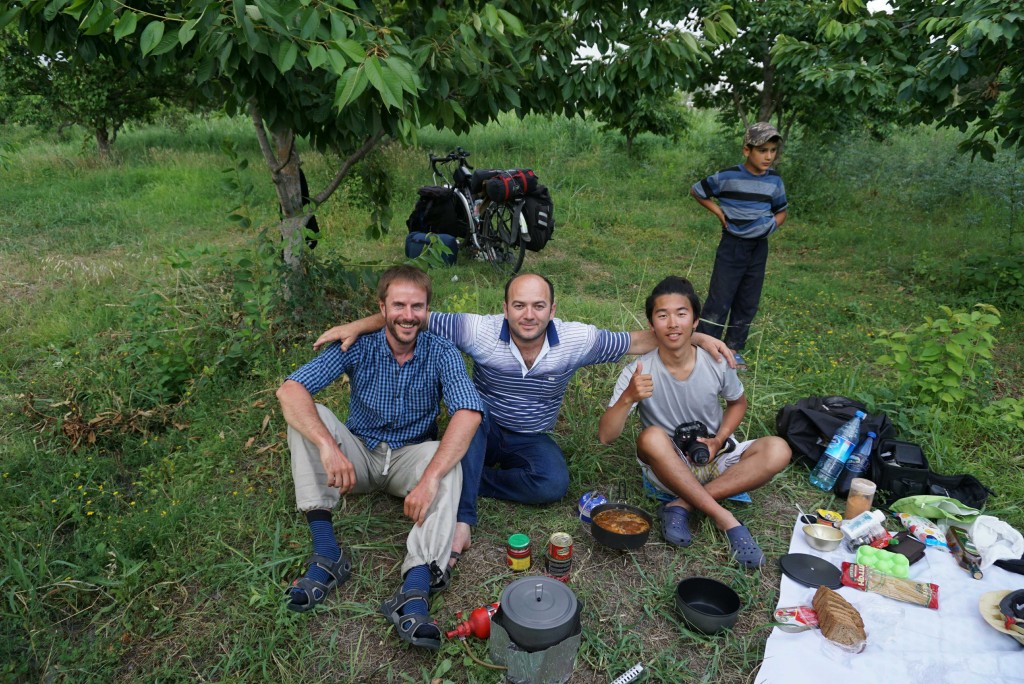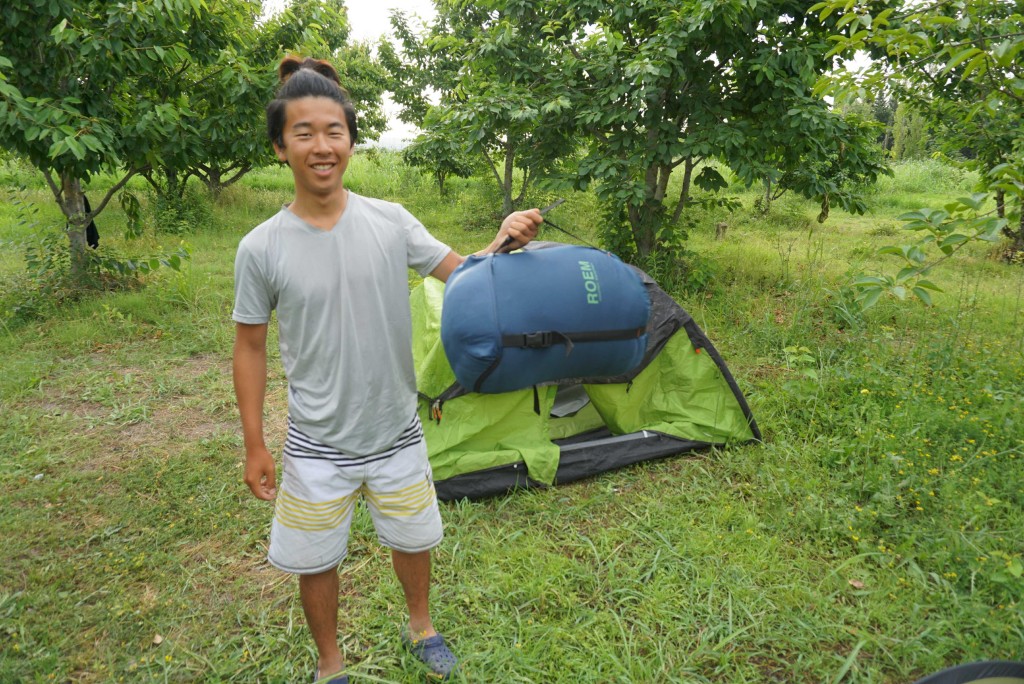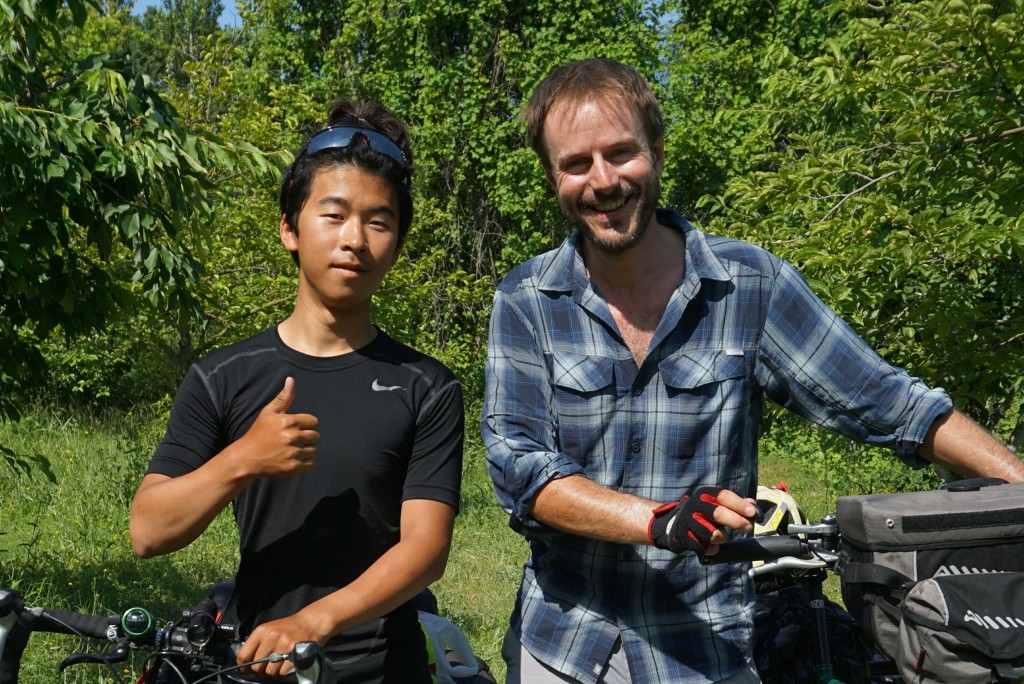 Next morning I set off with a big dose of positivity and resolved to make an effort to be more phlegmatic about the head-pecking from the locals. But boy oh boy it got hot, and then hilly, and then hotter… until I just couldn't go on any further and fell asleep in a bus shelter for two hours in the afternoon. Sensing that this was a case of special measures, I threw caution to the wind and necked a can of Azerbaijan's favourite energy potion, Hell (Red Bull with twice the caffeine, tagline 'gives you power… like hell!' ?!). Like Contador on a speedball I climbed the serpentine out of Agsu to place myself within a long but achievable day's ride to Baku, high in the hills around Muganli. One of the most unpleasant memories of this stage was the electrocution of my nether regions as I passed underneath a series of electricity conductors slung very low above the mountain road. Whether this was caused by static from my loose, lightweight shorts or the high levels of salt which encrusted all of my clothing, I don't know. At first I though I'd just moved into an uncomfortable position in the saddle, but then I experienced a series of small shocks like crocodile clips being snapped on every part of me that was in contact with my shorts. Getting out of the saddle helped a bit but did not prevent the phenomemon, as I discovered on the three of four subsequent times that I passed under more low conductors. Like some kind of cyclist's assault course, as I neared the top of the range the electrocution of the nethers subsided, to be replaced by repeated sheep dog attacks – beasts that were dozing idly at the roadside, usually ignoring me until I was within 5 metres of them, then going absolutely ape. My confrontation tactics worked every time, but after this had happened for the fifth time in fewer kilometres I was starting to get hoarse from shouting imprecations, so I was relieved to spot a promising looking camping place on a broad grassy spur off to the side of the main hills that the road followed. Accosting a local cowboy, I explained / mimed my intentions to camp, which met with his bemused approval and I was left to bed down and enjoy a great sunset, sandwiched between the five star Samaxi Palace Platinum hotel to the south and its luxury lake resort to the north.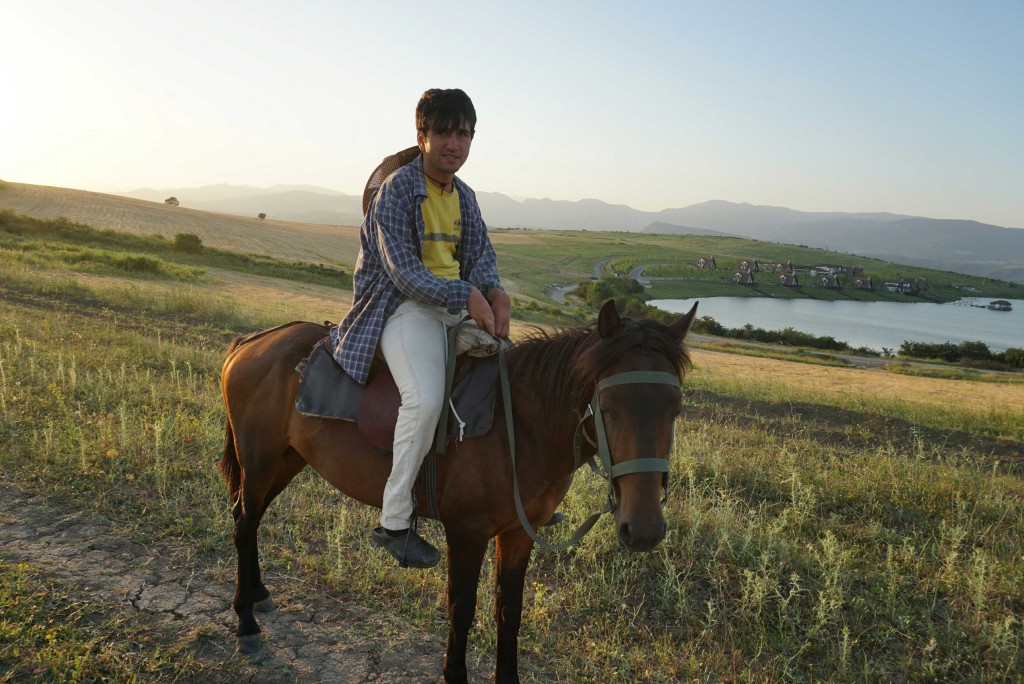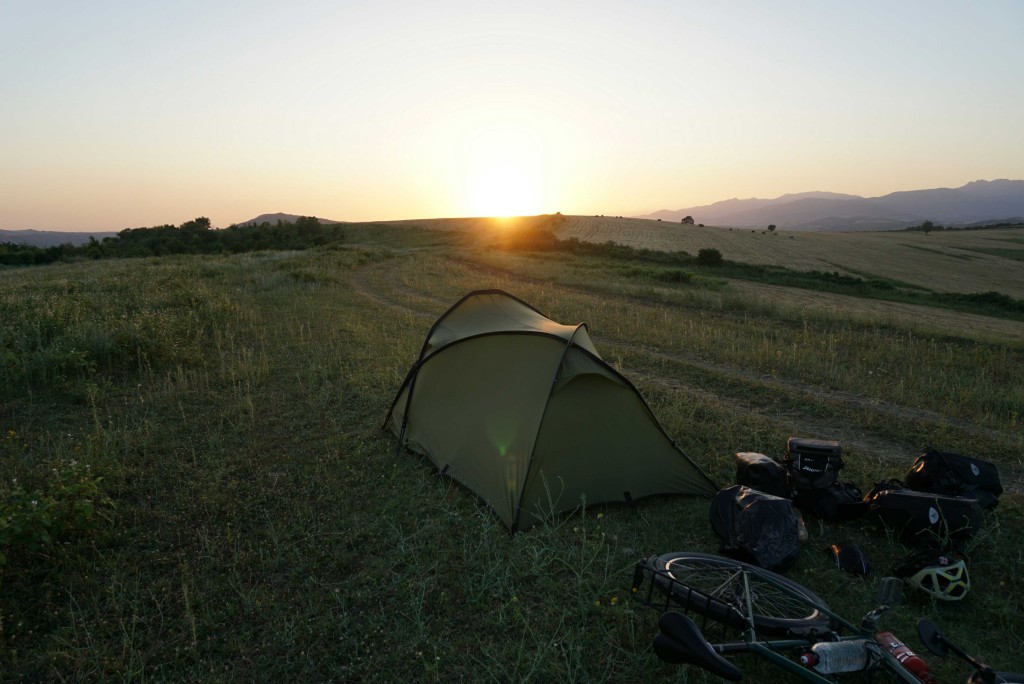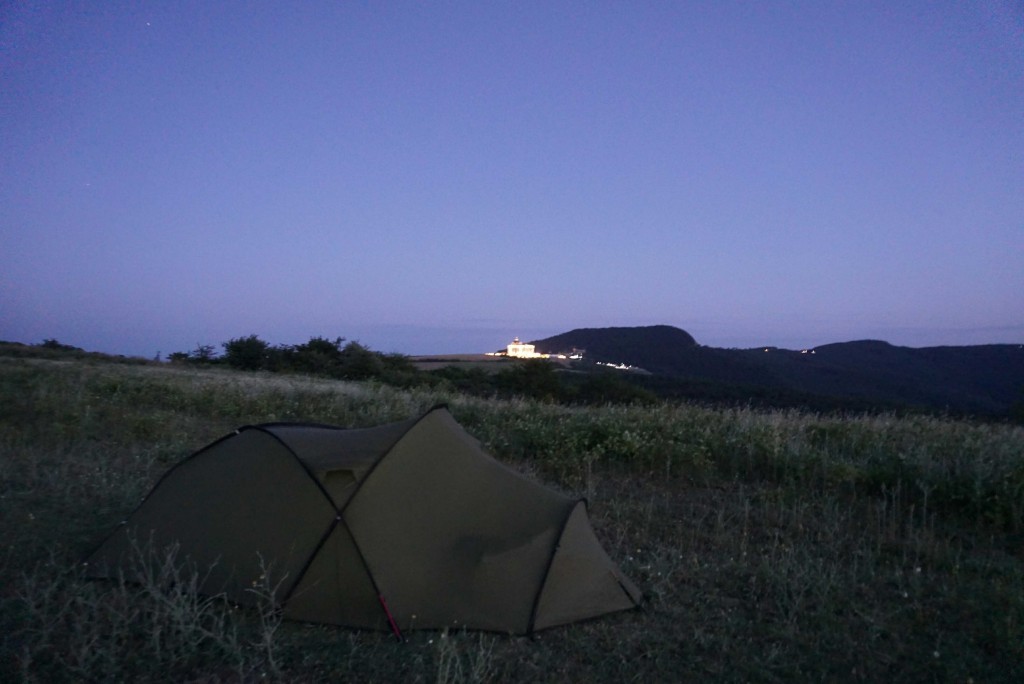 Next morning, with 150km between me and the Caspian Sea, I faced east and made a bid for Baku by sunset. Easier said than done as after the first long descent off the hills around Shamakhi the road became a Sisyphean roller coaster of climbing for 1 or 2km, descending for the same, then repeat ad infinitum. Worse, the scrubby forests had by now given way to featureless, shadeless, arid desolation. Accustomed to finding regular cay stops and services, I was caught short as my water bottles ran dry on one 30km stretch between petrol stations in this semi-desert. Two litres of tepid water chased a cold can of Hell down the hatch (the start of an unhealthy Hell habit?) and I spun on, by now laughing – in a slightly demented way – at the view from the top of each long draggy, grade of another massive descent and climb sequence, the heat haze shimmering on the tarmac malevolently. Around 9pm I trundled into the Old City of Baku, via a churlish attempt by two traffic policemen at preventing me from riding into the city, their reason being that traffic was being restricted for the European Games, but also that it wasn't safe for me. I argued the toss and told them that had I cycled from England to see the games (ha!) and managed to survive this far, so I'm happy to take my chances in a reduced traffic flow Baku. But also their insisting that I ride back down the on-ramp of a flyover (i.e. into oncoming traffic accelerating on a blind bend) was insane, and I wouldn't do it. Eventually the one doing the talking gave in and told me to go quickly while his mate, who was standing in the road waving his arms like a lunatic, wasn't looking.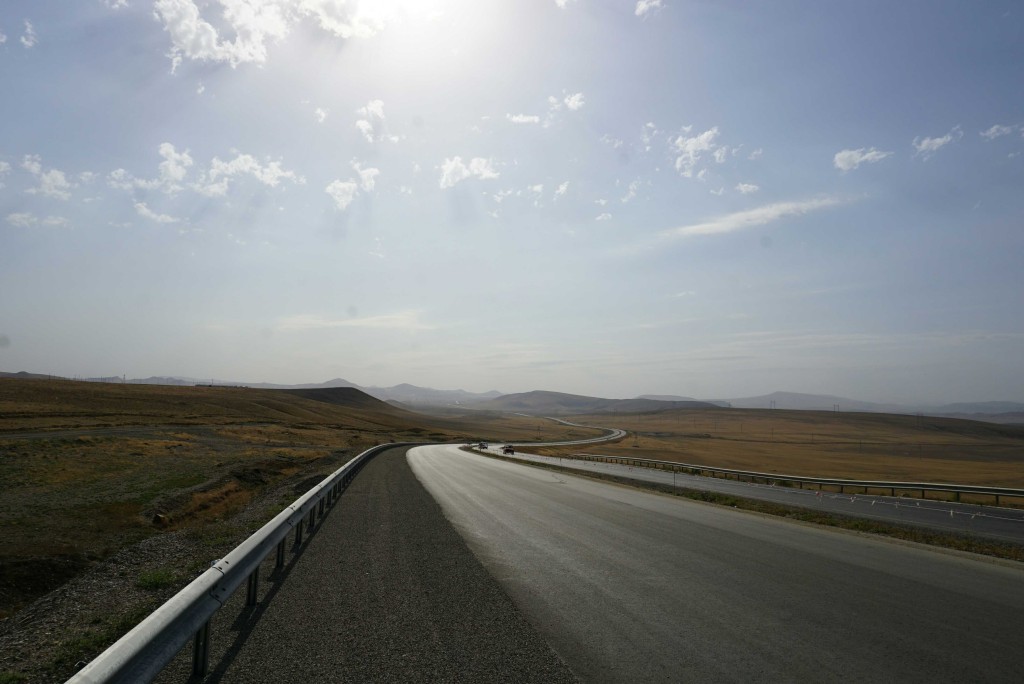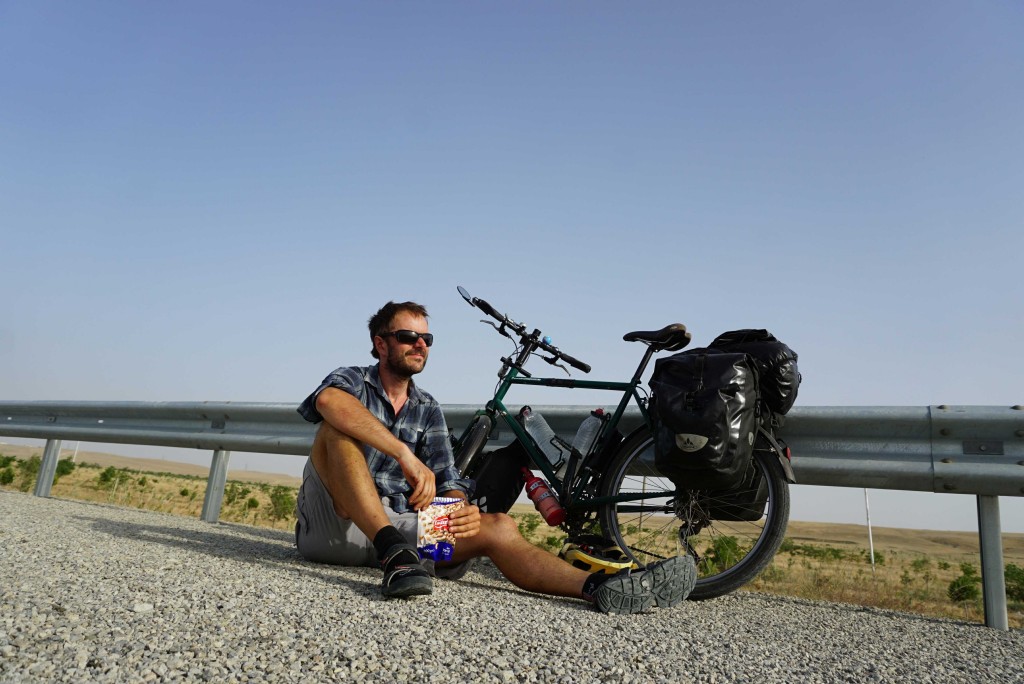 Checking into a hostel I made sure the owner could and would register me with the immigration department, a legal requirement for those staying more than 10 days in Azerbaijan, that has to be done within 10 days of arrival. Knowing that British cyclists had been caught out and deported in the past because unscrupulous hostels and hotels had, despite assurances, failed to do their duty with registration – in fact Gary (www.gearsweneveruse.com) had already been deported for registration failure only a few days before my arrival – I took pains to ensure this was taken care of. Unfortunately my hostel owner was evidently of lackadaisical character and when I insisted the following morning that he give me a receipt for registration (that you are supposed to get), he just handed his identity card to me and a Nigerian guest who was even more anxious to get the registration sorted, having been six days in the country, and directed us to the immigration department where we could do it ourselves. Seeing this as more reliable, off we toddled in the 40°C heat to the address the hostel owner had given. An incomplete and misleading address that led us to the wrong side of the city, eventually righted by a long an terrifying taxi ride back across town. At least I got to see up close the imbecilic driving habit rife amongst locals of removing your distance spectacles, fumbling your reading spectacles to read a text message while swerving blindly across three lanes of traffic on an unmarked roundabout. The other classic is to stop in the inside lane or in a lay-by to do your texting, but then start to pull out, without indicating of course, before you've finished texting; I lost count of the number of SUV drivers who tried to broadside me with this mental manoeuvre, although they were always very contrite when yelled at them what I thought of their driving abilities, if they bothered to look up from their phones that is.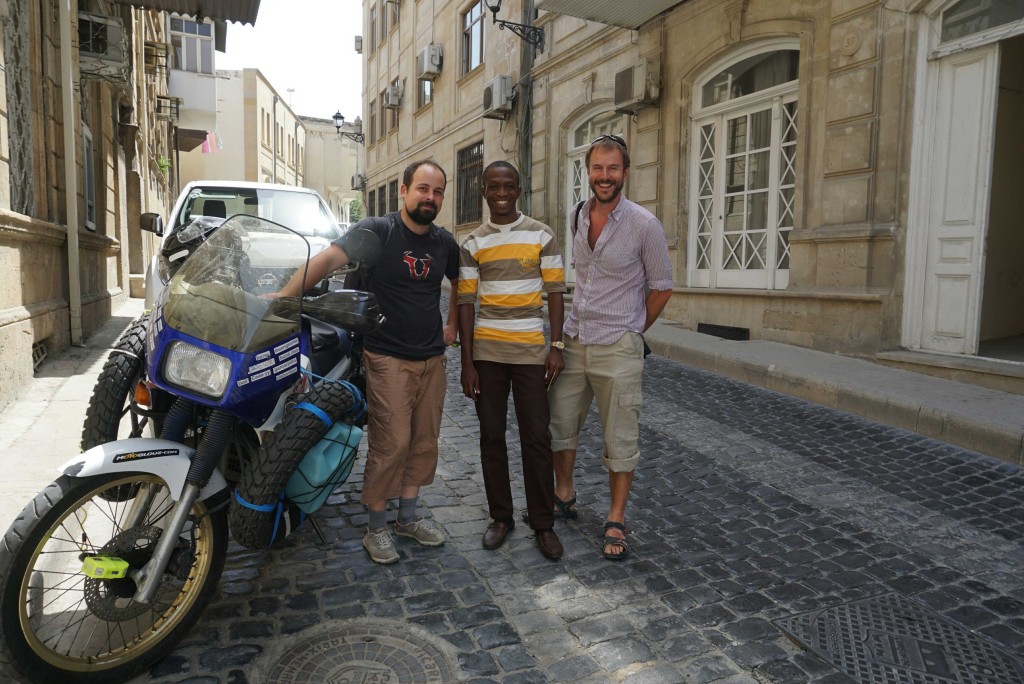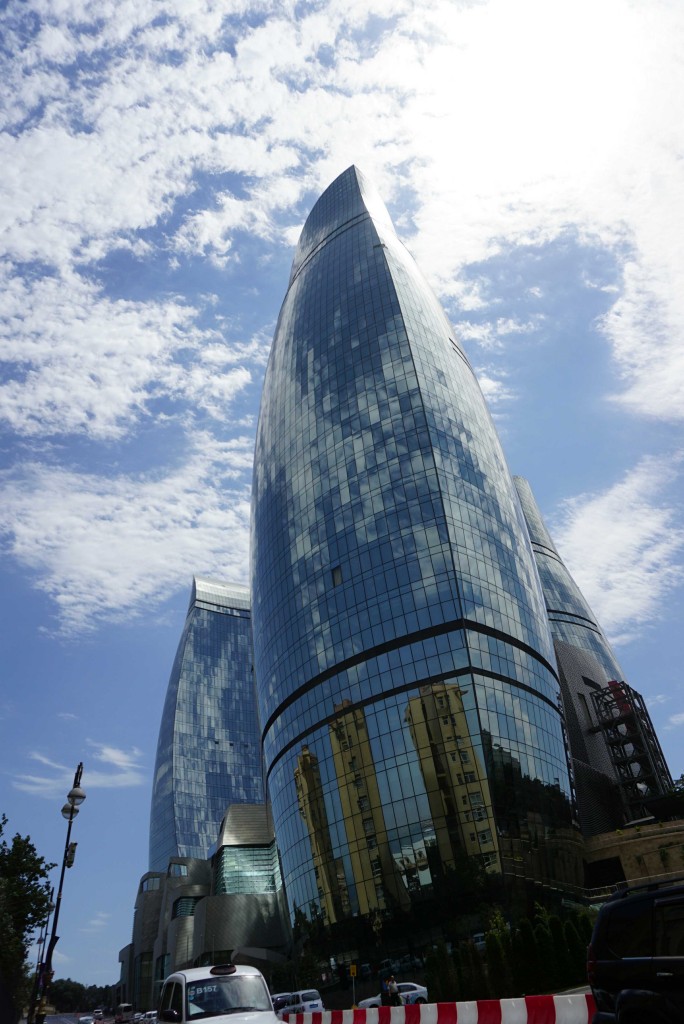 After taking the best part of a day to register with immigration, I was in no mood for another sleepless night in the grotty firetrap that is Baku Old City Hostel, so with immense relief I bailed out and took up the kind last minute offer from Warmshowers hosts, Debbie and Eric and their boys Fin and Roam. Teachers at Baku International school, Debbie and Eric instantly made me feel at ease, and over beers, barbecues and general banter it was my privilege to get to know them over the week I spent in their lively family home. Also staying with Debbie and Eric for the first few nights of my visit was Yan, a New Zealand-Dutch cyclist, whom I had heard about from Taneli, and it turned out that Gary had been a guest only a few days previously too. This proved enormously advantageous for me, as I was able to tap into the knowledge that these guys had built up about obtaining visas and passage across the Caspian Sea. With my visa applications for Uzbekistan and Tajikistan lodged in short order I set to work obtaining a replacement chain, cassette, brake pads and assorted bits and pieces for Central Asia. Thinking that I had lots of time to wait – Jens and Bjorn (www.velofilia.de), two German cyclists with whom Yan hoped to take the ferry and ride the desert, had been waiting for almost two weeks for their Uzbek visas – I was astonished when the Uzbek consul phoned me on Saturday morning (two days after I applied) to say my visa was ready to collect on Monday. On Tuesday morning, with my Tajik visa ready to collect that afternoon, I decided to push my lucky streak and started making enquiries about the possibility of boarding a boat the same day. Unbelievably, the local fixer, who's number Gary had tracked down, phoned me back within five minutes to say yes there's a boat at midnight tonight, so get down to the ticket office as soon as possible.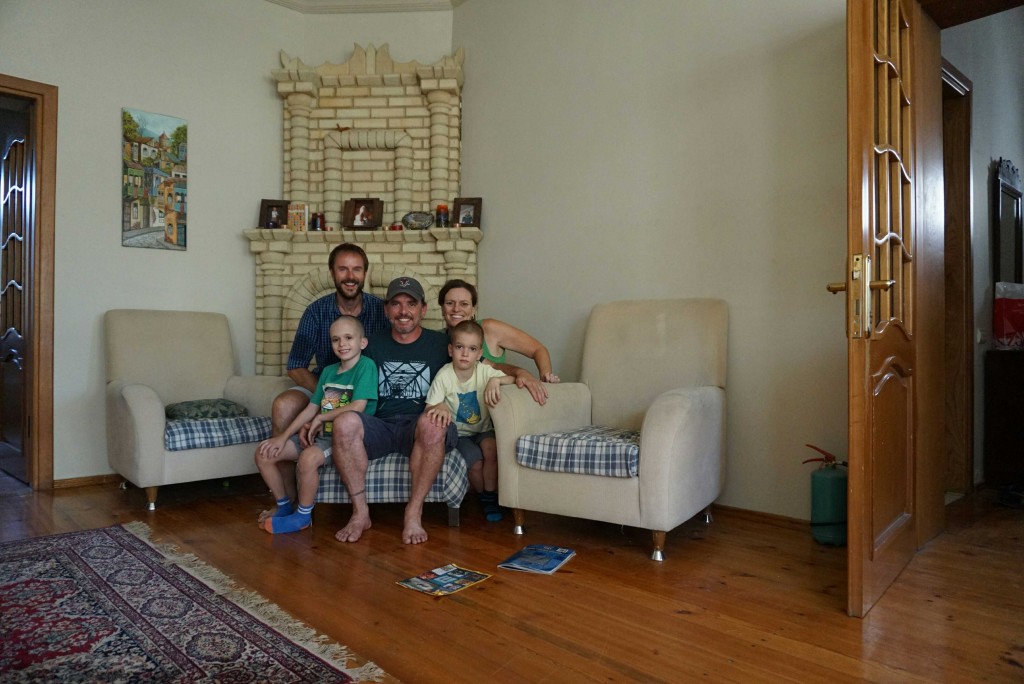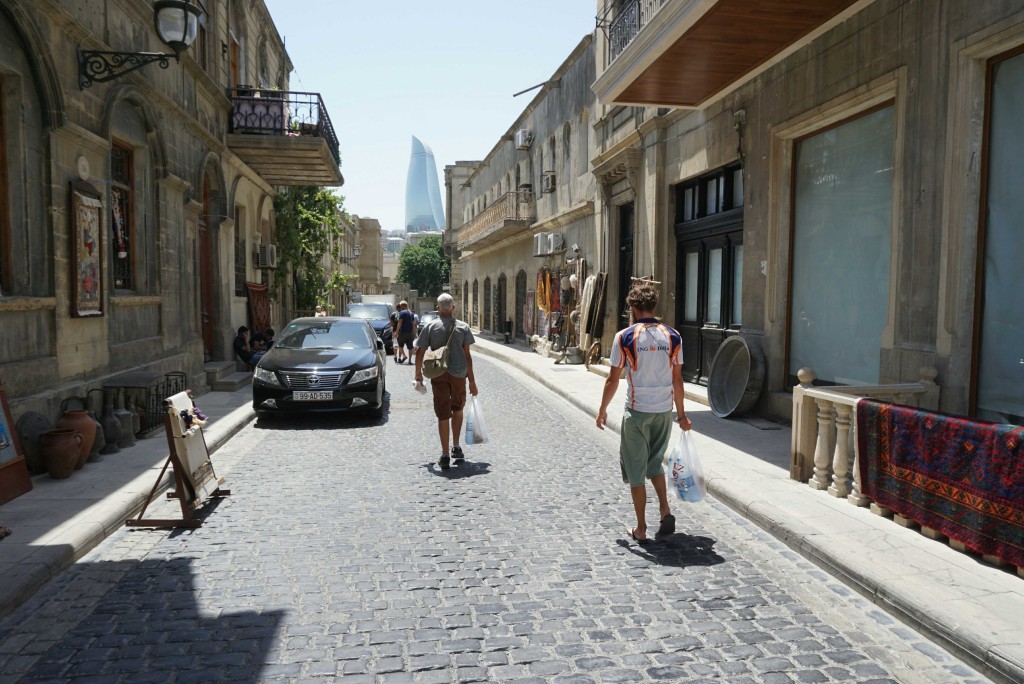 I should point out that getting safely aboard one of these cargo ferries across the Caspian has come to be regarded amongst Silk Road cyclists as something of a black art. The ticket office is an unmarked prefab in a dusty dockyard a few miles out of the city (although was until recently located elsewhere, and you can never be sure which one is being referred to); you can't ring the ticket office – you can try doorstepping the ticket office if you like, but if she doesn't want to talk to you the woman just stays behind the locked door and won't answer (Jens, Bjorn, Dimitri and Yan laid seige for two hours to no avail); then the fact that the boats don't officially take cyclists or walk-on passengers, and the fact that Baku has three ports (although this bit has been simplified during the European games as all shipping is diverted to Baku International Sea Trade port at Alat, 70km south of the city) and it's all just a great unregulated morass of luck and persistence. Yan and the others had been waiting for three days when they finally got on their boat. Others I heard of had been marooned in Baku for a couple of weeks waiting, but at least now boats seemed to be going more or less every other day.
So to my surprise, on Tuesday evening I found myself fully visa'd and pedalling the 80km from Debbie and Eric's down the coast to Alat to get the midnight boat (actually it turned out to be just over 100km after I realised I'd left my fuel bottle and pump on their sideboard and went back to retrieve it). Arriving in Alat at 10:45pm, soaked with sweat and dizzy from the exertion of the mad dash, I then sat and waited for four hours to board the boat. Which remained at anchor in port, while myself and three other passengers were sent to a brightly lit 'holding room' (the crew's dayroom), with the TV blaring first dubbed movies then a newsfeed of Azerbaijan's fifteen gold medal highlights at the games throughout the long sleepless night. Eventually admitted to a cabin around midday, and still going nowhere, I felt the diesel engines rumble into life around 1:30pm and I slept until early evening. Awoken by a rap on my cabin door I was pleased to discover that there was in fact catering on this ship, as Mindol had led me to hope there may be (but as two Swiss backpackers who departed the boat as I boarded denied). An uneventful 24 hours of sleeping, reading and writing passed my crossing of the world's biggest lake, and I went up to the foredeck just in time to see the anchors being deployed. 3 miles out of Aktau port. There we lay at anchor until around 10pm when finally we slouched into the quayside and I was directed back to my cabin while Kazakh customs officers boarded and checked throughout the boat.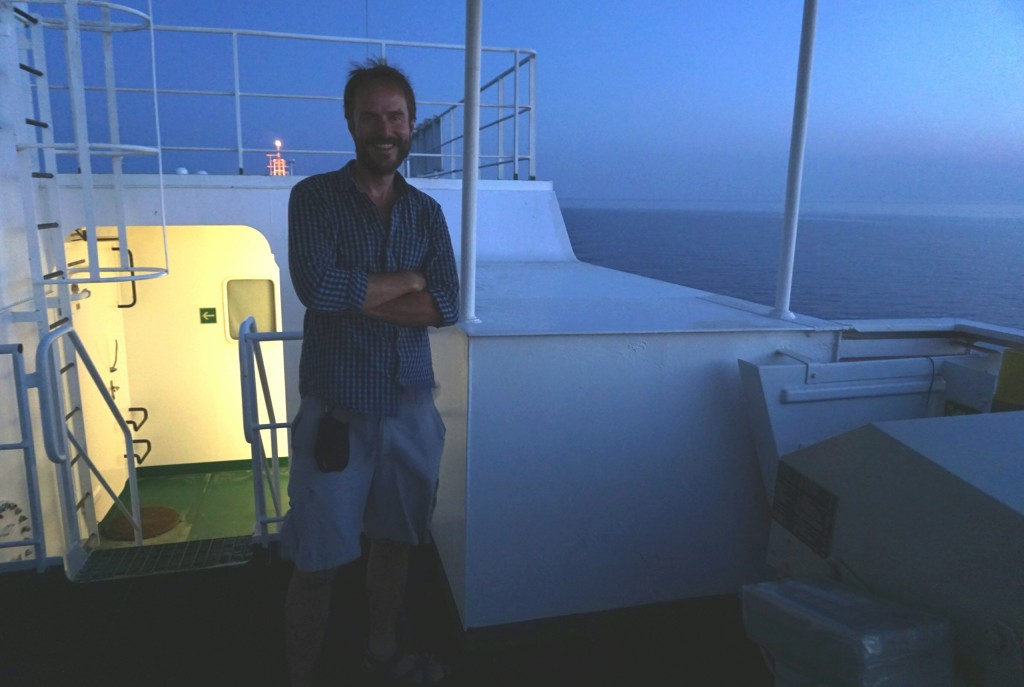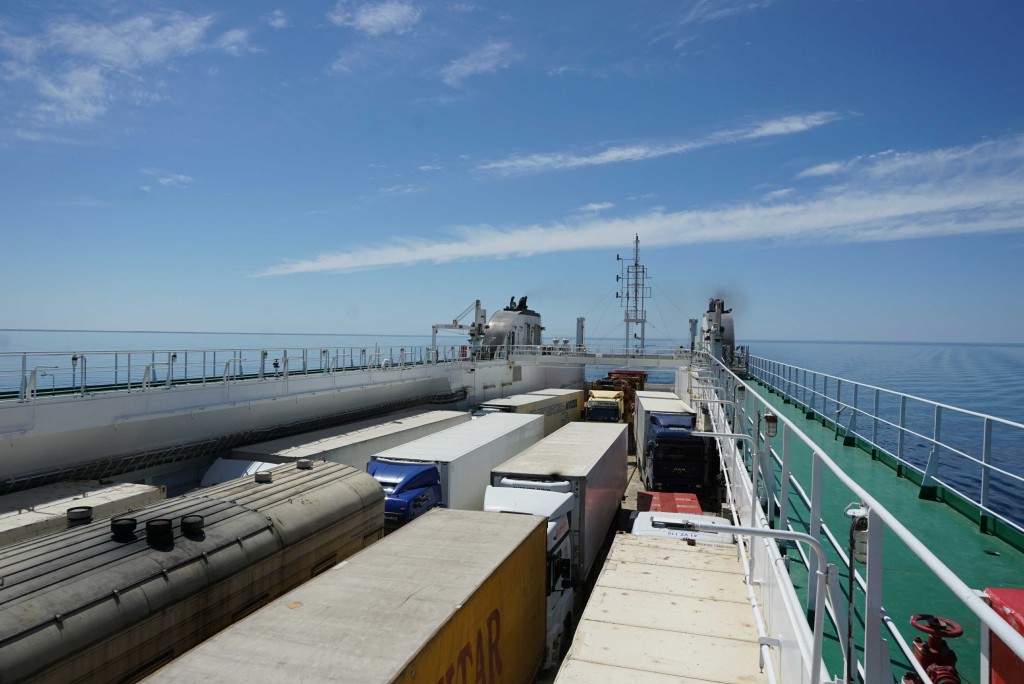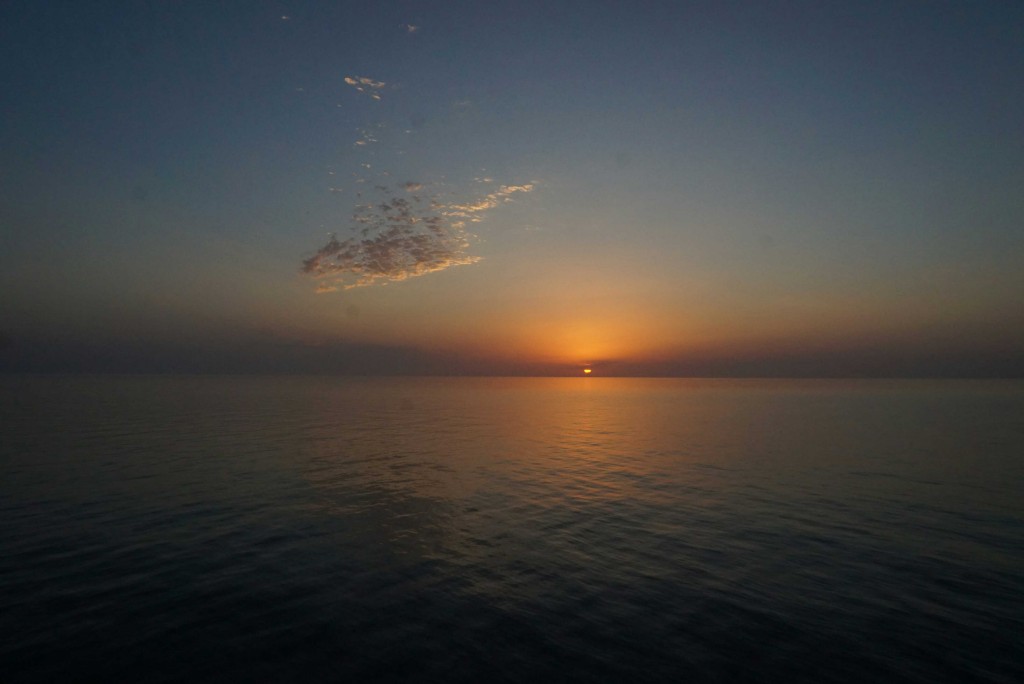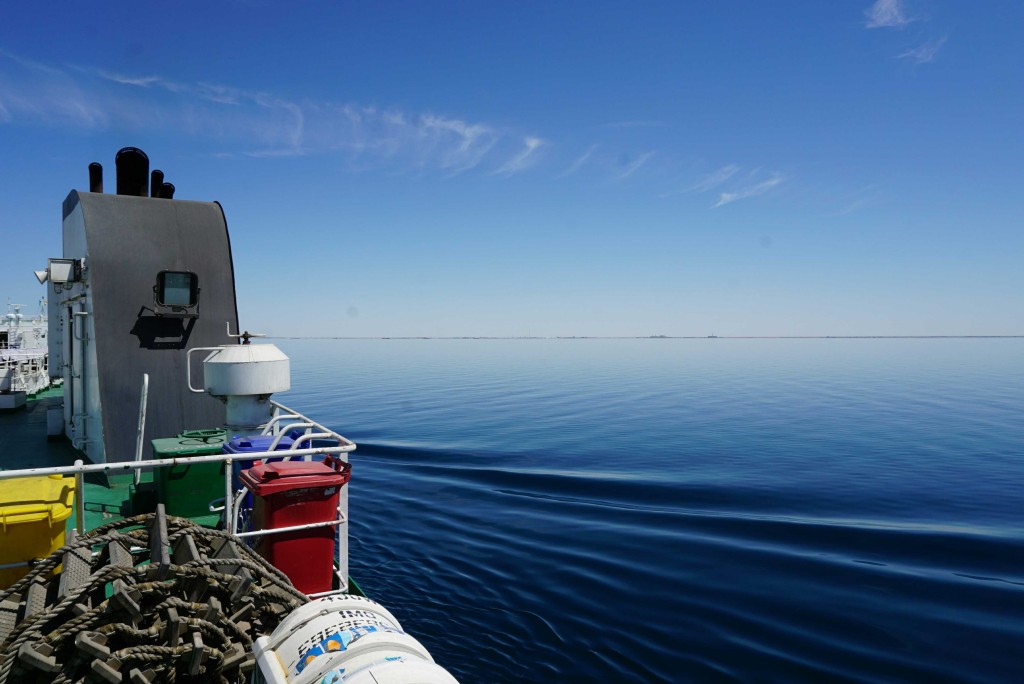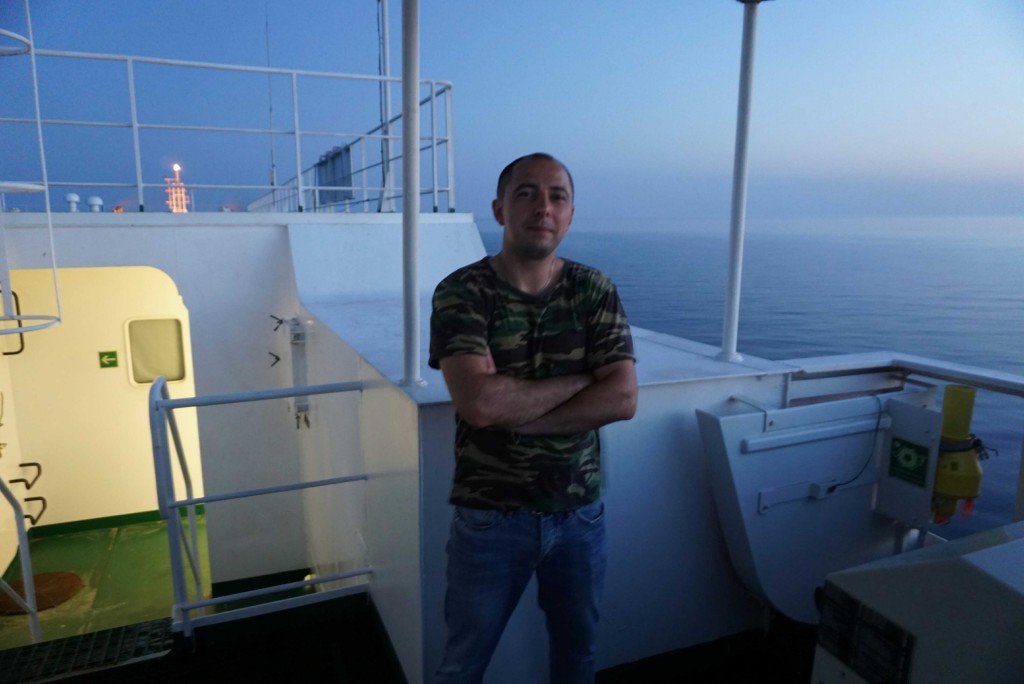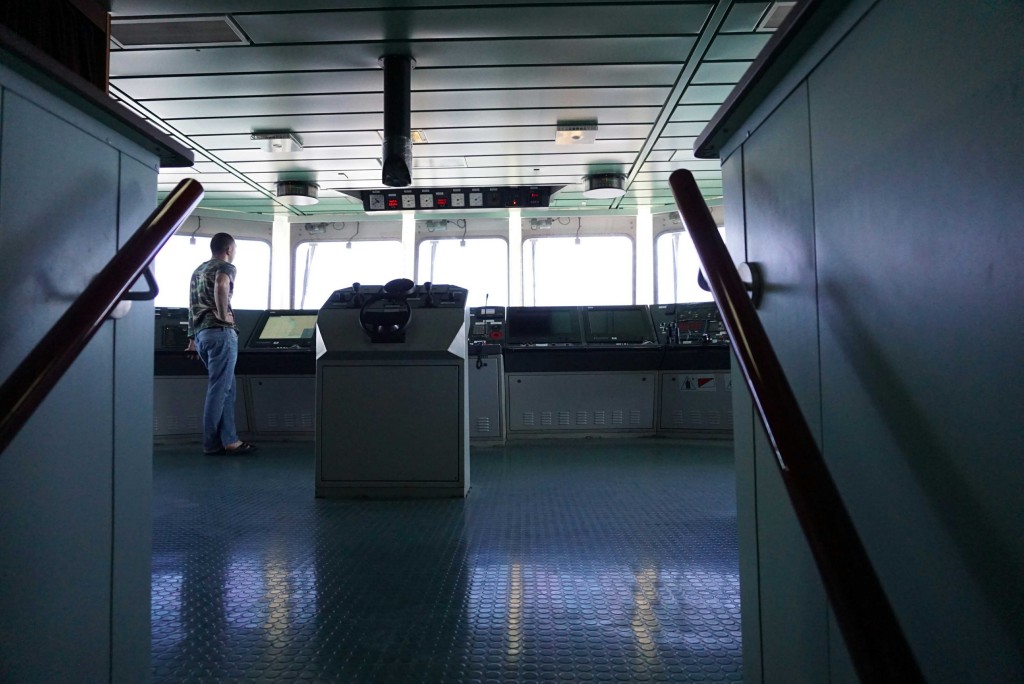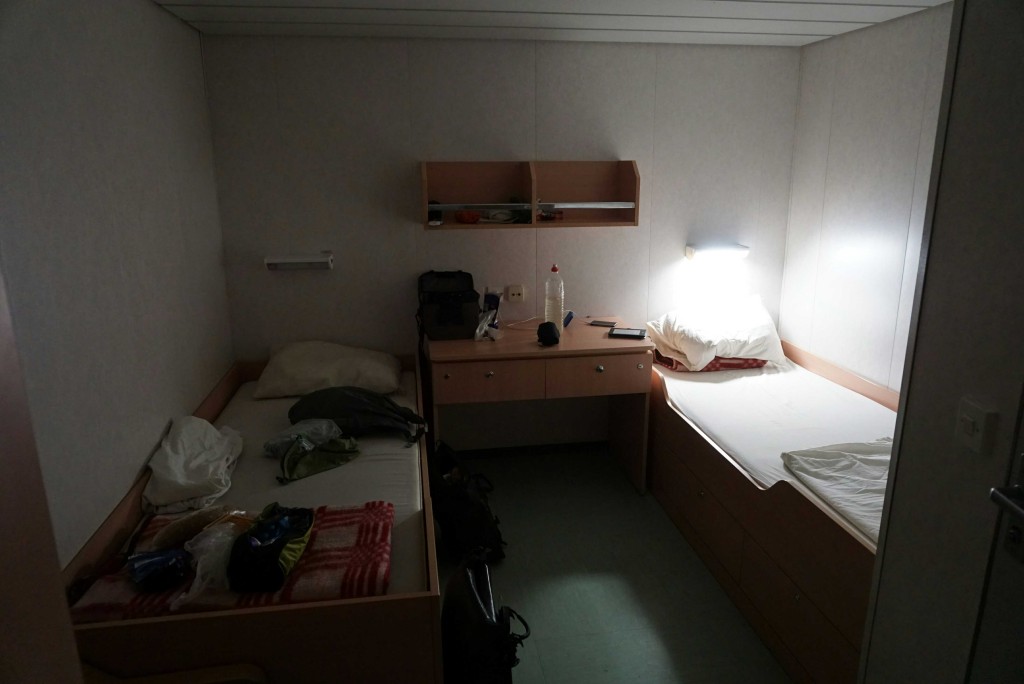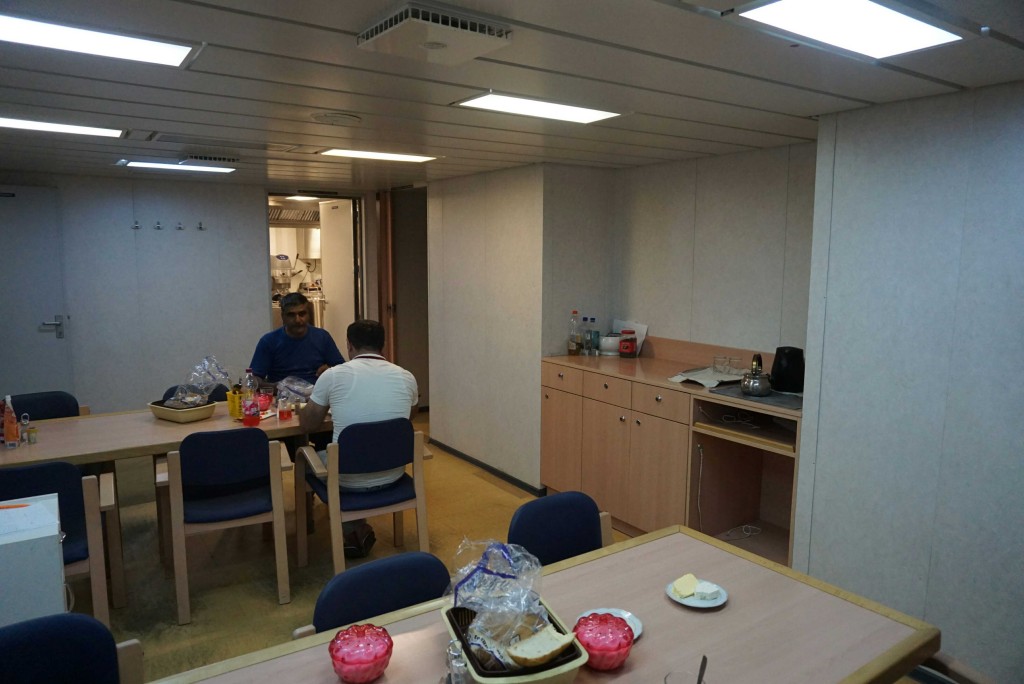 Finally given the nod to disembark, the bureaucracy was only just getting started as myself, the three other foot passengers and the assorted lorry drivers were coralled through a series rooms and ante-rooms for passport controls, visa checks, and god knows what else. After showing my passport and permit card to probably twenty different officials I found myself waiting in a final room where the lorry drivers were awaiting one by one interrogation in a side room. Nobody seemed to be paying any notice to me, so after ten minutes of sitting nonplussed I just walked out the back door into the midnight air and went back to the boat to retrieve my bike and bags. With no idea what lay in store in Aktau, I couldn't be bothered wandering around a strange city in the dead of night looking for a place to stay, so I threw the tent up between the roadside and the freight railway a kilometre or so out of the port and got my head down for a surprisingly good night's kip.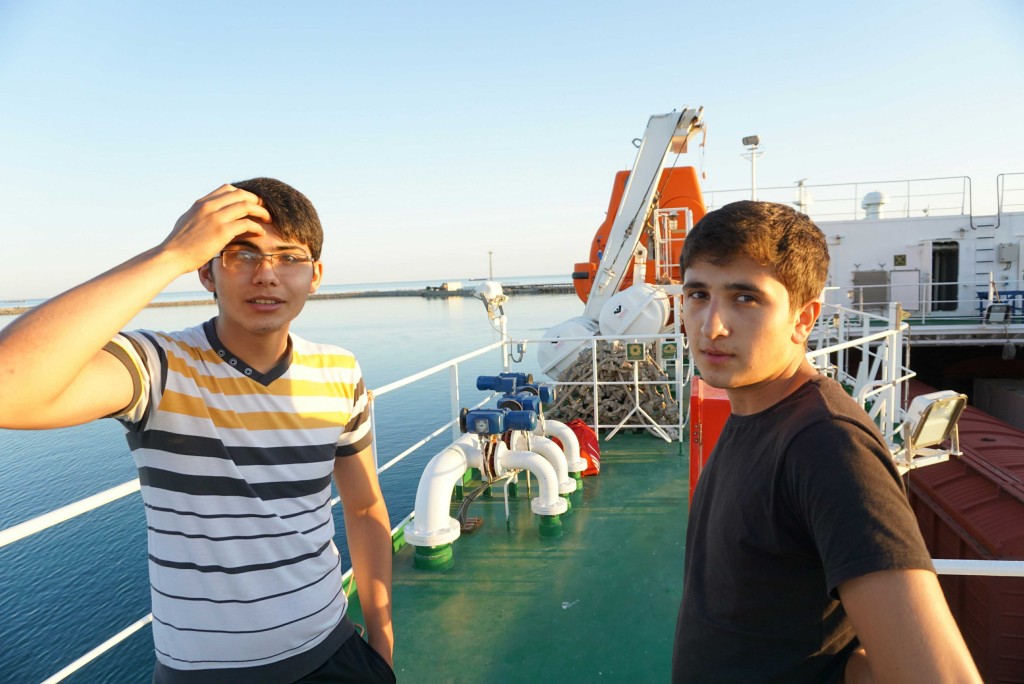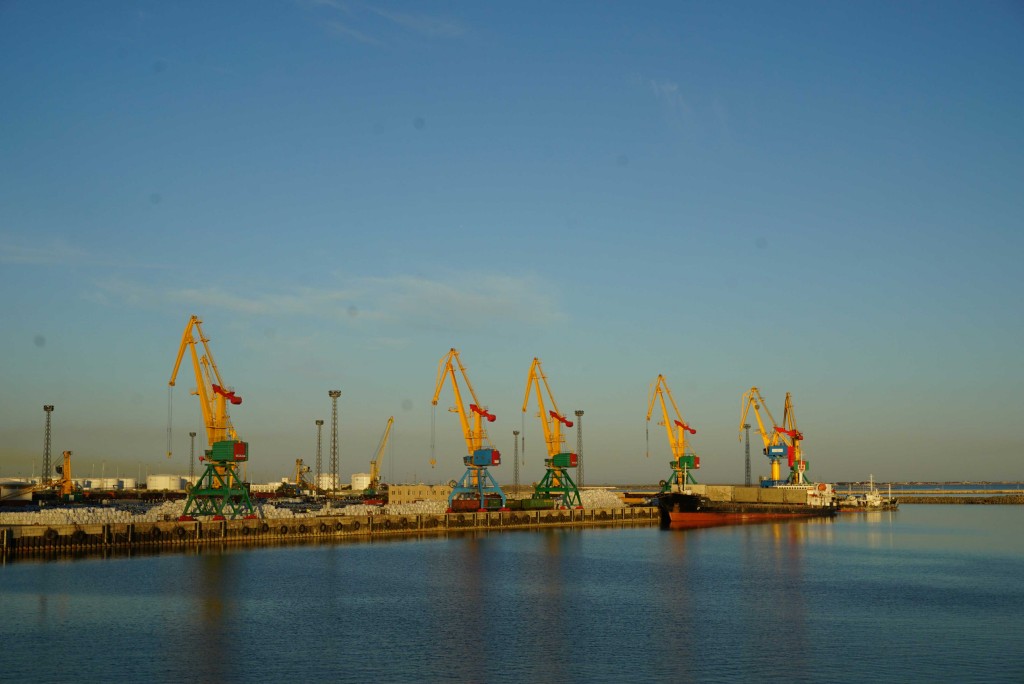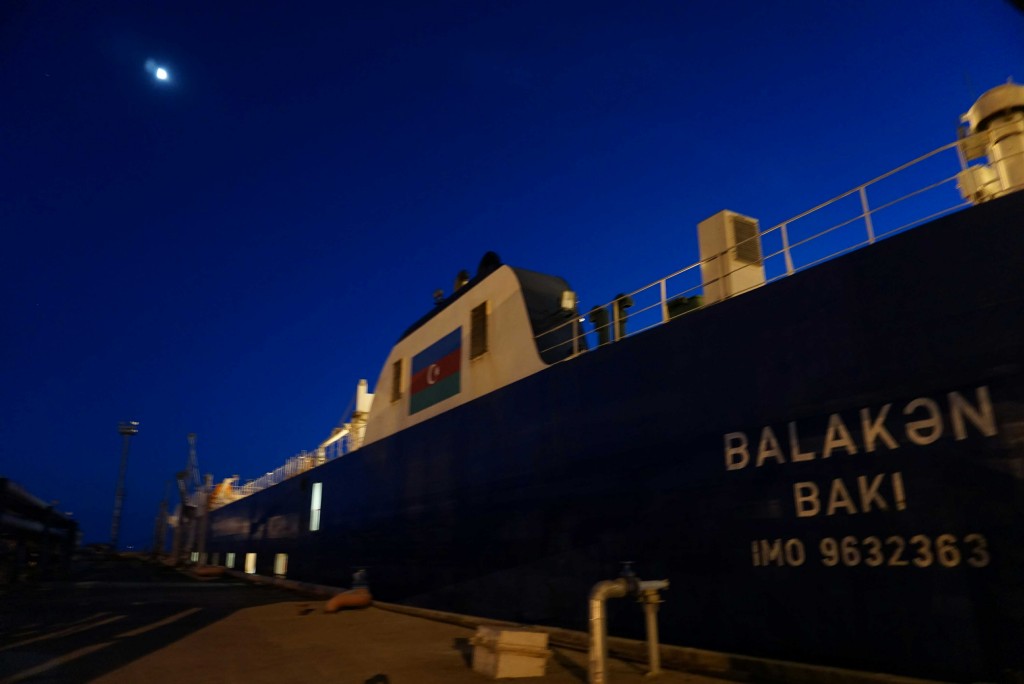 So here I am in Kazakhstan. Next stop, Nukus, Uzbekistan; just the small matter of the Kyzyl Kum desert to deal with between here and there, so I'm psyching myself up to head out tomorrow on what sounds like the hardest road I may ride this year. Following tips from others ahead of me I am loading up with as much food as I can fit in my bags and strapping 12 litres of water on top. Gary's advice from 1000km up ahead: &the asphalt road is really lovely in places, for 500m at a time. In between those sections you have something that I am describing as: 'If you imagine your average garden centre carpark, ploughed vigorously, after a meteor shower then buried in an inch of fine, dusty sand, you're getting close'. He recommends, 'just don't let yourself think that the rough stuff is over, at any point. It stops for a bit to give you hope, then' … actually I can't repeat the rest of that bit here, but it doesn't sound like the sort of thing I would like at all. But I'm sure the feeling of accomplishment will be worth it in the end. Or something.
Da svidaniya.