At Uluru, Tara and I had reached the Red Centre of Australia. It felt like some kind of achievement to have cycled the length of the Great Victoria Desert on dirt roads. Now we just had to get ourselves out of the baking interior before the real heat of summer kicked in. By late October, we were already feeling the effects of heat-induced fatigue every day. Tara and I had plans to spend Christmas with friends in Brisbane and Sydney respectively, via a visit to Tara's friends in Adelaide. We had our work cut out for us: 4,600 km in two months. We calculated that allowed just enough time for a scenic detour north on the Mereenie Loop dirt road, through the West MacDonnell Ranges to Alice Springs. After that it would be game on to get the hell out of Dodge before the asphalt started melting.

East of Uluru, on what should have been an easy day of blacktop, we battled a stiff headwind. We took turns on the front and at drafting, but my performance was distinctly sub-par. Accumulated fatigue from the month of hard riding from Perth, or a hangover from toxically cheap wine at Curtin Springs Roadhouse the day before (the first licensed premises we'd found for over two weeks) – it made no difference, I felt awful. My head sunk low between my shoulders and I zoned out, perversely not enjoying the asphalt any better than the treacherous dirt roads I had carped about so bitterly. Headwinds make everything hurt. You can't move around on the bike so much. Standing on the pedals causes far too much wind resistance and brings you to a stop. All but the slickest tarmac feels like coarse, granular pebbles after a while. You just have to get your head down – literally – and grind it out. Not for the first time, I was grateful to be with such a strong cycling partner as Tara.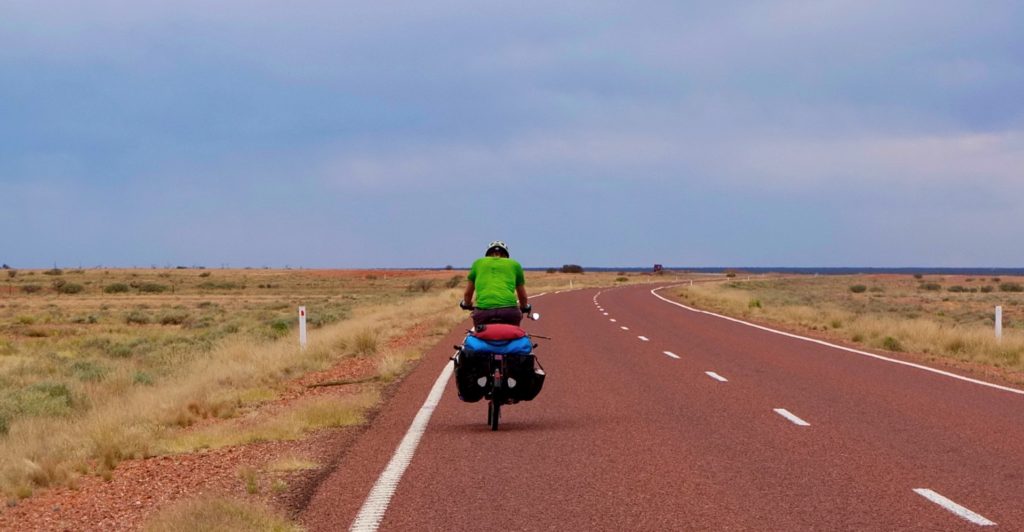 You make the devil's bargain every day riding across Australia: a plague of flies or a strong headwind. I have mentioned the bush flies a few times already, but their role in this little drama was more than just scenery. At times they covered us. You have to adopt a certain kind of zen state to relax into the fact that you are now host to about 500 shit-eating flies. Okay, so it's kind of a compliment that out of all the rotting pieces of meat out there, they think you're the tastiest (take the love wherever you can find it!). But it is apt to freak out the already harassed traveller. My general rule was that the head-net went on after three or four of the blighters had gone in my mouth. I hated riding with the head-net. It obscured visibility, it made me feel claustrophobic, it made me even hotter. But there comes a point where those discomforts are preferable to any more aerial raisin snacks.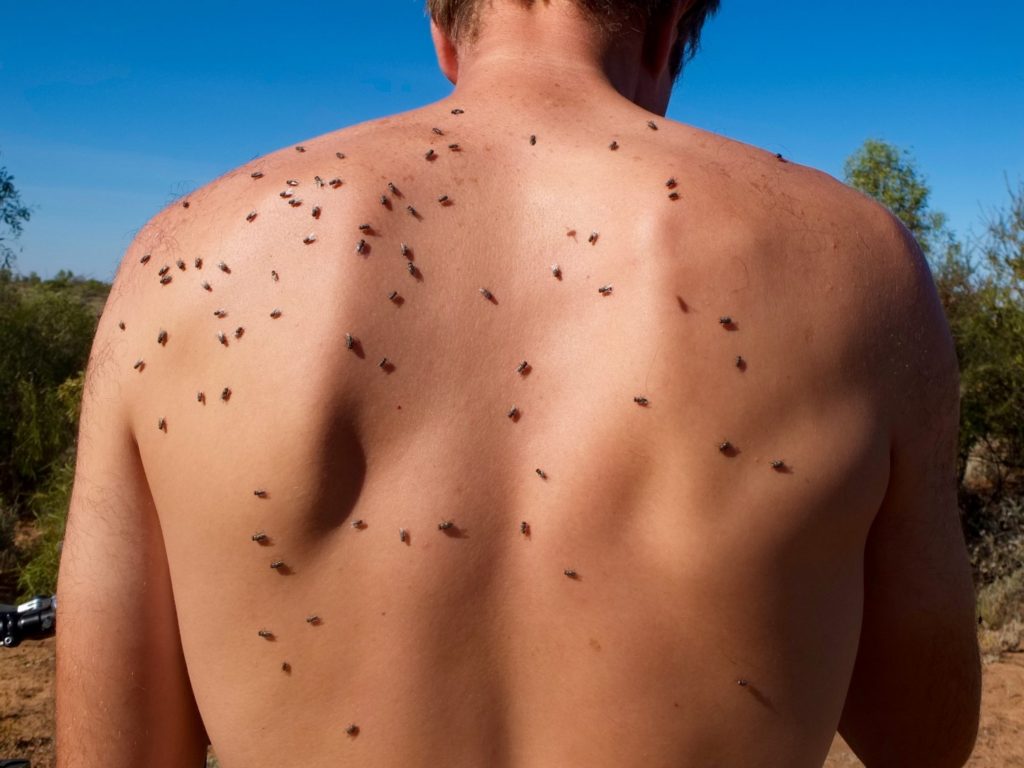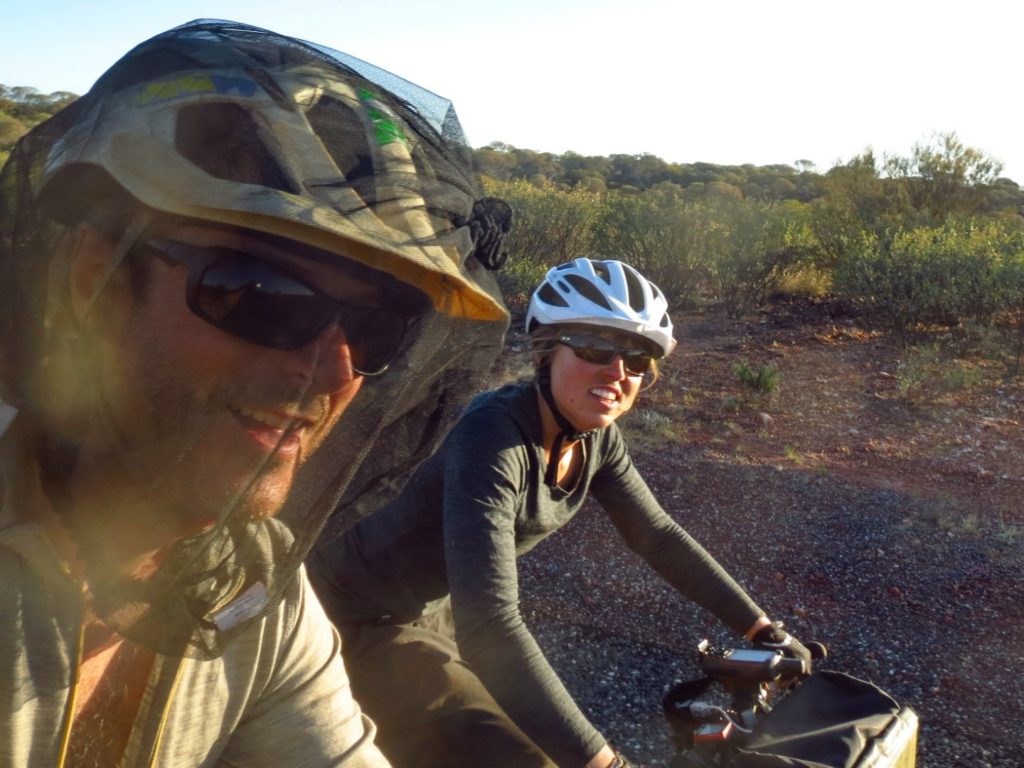 As luck would have it, just as the wind died and the flies converged on us, we experienced a spate of punctures. Our patience was tested as first mine, then Tara's tyres hissed flat, using up valuable daylight riding time. As always, rolling with the punches paid off ('rolling with the punctures'?). After flogging ourselves into the wind all morning and afternoon, undulating smooth roads bore us swiftly into pristine wildcamping country on another golden outback evening on. We eschewed the camper-van rest areas for our own private, tranquil spot in the bush. A gentle declivity behind a copse a hundred metres off the road looked perfect. I wheeled across to examine it and noticed a set of bicycle tyre tracks in the sand. In the middle of all this nothingness, another cyclist had recently picked the same spot. It made us smile. We had yet to see another touring cyclist in Australia.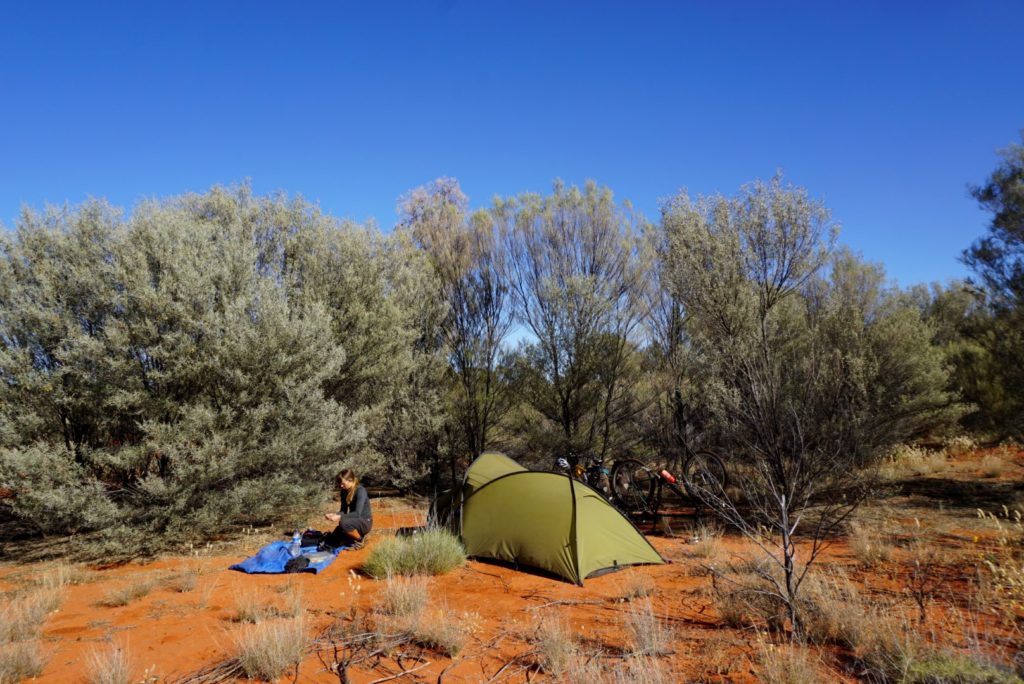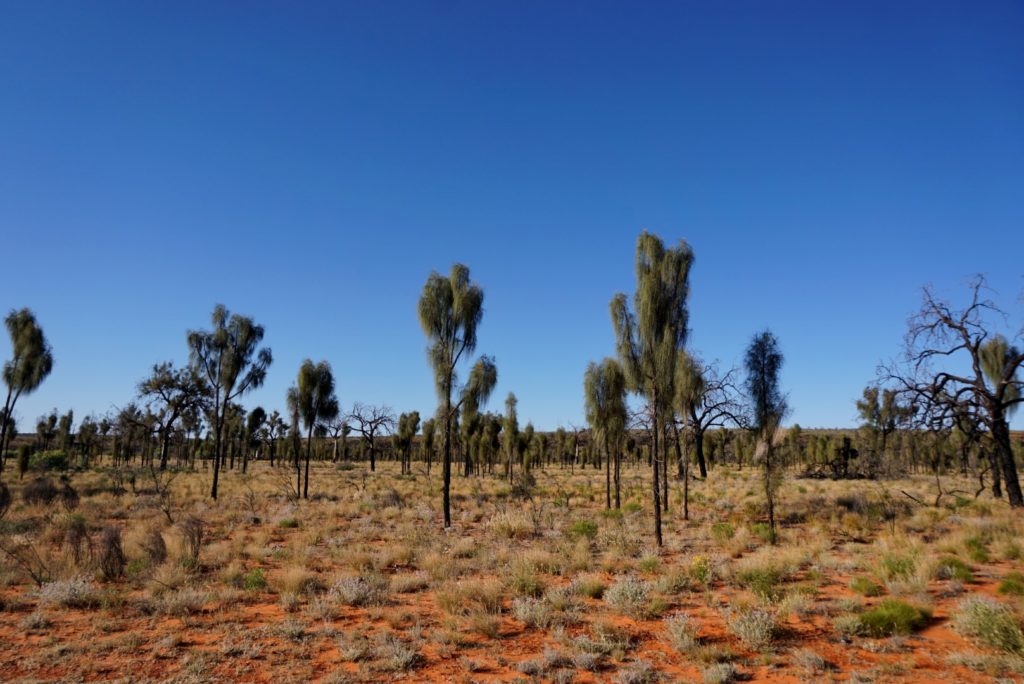 King's Canyon is a well-known landmark even to coastal Australians. Our route would pass right by it, so it seemed rude not to take a look. We arrived in the evening and decided to investigate its potential as a side trip. A short walk brought us to the edge of the mesa plateau, rent by the titular canyon. In the golden glow of evening it certainly looked pretty enough, but to call it a canyon is over-egging it. Valley … or grough would be more accurate. We found a hideaway in the bush near the trailhead and slipped away in the morning before the park rangers showed up.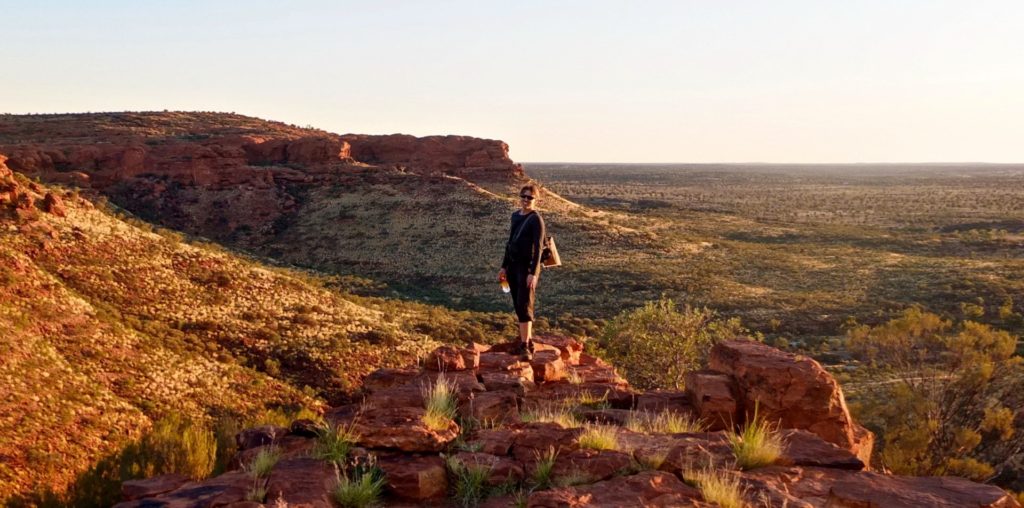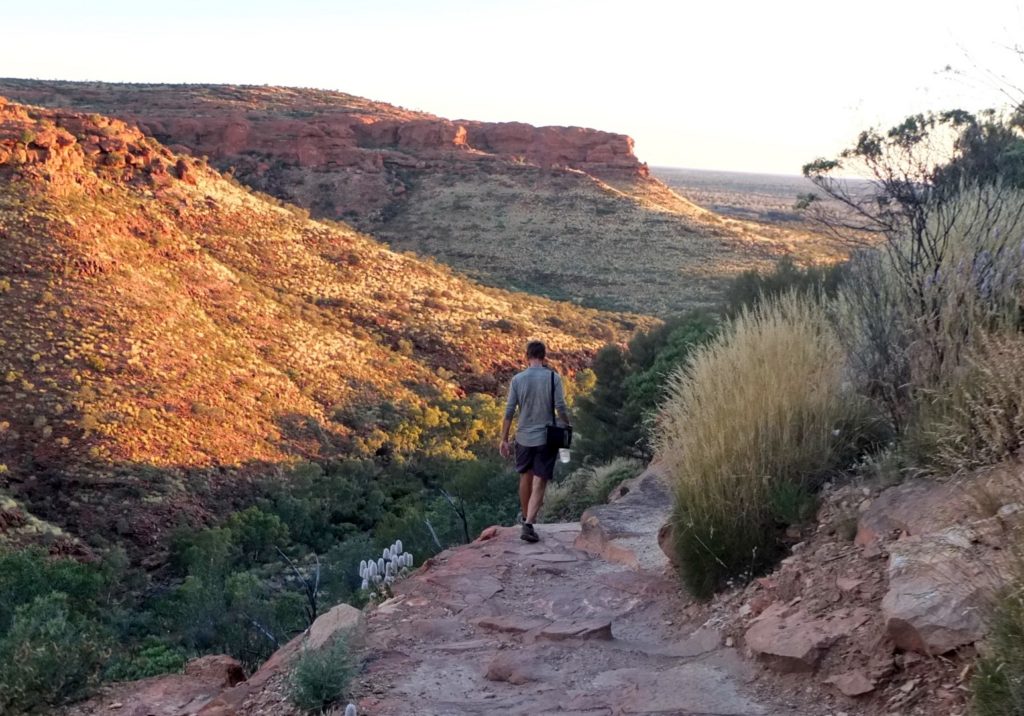 North of King's Canyon resort, the road returns to its outback roots – deeply corrugated gravel and dirt for 150 km. Perhaps because I resented the chore of riding on arduous dirt again, but more because I had forgotten what's important in life, I had been sharp with Tara. We were now in the middle of a full on desert tiff. We were both feeling the strain of pushing hard every day with minimal rest and recovery. On top of that we had unresolved questions about what would happen when we got to Sydney. Petty frustrations boiled over and only a proper heart to heart could resolve things. We found a shade tree and started talking.
It's hard to look back on a time when you've acted in a petty, less than compassionate way and not cringe at the memory. With an abundant back catalogue of such times, you'd wonder why I feel the need to keep adding to the list. Some lessons take a long time to learn I guess. That we were able to talk it out and feel closer to each other as a result, I have to credit to Tara's remarkable patience and grace under pressure. It would have been easy for us to both seethe with childish resentment for the rest of the day, but neither of us wanted that. This was uncharted territory for both of us. We had discussed ahead of time how we would cope with the inevitable disagreements and squabbles. Nevertheless, I was still caught unawares when the shit finally did hit the fan. Camping in a woods that night, we fell asleep to the thud of brumbies (wild horses) running free around our little corral.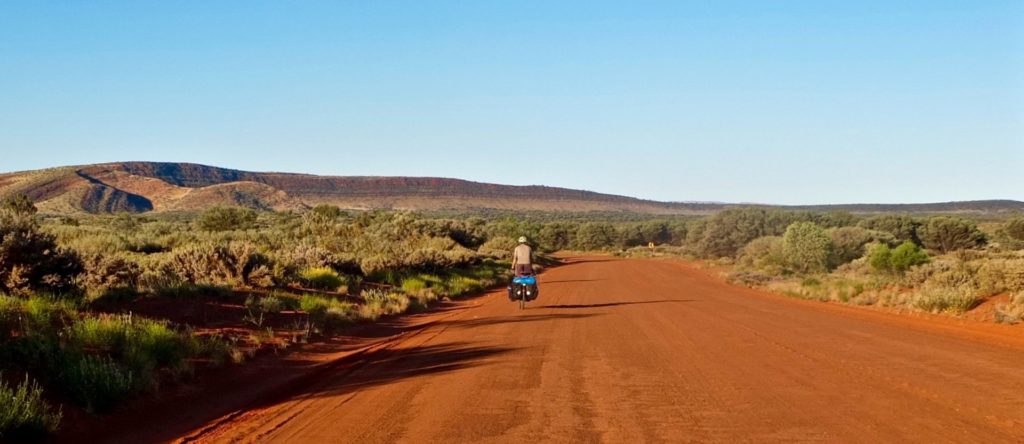 North of King's Canyon, the Mereenie Loop road was not only soft and corrugated, it was also hilly. Many slopes were a serious test of determination to crest without putting a foot down – something to be avoided as it meant pushing up the rest of the hill. Making our daily distances took long stints of muscular, skillful riding.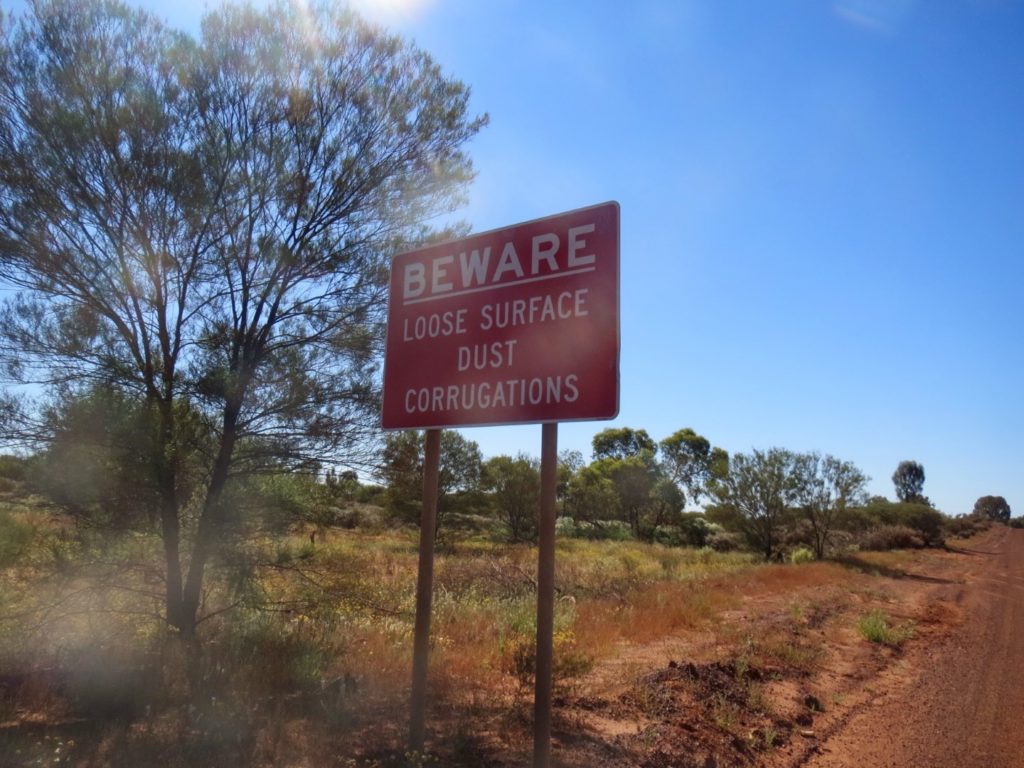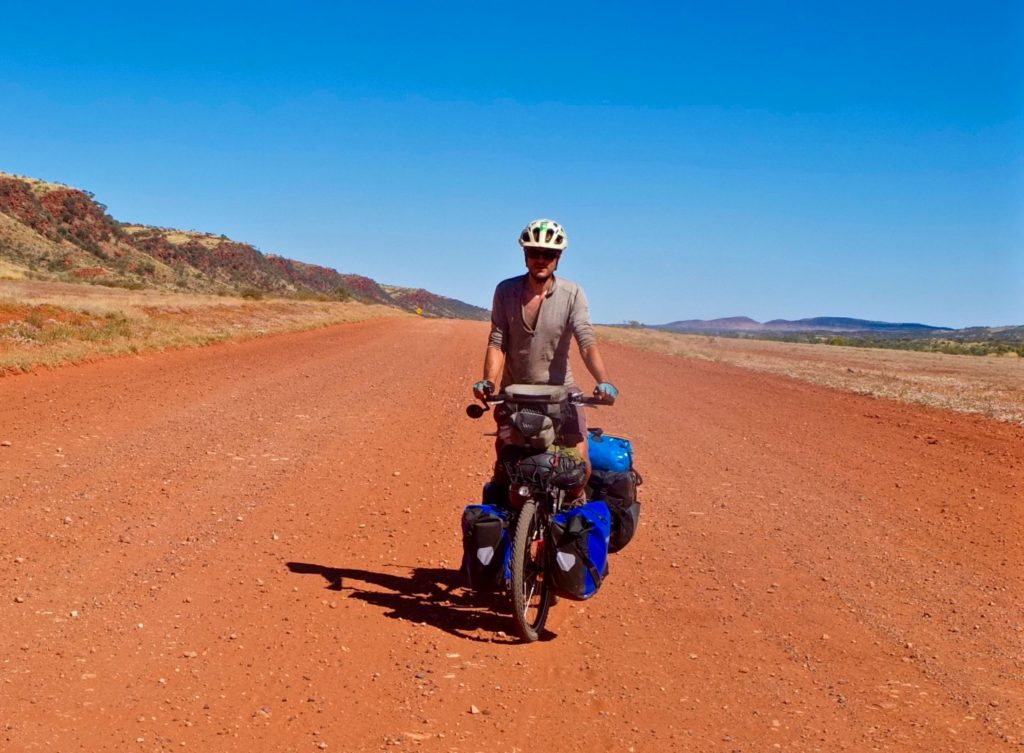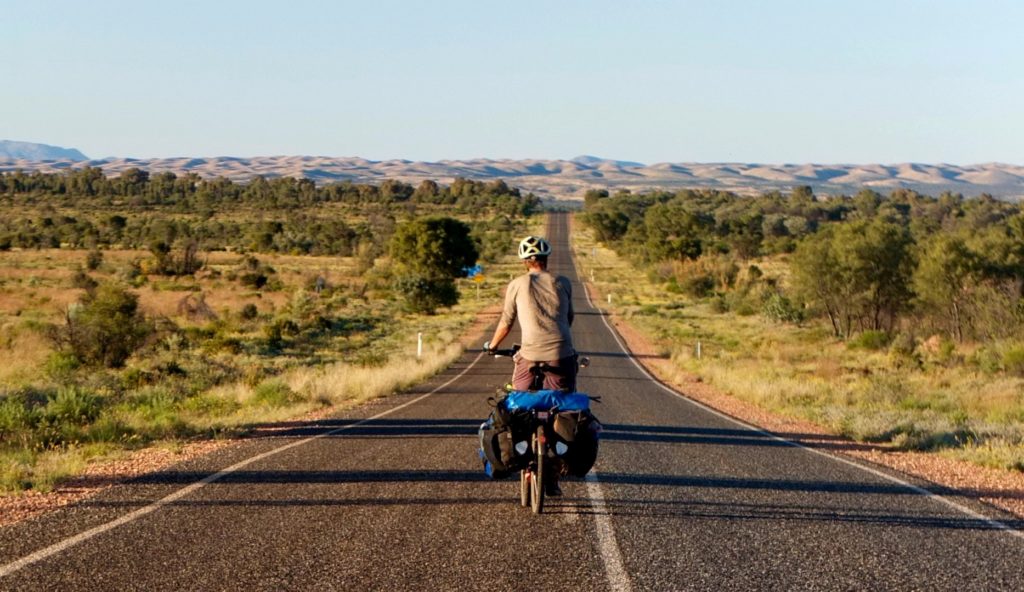 At Redbank Gorge we had ambitions to hike Mount Sonder, a renowned vantage point over the West MacDonnell Ranges. We swam in the icy canyon water of the gorge, waiting until the intensity the midday sun abated before setting out on the 16km hike. Departing up the mountain at 3.45pm, the heat was still ferocious. We proceeded cautiously, trying not to run our heart rate too high or sweat too much. We reached the summit at sunset and reaped the rewards of our effort. The Western Macs, green and gold, rippled through an ocean of bush.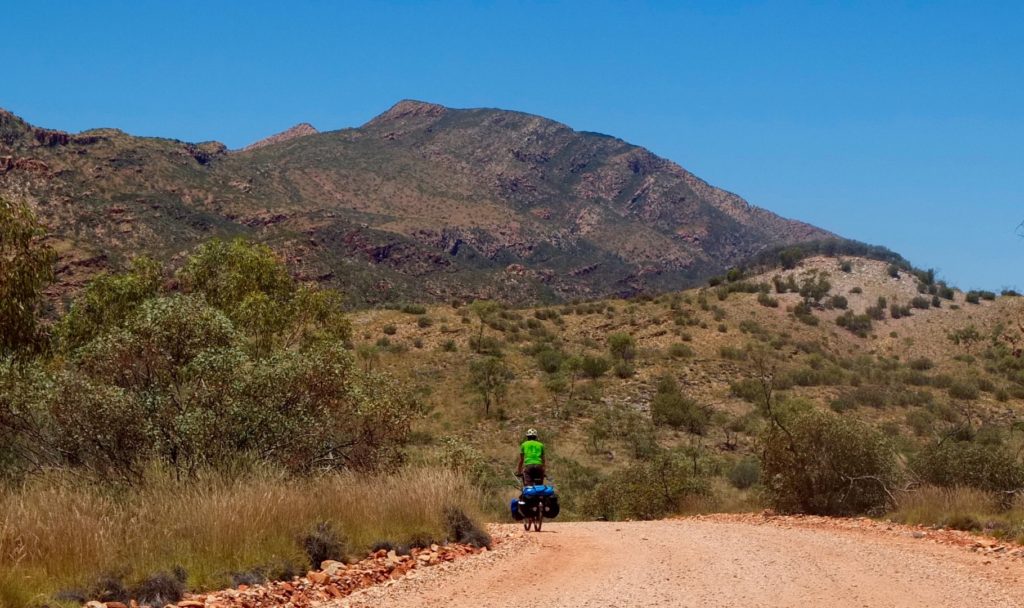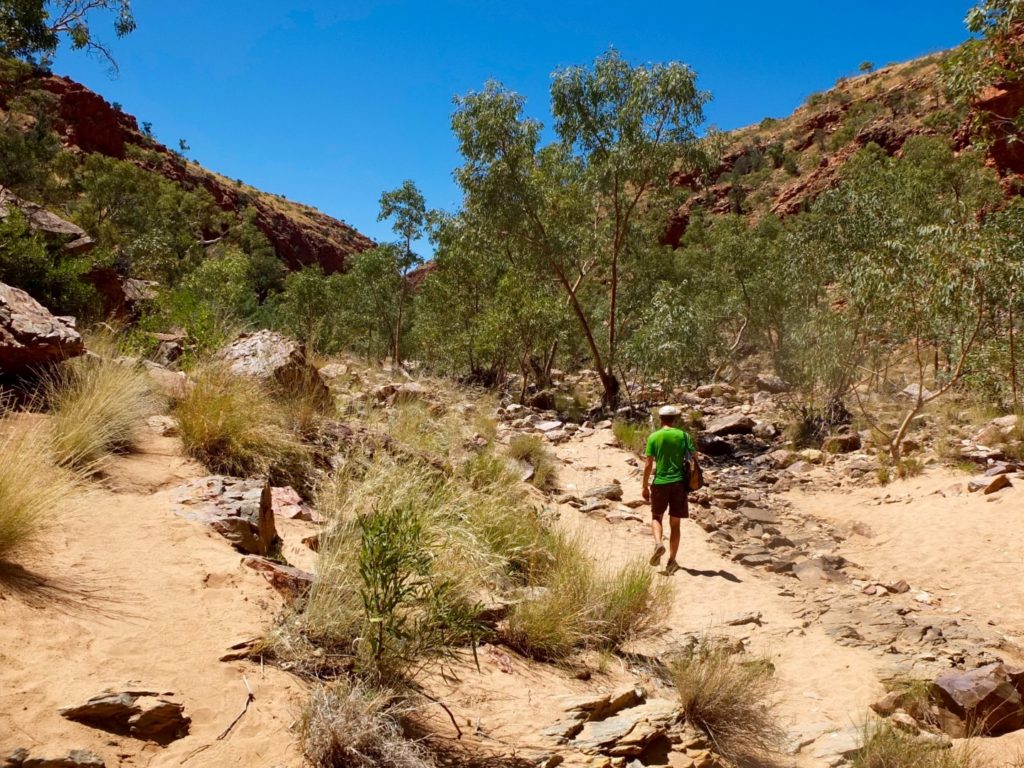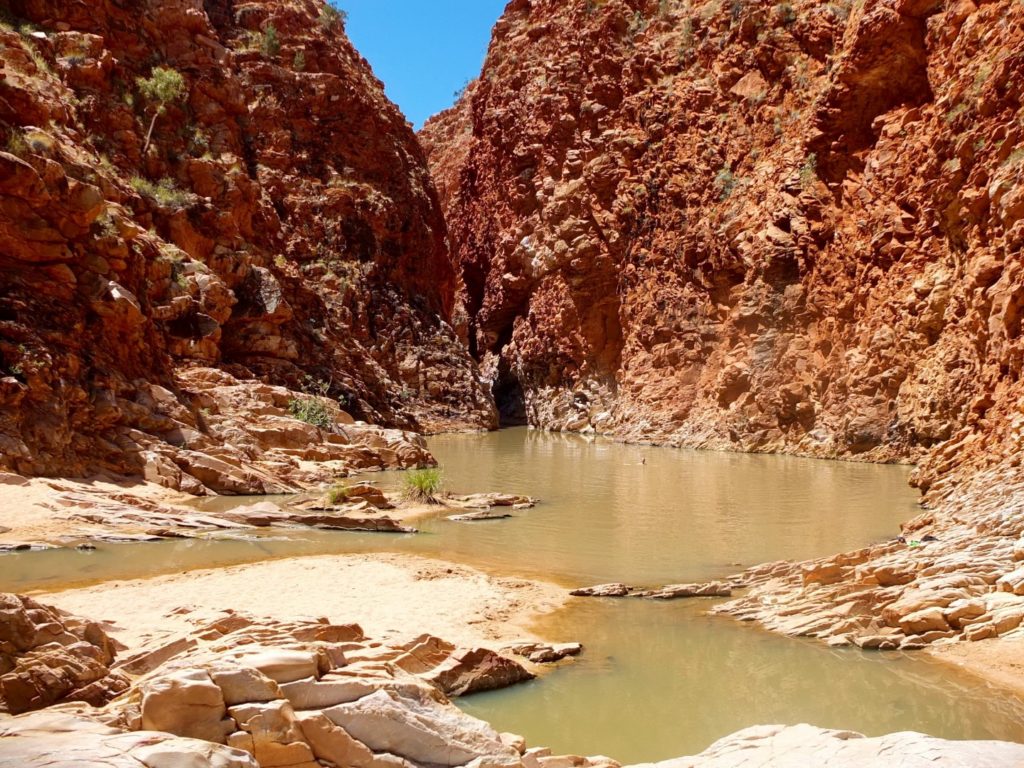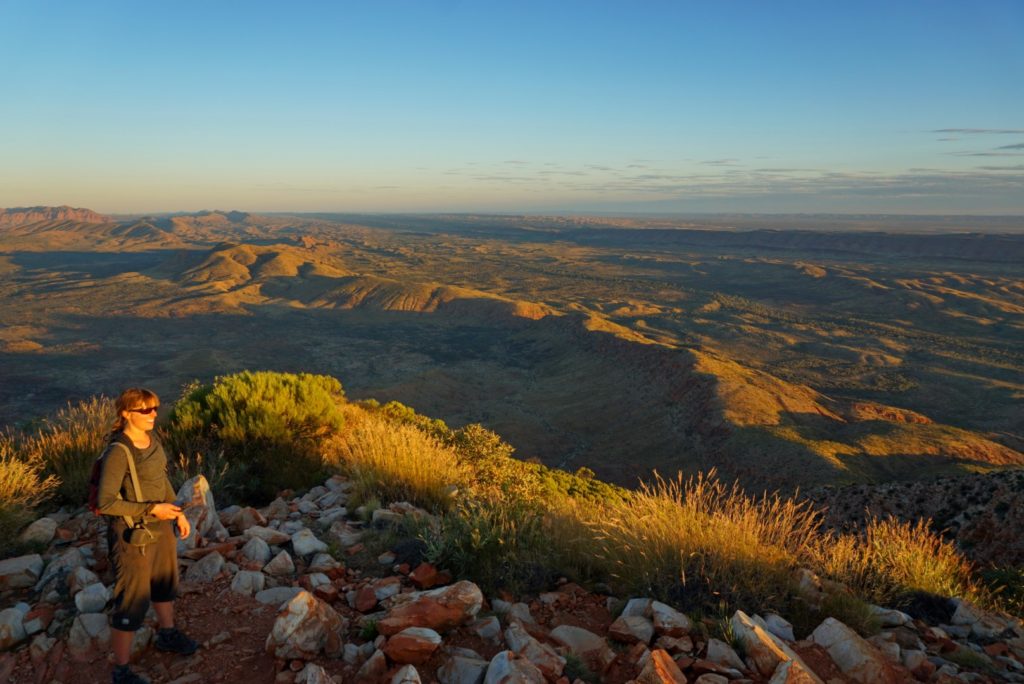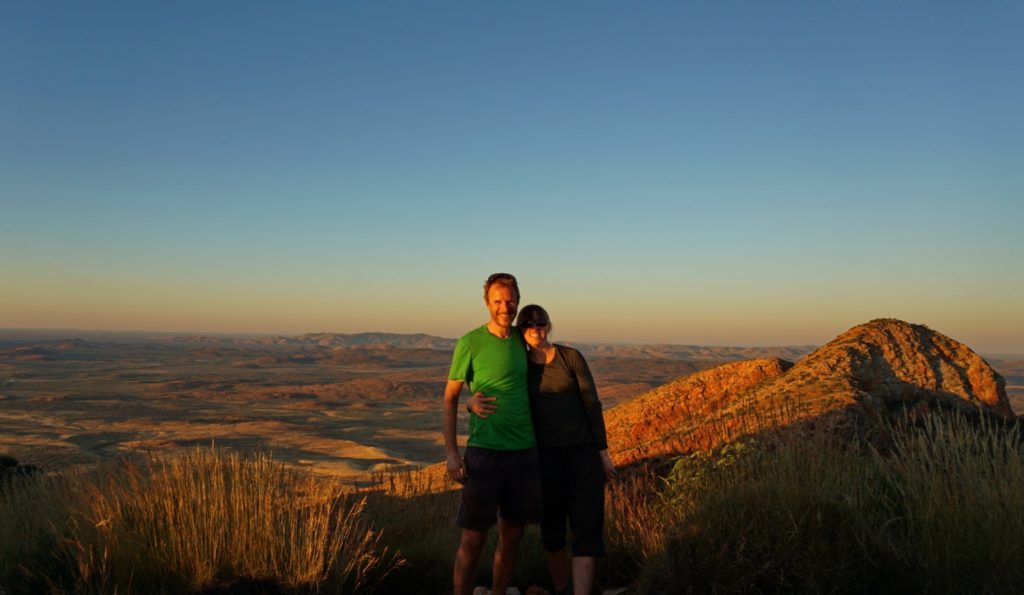 Only on the descent did we realise how ambitious we had been to attempt this hike after a 52 km morning ride, followed by a swim. We had used up all our water by the summit and our snacks proved inadequate for the arduous return trip. Descending by torchlight, we were fading fast. In the darkness we noticed that some trees chirruped and rustled when our torch beams fell on the leaves. In our weary state it took a moment to figure out what was going on. We shone our torches directly on the next magic tree, and it emitted an explosion of colour and noise into the night sky. A swarm of iridescent green budgerigars had burst from its branches. Who knew they are so reflective and psychedelic? The lower slopes of Mount Sonder were full of budgie trees. Although at first we felt guilty for disturbing the creatures' rest, they were so twitchy it was impossible not to startle them as we passed. In the end it became a fun game. I turned my torch to full power and shone it on trees in turn, conducting an orchestral fireworks concert of bright green budgie bursts.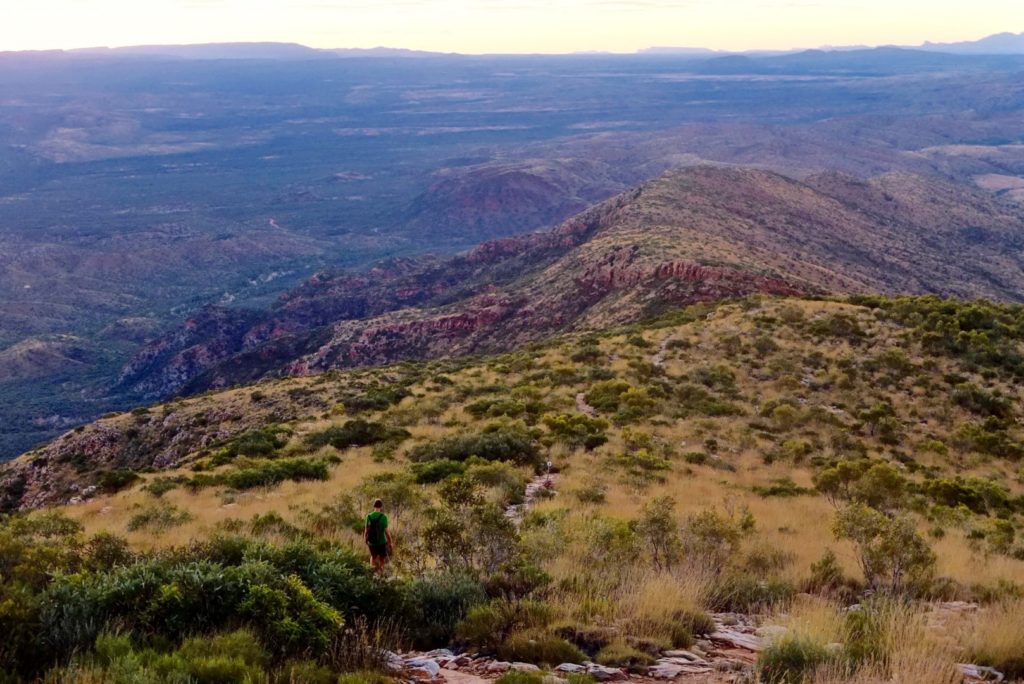 Back at the mosquito-infested trailhead, we still had to collect water and get our bikes up a steep, gravelly hill to the campground. We dug deep into our energy reserves and went through the camp drills, so well rehearsed that we could do them in our sleep. We had pushed ourselves hard that day. Finally getting proper food into our system at close to 11pm, we passed out and didn't stir again until the sun was way above the horizon. It's true that I am guilty of discounting the effort and energy required to make camp when touring. Often this is the final straw that nearly fells me. I always assume that I have another 20 km in my legs, even if I have to run on vapour. Making camp and cooking dinner will follow because … well, what's the alternative? Having that reserve tank of energy is one thing, but I should probably make allowances so that I don't have to dip into it quite so often. This is not an unusual scenario in my travels. Tara was a rare and wonderful travel companion for being tough enough and willing to push herself as hard.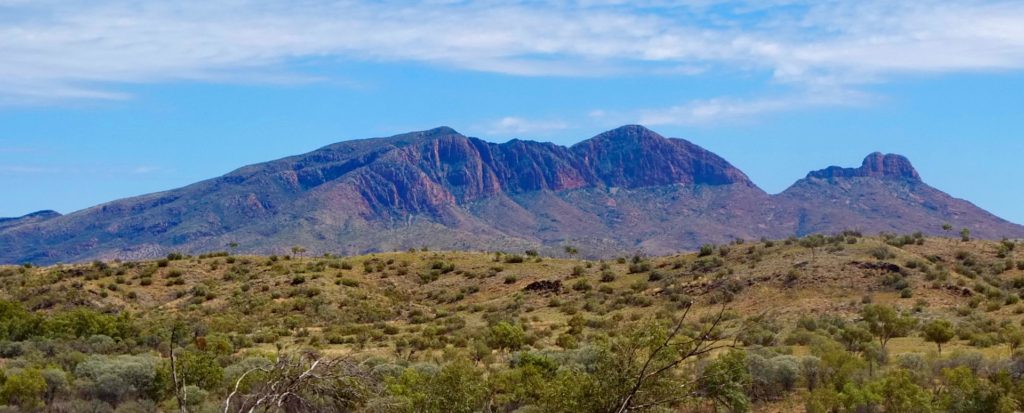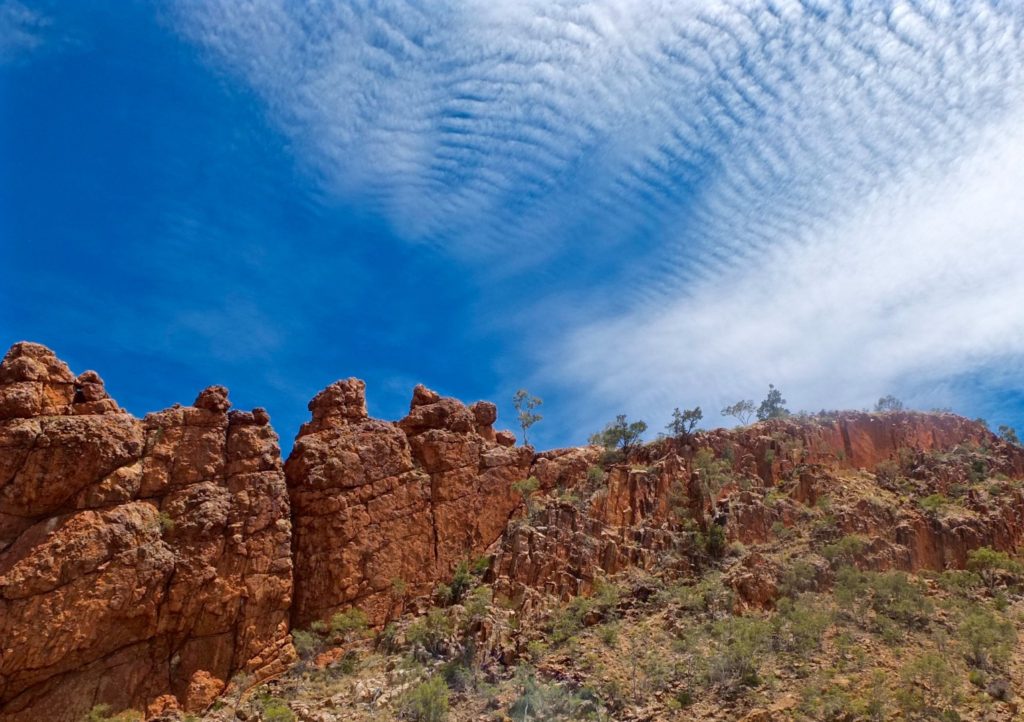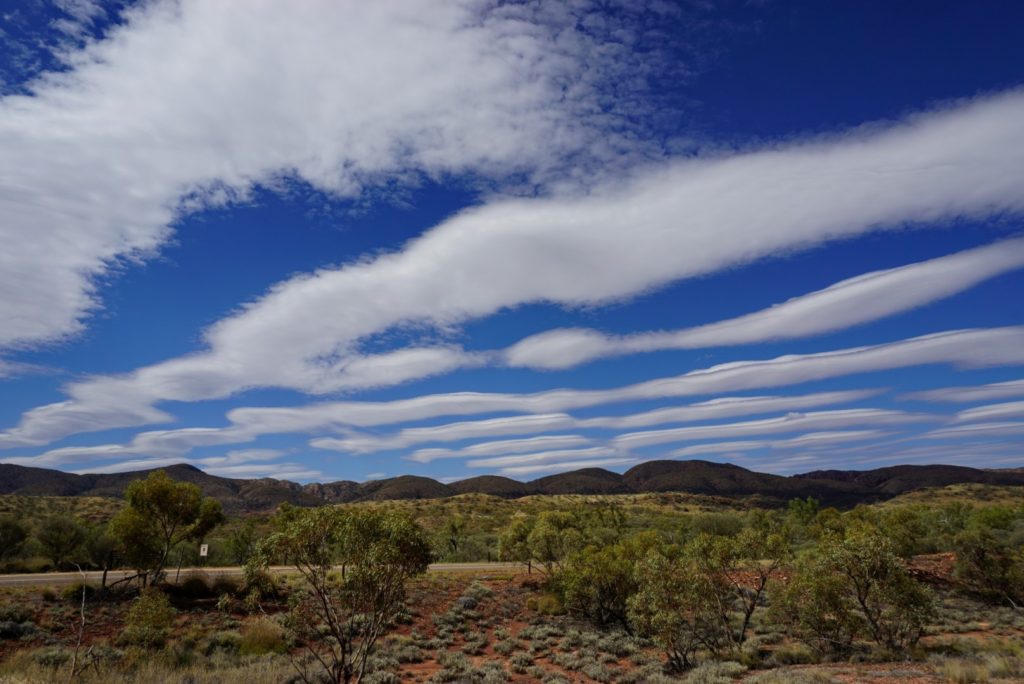 Next day our legs were heavy as lead. We lingered over a slap-up lunch at Glen Helen resort and wandered down to the Finke River gorge, the oldest river in the world. Resignedly we groaned back onto the undulating asphalt in a bid to get to Ellery Creek that evening. My insides were in turmoil and I had almost nothing left for pedalling. At the National Park campsite, I collapsed in shade while Tara brewed up strong tea and forced some re-hydration salts down my throat. A stroll down to the scenic 'Big Hole' and an evening dip in the cool, inky water completed a miracle recovery. Unfortunately, the tranquility was shattered just as we were about to turn in. An SUV full of tourists pitched up, floodlights illuminating the whole area, engine running and barbecues fired up for a night of drinking. In the morning their half of the campsite looked like a bombsite – empties, half-eaten food and litter everywhere. This is always the problem with official campsites – other people!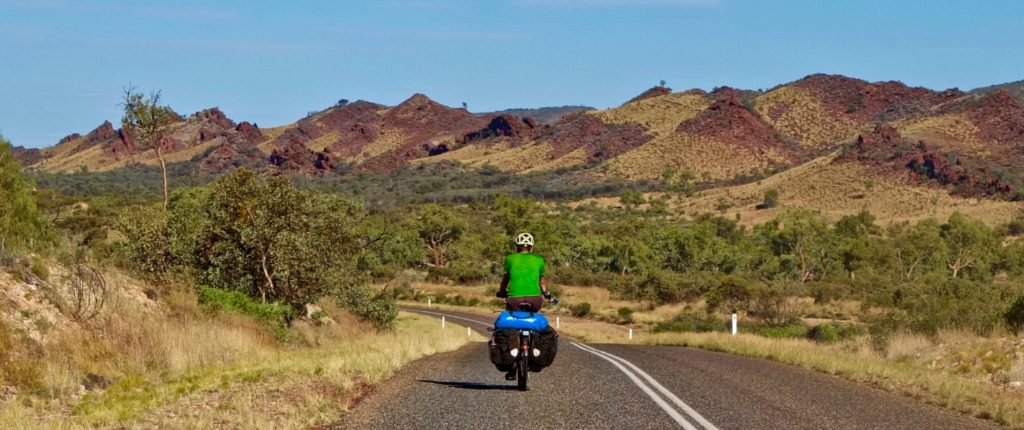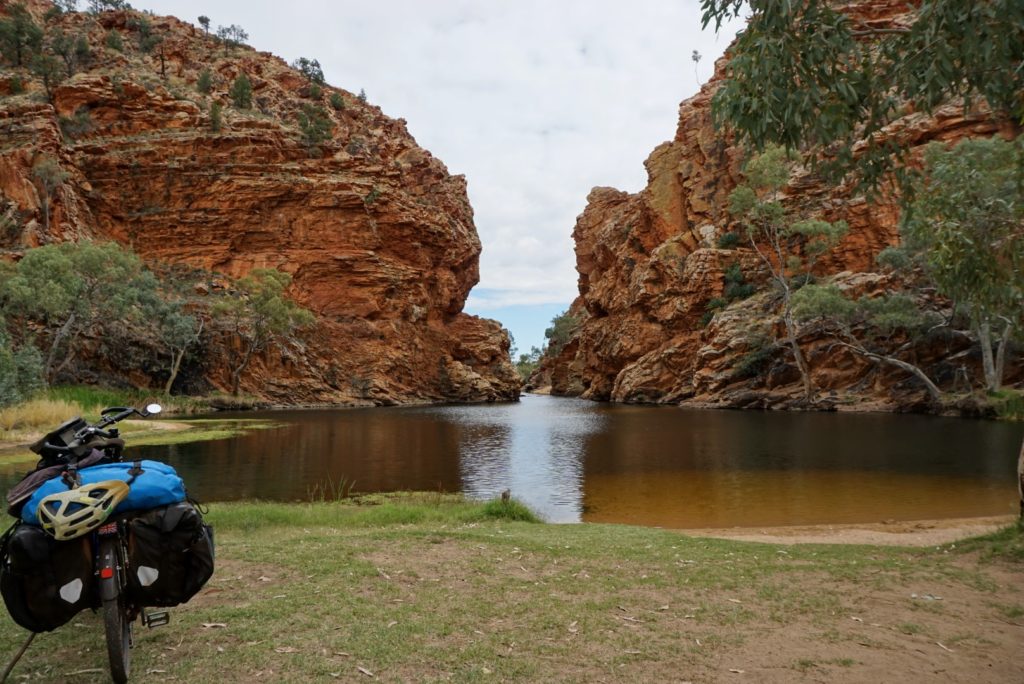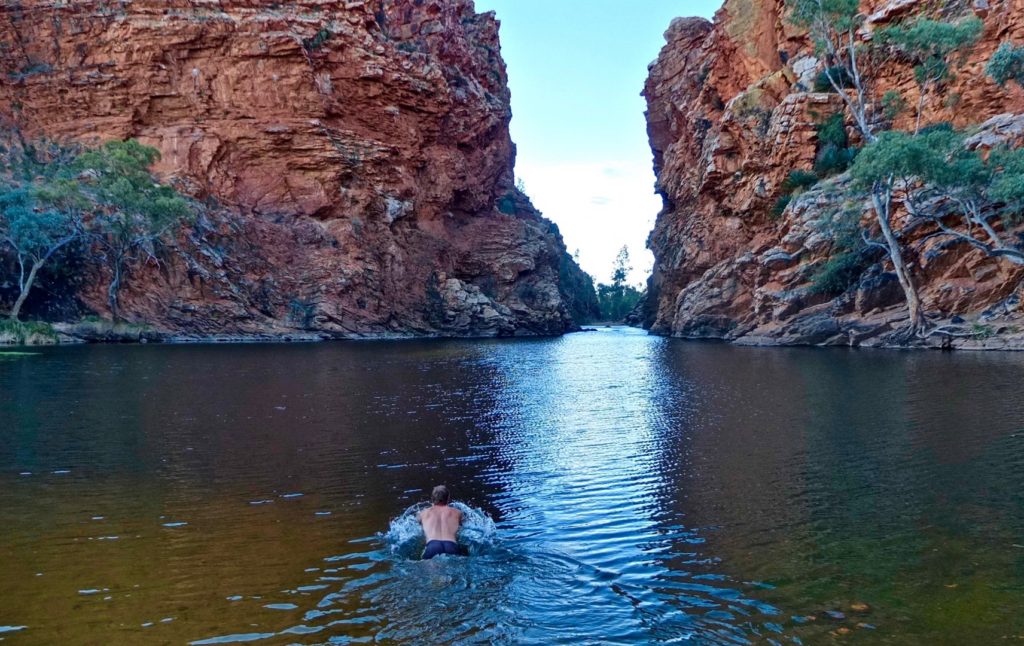 From Ellery Creek we had a solid 100 km run into Alice Springs. Bruce Chatwin described it "a grid of scorching streets where men in long white socks were forever getting in and out of Land Cruisers". Nevil Shute had it as "a bonza place". You pays your money and you takes your choice. We had arranged to stay with Laurie and Andrea, leading lights in the local bike scene and experienced long distance tourers themselves. They extended every hospitality and generously offered us the chance to stay on for a few days to recharge our batteries while they were out of town on business during the week. With over three weeks hard riding in our legs with only one day off, this was an offer we couldn't refuse. Basking in the pool sipping G&T was a surreal contrast with the previous month. Within a few days our bikes were overhauled, supplies were restocked and our bodies well-rested. I'm more inclined to agree with Shute than Chatwin about this town.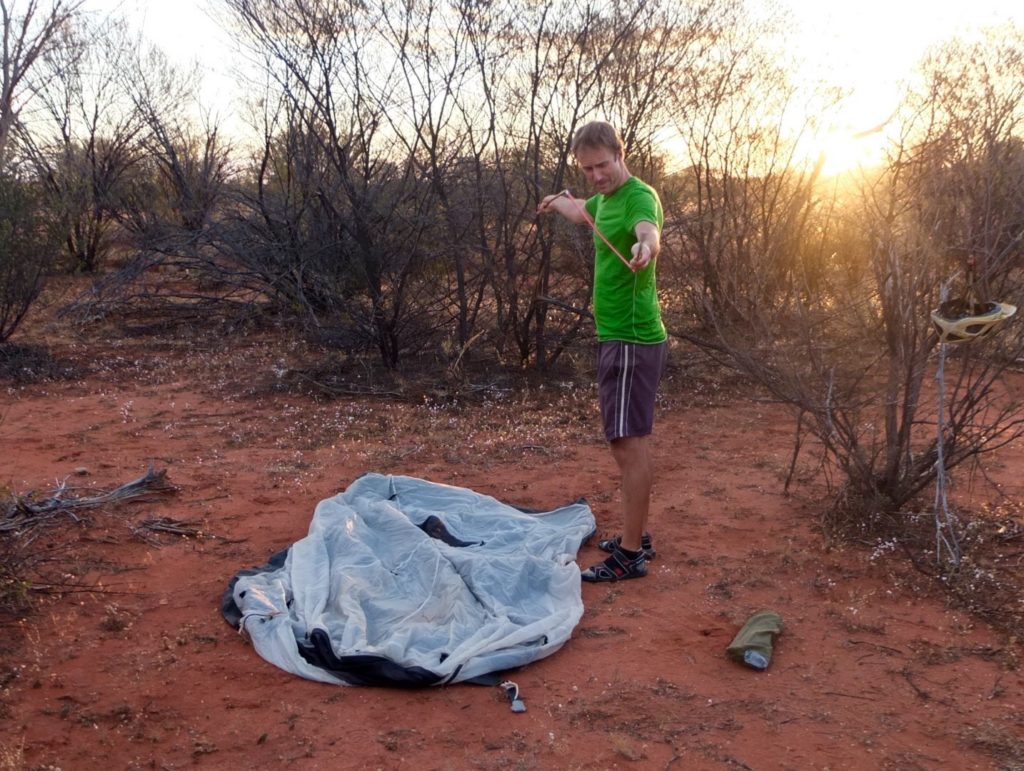 South of Alice we had a several route options, including the Oodnadatta Track and Mawson Trail that I had previously vetoed. From the cool comfort of Laurie and Andrea's home, the idea of hammering it 1600km in a straight line on the Stuart Highway to Adelaide was less appealing than returning to the dirt. We struck a compromise to ride part of the Oodnadatta south of William Creek. That would set us up for a more scenic route through South Australia via the Flinders Ranges. Recharged, we barelled out of Alice on easy asphalt, able to tap out 130 km plus a day despite a hot headwind. We formed up for close drafting and kept a steady rhythm of 40km, snack break, 40 km, break. Or at least as far as possible given the availability of rest stops with shade and shelter from the wind. Crossing the border into South Australia we saw how spoiled we had been with public rest areas in Northern Territory. In SA they were scarcely more than laybys full of litter and excrement – rather depressing places.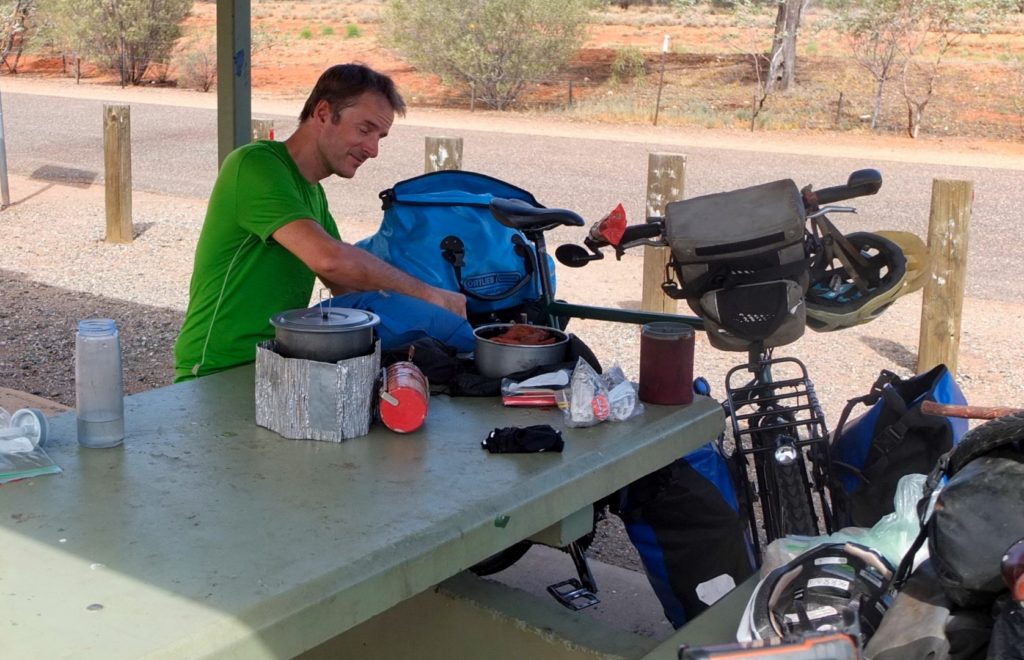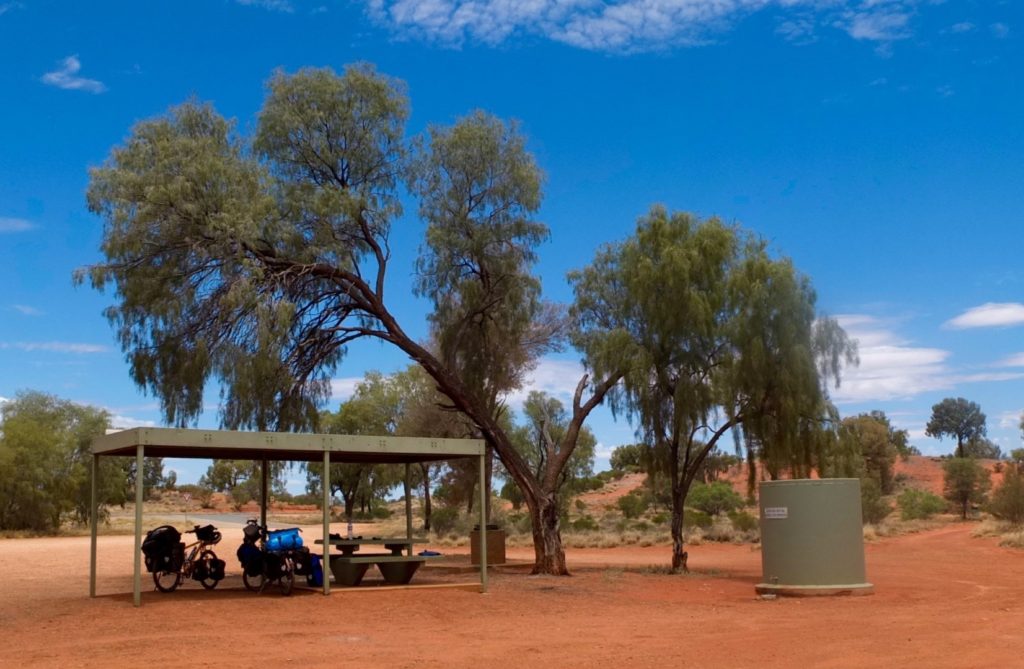 We camped in the scrub bush as another summer electrical storm massed on the horizon. The anvil-topped cumulonimbus marched steadily in our direction, the lightning getting closer and closer. After an hour of this countdown, Tara was becoming agitated. As a forestry technician she was trained in storm safety and recalled having to sit out a violent electrical storm in Canada for hours in the ground-strike position. I have brushed with electrocution a few times in my life, but never by lightning. I found the intensity and drama of the storm thrilling. While I tried to reassure Tara, I was secretly willing the lightning to come as close to us as possible. Each flash the illuminated the bush like broad daylight. The air was charged with ionic energy, making the hair on my neck stand up. At such moments one feels fully alive. Elemental forces render the human scale puny, always a salutary lesson. Throughout this section, the the wind was relentless. On gentle declines that should have been fast cruises we still had to pedal downhill.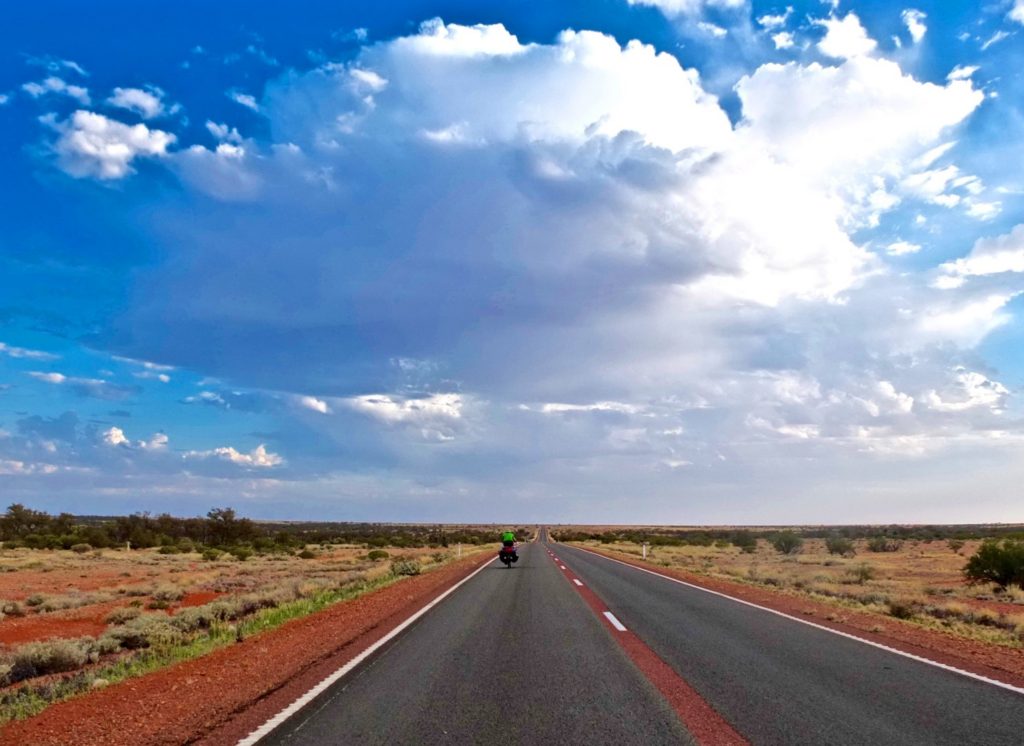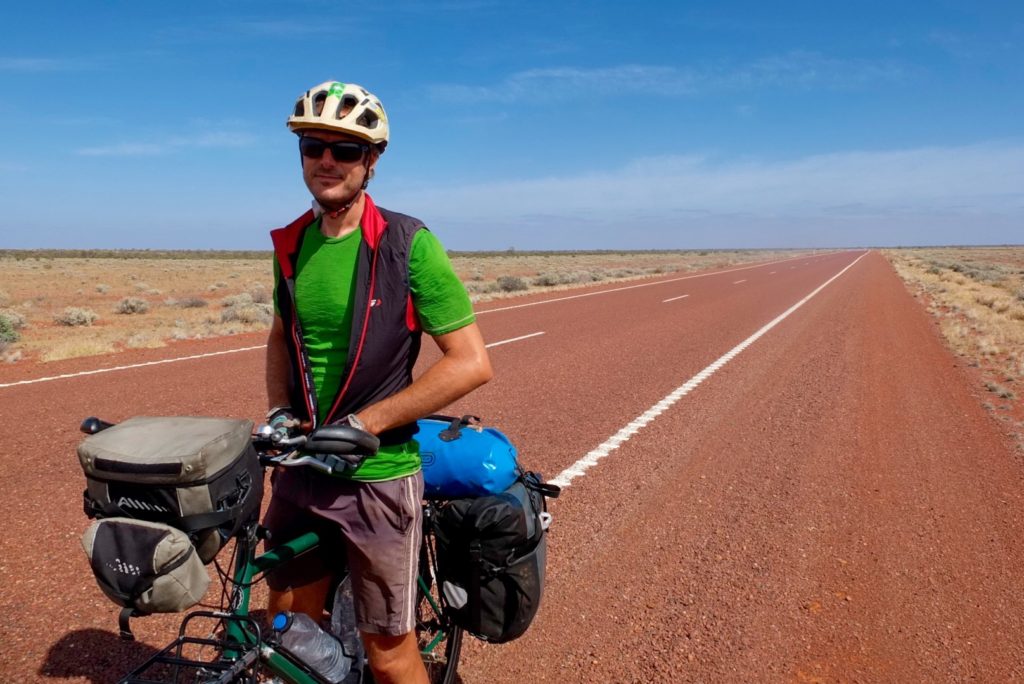 After four days slog from Alice we reached Coober Pedy, a town famous for opal mining and subterranean dwellings. We stumped up for an air-conditioned B&B on the outskirts of town to clean up and rest properly before we headed back into the desert. I sat on the porch drinking a post-shower beer and watched the sky transition from orange to pink to purple. Lights winked from Gaudi-esque cave dwellings nestled in distant hills and ridges on the pale plateau. It looked like a location shot from Star Wars. Coober Pedy felt very much like Tatooine that evening. It was a beautifully tranquil interlude, especially after the drama of the storm the night before.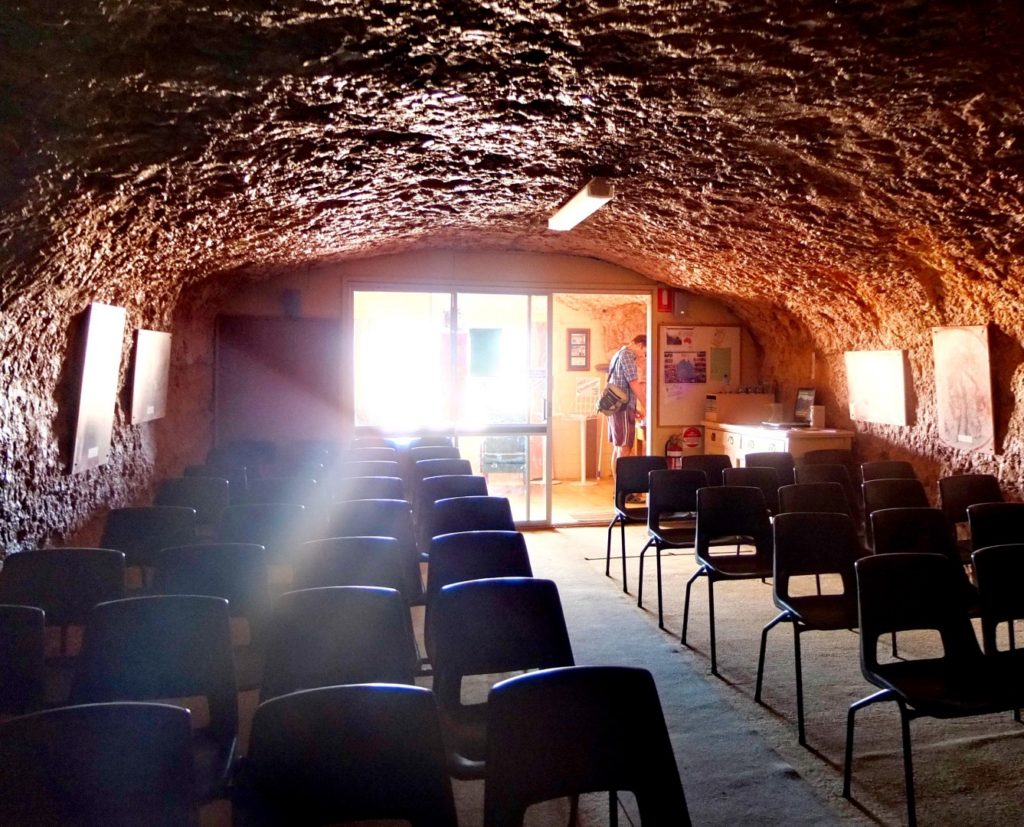 Our route crossed the southern end of the so-called Moon Plain: a particularly desolate patch of desert that stretches 150km to William Creek. The outback threw everything it had at us. Hot, baking headwind, check. Soft, corrugated, leg-sapping road surface, check. Biblical plagues of bush flies, check. The day-and-a-half out of Coober was one of the toughest sections so far. A long, strenuous day yielded barely 60km forward progress. We scouted in vain for shelter from the wind to make camp, ultimately settling for a spot in plain sight of the road in the lee of a bush. Wind noise, latent ground-heat and dehydration all made for poor sleep. In the morning we crossed a corner of Anna Creek Station, famously the biggest cattle ranch in the world (if it were a country it would be the 147th largest, between Macedonia and Djibouti!).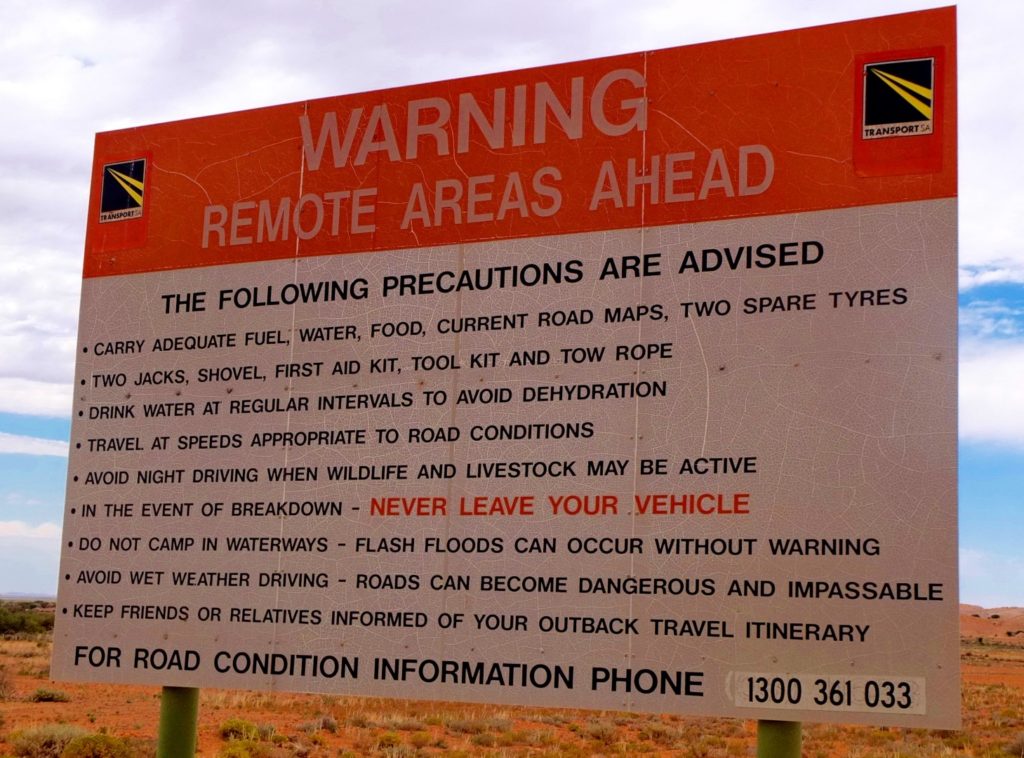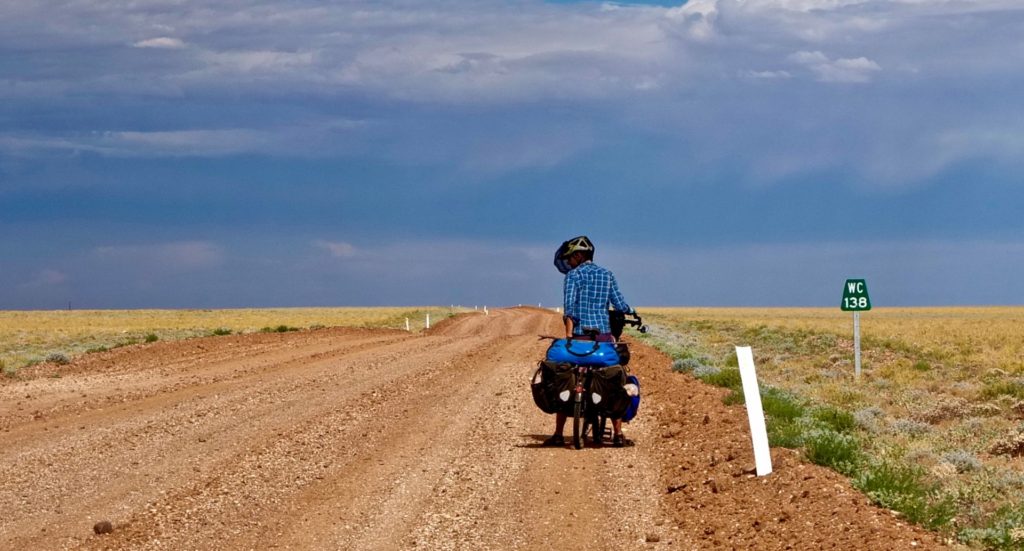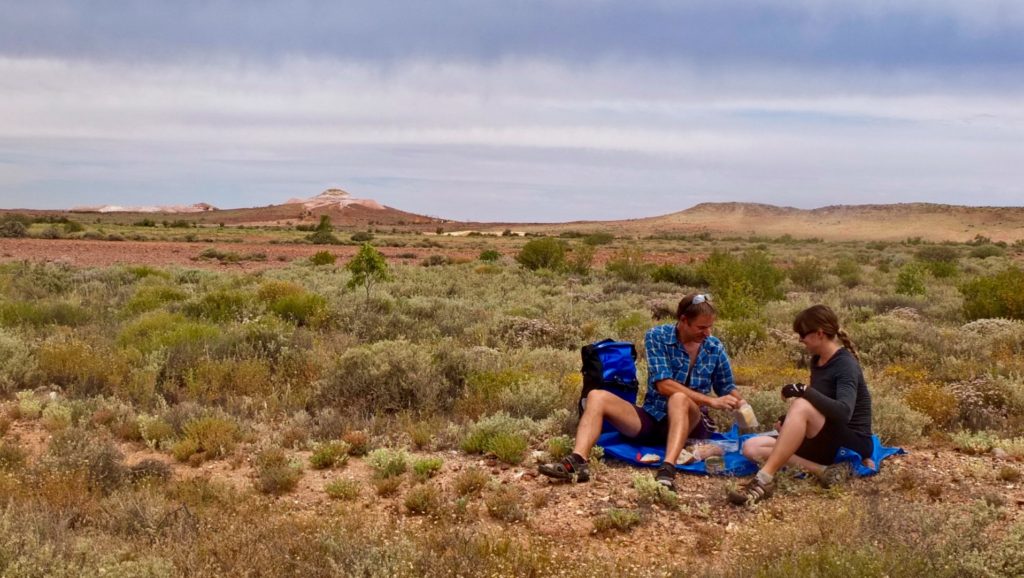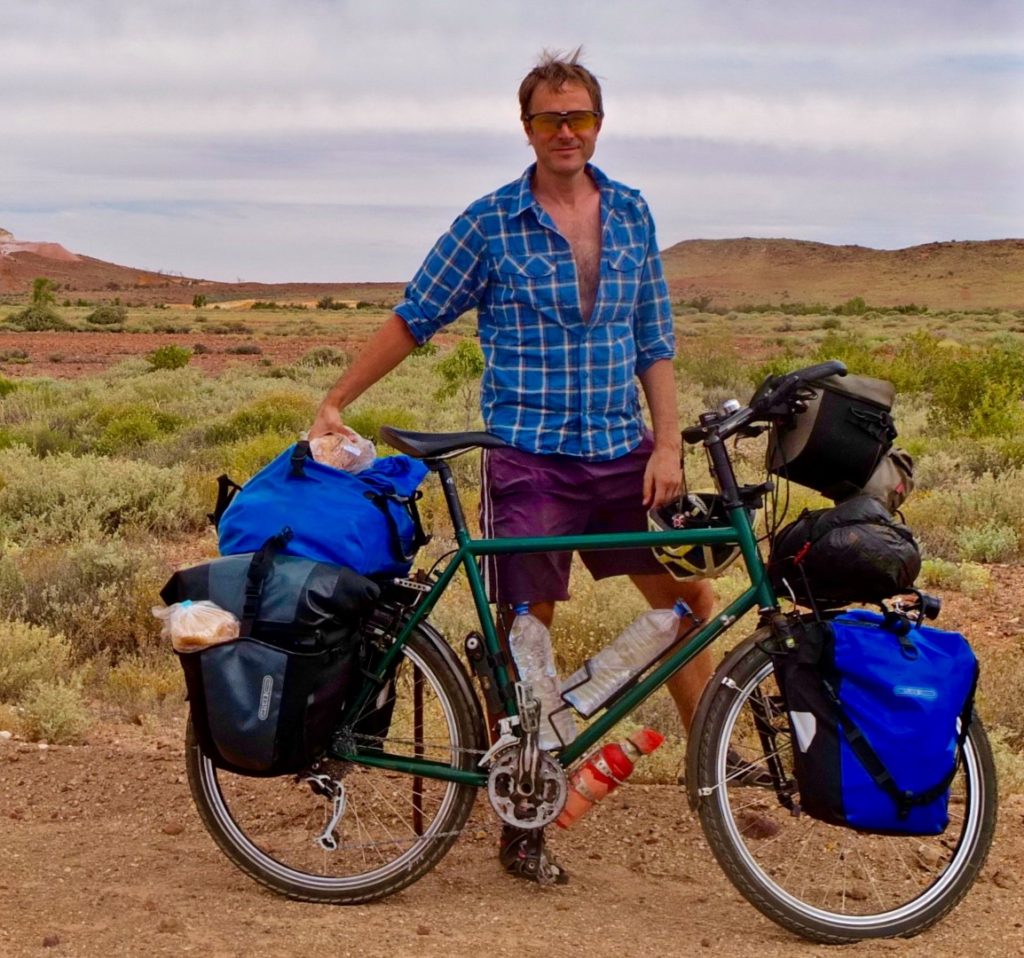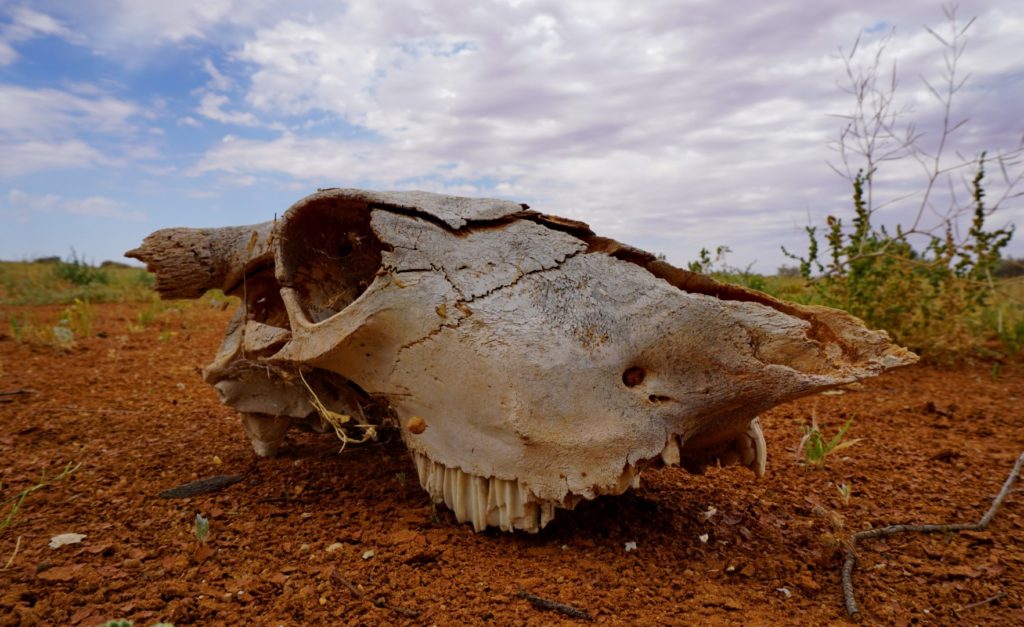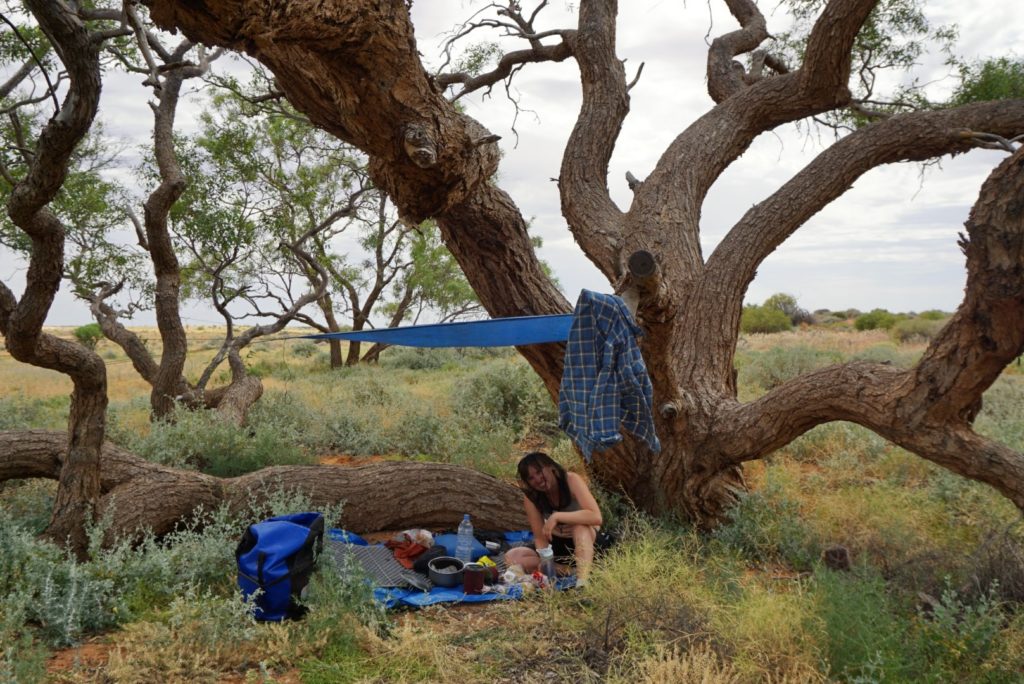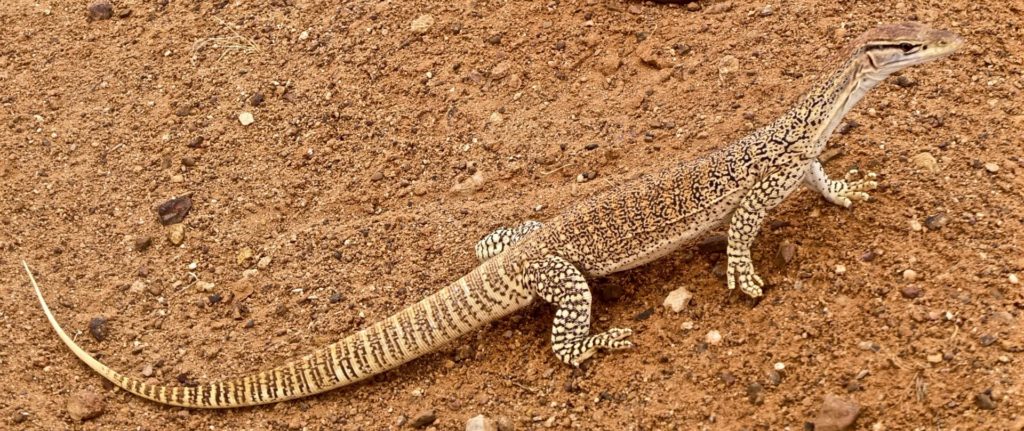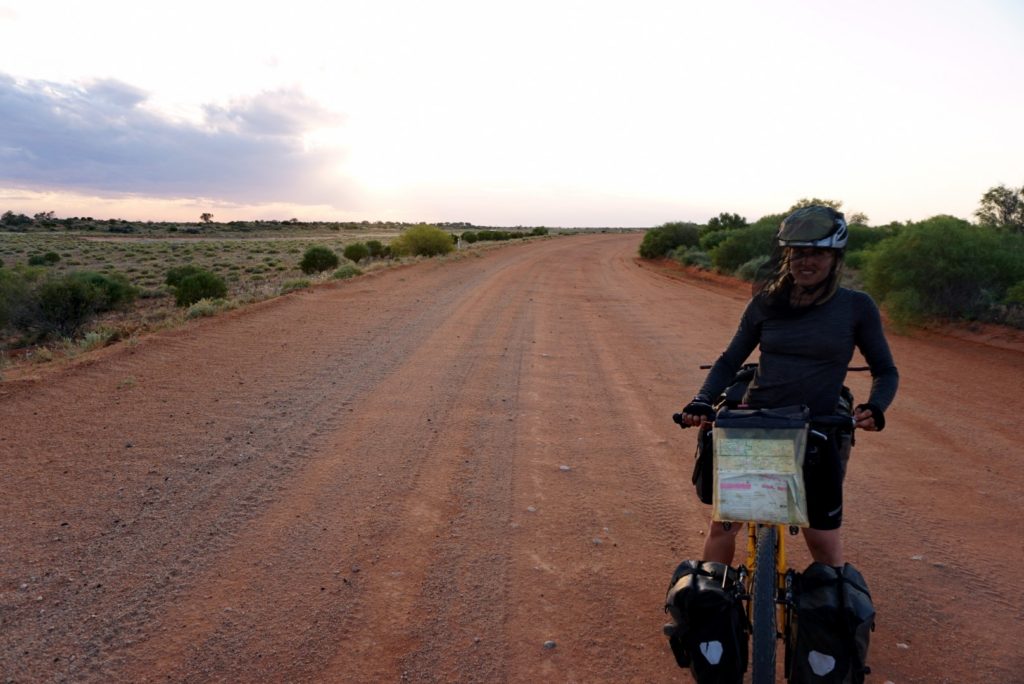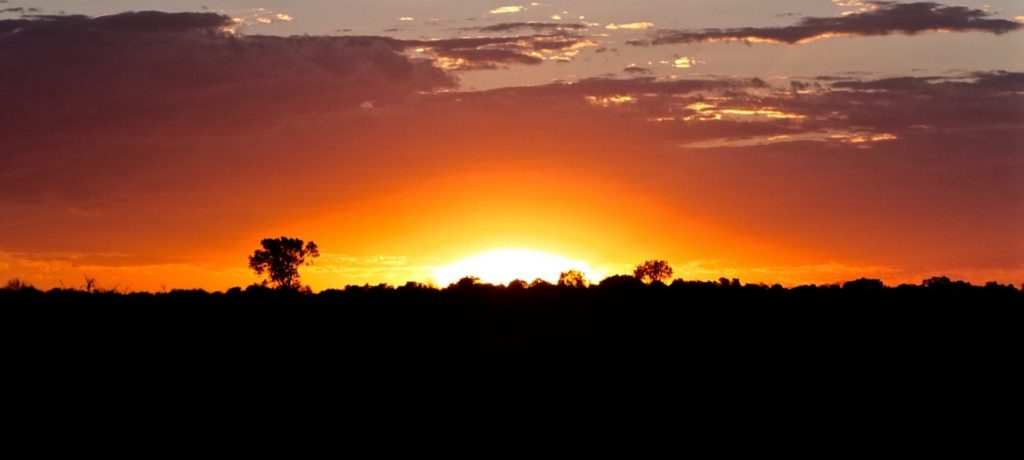 We had read reports of miserly treatment at William Creek roadhouse and campsite for passing cyclists. We smiled and chatted breezily with staff and customers. It payed off. We scored a full refill of our 10 litre water bladders from the friendly bar woman, who even half-filled both bags with ice. Potable water is at a premium in the Outback, everything else is on bore water. We had previously drunk bore water in a tight spot, but it generally tasted foul and almost certainly contained minerals not safe for human consumption. Intermittent stomach upsets, although impossible to attribute to a single source, also deterred us from using bore water. Our general rule was drink what the locals drank. Over burgers and ice-cold cokes in the roadhouse, Tara enquired of a couple of Australian campervan tourists the result of the US general election that had taken place two days before. The leathery, red-faced Bruce yelled back "Jesus! You don't know?! The one with the haaaiir! The one with the hair won it!!". I buried my face in my hands and wished we hadn't asked. There are advantages to disappearing off the grid for periods at a time. Ignorance really is bliss.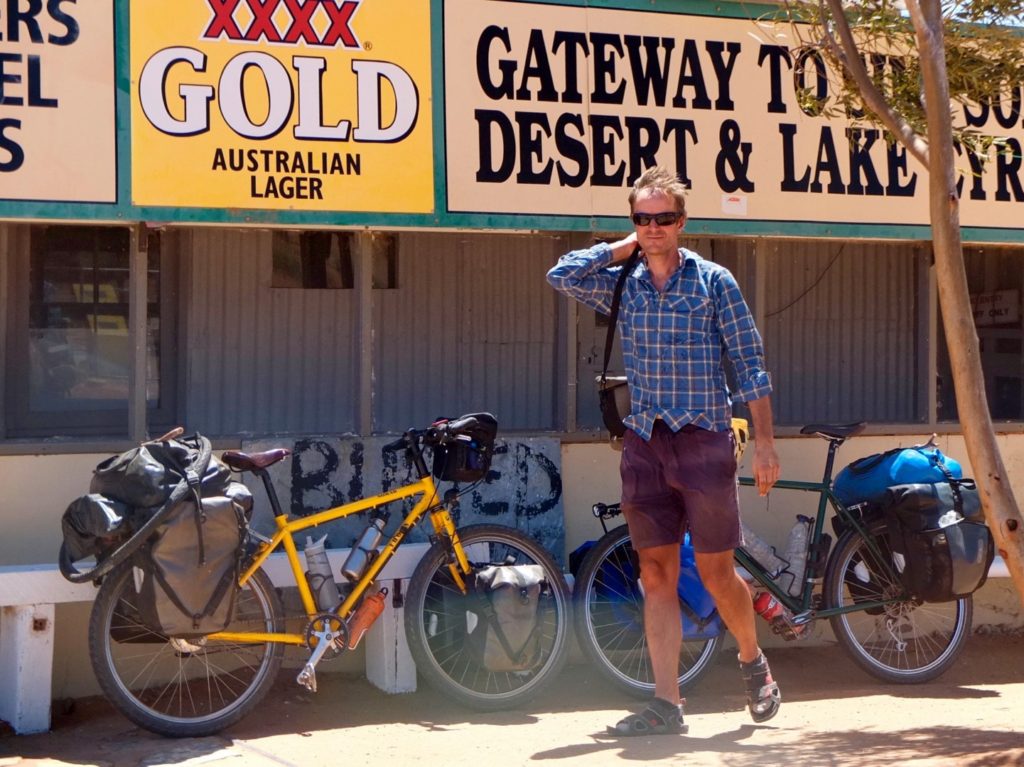 By way of compensation the wind had backed 90°, becoming a strong northerly during the night. Our route now took a 90° turn due south. On the Oodnadatta Track we reaped a gale-force tailwind and smashed out 80 km that afternoon, despite the undulating dirt. Further treats were in store. During the afternoon several campervans and RVs passed us on the road, the drivers waving or shouting encouragement. Late in the day, our energy levels were dropping perilously low and I was entering that phase when common sense abandons me and I am wont to push through without stopping for snacks. Riding on the right shoulder I saw an odd-looking object in the road, a bundle of some kind wrapped in newspaper. Closer inspection revealed it to be a parcel of two oranges and two cans of beer. Ice … cold … beer. We stared at the treasure in disbelief, then at each other, then devoured the contents laughing gleefully. The care-package was clearly intended for us. There were no other non-motorised travellers on this road and it had been positioned carefully, on the side of the road we were riding on. We recounted all the vehicles that had passed us and decided it must be the friendly German couple with whom we had exchanged a few words not long before. More 'road angels', as Tara called them.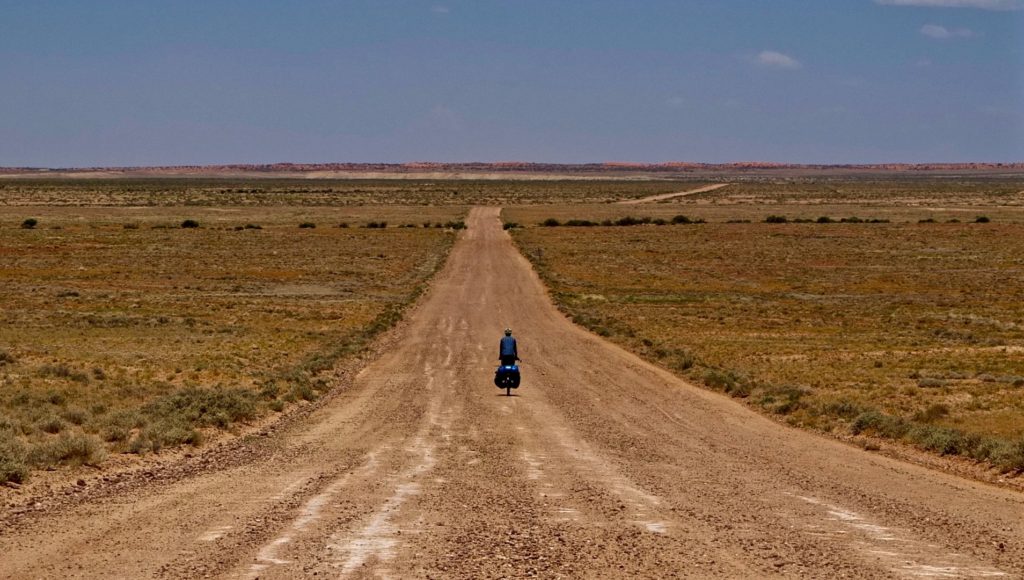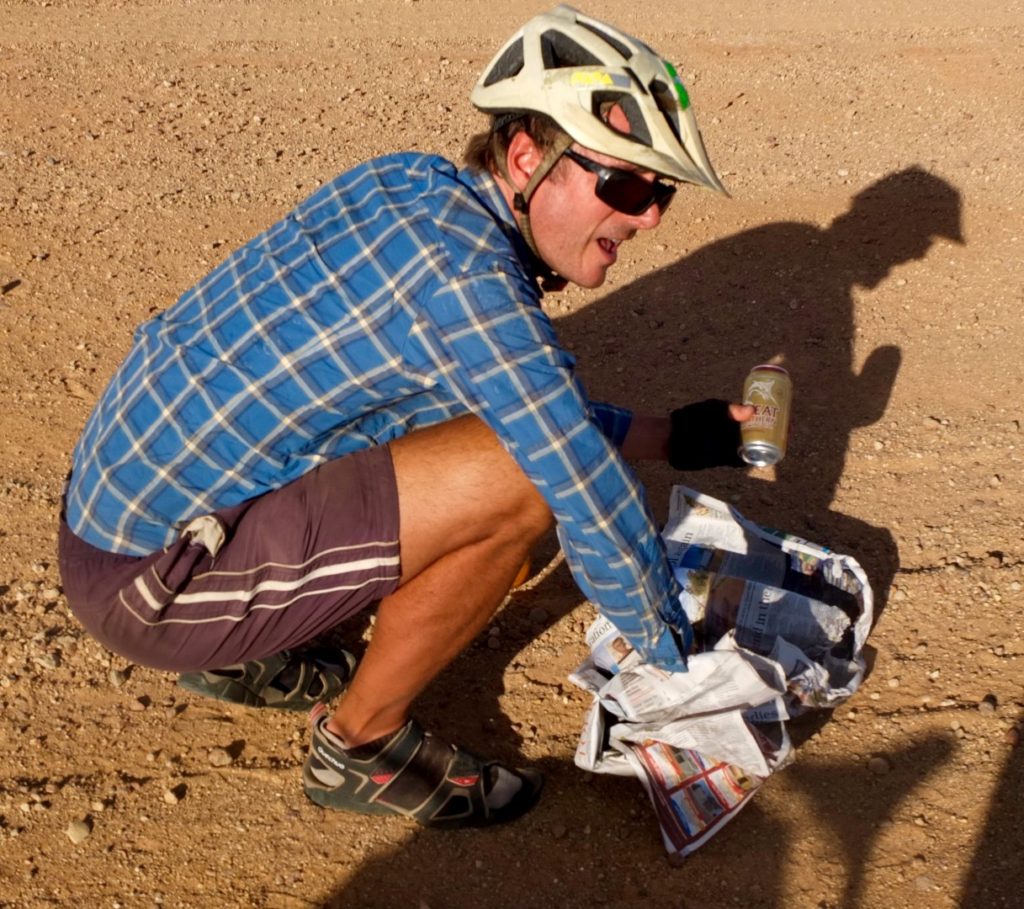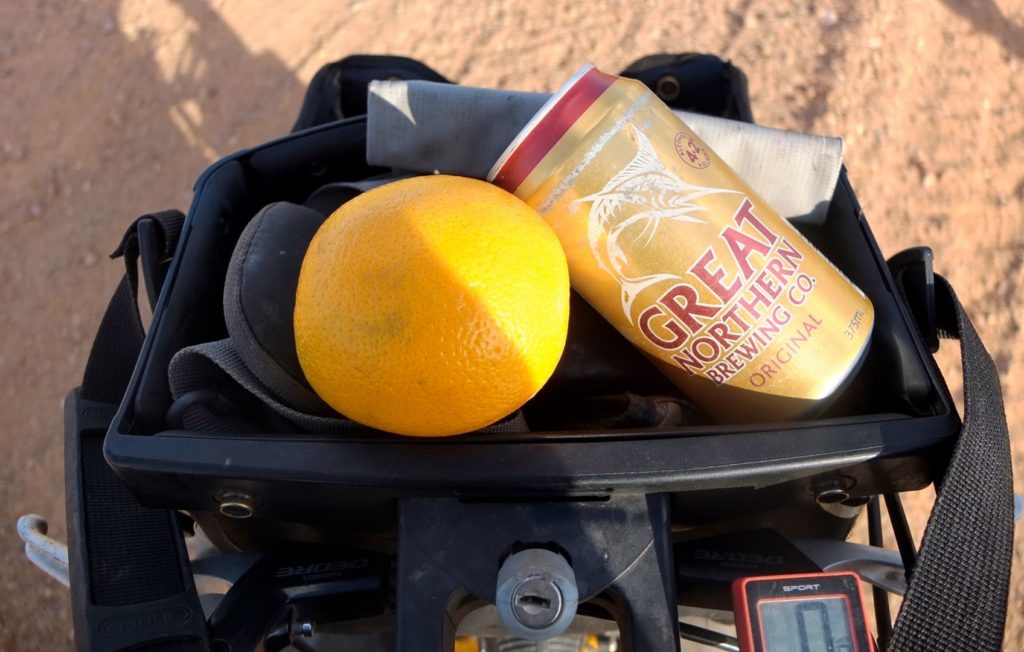 We dared another night on an official campsite at Coward Springs, lured by drinkable water from rainwater bowsers and solar hot water for showers and washing clothes. I recognised the Germans' car and wandered over to say hello. I asked if they had left a gift on the road for us. They smiled enigmatically and denied it. I peered at them, not really believing their modesty. Later at the wash block we chatted more, and they gave us a bundle of six oranges wrapped in newspaper. Highly suspicious. They said they would like to give us beer too, but, with a shrug and a wry smile, that it was "all drinken".
The wind continued to play cat and mouse with us. With a tailwind set fair for one more day, we laid down the power alongside the enormous salt flat of Lake Eyre, where Donald Campbell had broken the land speed record in 1964. Breaking our own personal bests for dirt road riding (and a hilly one at that), we made over 150 km to Maree that day. In the bar of the Maree Hotel a small private tour group that had passed us a couple of times on the road stood us beers and treated us like celebrities. Free camping on grass at the back of the pub and a shower was a welcome end to an epic day's outback touring. We decided to push hard for Adelaide, where Tara had arranged for us to stay with her uni friend Callan, a fellow Canadian who had emigrated to Australia.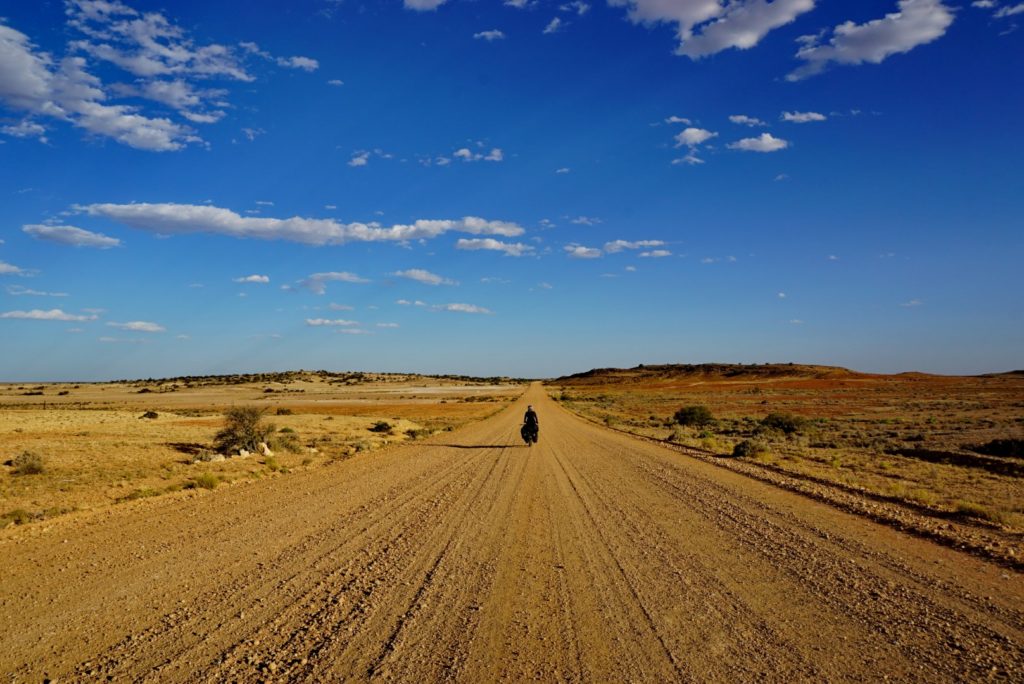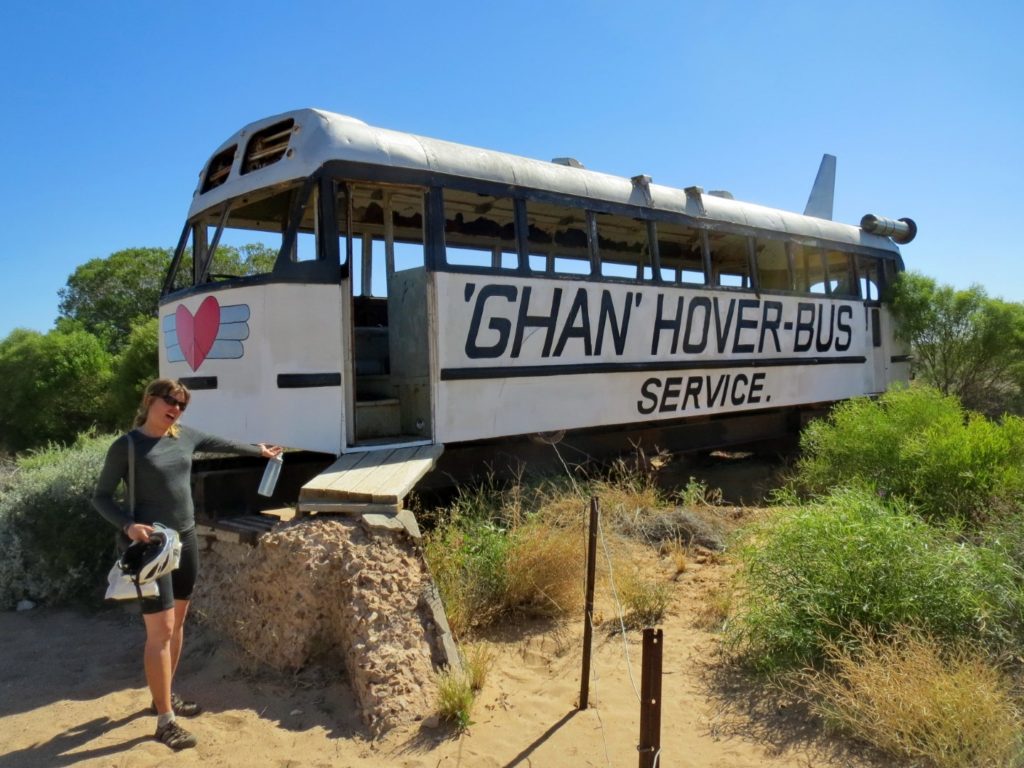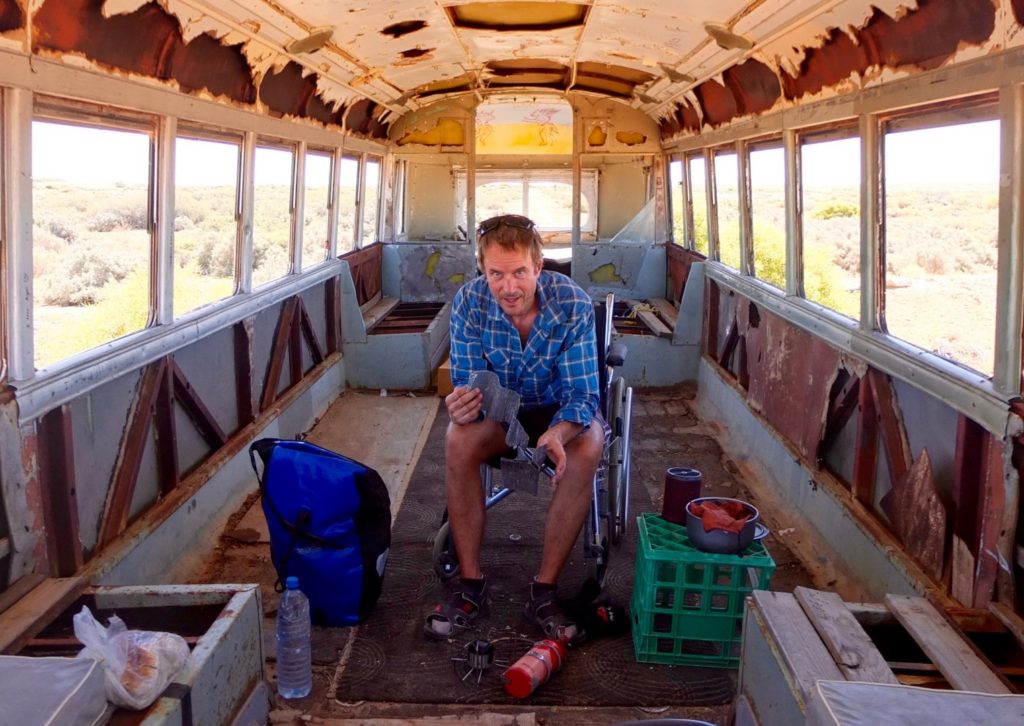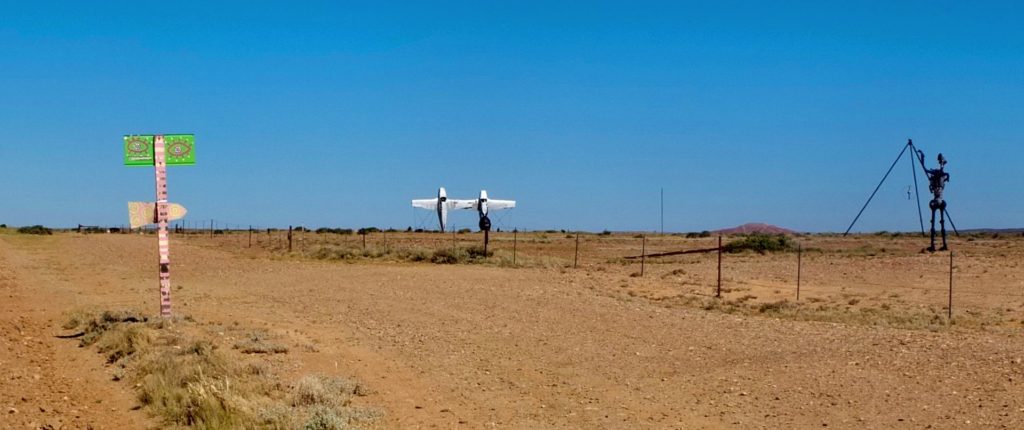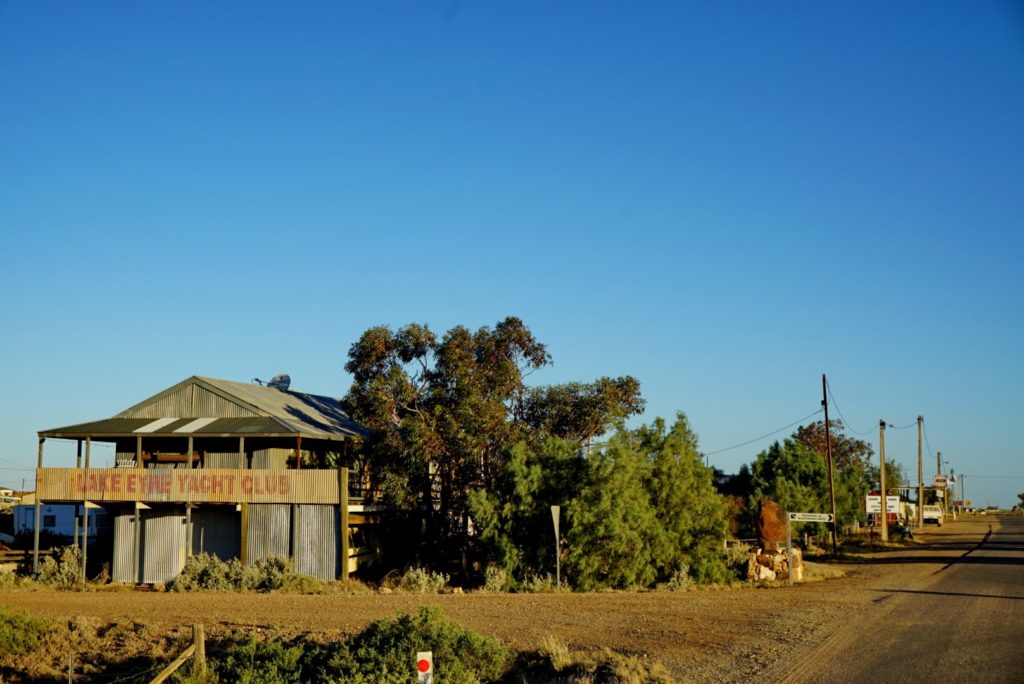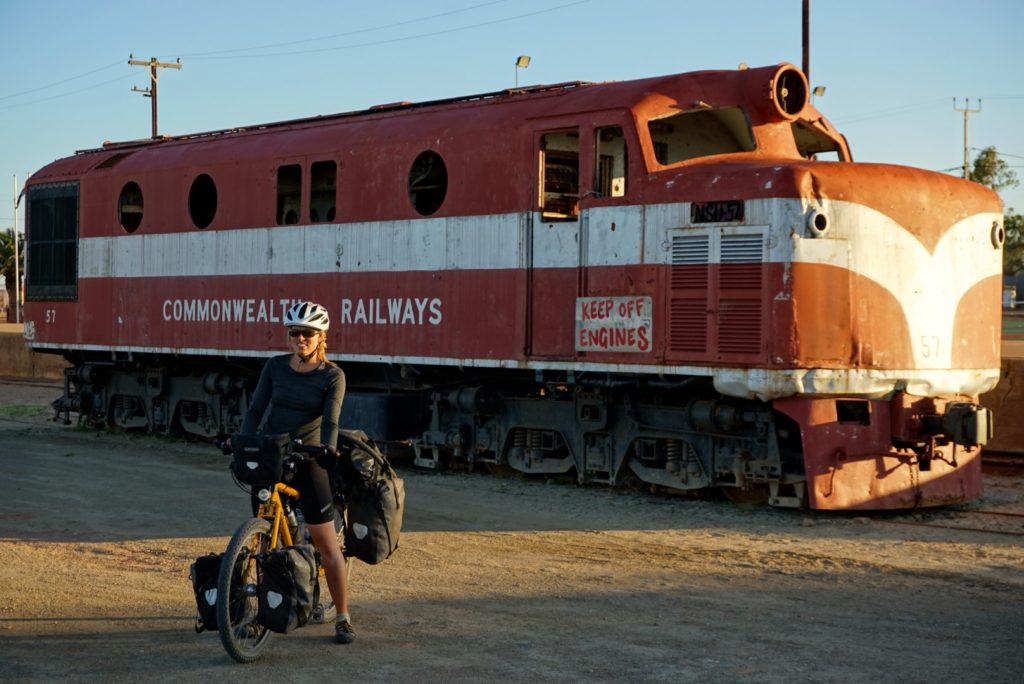 At Parachilna Junction we camped in the silver light of a full moon at the foot of the Flinders Hills, our first proper gradients in nearly two months of flat riding. The Flinders are rolling Hobbit hills, farmland studded with groves of eucalyptus and other broadleafs. The area is home to thousands of wallabies and kangaroos. It was nice to see so much active wildlife again after being so long out in the desolation of the deserts. We pressed on through Shire country to Wilpena Pound, a natural amphitheatre tucked between the hills. At sunset we sneaked off the road to camp in glade in the silent pine forest.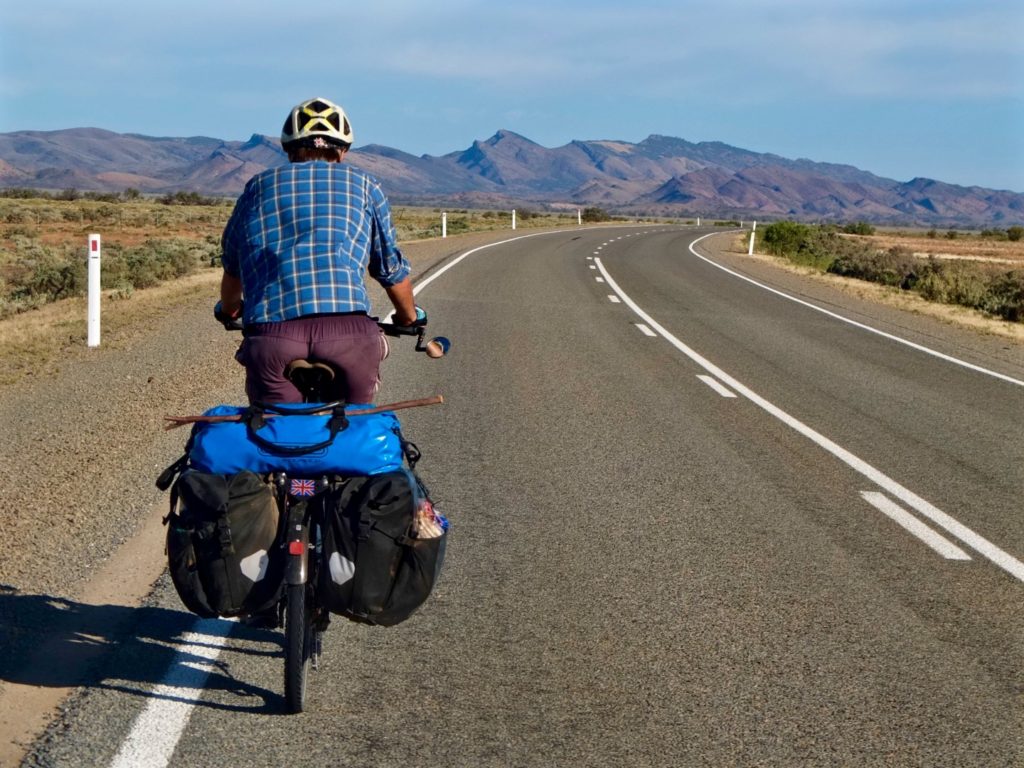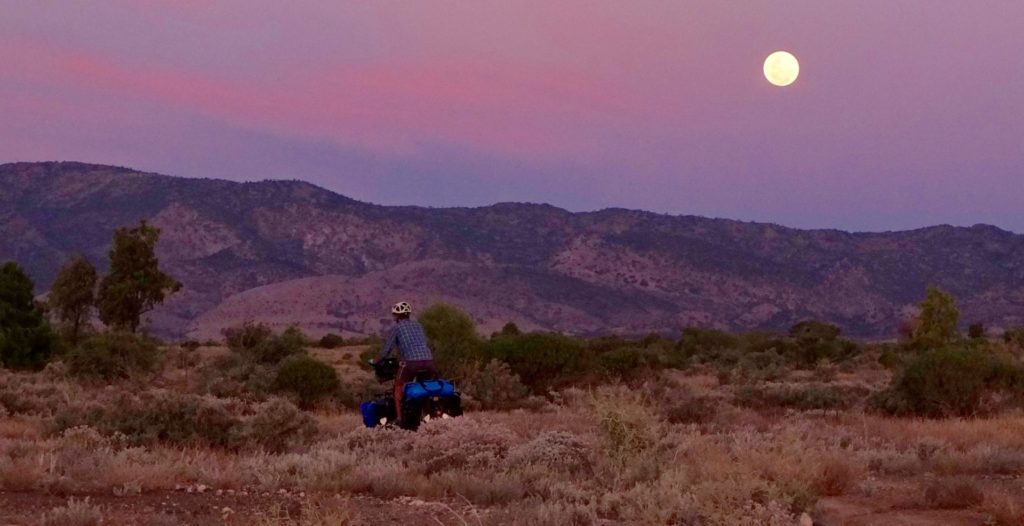 Camping from here on required more stealth and ingenuity than in the desert. Although still a long way from towns, we were now tracking across the agricultural belt of South Australia. Most land was in private or national park ownership. This was still wide open country and the roads were empty 95% of the time, so we had no trouble finding quality spots. But from here onward we had to be alert to the possibility of upsetting landowners or running into officious park wardens. Australia is a highly regulated and litigious society. After the anarchy of India, in Perth it grated to see so many street signs prohibiting or demanding this or that. Of course that is the price you pay to keep your local environment clean and tidy. The irony is that the real environmental damage occurs unseen by the coastal population, hidden discreetly in the interior as open cast mines on aboriginal native title land or as off-shore drilling in delicate marine ecosystems. Of course Australia is not alone in this national cognitive dissonance. Virtually every industrial and post-industrial society does the same – outsource pollution to disenfranchised parts of the territory, or better yet export it to China or some poorer country.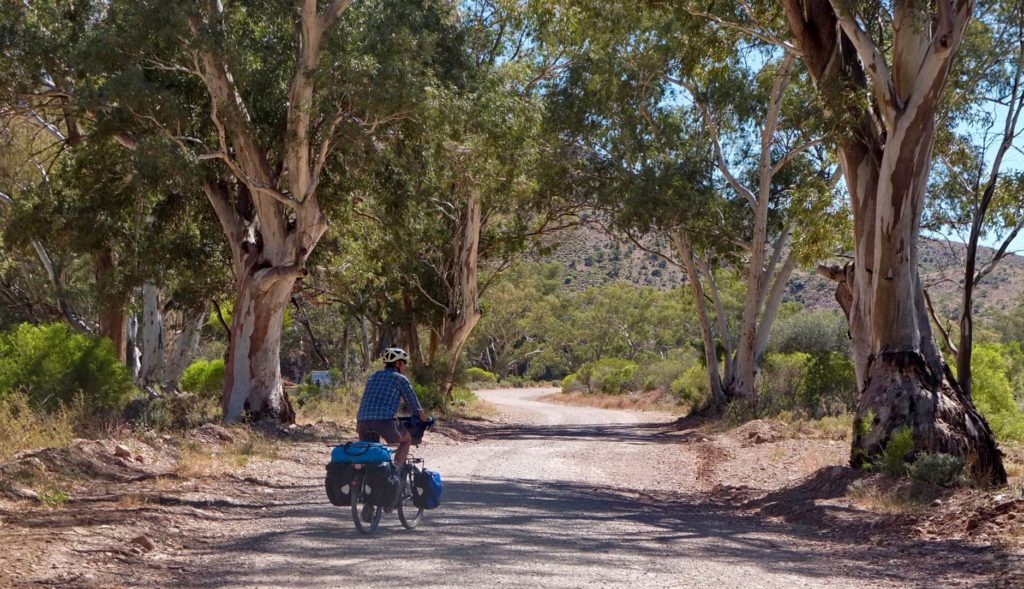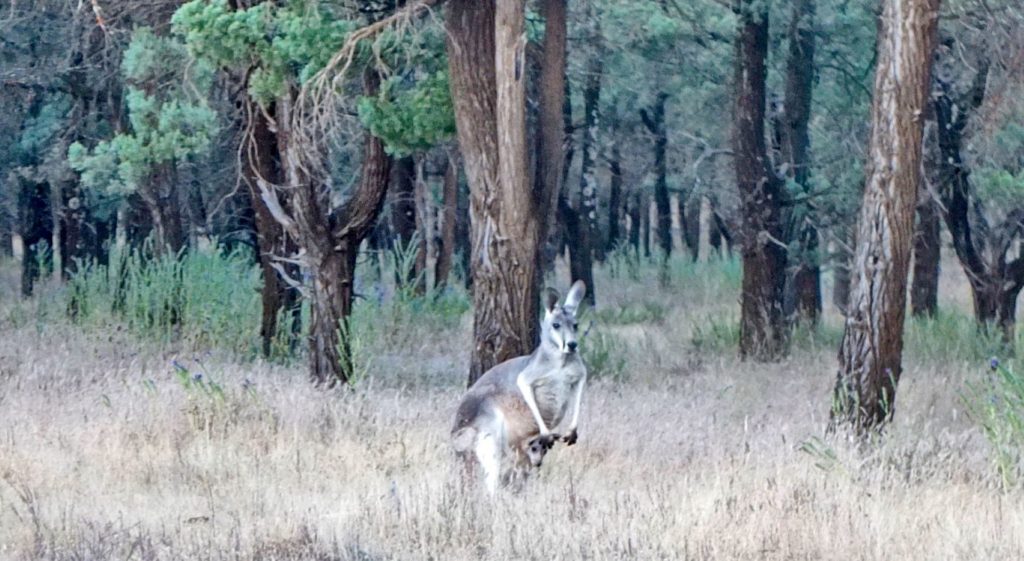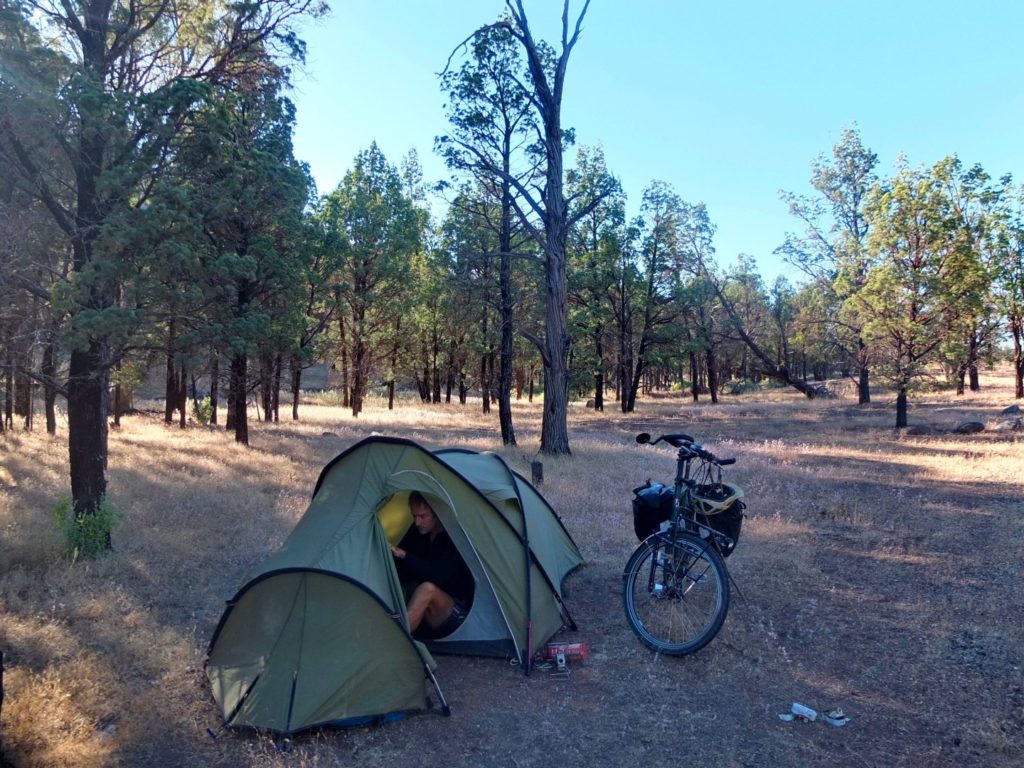 Off the end of the Flinders range we leapfrogged from country town to town at pace, enjoying the convenience of smooth roads and regular food resupply points. The roads were littered with the bloated, rotting corpses of roos and wallabies. Depending on the wind we would often smell them before we could spot them. And the flies. Always the flies. But the asphalt was kind and, as we moved steadily towards the Southern Ocean, the heat became more manageable. In Carrieton we stopped at the village store and asked about the outdoor swimming pool over the road. Of course, no problem, $2 and it could be all ours. After our customary troughers' picnic, showers, quick laundry, we cooled off in the deliciously cold swimming pool. Life on the road was getting decidedly easier.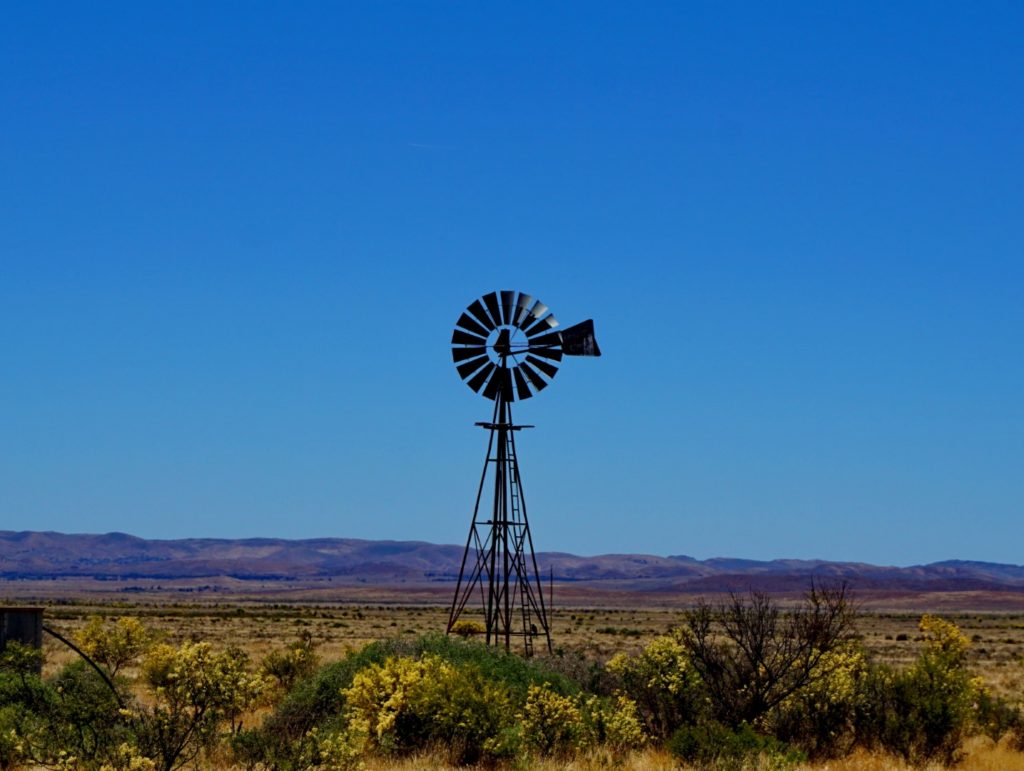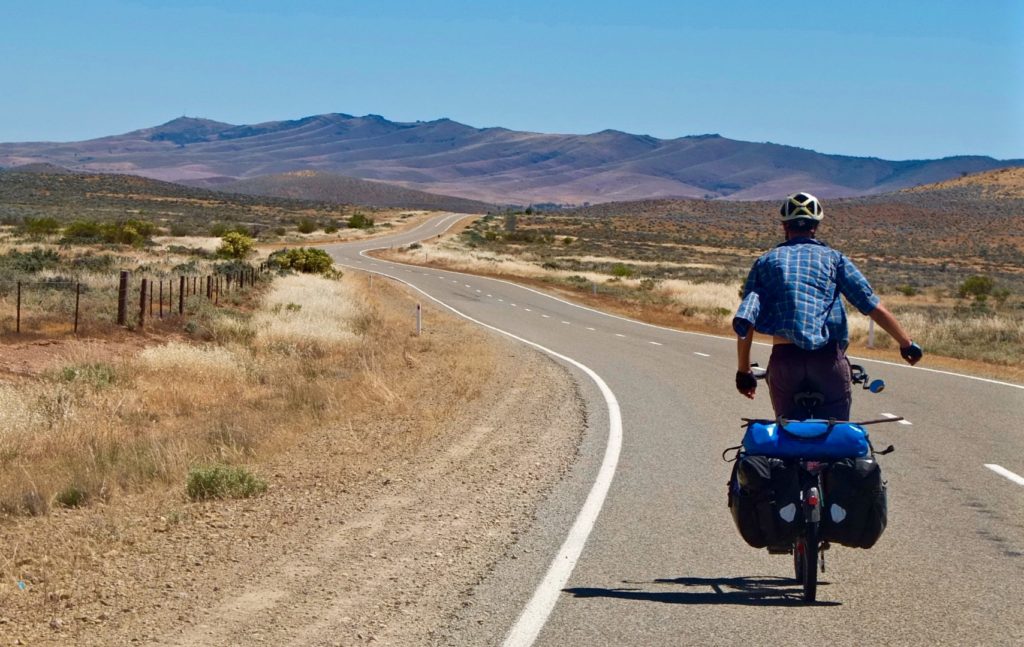 In wine country south of Clare we pressed on in the balmy late evening light to put us within a big day's ride of Adelaide. A car heading in the opposite direction pulled over and the driver hailed us, asking if we were looking for a place to camp. We were welcome to pitch at her place, she said, in a vineyard about 15km further up the road on the Riesling Trail. As darkness descended we were welcomed warmly by our road angel Heather and her vintner husband, Neil. First things first: were we hardcore, wildcamping purists, or would we rather have a hot shower and king-sized bed? Over dinner and generous samples of their delicious, own-grown Riesling, Neil and Heather explained that they were not cyclists or Warmshowers hosts, but had invited a few passing cyclists to camp with them over the years. This kind of hospitality is always the most touching. Genuine altruism and open-heartedness. To be a complete stranger accepted into someone's home as a friend is a thoroughly humbling experience and one that can't help change your view of the world and modern life.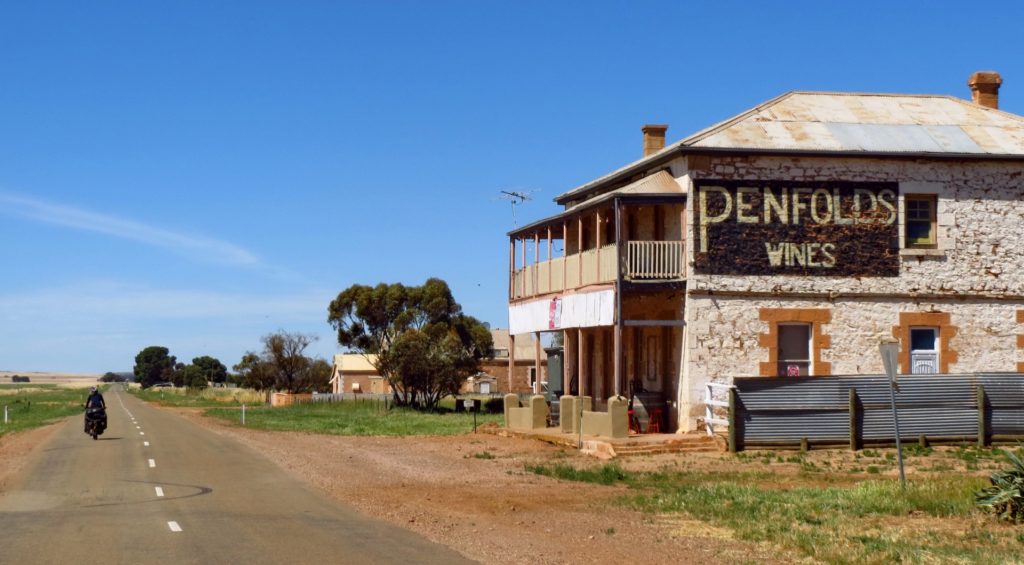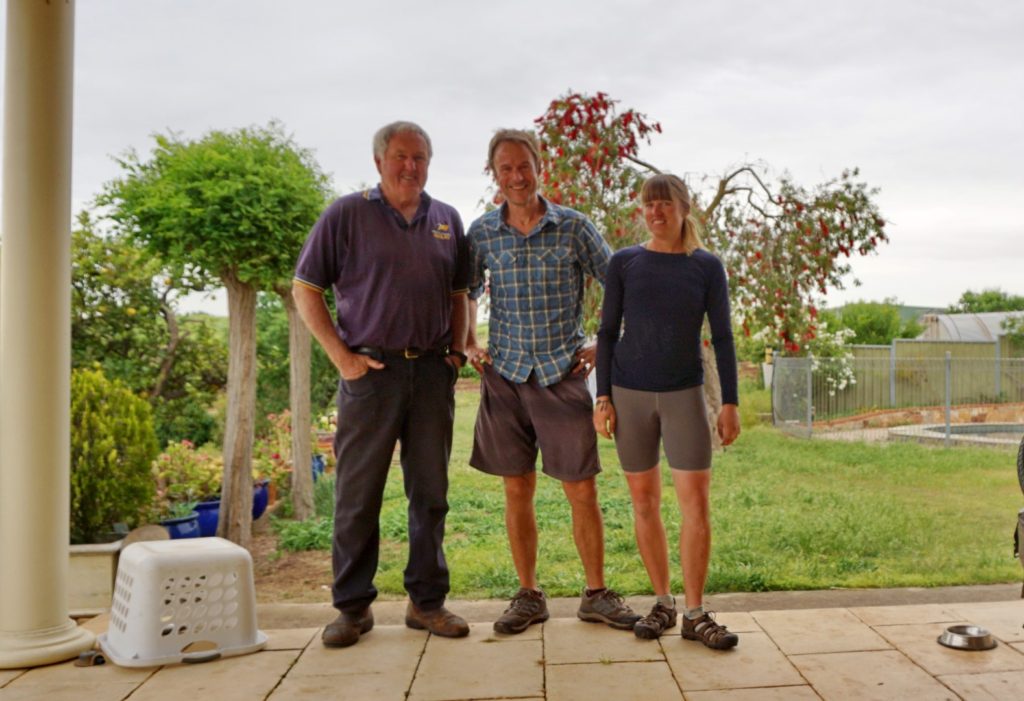 In Henley Beach, Adelaide, Tara and her university friend Callan were thrilled to be reunited after many years of living on opposite sides of the world. A week of voluptuous pleasures commenced – endless wine, amazing food, swimming and lounging on the beach with generous hosts Callan and fiance Nick. While I awaited delivery of a replacement rear hub we pondered our route to Sydney, still 2000 km away, torn between the famous Great Ocean Road and the Great Dividing Range (Australia's highest hills). The coastal roads would have heavier traffic, but we resolved to follow that route at least until the GOR. The Coorong coastal wetlands east of Adelaide made for a tough start to this last leg. Ever-present wind, bird-sized mosquitoes and the after effects of an inebrious week in Adelaide made the miles drag.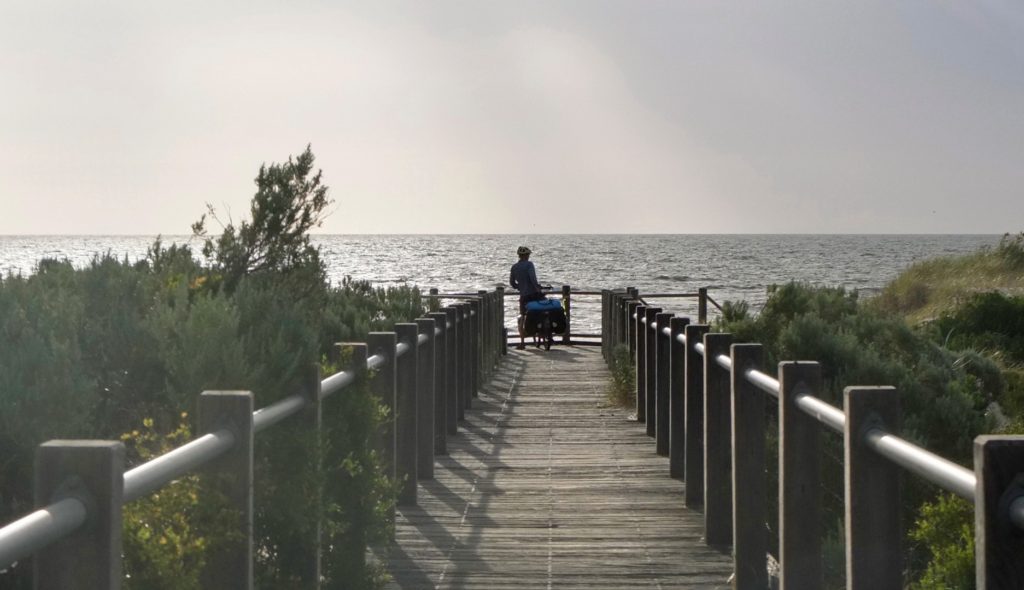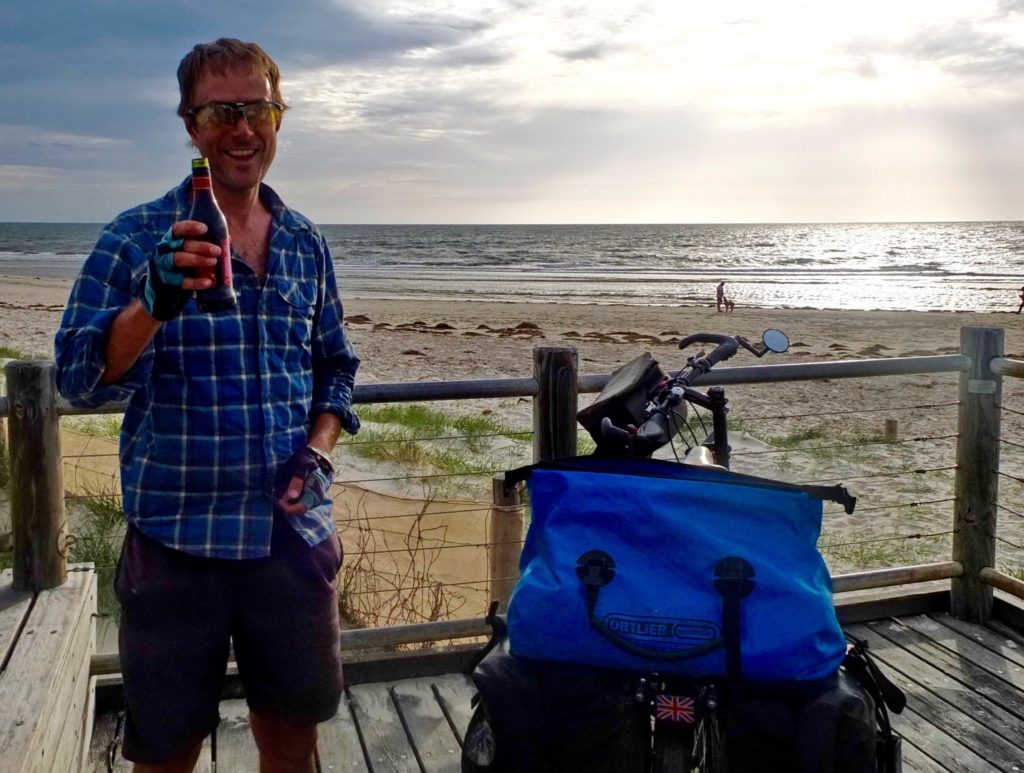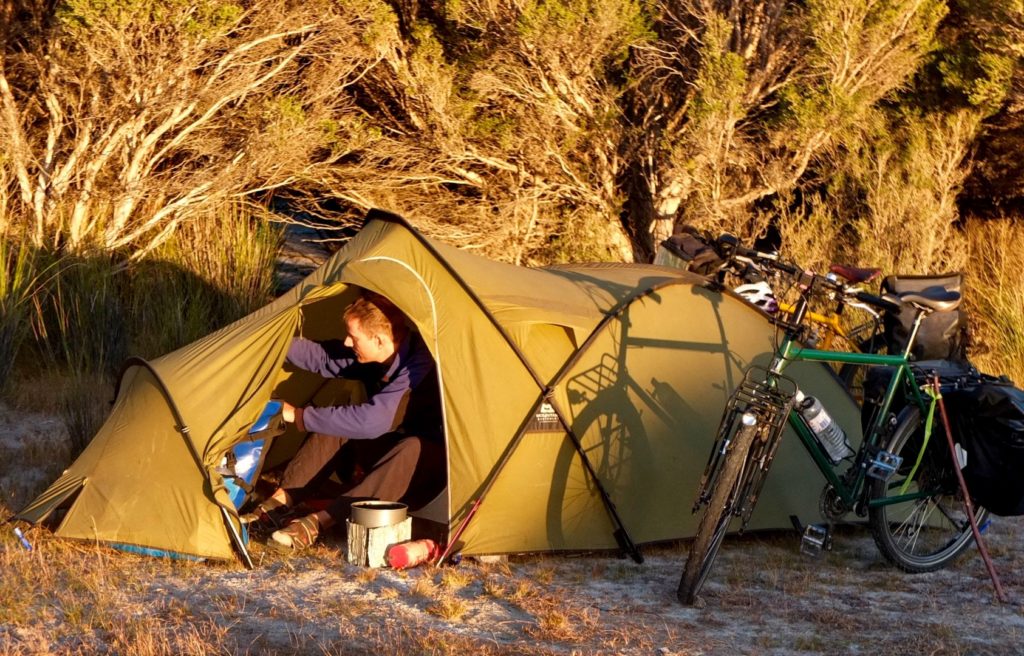 Tension was rising about what would happen at the end of our trans-Australia journey. Tara had a job lined up back in Queensland in March for three months. She had a clear plan and timescale, and was understandably dismayed by my unwillingness to commit to times and dates for the next countries. By now I was struggling with being in constant company – an unprecedented situation in either of our lives. I was overcome by a feeling of introversion that reached an awkward peak during our week in Adelaide. We were at least able to discuss what we thought were the issues, but it took several long and emotional dialogues.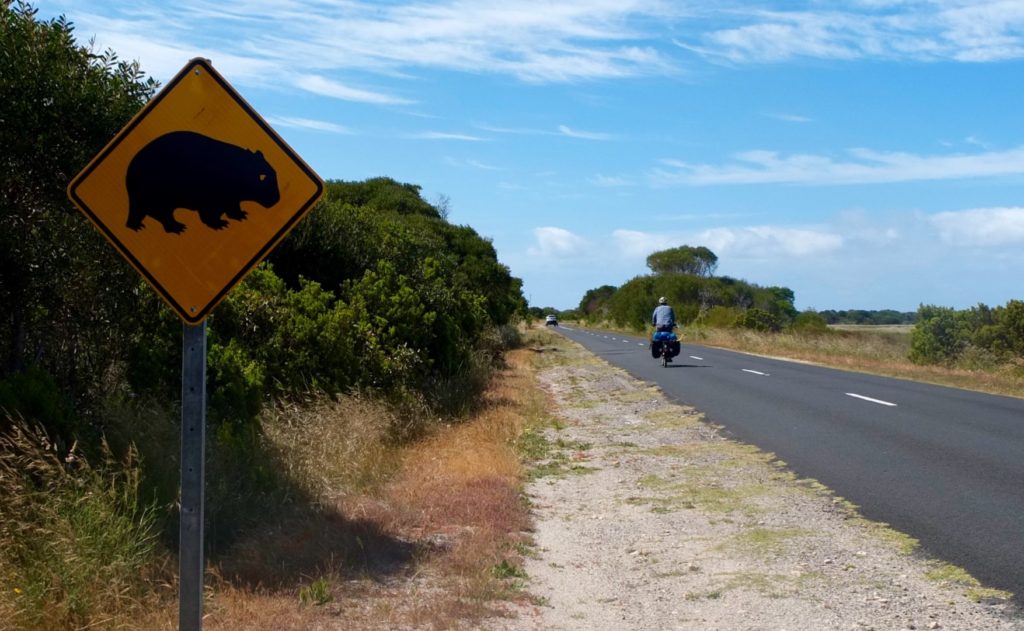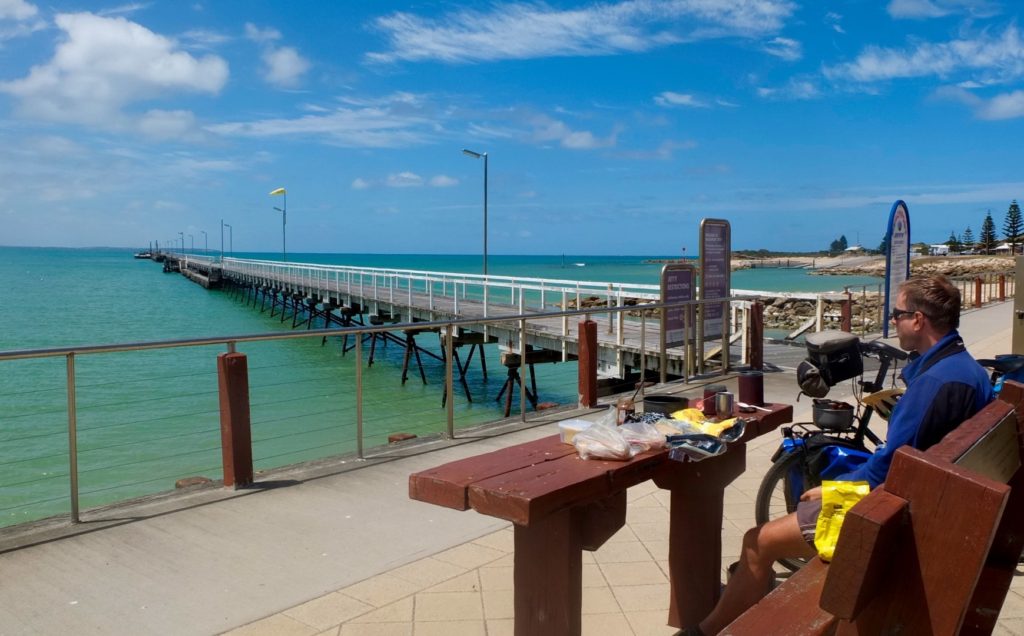 We were blessed on this part of the coast with many marvelous Warmshowers hosts. In Portland, big tour veteran Harold took us in and linked us up with the cycling obsessed MacLaren family in Port Fairy. There, with Cynthia and Mark we enjoyed a wonderful Sunday family dinner. It was an honour to be welcomed into this warm-hearted, inter-generational weekly institution. Such moments of insight into other people's daily lives around the world are always affecting, but this one was particularly so for both Tara and me, reminding us of our own absences from family gatherings back home. As a guest one is always on best behaviour, so it was refreshing to be included in an informal gathering without pretence or expectation.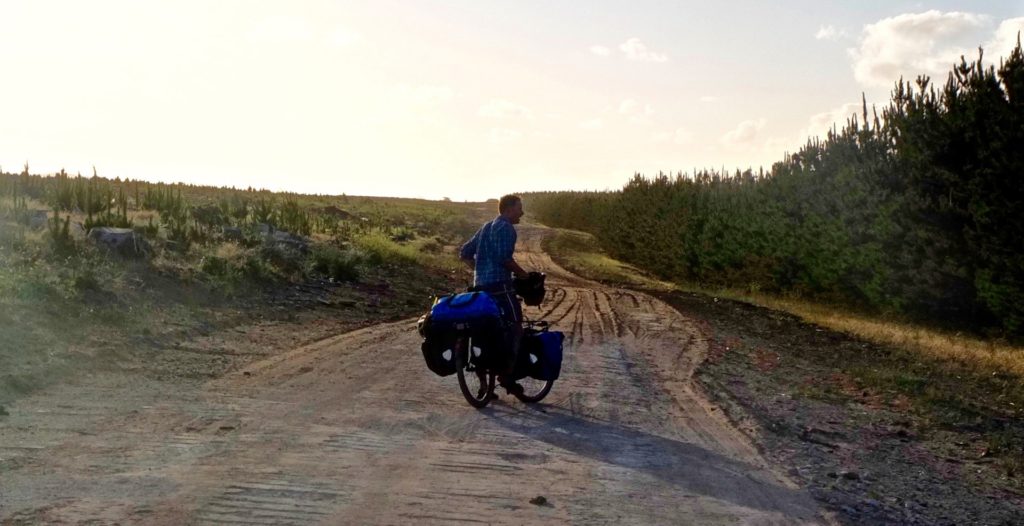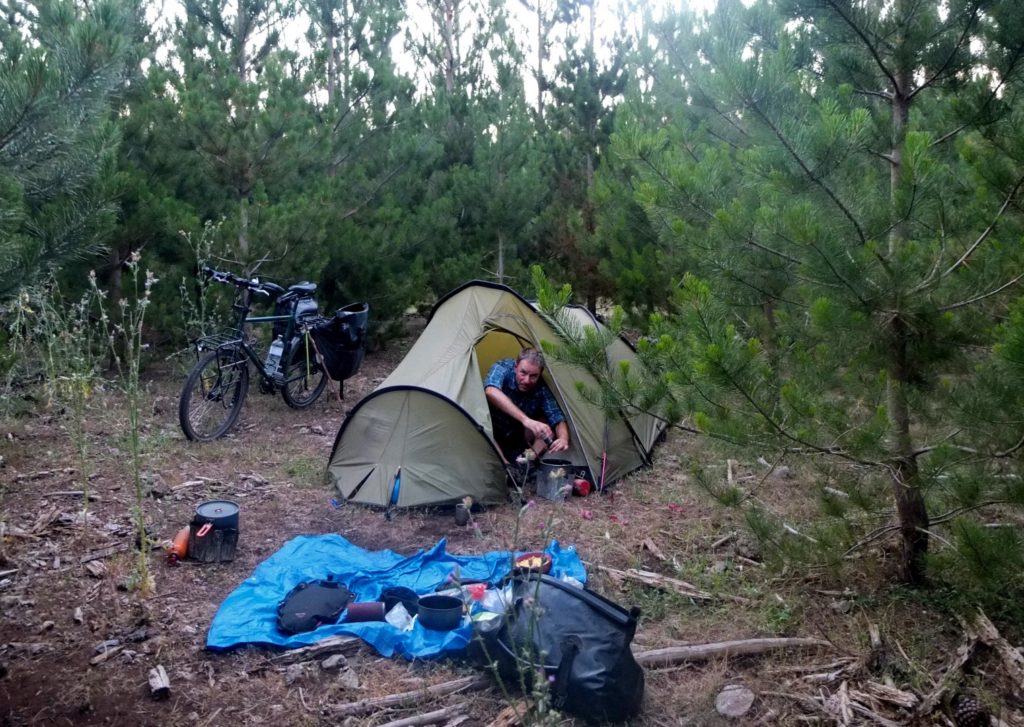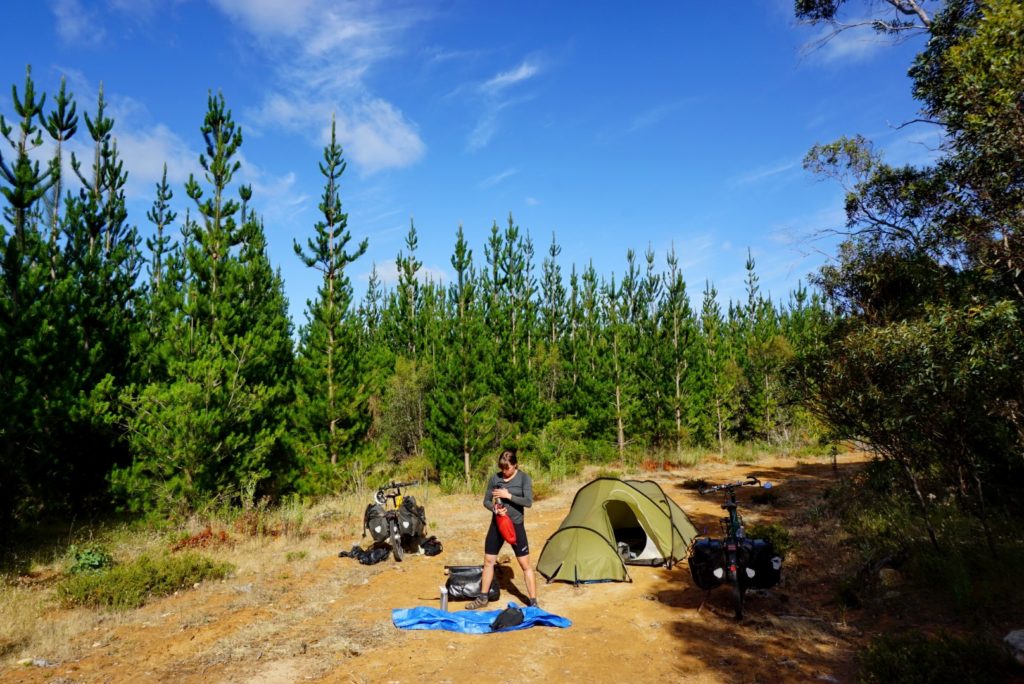 East of Port Fairy lies the Great Ocean Road. Another Australian Great. This time the appellation isn't for size. The GOR is a 244 km rollercoaster of a road flirting between sea cliffs and gentle hills. More by luck than design we arrived in the early evening at the Twelve Apostles, the iconic image of the GOR, near its western end. The limestone sea stacks glowed amber in the setting sunlight of the Southern Ocean. As usual, rubbing shoulders with hundreds of selfie-stick toting tourists felt strange after so long in the remote corners of this gigantic country. We joined the camera party on a view point and tried to accept that this was the shape of things to come if we followed the busy coastal route all the way to Sydney.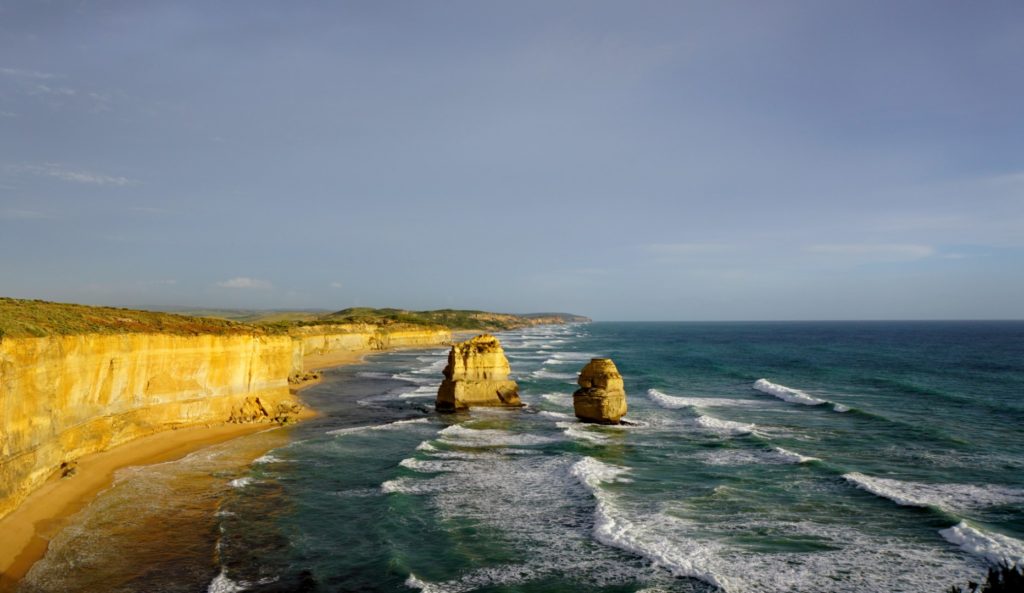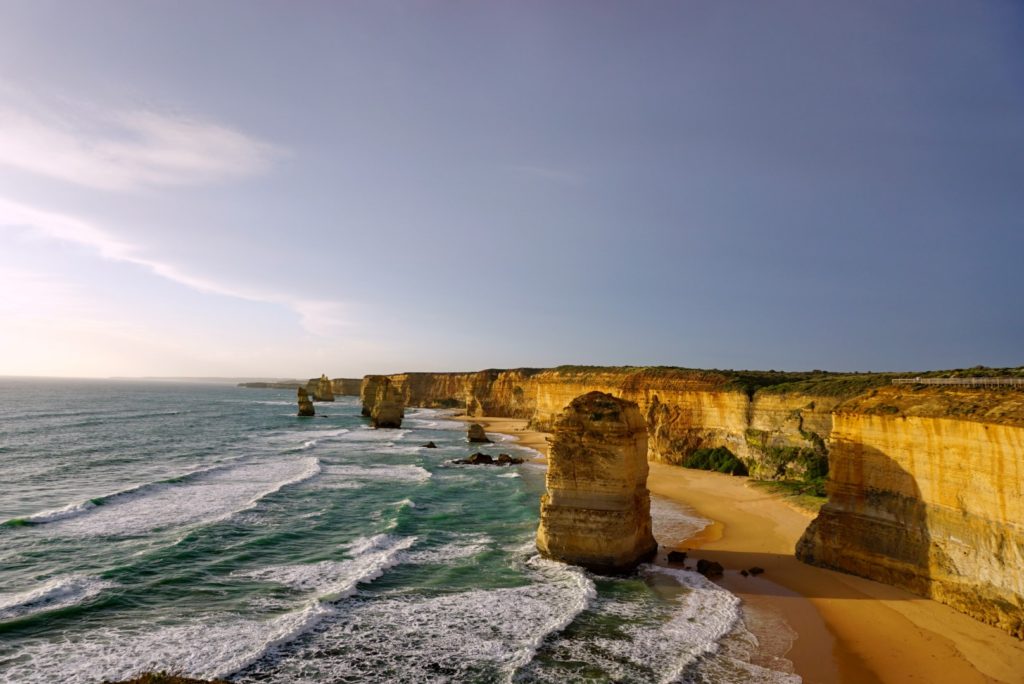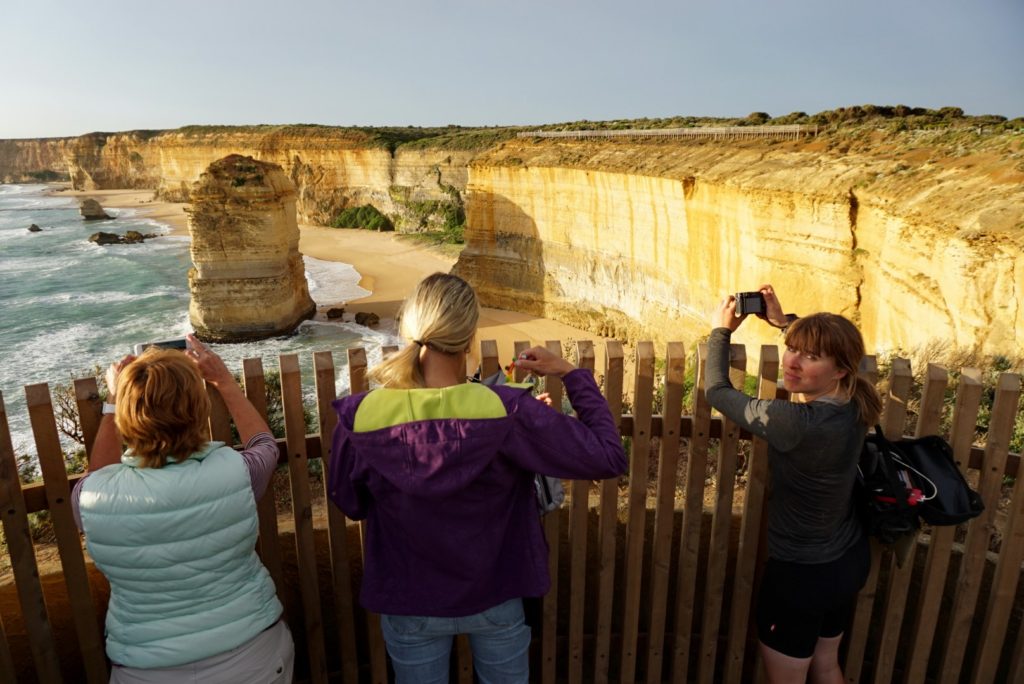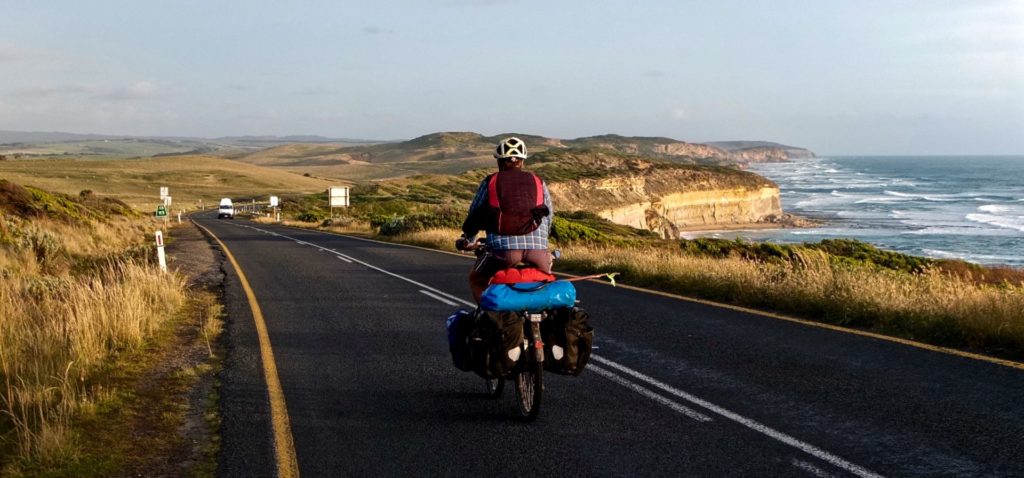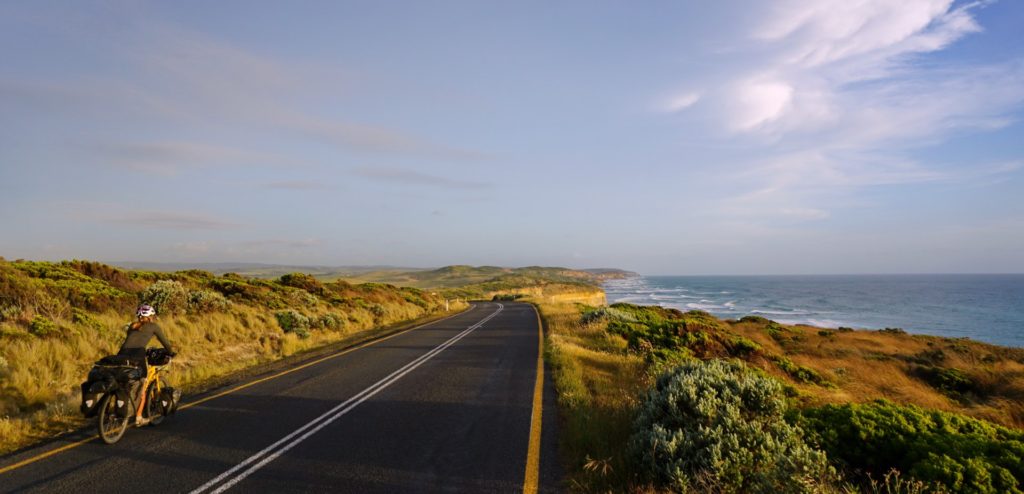 With Lavers Hill knocked off early next day, we swooped along to Lorne, stopping often to admire the mile-wide breakers that rolled in from the Southern Ocean. From our elevated position above the beach, the sheer width of the horizon was exaggerated by the immense parallel sets of waves, perfectly linear and regular. The sense of scale was breathtaking. Off the eastern end of the GOR we had to choose whether to traverse or bypass Melbourne. Of all Australian cities, it was the one I would have most liked to visit for interest value. But we had neither time nor funds for a recreational city break, so we steered a course south of the city and channel-hopped by passenger ferry. In Rosebud we were lucky to be hosted for two nights by Graham and Leslie, a retired couple whose enthusiasm for adventure inspired them to share their beautiful, tranquil home and garden with cyclists and workaway guest helpers. We were in serious danger of growing soft from so much care and hospitality from Warmshowers hosts on the coast.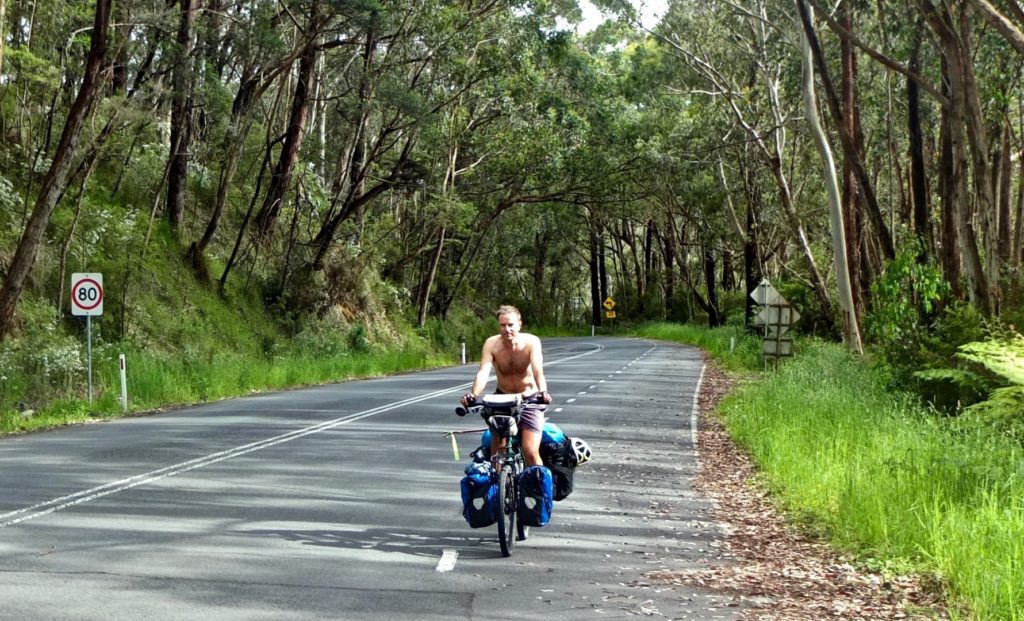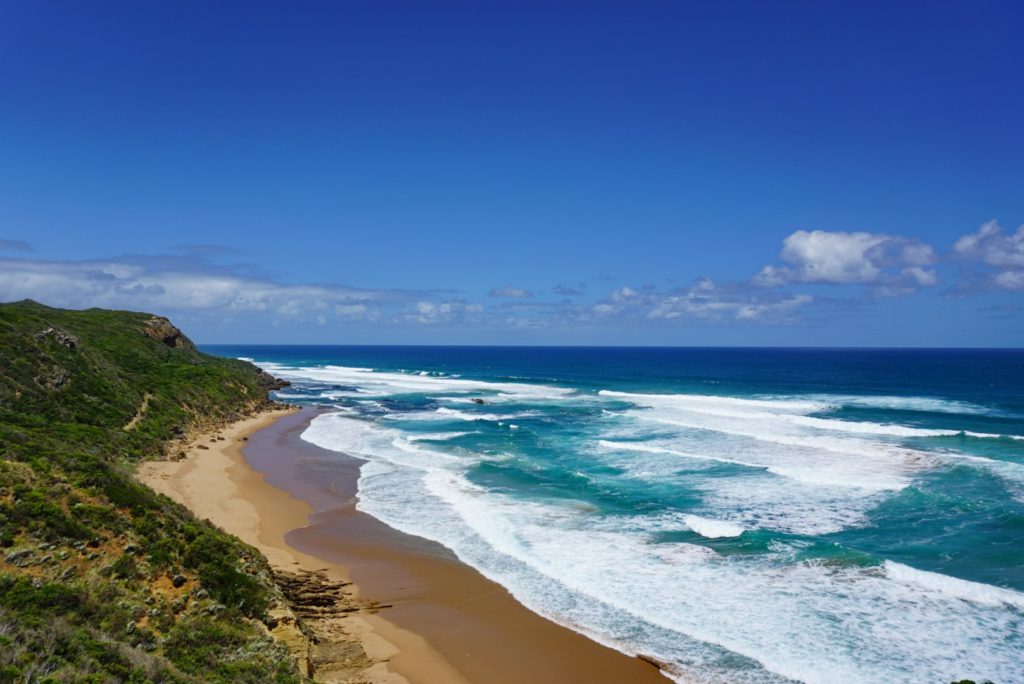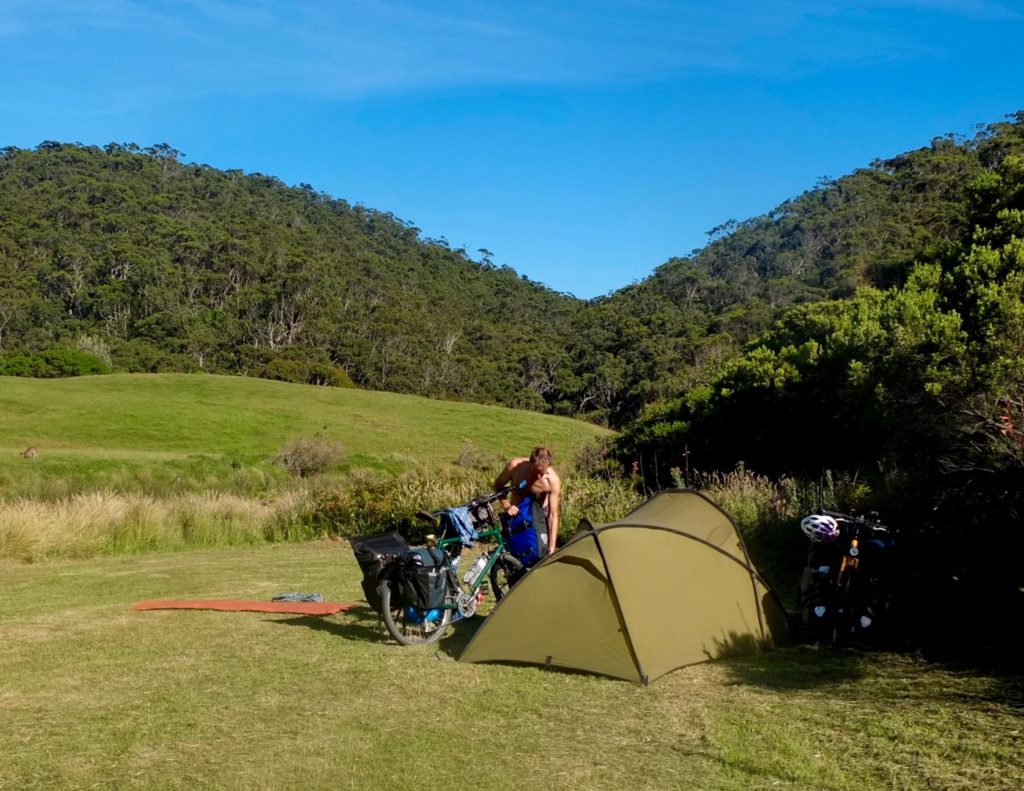 Great free camping near Lorne, just off the GOR (spot the kangaroo). Photo: T.Weir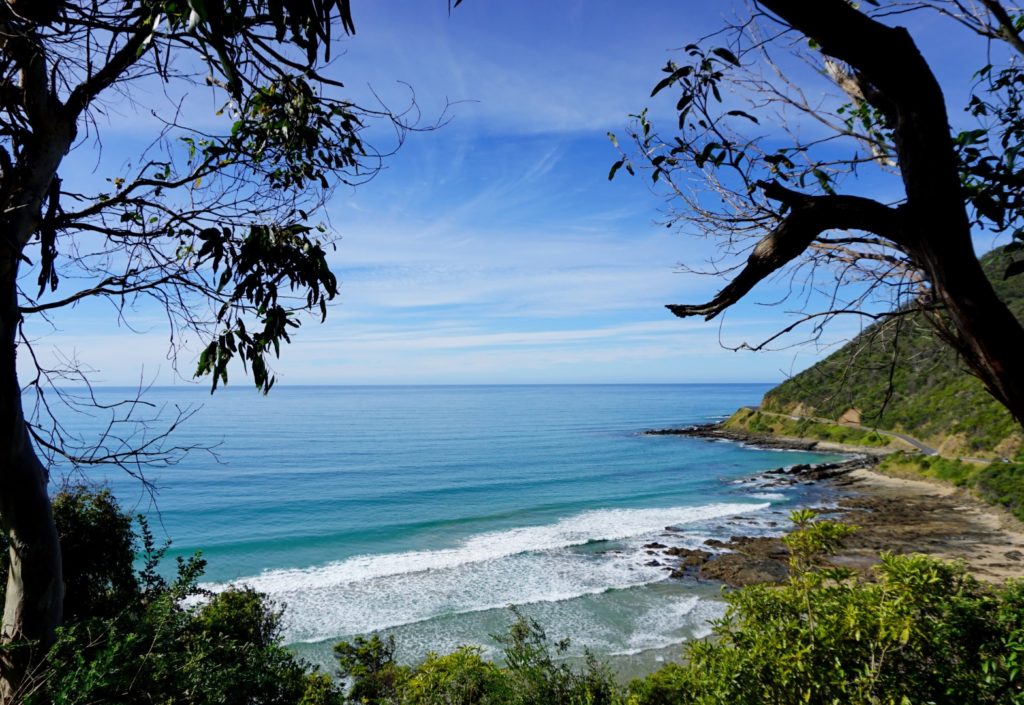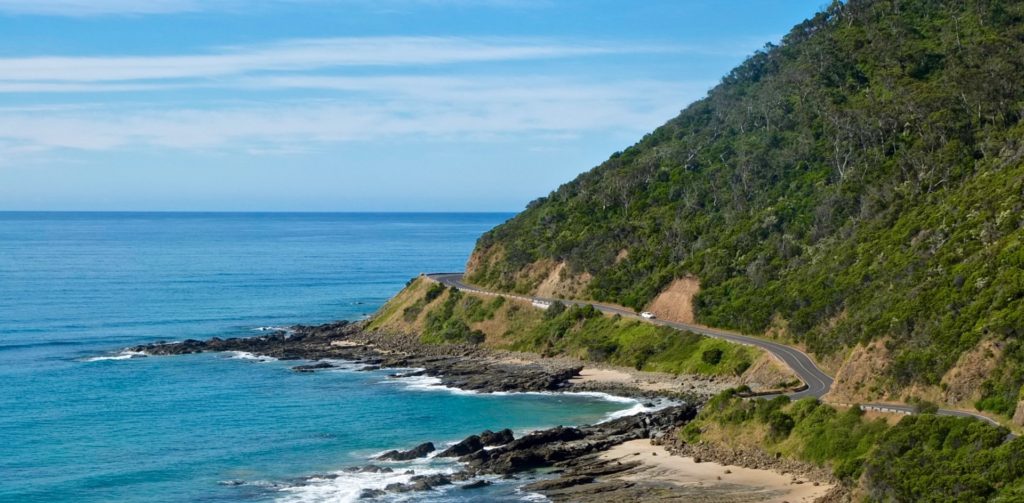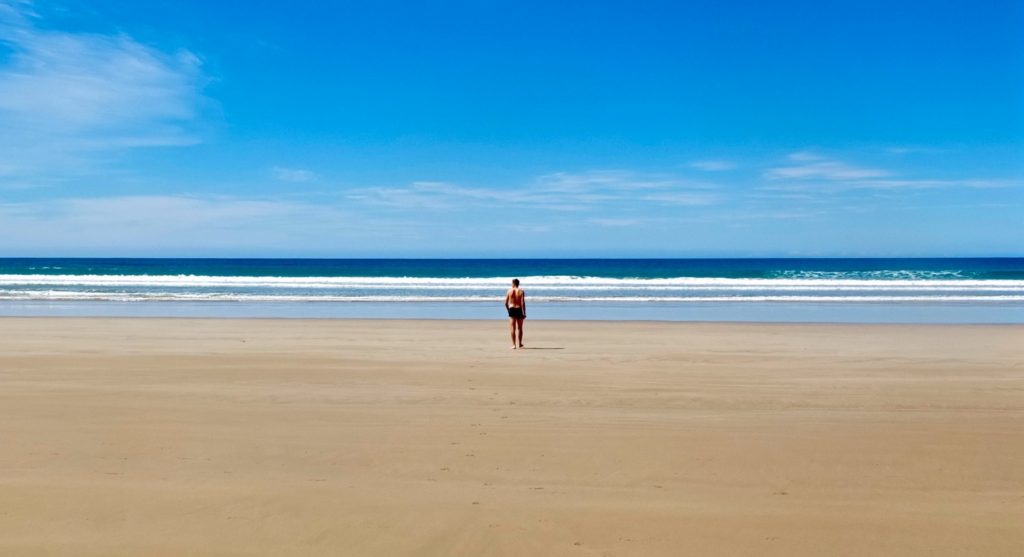 At the last minute we spotted an interesting looking hilly route through Tarra Bulga national park that would drop us at the door of hosts Lilian and Mark. The route was an absolute charmer: passing at first through Tellytubby hills and pastureland, later through mature eucalyptus and mountain ash forest. This was my first encounter with such massive vegetation. Many specimens were over 80m high. The rich scent of decaying matter hung in the damp air. A sense of growth and vigour enveloped and suffused us. This was a welcome contrast to the busy roads we had ridden to escape the coastal conurbations around Melbourne. Lilian intercepted us in her car and plied us with chocolates to get us over the last hill. Her husband Mark joined us for the last 14 km ride to their idyllic farm on the edge of the national park. Riding in the evening is always the best time to be on the road, when there is less traffic and more wildlife. That evening did not disappoint and we got out first sighting of a wombat mother and cub scurrying across the road ahead of us.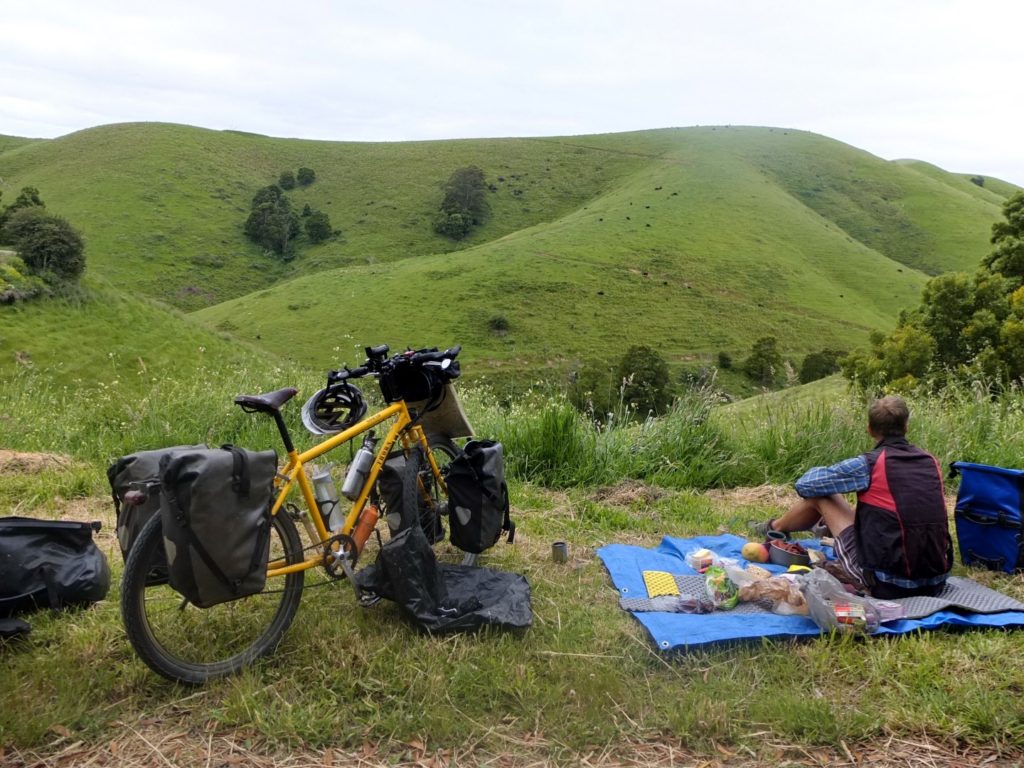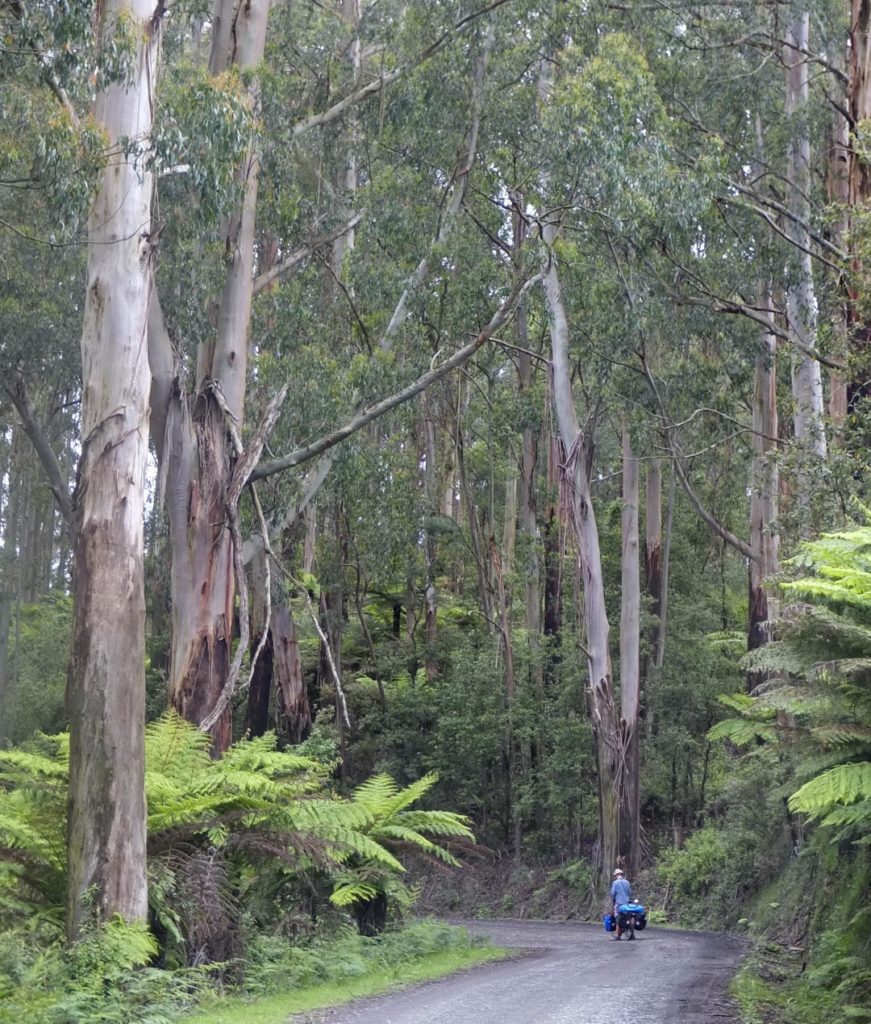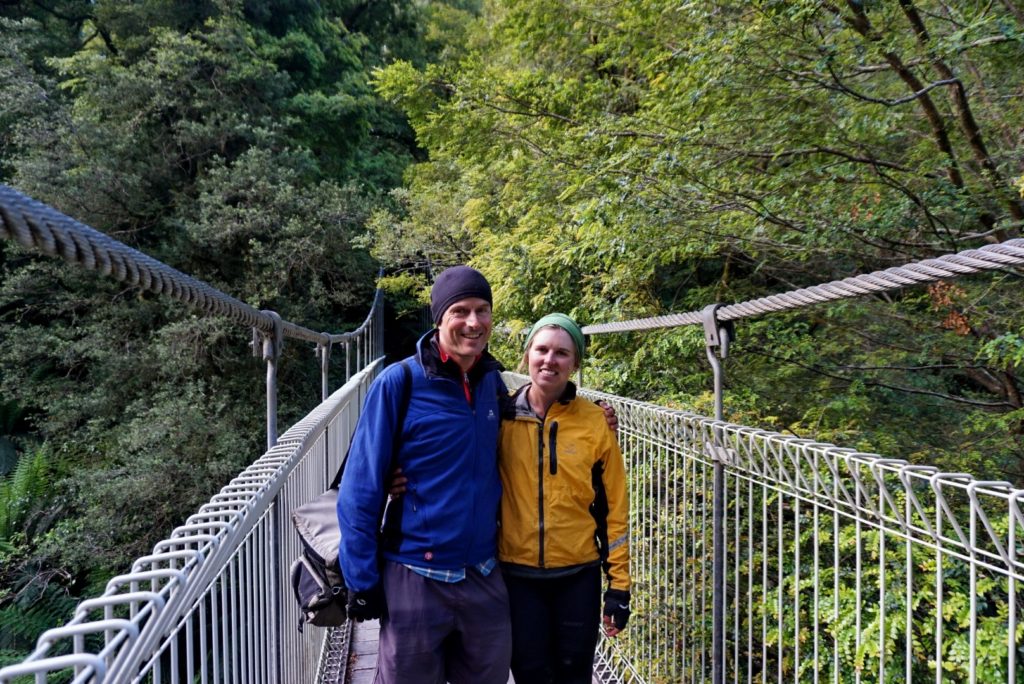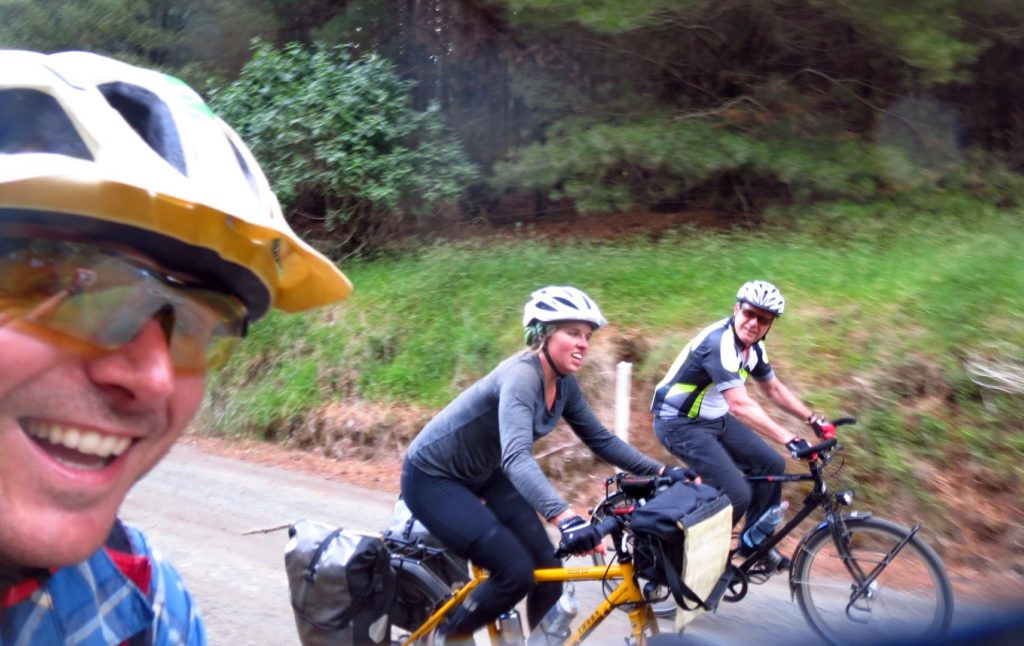 Still piecing together our route day by day, we determined to avoid the traffic-choked coastal roads to Sydney. We plotted a course into the foothills of Mt Kosciuszko, Australia's highest peak. It turned out to be an excellent decision. This sparsely populated valley is immortalised in Banjo Paterson's poem, The Man from Snowy River. It was stunning riding. By turns smooth and rough, the road undulated beside the eponymous river. In the evening we asked for water at an outdoor education centre. Custodian and farmer, Paul, offered us a place to camp on their lawn, a washroom and a seat at their table for dinner. Such simple, honest country hospitality was an unexpected treat at the end of a hot afternoon of steep hills. Later as we pitched the tent, demonic pig-like grunting emanated from the gum trees around us. On closer inspection, the demons turned out to be koalas (sadly the light was too poor to get a photo). Paul waved us off in the morning. His cowboy hat, ruddy, craggy complexion and wistful, laconic manner made me wonder if we had met the actual Man from Snowy River.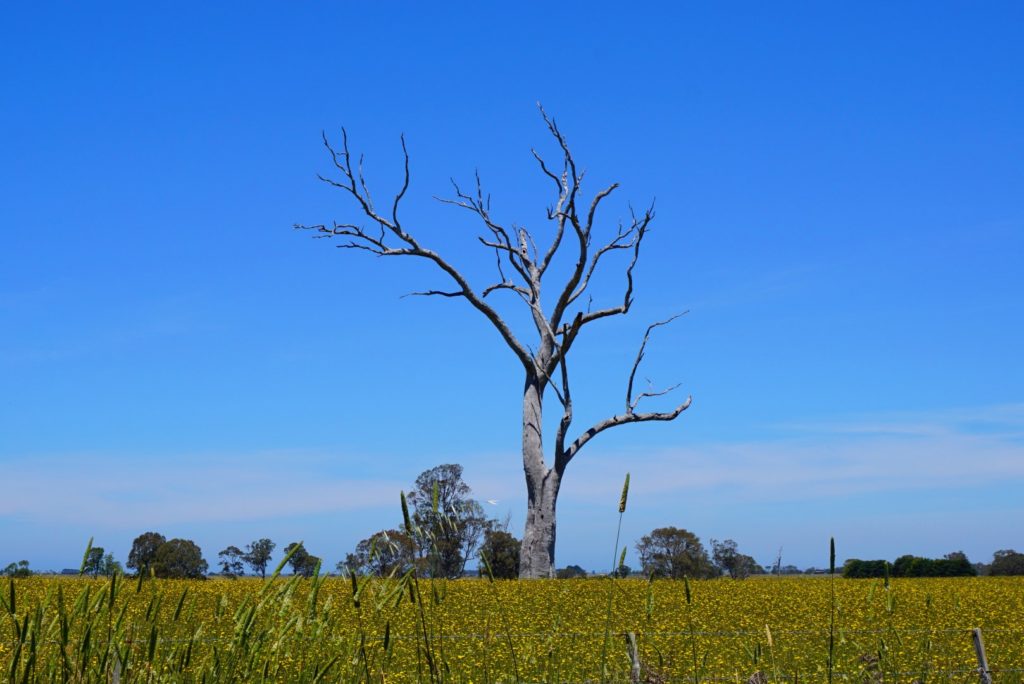 A superb day's riding brought us within spitting distance of the valley headwall. Camping would have been easy anywhere, but we were holding out for something special. We'd already enjoyed one skinny-dip in the surprisingly warm Snowy River that afternoon. I had my heart set on a campsite with an ensuite bathtub. The universe delivered. We found a secluded grassy platform above a sand and pebble beach that gave onto a slackwater pool. As the sun sank behind the mountains, the still surface of the water reflected the Martian pinks and reds of the clouds. I basked in the silky smooth water for twenty minutes until I was too hungry to delay dinner any longer. The restorative pleasures of soft water on tired muscles, hearty food and a tranquil place to sleep brought a deep contentment. All the better for being shared with a close companion. Campsites like this are few and far between. They stand out in my memory as perfect moments in life.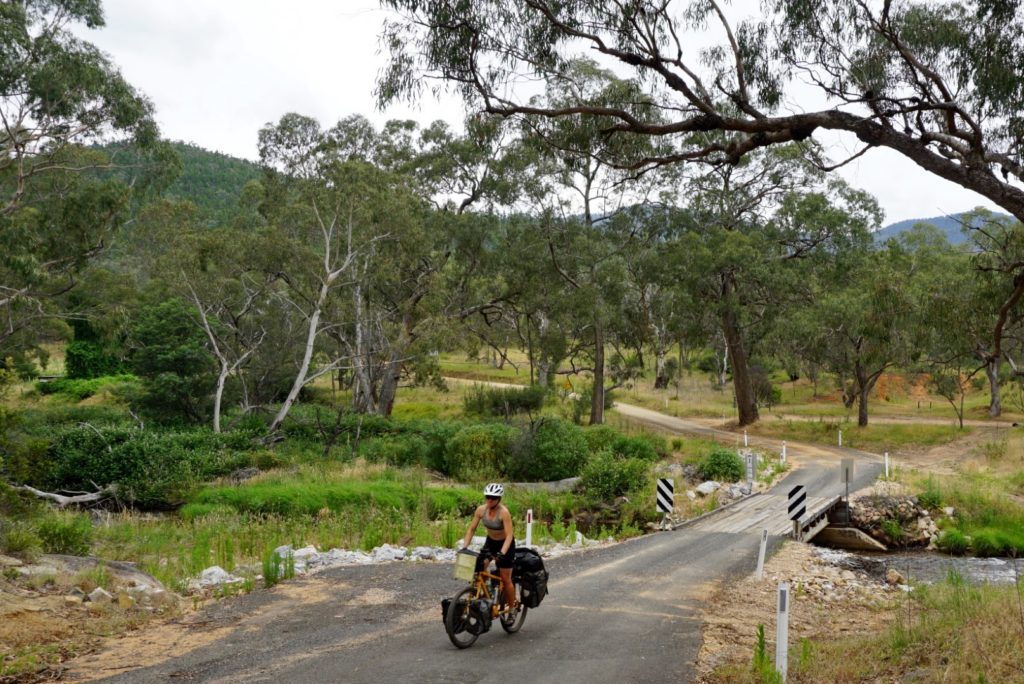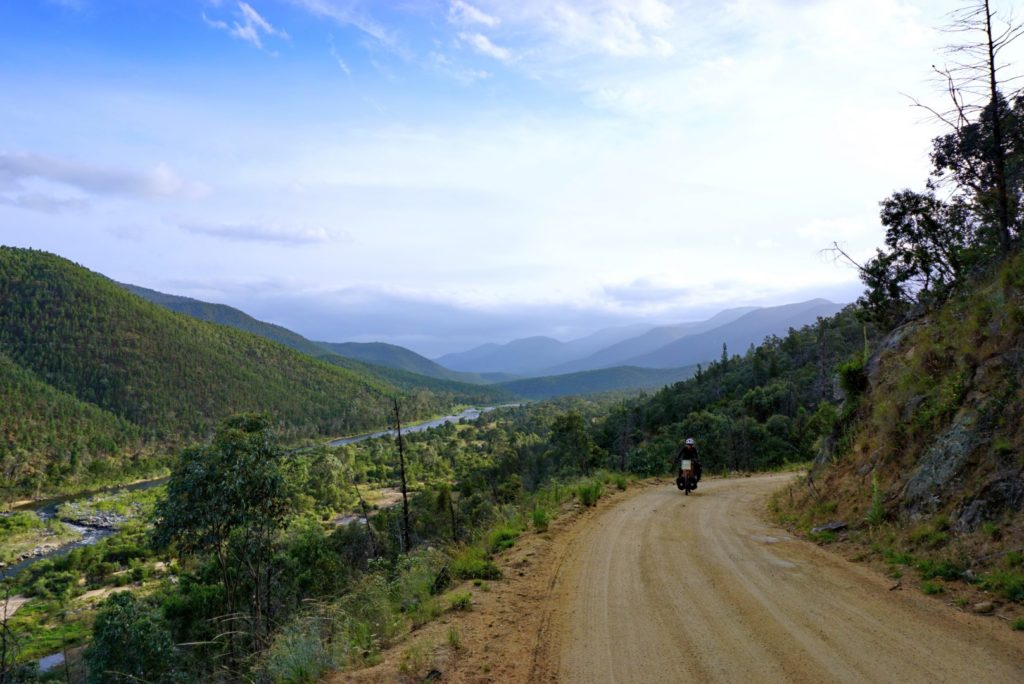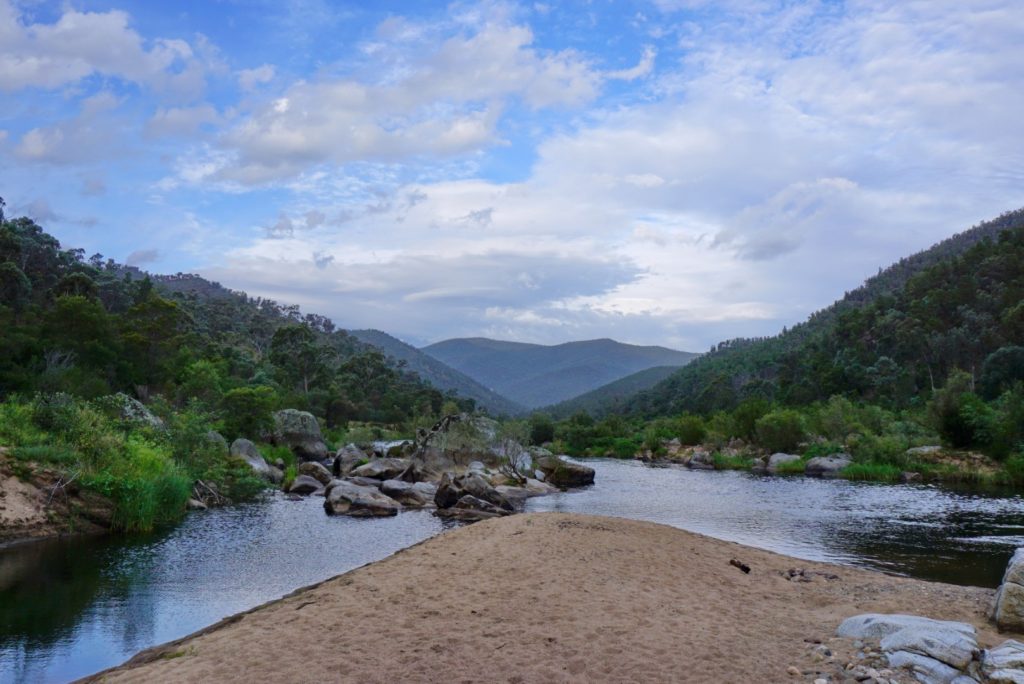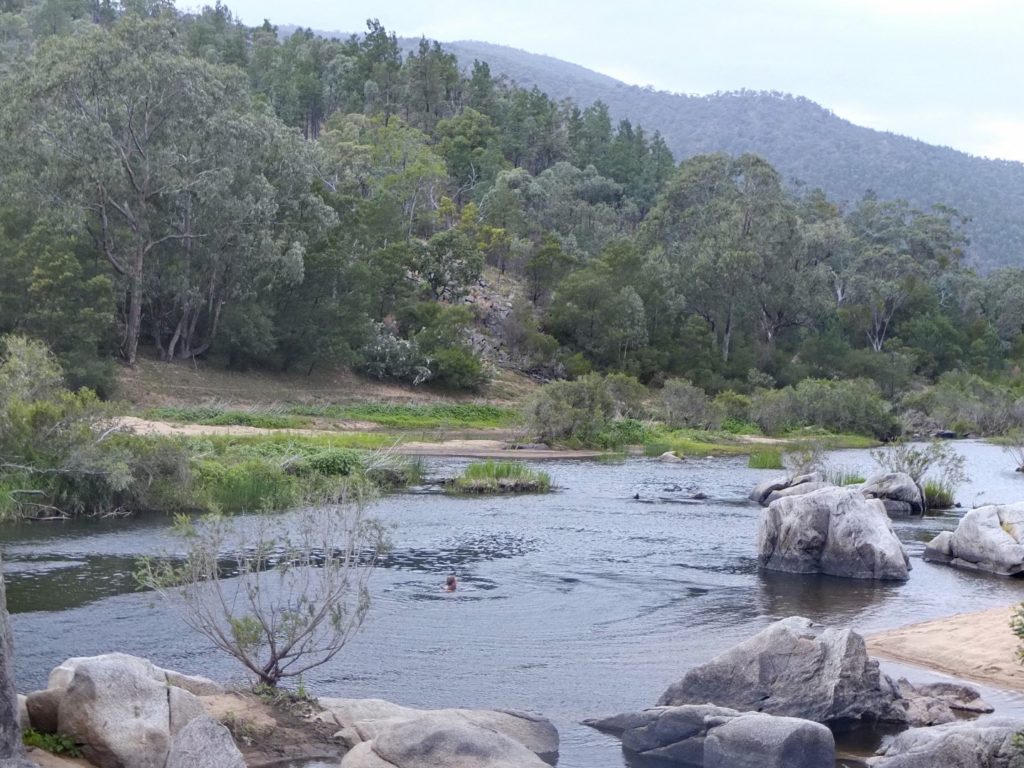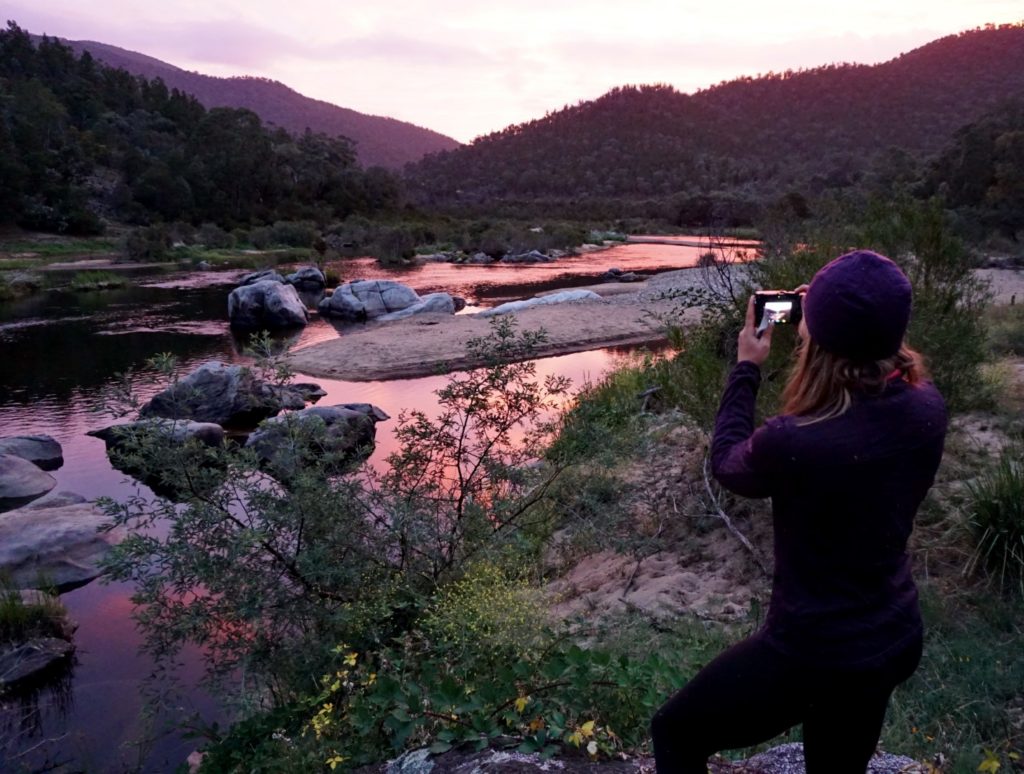 The climb to Jindabyne left us with less in the tank and less time on the clock than we had expected. The weather had turned cold and wet now we were back in the hills. In Jindabyne we had drawn a blank finding a place to stay, both active Warmshowers hosts there having replied that they were unavailable. Eating a late picnic outside the supermarket and pondering our best bet for camping around town, we were just about to saddle up when we were accosted by Syd, one of the WS hosts who was supposed to be out of town. Popping out for pizza he saw our bikes and wondered if we were the same people he'd declined by email a few days before. He had unexpectedly had to delay his departure until the next morning, so we were welcome to stay with him if we didn't mind an early start. Veteran of many extended adventure rides himself, Syd is a cycle tourer's cycle tourer. He is also an avid archivist of every extant piece of bike touring memoir ever published. His probing questions (describe your ideal day on the bike?) made me reflect on how my approach and experience compares to the thousands of others who have made similar voyages.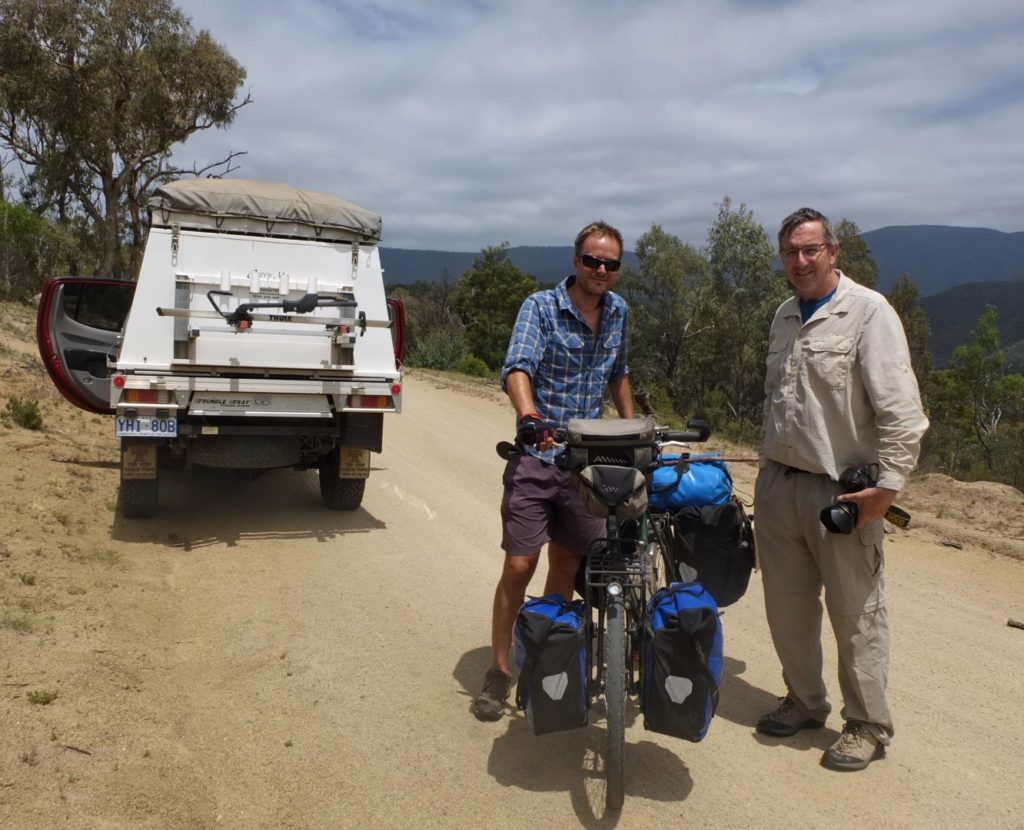 From Jindabybe our route tracked northeast across the New South Wales tablelands. The damp, grey weather was a welcome respite from the previous desert heat, but lent a journey's end melancholy to this stage. But as always, if you keep moving, things come around full circle. After a morning of on-off soakings and shivering to warm up in cafes between Jinda and Cooma, the early evening brought sunshine and a chance roadside encounter. A friendly ute driver thought we looked lost (I was just checking my phone map to estimate distance to our overnight water supply). He invited us to get water from his house 18km up the road. It was easy to find: he'd left a chilled jug of water and two glasses on the gate post. We went down to the house to return the jug and fill up our water bags, and ask whether he would mind if we pitched in the trees on the edge of his land. That's fine, but wouldn't we rather the spare room and shower and have dinner with him. John was a great conversationalist and generous host. A government analyst currently seconded to the fisheries department, he had an eye for minute and fascinating detail in everything our talk alighted on. After a late night and much wine, John was away to work at dawn, slipping out silently to let us to sleep in and let ourselves out. This kind of trust is deeply touching and humbling. One realises one's indebtedness to the world.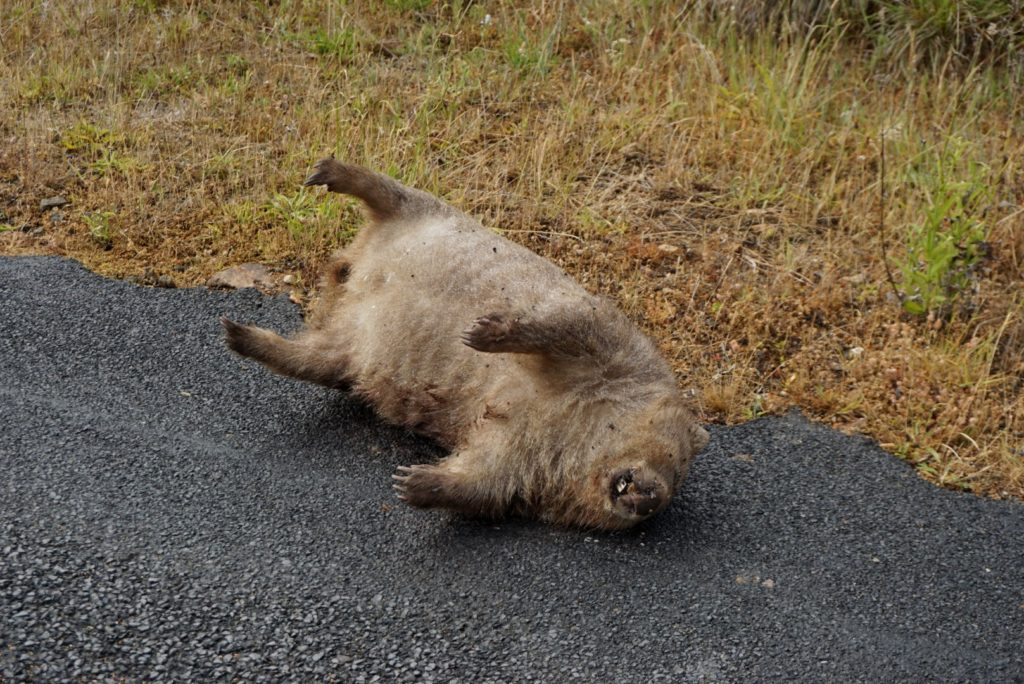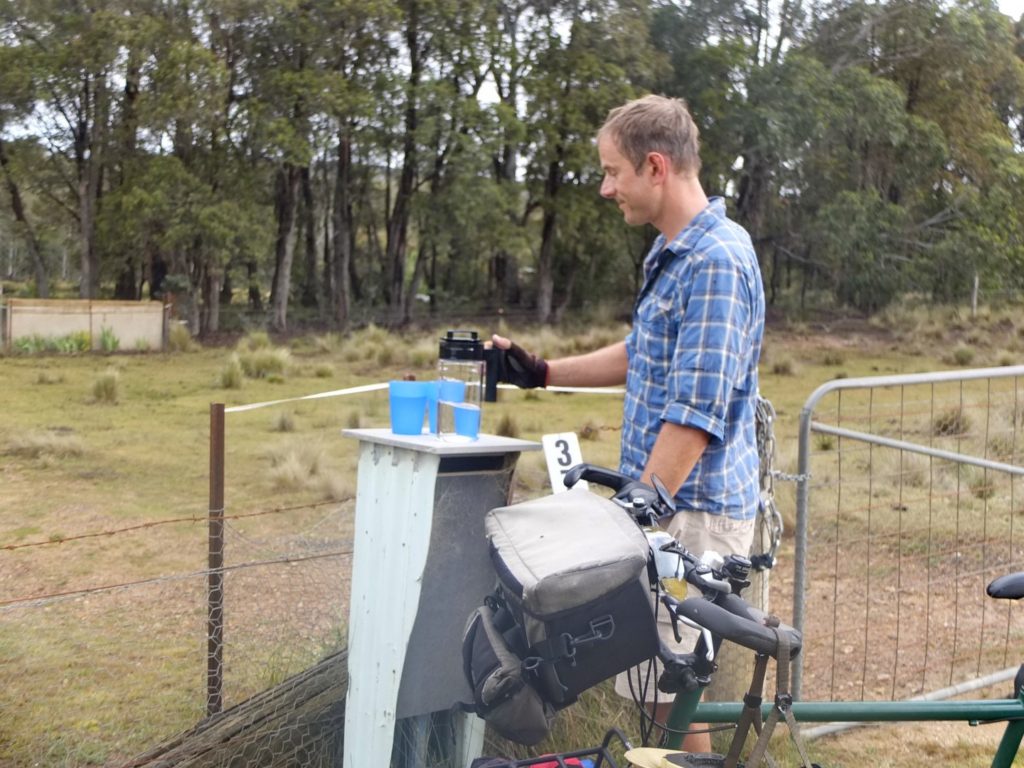 The morning took us through more eucalyptus forests and gently rolling hills to the country town of Braidwood. There we stayed with Tim and Meraiah and their two children. Recently installed in town, we were honoured to be their first WS guests in their new home. It was great to share travel stories over a wonderful home-cooked dinner, and get insights into touring as a family. Inspiration for the future perhaps. Our sights were now set on Sydney in three days. We made a lacklustre start on that project, or I did at any rate – scuppered by poor sleep for the last few nights (the usual complaint). After spending the better part of the afternoon snoozing under a tree we pressed out enough evening miles to drop us in prime wildcamping grounds at the top of Morton National Park.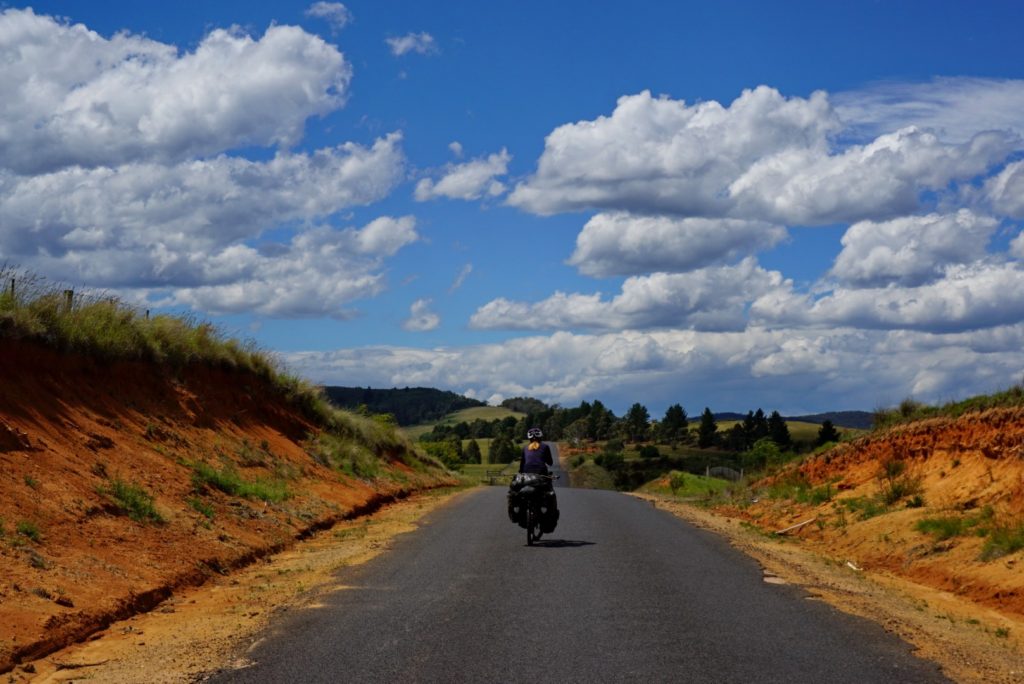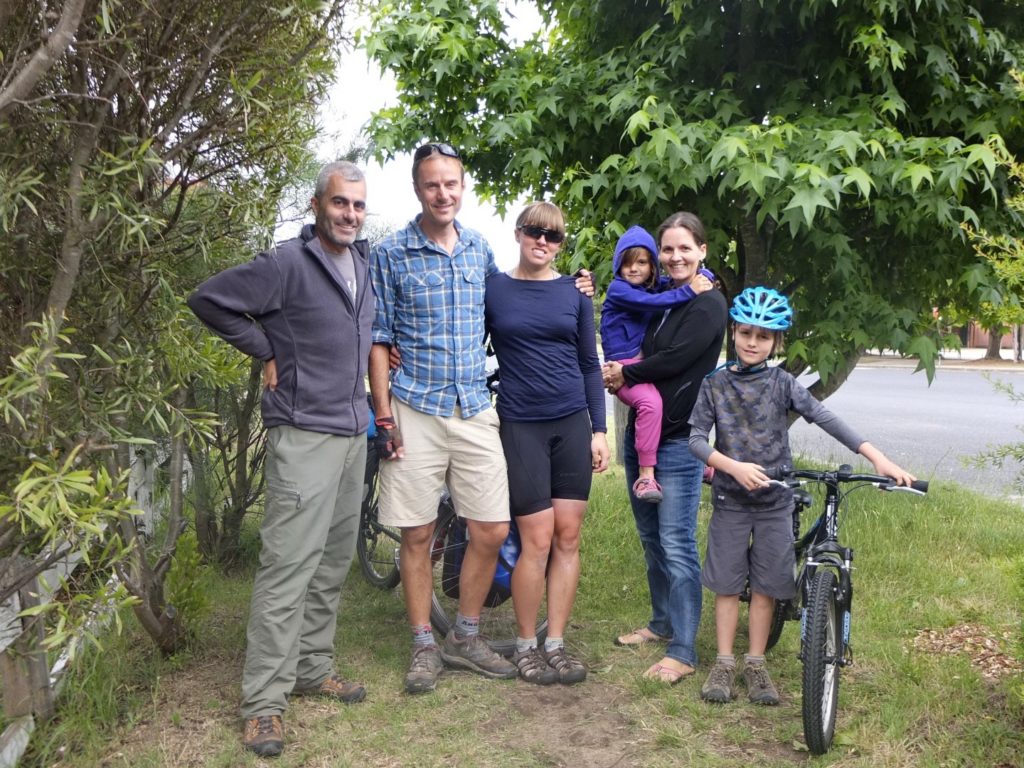 A fairly uneventful few days fuelled by a steady supply of jam Lamingtons (a coconut and chocolate-dusted sponge sandwich) brought us along the coast to Wollongong and a big day's ride into Sydney. There I would spend Christmas and New Year with old friends, Ruth and Simon and their children. Tara was going up to Brisbane for her Christmas with old friends too. Approaches to sprawling cities always require a bit of forethought. To keep off the fast, busy arterial roads until the last possible moment, we took a big hit on distance and ascent, riding the backroads through Victoria National Park. The plan worked well but took a predictable toll on already tired bodies. The road coiled up and down hill after hill swathed in lush coastal rainforest. Over the summit of the last big climb Tara and I both experienced a weird, semi-euphoric lightheadedness. Something akin to an endorphin rush, it was a timely warning that we needed to hold off the final charge until we were fully alert. Pushing hard for the finish line is when mistakes creep into bike handling, navigation and safety. You need your wits about you when approaching a major city at rush hour. We dived under a covered picnic area just as skies opened for a downpour of monsoon intensity. Dozens of families were gathered there for a Christmas picnic and carol concert. While the storm passed we brewed up, scoffed sandwiches and lamingtons and steeled ourselves for the run in to the city.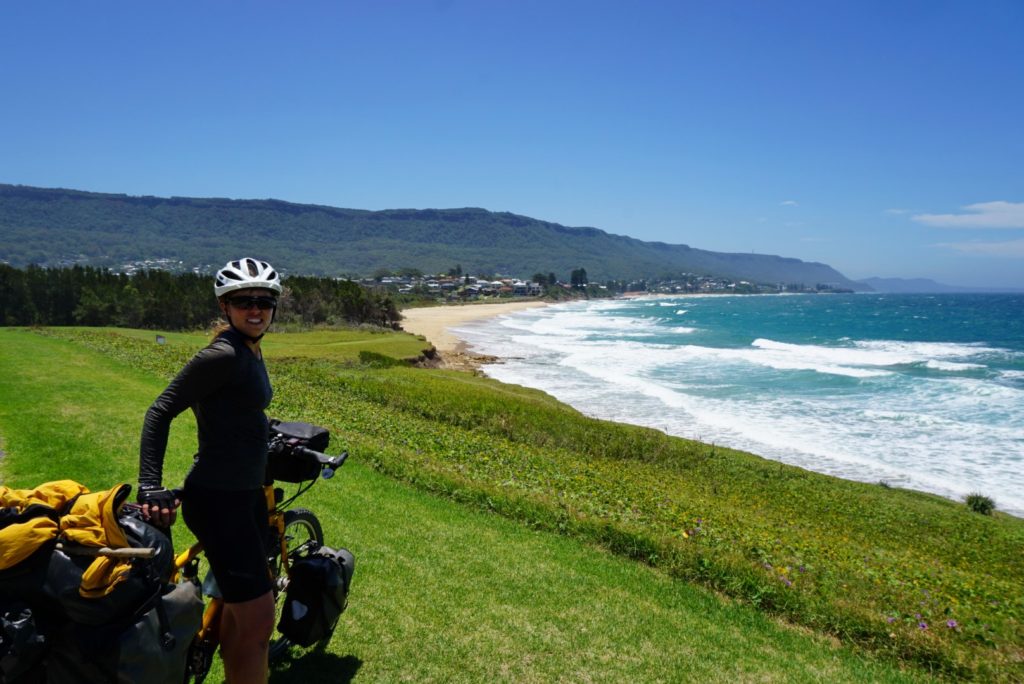 Near Wollongong, on the last day into Sydney.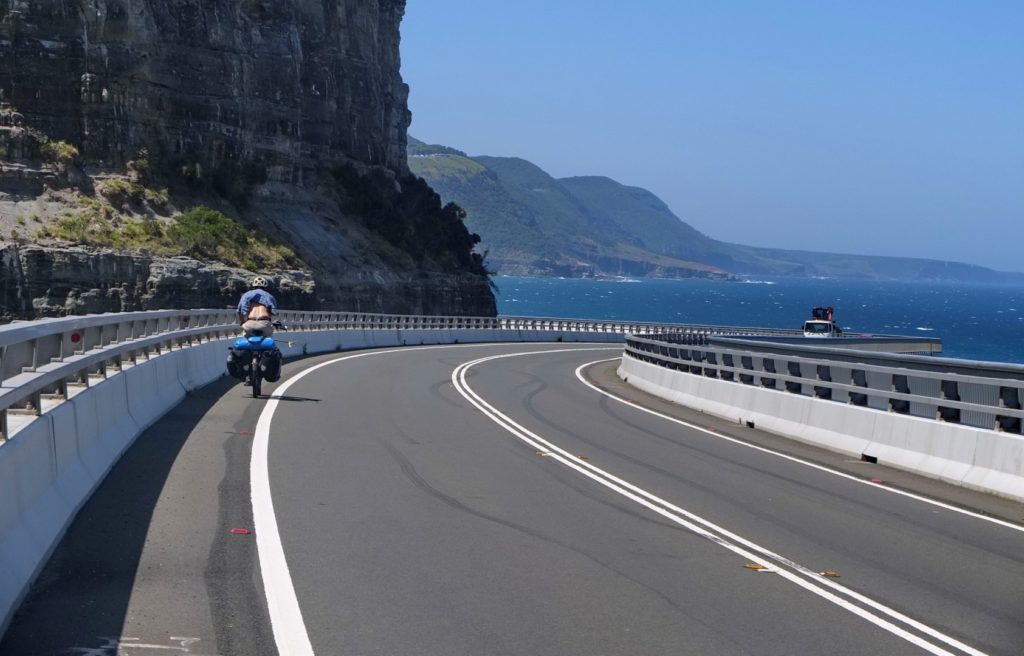 In the event, our route into Sydney turned out to be one of the easiest big city approaches of my entire trip. We'd sat out the worst of rush hour during the downpour. The industrial suburbs were all but deserted by the time we cruised through. The lightning storm lingered over Botany Bay, backlighting the airplanes coming in to land at Syndey airport. We imagined what a dramatic landing that would feel like for the passengers. We breezed through the darkness on promenades shared with strolling families, rollerbladers, dog walkers – the many faces of a cosmopolitan city. Around 10pm we made our final turn and located Ruth and Simon's townhouse, where all comforts were laid on. Next morning I checked my bike into the LBS to have the now kaput rear hub replaced, then settled into a day of sightseeing around Sydney Harbour with Tara.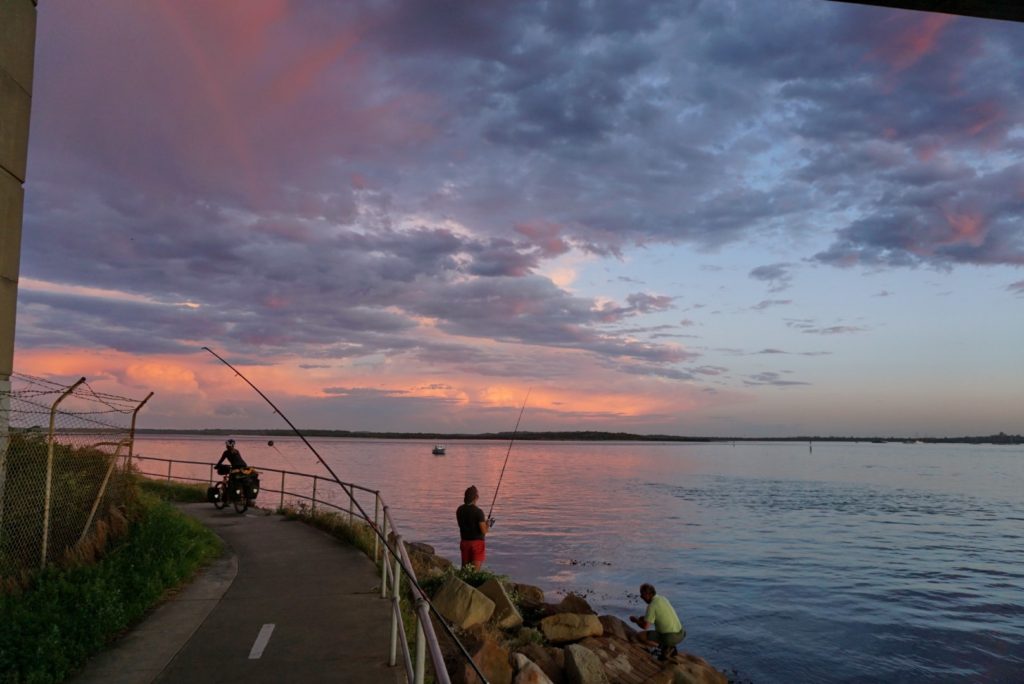 The sense of achievement always takes a few days to sink in after a big ride. We were absolutely thrilled to have made it, around 6800 km from Perth in three months. Tara and I would be parting company in a few days, so the arrival was also tinged by sadness. We knew we would be reunited in a few weeks in New Zealand, but it was still hard to say goodbye. Neither of us had known what to expect when we embarked on this mission to cross Australia via some of its more testing terrain. I had been sceptical of the chances of any relationship surviving the pressure of constant company that such an expedition entailed. I'd joked that if we were still on speaking terms by the time we reached Sydney, it would be a success. To have shared the myriad happy moments, difficulties and triumphs of this journey with Tara I count amongst the greatest privileges of my life. It's fair to say that I wouldn't have chosen that route without her, but I am glad I did, and I'm glad we did it together.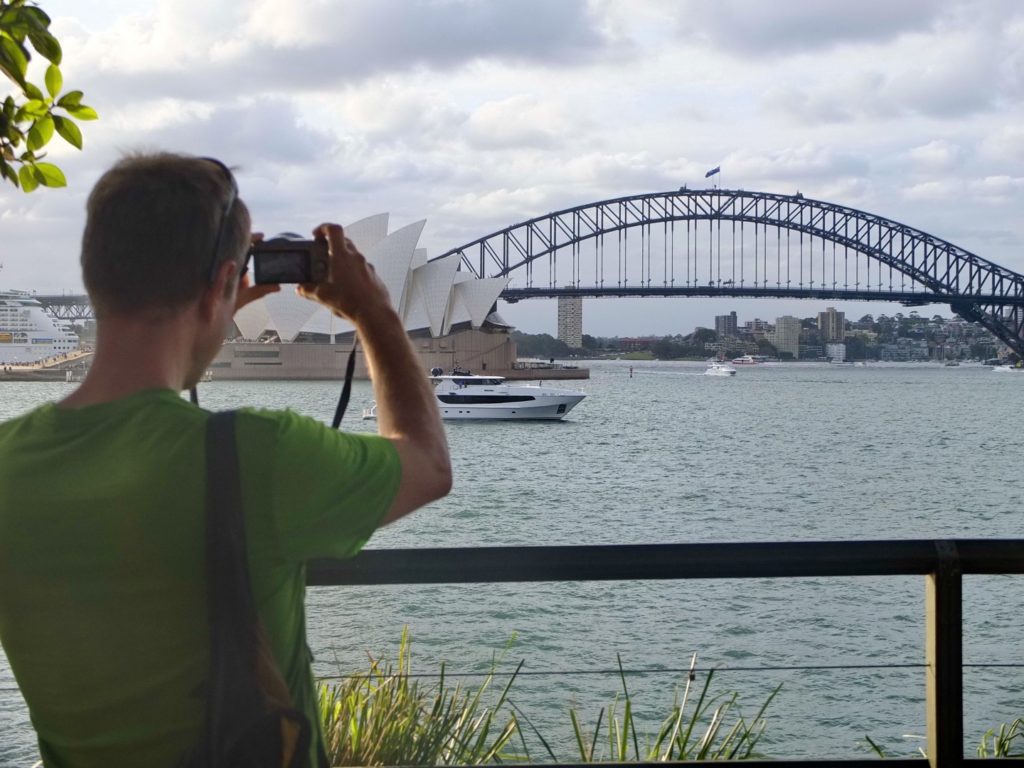 Spending Christmas and New Year with Ruth and Simon and their little ones Nia and Iestin was a wonderful treat after being adrift in the world for almost two years by that time. To at last be with one's own people, friends from my youth who had emigrated, was a grounding and emotionally restorative gift. After Christmas 2015 in Hanoi in a debauched hostel full of young backpackers, it was a blessing to be with old friends in a peaceful family setting. We spent Christmas Day in the classic Aussie pursuit at the beach; New Year at a spectacular firework party at the Botanical Gardens in front of Sydney Opera House and Harbour Bridge. Relaxed days blurred into each other and two weeks passed writing, swimming, drinking and talking with Ruth and Simon in the evenings. During that time I was able to connect with long lost cousin, Chris and his family, who I last saw fifteen years or so ago. I also met up with adventurer and matching helmet buddy Alex, last seen in Samarkand, Uzbekistan, two summers before. There was just time for a last minute reunion with Sydney resident and Nepal trekmate Joan and her boyfriend Dan, who helped me cram my oversized bike into an undersized box, before Alex generously taxied me to the airport.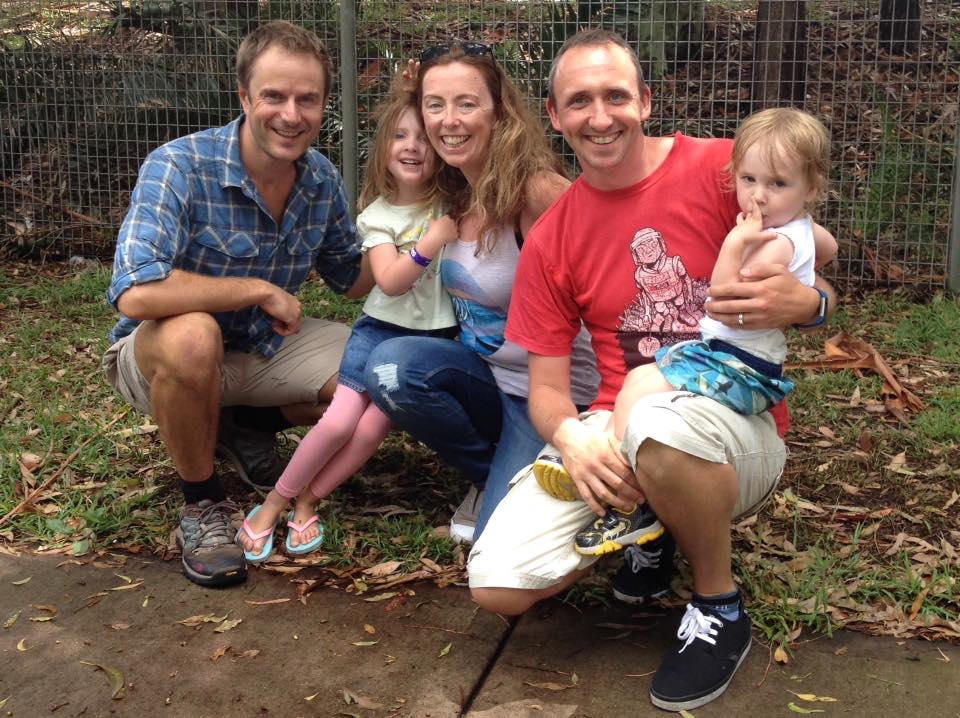 Australia had been immense. I arrived uninspired, but excited to see Tara. I left feeling already nostalgic for one of the biggest single country traverses I will ever make. Antipodes have held a fascination for me since youth. I used to stare at the atlas and wonder about the upside-down people who lived in places called Wagga Wagga and Koolyanobbing. I had to come here to satisfy that childish curiosity. The Australian interior is an otherworldly, seemingly empty space. Now the domain of extractive industries, the old ways of living on this land have all but vanished. My mind still boggles at the rich and ancient Aboriginal cultures that drew sustenance and inspiration from such an unforgiving place. It was deeply sad to see the ghosts of those cultures corralled in shabby townships in the Outback. There were moments of scenic coastal beauty and topographic relief, for sure. But my abiding memory of Australia is of those timeless weeks tracking across its eternal Red Centre. Of an endless ocean of sand, mulga trees and spinifex grass. Of space and silence. Of extraterrestrial sunsets. And cool, still mornings and balmy evenings pierced by the knowing laugh of the kookaburra.