Agent and Hedgehog
I never get used to knocking on strangers' doors. It's easier to do it during daylight hours. Once darkness falls people are naturally more guarded and suspicious of an uninvited caller. It was dark now. Midwinter dark in the middle of nowhere. I needed water and a place to camp. I'd pinned my hopes on finding the former in the first village I hit in Utah, after descending the high pass from the state border with Nevada. In the hamlet of Modena a thin, frigid crosswind wheezed through the barns and made the overhead streetlights squeak and sway. Bright security lights flooded the yards of a few farms, but no buildings showed any signs of life. Not quite a ghost town, but not far off.
Modena was once a station on the Utah & Nevada Railway. When the trains finished, the town declined to just a few farms and a handful of houses. There were no signs of life, many properties looked vacant. And then one house that seemed transplanted from another place altogether more homely. Lit up like the Eiffel Tower, Christmas lights throwing moving patterns on the lawn. There was a light in one window and signs and notices fixed on the glass door, several relating to animal charities. I took a deep breath, and knocked loudly.
Immediately all hell broke loose. What sounded like four or five large dogs barked and skidded around in a frenzy inside. The door opened a crack and out came the hounds, encircling me, baring teeth and lunging and snapping. A woman with long, curly, grey hair tied back shouted at them and tried to shoo them inside. Two of the dogs would not cooperate and made ever bolder runs at me. Not wanting to escalate the drama, I kept calm and started to explain why I was there, even as one of the bastards bit me on the bum.
The woman was quick to understand my situation. Of course I could have water, she said. But she was incredulous about my intention to camp: "Are you mad? You can't camp!". Although the surrounding area was all crop fields, there were very few buildings hereabouts and it was dark already, so I was pretty sure I'd find a hideaway without too much trouble. But it was shaping up to be another freezing night, so I was open to better offers. "Listen," said the woman, "you can stay in our motor-home. There's a little heater in there and you'll be out of the wind. Then I don't have to worry about you freezing to death in my neighbourhood."
It was an offer too good to refuse. Carol showed me round the corner to the enormous mobile home, a couple of years off the road, but still ship-shape inside. She set up a two-bar heater in the bedroom. "It doesn't look like much," she said, "but it will soon warm up. I slept in here last week when I needed some space when my husband was driving me crazy". There was a a stove and dining table where I could cook, and Carol filled my water bag. I was all set.
I told her I was thrilled to have arrived in Utah, a state I'd so long looked forward to visiting. "You must be joking, UTAH SUCKS!" she exclaimed without missing a beat. I grinned and waited for her to elaborate. "If you're not a Mormon, you're nothing in this state. They control everything." She was not a native of the state, she explained. She'd moved here when she married, partly because of the isolation offered by this place. "Peace and quiet, not too many people?" I suggested. "Exactly", said Carol. "People are okay, but I prefer animals. Animals are more grateful, and they don't need so much help." Her wry smile and the twinkle in her eye made made it hard for me to take her entirely seriously. But not wishing to impose any further, I said I'd be fine to take it from there. "Give me a knock in the morning if you need anything", she said, and left me to it.
I glanced around the interior as I cooked my supper. Dream catchers, maps and festival programmes. I crawled under the blankets and listened to the trees groan and creak in the wind. In the morning I made my breakfast, then went to visit Carol. She made me a coffee and we were chatting when her husband Vince appeared. A vision in white thermal PJs and long, white hair in a plait. He greeted me enthusiastically and asked about my journey. It's funny he said, people seem drawn to their house. He produced a guest book and asked me to write a few words in it. I glanced through pages and pages of other similarly grateful travellers. Some who had become stranded there, out of fuel or because of an electrical fault with their car; a motorcyclist who they'd taken in and sheltered in their motor-home much as they had with me; others who'd just stopped for a chat.
Vince explained that the campervan is their base when they attend the Burning Man festival. Twenty years ago, he'd gone to check it out when his pregnant daughter by a previous marriage told him she was going. (Vince revealed that he was in his early eighties now, Carol, twenty odd years his junior, was his third wife.) Although initially sceptical about the safety of the desert extravaganza festival for an expectant mother, by the time his daughter arrived Vince was patrolling the playa on a beach-cruiser bike, stark naked. He's been to sixteen Burning Man festivals since, in later years working as a volunteer site marshal along with Carol. They showed me their access-all-areas passes with their Burning Man call-signs 'Agent' (Vince) and 'Hedgehog'. Vince talked animatedly about everything he touched on. Carol berated him for chewing my ear, knowing that I had a long way to ride that day.
While I packed up my things in the motor-home, Vince stood on the step and asked about each item I carried. The flame diffuser on my petrol stove snapped off as I packed it – one of the metal tangs finally gave up the ghost after four years of intensive use. Vince was on the case in seconds with a magnet to find the broken piece, but it was irreparable, until I remembered that the field repair kit contains a spare. Vince marvelled at the ingenuity of it and enthused about it to Carol, who had come to shoo him away again for detaining me again. Their banter was non-stop and hilarious. It reminded me of nothing so much as the verbal play between Miracle Max and Valerie, played by Billy Crystal and Carol Kane in The Princess Bride.
I had to get a farewell photo with these legends of impromptu hospitality. Of course, extravert Vince was all over it, getting into the mood with his signature Burning Man hat, wide-brimmed with a braided lariat. He cajoled Carol to wear hers too, but she wasn't even keen on being in the shot. Recognising a fellow introvert when I see one I confided to Carol that posed photos are just as awkward for me as anyone else. But they're moments in our life that go unrecorded and are easily forgotten otherwise. A good sport to the last, she pulled a face and donned the hat.
Ask for Robert Smith
Utah did not suck. I hiked a day in spectacular Zion Canyon and another in Bryce Canyon. I enjoyed superb hospitality with Warmshowers hosts Lukas and Katherine in St. George, and later Robin and Tracey in Rockville. To connect Bryce to the Grand Canyon, I'd spotted an intriguing shortcut on the map, across Grand Staircase Escalante national park through Cottonwood Canyon. Snow lay thick on the ground at Bryce Canyon. If that proved to be the case on the Cottonwood road, it would be impassable for me. Lukas got me some advance intel on Cottonwood road conditions: dirt, mostly hard-packed clay, ought to be clear of snow, but likely frozen overnight and early morning. Worst case scenario: once melted by the sun, the clay would turn to sticky mud. An early start was recommended to at least get past the climb at Upper Slickrock before the road became soft.
After my hike in Bryce Canyon, I left at sunset towards Cottonwood Canyon. Quickly descending below the snowline in darkness, I shivered from the damp penetrating cold. A motel in Cannonville promised 'low low rates', but on enquiry it turned out they meant $70 a night. I resolved to push on towards Kodachrome Basin and bushcamp. That would give me a head start the next day before the road warmed up and softened. I found cover under the low branches of a juniper and enjoyed a silent, frosty night. Blue skies in the morning promised an epic day's cycling. And my luck continued – the road was sandier than expected, holding very little moisture. Apart from a few icy patches on the highest sections, it was rideable throughout.
A great advantage of cycling in the winter is that traffic is at a minimum on the minor routes. Only one vehicle passed on the road while I was in camp that morning. No vehicle passed during my first hour on the bike. The scenery demanded a photo. I clicked off a few shots from the bike. The red earth road, fringed with snow, set against distant mountains and blue sky begged for a on-the-bike self-timer shot. I decided it was about time to get some value from the tripod I'd carried since Alaska. The road was silent apart from the soft breeze. I set up the shot near the crest of a small hill, walked back to my bike and made the approach as the timer clicked off the photos. I checked the results – I was still too far away in the shot. Reposition and go again. I cycled towards the camera again. Just as I reached the brow a truck came zooming up from the other side of the small rise. I waved them over before they collided with my tripod.
The two-tonne black RAM pickup came to a stop. The window went down. "What are you doing man?" asked the driver, more perplexed than annoyed. I propped the bike on its stick stand and walked over to apologise for the obstruction. The driver and passenger were both large Native American men. "How do you like my land?", asked the driver with a slight edge. I said I liked it a lot, that's why I'm taking a photo. That's what I was doing when you arrived, I explained.
"All this is Navajo land. All of this," with a sweep of his hand. He stared as if transfixed out the front window, then picked up a tin whistle off the dashboard and started to blow into it inexpertly. Tuneless as a kettle, like a child's first recorder lesson, he went on for two minutes. When finished, he placed the whistle back on the dash and continued staring. I decided to play it safe. "Nice tune," I lied. "Did you compose it?". The passenger was silently giggling and rocking back and forth in his seat. He reached out a chillum pipe from the footwell, took a long draw on and exhaled, rocking all the while. Sweet smelling smoke filled the cab, but no words were said. The passenger gestured across to offer me a smoke. "Thanks, but it's a bit early for me. Do you guys live around here?" I asked to change the subject. "We live over in Page," said the driver. "We're on a business trip to Cannonville. Visit some girls we know."
The driver got out of the car. "Where are your friends?" he asked. I explained that I'm travelling alone. "You sound strange, where you from?" he asked. I told him I'm from England, cycling around the world. "You're shitting me," he insisted. Not at all. I'm heading to Mexico now. "On that?", he asked, pointing at my bike. Sure, that's how I got here. "You never have any trouble?". A few flat tyres, I said, a few chilly nights, but nothing I can't handle.
"Well you ever need anything round here, you tell people you know Robert Smith." Who's Robert Smith I asked? "I am, he said, visibly standing taller. "Anywhere round here, you can ask for Robert Smith. You're on my land. All this … Navajo land. Ask for Robert Smith and you'll see. Everyone knows."
He thrust out his great slab of a hand. I offered mine in return, which he crushed with excessive strength. I squeezed back best I could, but it was painful. "Dude, you are breaking my hand!", I gasped. He relented and I shook the blood back into my fingers. "Sorry about hurting your hand," he said. "Forget it," I said. I packed the tripod away and he got back in the car. I walked over to the side window to say goodbye. "Enjoy my land," he said and picked up the whistle again. I could hear him tooting like a freight train as I cycled away.
Captain Fantastic
I camped near the edge of the Grand Canyon under a full moon. Blood moon. Super-moon. Cold moon. I had an easy day walking the bike along the south rim. I rubbed shoulders with tourists and chatted with anyone who was around. The US government was on shut-down, so no national park attendants were present, a pleasant change from the usual game of hide and seek I'd had through Canada and USA. The official campsite had been left open and a sign placed on the automatic ticket machine saying out of order, a low-effort free night.
Since leaving San Francisco three weeks before I'd had to cut a little distance off my original plan, but I'd hit the main three national parks I wanted to see. I now had six days and around six hundred kilometres to exit the country before my visa waiver expired. I laboured into a headwind due south on the tedious highway 64. In the late afternoon I reached Williams. A chill wind blew along the railway tracks, but Christmas markets and sleigh rides brought warmth and life to the town. The obvious fast track onward route involved a ride on interstate 40. I didn't like the idea of being stuck on a barricaded interstate in the dark, trying to find a wildcamp site away from the noise of the traffic. The alternative was a winding rural back-road – more appealing, but more climbing. A shopkeeper reassured me that it was paved to the top of the climb and mostly good hard-packed dirt thereafter.
The steep climb out of town soon gave way to an undulating course through pines, aspens and juniper forest. It was fenced off along both sides, but I felt sure I'd find a chink in the armour somewhere. In the darkening twilight I cruised past a large new house set back from the road. I noticed a tall fellow in work clothes, sitting by a small fire, sipping from a mug. He must have noticed my interest, because he shouted hullo. I doubled back and went over to the fenceline for a word. "Are you looking to camp?", he asked with a smile. "You can camp here if you like. I've done some travelling myself, by motorcycle mostly. I know how it is. I'm Ryan, this is my place."
Ryan told me of his adventures in the Western States by vintage motorbike with his eldest son, a kind of Pirsig-esque odyssey without the drama. Greying of hair, he wore a beard and luxurious moustache like an old-time gentleman explorer. He was just missing the pipe clamped between his teeth. I told him about my trip while he opened a gate in the fence. I could camp anywhere I liked, he said, but the real luxury option was his log-cabin on the wooded hillside. He'd built it as a temporary lodging for himself and his wife while the main house was under construction. He showed me to an idyllic cabin done out in the fashion of a boathouse, an unusual theme at 2000m above sea level, so far from open water. There were oars, nets, storm lanterns, messages in bottles. The bed itself was a row boat. Best of all, on another sub-zero night, there was a woodstove.
I lit the fire and changed into clean clothes and went down to meet the family. The main house was brand new, boxes and packing crates were still unopened in the hallway. Ryan's wife, Katy, greeted me warmly and introduced me to three of their five teenage children, and to Ryan's mother. I was welcomed to their informal family dinner, answering questions about my trip. We sat variously at table, on sofas or hovering around the kitchen, but I was impressed by how engaged and attentive everyone was. There was no tuning out, screen-gazing or cross-talk. Katy told me she'd started studying for a degree in English literature, while the kids enthused about their mountain bike racing and school work. Ryan told me how they'd spent several years living in cramped accommodation down the road during the building of this place. They'd gone all out to be in for Christmas. Their shared sense of accomplishment and relief was heart-warming.
Christmas Eve morning dawned crisp and cold. I breakfasted in the cabin and packed up. The main house was all astir in preparation for family celebrations – chopping vegetables, roasting birds, checking off items on a list of unfinished building work. In the midst of this buzz of activity, Ryan made me a coffee and explained some of the history of the landscape I would pass through that day. Ancient Anasazi cliff-dwellings he'd discovered while exploring on foot. He wrote his contact details on a piece of paper, inviting me to stay in touch. "Send me a message in a bottle for the boathouse", he said. He'd had one from another traveller he'd taken in a while back. As in Utah, I was not the first to benefit from this spontaneous and unconditional welcome. And I doubt I'll be the last.
Beware of Darkness
The freezing nights were behind me now. Hour by hour, day by day, I tracked across Arizona to my rendezvous with Mexico. I slipped between parallel sierras through Congress, then Love, then Salome. In a village called Hope I asked for water at a fancy caravan park and asked about camping in the desert nearby. The custodian, Doug, invited me into the communal kitchen to fill up and offered me use of the wifi. He drove his golf-cart across the road ahead of me, showing me the way to a gate into fenced off desert scrub. "Follow that track as far as you like, you can get away from the road and find some great spots in there. Come say hi in the morning."
Twenty metre saguaro cactuses stood like sentinels in the pink dusk. Spoiled for choice, I picked a campsite by aiming for the tallest cactus I could see (you gotta have a system). The older specimens (100 years plus) have side arms, or thumbs, making hand signals, some triumphant, many giving a defiant middle finger to the world. In the morning, before heading off I went back to the RV park for more water and to thank Doug. A large chap, ruddy of complexion, standard-issue baseball cap and baggy, brand name t-shirt, he was enthusiastic about my trip. But as per the drill in USA, he also had words of caution about Mexico. His was a tale of a couple of cyclists who'd been robbed somewhere in the north of Mexico. Details were sketchy, but according to Doug all their pannier bags had been taken.
I was close to the end of my time in USA by this point, and had heard stories like this many times. More common was a generic, "you be careful down there. It's a lawless place, they're killing each other in droves". Others warned of corrupt officials. Others of drug cartels. Others of desperate caravans of would-be illegal immigrants. "Get away from the border as quick as you can," one waitress in Utah urged me, "it's not safe."
I became used to batting away the cautionary tales and admonitions. Usually the stories were recycled and vague, based on a kind of collective paranoia about the southern neighbour. Sometimes I would point out that neighbouring countries and territories often have this kind of suspicion and animosity towards each other. It's just playing to type. I'd heard most of it before. In France, my first country, I was warned against the Balkans, and about Albania in particular ('they'll murder you for your shoes there!'). In Greece I was warned about the brutishness of Turks. In Georgia I heard about the misdeeds of Azeris. In Azerbaijan I heard tales of strife in the Stans. In the Stans I heard about the roughness I should expect in China. And so on. All nonsense.
The difference in USA (and to a lesser extent in Canada) was that people were much more forthright about expressing their concerns. While I experienced cross-frontier mistrust elsewhere in the world, never before have I know it to be so strongly expressed and so frequently. It was the default in USA. Very few people, when they heard I was heading south, expressed curiosity or encouragement. Almost everyone felt they had a duty to warn me to be careful. So much so that it amounted to a kind of 'concern harassment' – offloading one's own fears onto other people and expecting them to internalise them. The irony was that this was in USA, a country where guns are commonplace and shootings are a national crisis. The USA did not feel at all like a 'safe country'.
Even knowing that this kind of antipathy is a widespread trait around the world, even knowing that the stories I was hearing in USA about Mexico were usually poorly substantiated, a kind of national generalised anxiety disorder fed by sensationalist news media and corrupt politicians… Even knowing that most people who tried to inject fear into my plans did so out of a misguided belief that they were showing kindness and prudence… Even knowing that countries that I had been warned about in the past turned out to be some of the most hospitable places… Even knowing that other cyclists had travelled in Mexico and beyond happily and reported it to be amongst their favourite places in the world to cycle…
Despite all this, the endless drip drip drip of 'concern' started to wear me down, eroding my confidence like water on limestone. Outwardly I kept up my polite requests for specifics when people told me horror stories. I asked if they had any first hand experience of travelling in Mexico they could tell me about (hardly anyone had). Outwardly I reminded people that they shouldn't take what they see on the news as being representative of a whole country. Outwardly I kept up a cheery and determined, alert and prudent demeanour. But internally I was growing tired of the constant 'advice', which fanned the embers of my own fears.
While I didn't discuss it openly at the time, I was well aware of the recent murders of two adventure cyclists in Southern Mexico in April 2018. I had closely followed the search and awful discoveries of the bodies of Holger and Krzysztof, and read everything I could find about the subsequent investigations. Holger's trip was similar to mine, we'd set off from Europe heading in the same direction at about the same time; we were close in age and background. I met Holger in Bishkek, Kyrgyzstan, where we were both trying to obtain visas for China. I remember the night he arrived at the hostel I frequented. He was glowing with perspiration, but grinning and happy to have made it. We soon saw why. His bicycle had no saddle, the seat posted had snapped and was stuck fast in the frame. For days he'd been riding by standing on the pedals. He had a great sense of humour, and kidded me for repeatedly forgetting to take home the new tyres I'd bought from Nathan, the hostel owner, at the end of nights drinking at the hostel. In China, Holger joined up with Swiss cyclist, Michael, with whom I later teamed up in India. So I'd kept Holger on my radar as an acquaintance and fellow world traveller with a similar outlook to my own. I was getting ready to leave Korea when the devastating truth emerged about his and Krzysztof's fate. Since then, it has never been far from my thoughts whenever I think about my route down the Americas.
It all added up to feeling very conflicted about Mexico. Fear is a core human emotion. Our brains are hard-wired to identify dangers and avoid them. It keeps us alive long enough to reproduce. But we are also very bad at weighing real risks and responding appropriately. We fixate on dramatic but statistically unlikely events (plane crashes, shark attacks, murder). Long term, cumulative threats don't trigger the brain's fear centres in the same way, even if their negative consequences are far far more statistically likely. Hence high rates of life threatening obesity, heart disease, lung cancer, climate change and plastic pollution. Our fears are seldom a reliable guide to what we should really be worried about. When we allow statistically-baseless primal fears to take hold, we end up jumping at shadows. Life becomes diminished, horizons curtailed. By questioning the true risks and likelihood of any feared circumstance, we can use our intellect and our instincts to guide appropriate, proportionate action. Prudence, alertness, awareness, yes. But generalised fear is not a reliable guide.
The Long Goodbye
"The border means more than a customs house, a passport officer, a man with a gun. Over there, everything is going to be different; life is never going to be quite the same again after your passport has been stamped and you find yourself speechless among the money changers." – Graham Greene, The Lawless Roads
Before exiting USA I wanted to replace a few pieces of camping kit and a frayed gear cable. A last minute shopping spree in the land of plenty. Trawling the mall for an outdoor gear shop and chatting with the lads in the bike shop made for a late departure from Yuma on the final ride out to the border at San Luis. All day I had ploughed along perpendicular roads amongst the crop fields and irrigation dykes of the Colorado River valley. Abstraction had reduced the once mighty Colorado itself to a turbid trickle, the last dregs supplying cotton fields – one of the thirstiest crops on the planet. Grown in a desert.
I arrived at the border around 8.30pm, a full three hours remaining on my US visa waiver. The final approach is on a road busy with fast traffic, with no shoulder. On a dangerous bend, in the dark, a truck drew alongside and a passenger shouted to ask if they could take a photograph with me. Not a good time or safe place, I shouted back, on a blind bend with nowhere to pull over. I shook my head at the impracticality of it. At the border itself, I got channelled into the vehicle lane, rather than the correct pedestrian lane, and had almost crossed the invisible line out of USA before I caught the attention of a policeman and asked where's the US immigration office, so I could hand in my visa exemption card. I'd been tripped up before with omitting to get proof that I'd left USA in time. Pushing against the flow of pedestrian traffic of immigrants coming into USA, I found my way into the back door of the US office. Immigration officials were nonplussed about my intentions. They were even more bamboozled when I answered their question "how long before you return to USA?" with "I don't know, perhaps never."
Documents now in order, I returned to the Mexican entry lane and passed through without anyone even looking at me. I was a little confused what to do now – wasn't I supposed to get a permit card, get my passport stamped at the very least? I asked the first people I saw – which turned out to be the family who wanted a photograph earlier. They'd followed and waited patiently until I was across. They pointed me into a side room where I could get my passport stamped. The official on duty seemed very relaxed, a welcome change from the stern treatment I'd grown accustomed to at borders. The computer system for issuing six month stays was not online this late in the evening. "Come back tomorrow, or another day if you like," he said. Highly irregular … except … I was in México now, 'everything is going to be different'.
Back on the street, the family still waited for me. They'd been there easily twenty minutes. "Can we have a photograph with you?", the teenage daughter asked again without reproach. The father I now recognised as someone who'd paused at a traffic stop-light in a town on the way to the border that evening and asked about my trip. He and his wife were Mexican by birth, now resident in USA in San Luis. The son and daughter had dual nationality. It was no problem for them to cross the border without restriction, something they did often to visit family or go shopping. The daughter explained that she was collecting photographs of long-distance cyclists who pass through. "That's so cool!", I said. "I'd be honoured to be in your collection. How many have you met?". She gave a shy smile, "You're the first one."
The family stuck around to ask if I needed any help, and guided me to a bank and a street where I might start looking for a hotel. The bank refused my card so I changed some dollars, among a steady stream of workers coming straight from the border with a single $50 note to exchange, a day's wages in the dusty crop fields of Arizona. The first two likely-looking hotels were asking double my intended budget. In risible Spanish I asked if there was anywhere cheaper around. Passers-by in the lobby joined in and started brainstorming, a few spoke good English and translated the desk clerk's recommendations. Then a young man who'd stood away from the desk now stepped forward, and through my new translator said I could follow him on his bicycle. Francisco appeared out font with his ancient steed, single speed, with elegant upturned cow-horn handlebars. In black leather jacket, moustache and brilliantined hair, he sedately but efficiently carved through the dark streets while I trailed behind. Four times he went inside motels to broker a deal. In the fifth he indicated they had a room that they would drop to 300 pesos for me (they were asking 350). I turned to thank him, and it suddenly occurred to me that maybe he expected a tip. But he was already back on his bike and heading towards the gate, calling over his shoulder "hasta luego!".
If this was a sign of how things are done differently in México, I could probably get used to it.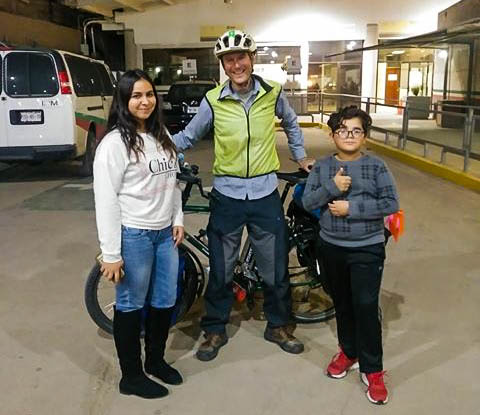 ===
Videos from this part of my trip: