It's been a long time coming. The events described below and in the two forthcoming articles took place in late 2016 and early 2017. They are as fresh in my mind as if they happened last week. After a year teaching English in South Korea, the time has now come to tell these stories. In a few short weeks I will continue the journey I began over three years ago. Homeward to Blighty … via North America, South America and Africa!

---
I should never have believed that man was so truly the prisoner of the springs and freshets. I had no notion that our self-sufficiency was so circumscribed. We take it for granted that a man is able to stride straight out into the world. We believe that man is free. We never see the cord that binds him to wells and fountains, that umbilical cord by which he is tied to the womb of the world. Let man take but one step too many … and the cord snaps.
A. St-Exupery, Wind, Sand and Stars (1939).
---
With puffy eyes and crumpled clothes I balanced my unwieldy bike box on an airport trolley. My heart was going twenty to the dozen. I hadn't slept a wink on the connecting flights from Delhi to Perth, but I felt wide awake now. Through the immigration barrier, Tara eagerly awaited. We had last met in Burma, six months before. The anticipation of this moment had kept me going through tough times in recent months. I had run the gauntlet in northern India and survived, but it had cost me my motivation for adventure – at least for the time being. My sense of purpose was all but used up. Australia did not inspire me. My need for novelty had been exhausted by the experiences I had absorbed over the previous twenty months. In short, I was getting jaded and close to burn out. I needed a rest, time out to process recent events and regain my thirst for adventure.
Tara had been staying in Perth with Victor, a fellow bicycle adventurer, whom she met in Thailand and Burma. Generously, Victor taxied us from the airport to our AirBnB in Fremantle. A blissful week disappeared in the blink of an eye. Our pad had a new, top-end kitchen. On my first visit to an Australian supermarket, I prowled the aisles hungrily, seizing on once familiar ingredients so long absent from my shopping basket. Long-forgotten cooking skills and culinary inspiration bubbled up. Later, house-sitting for Victor and his wife Ruth while they were away camping, we settled into a happy routine of eating well, chatting with Ruth's brother Steve at the weekends and taking long runs on the beach.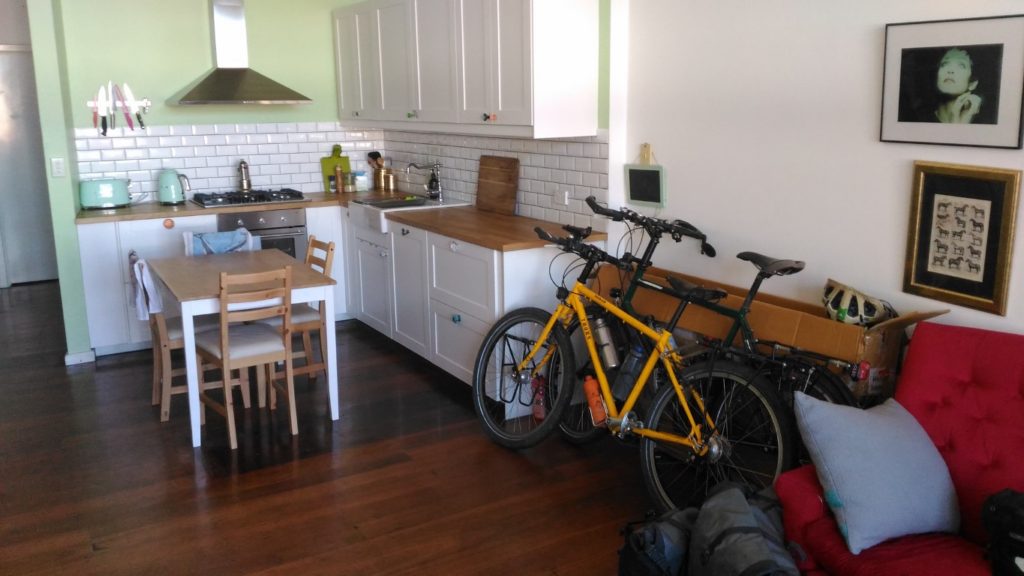 Still I couldn't think about cycling. The Red Centre of Australia loomed menacingly. My previous desert crossings in Central Asia had not been easy. The heat, the wind, the sickness, feeling wretched and out of my depth. I had said that if I ever saw another desert again in my life, it would be too soon. Most long-haul cyclists who cross Australia take the Nularbor Highway, the only asphalt road from Perth to the east coast cities. Left to my own devices I would almost certainly have taken that route. The idea of spending any longer than necessary in the desert appalled me. Tara had other ambitions. Her heart was set on exploring the dirt roads that traverse the Outback, thousands of kilometres of rough, sandy tracks. Without a coherent plan of my own, I was content to follow hers. Slowly our attention turned to the formidable logistical undertaking ahead.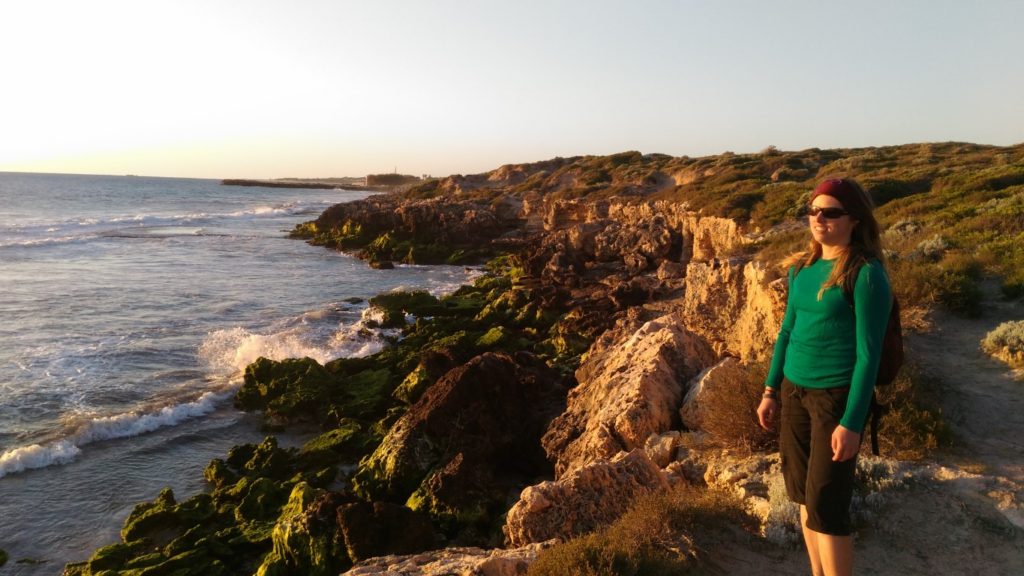 At the same time as rebuilding my enthusiasm for adventure, my bike needed a fair bit of work to make it fit for the desert crossing. In addition to the banjaxed front fork and rack (see previous blog, Don't Worry Be Happy), the wheel rims were close to failure, my pannier bags were shot full of holes and barely able to attach to the bike any more, and of course the chain and sprocket were seriously stretched and worn. With Victor's garage workshop at my disposal, I soon had the bike looking like new. After a few weeks of tinkering, scrutinising maps and satellite images of the thread-like desert tracks, pin-pointing water sources and food resupply points, we loaded up the bikes and wheeled out of Perth on an drizzly spring day.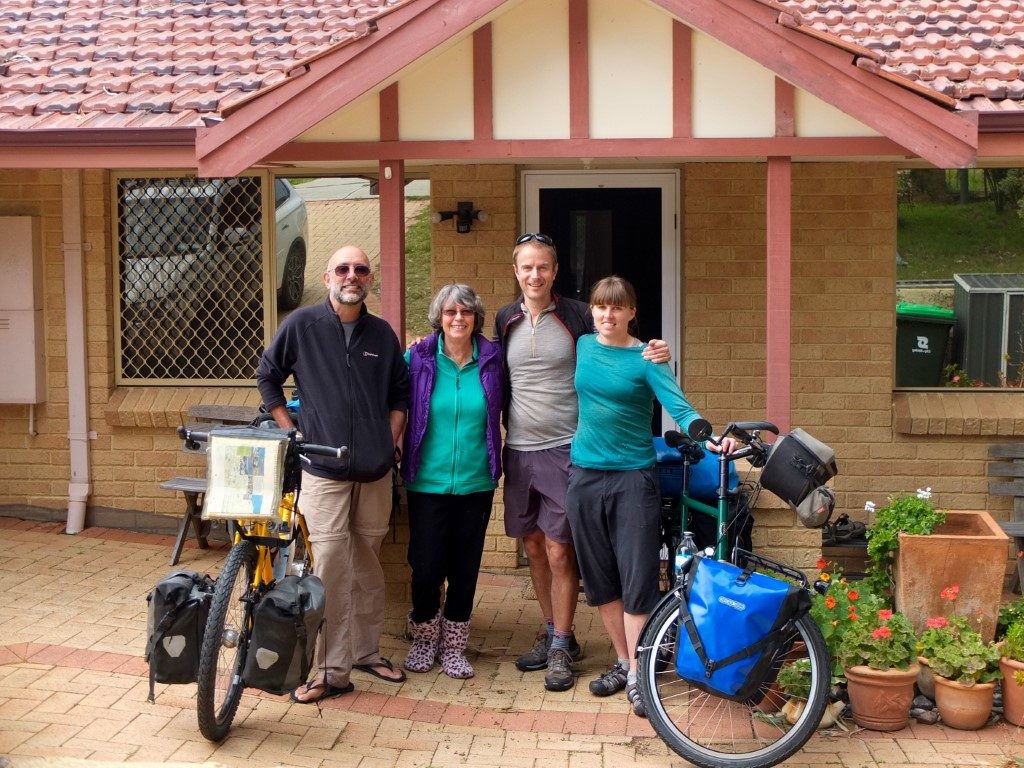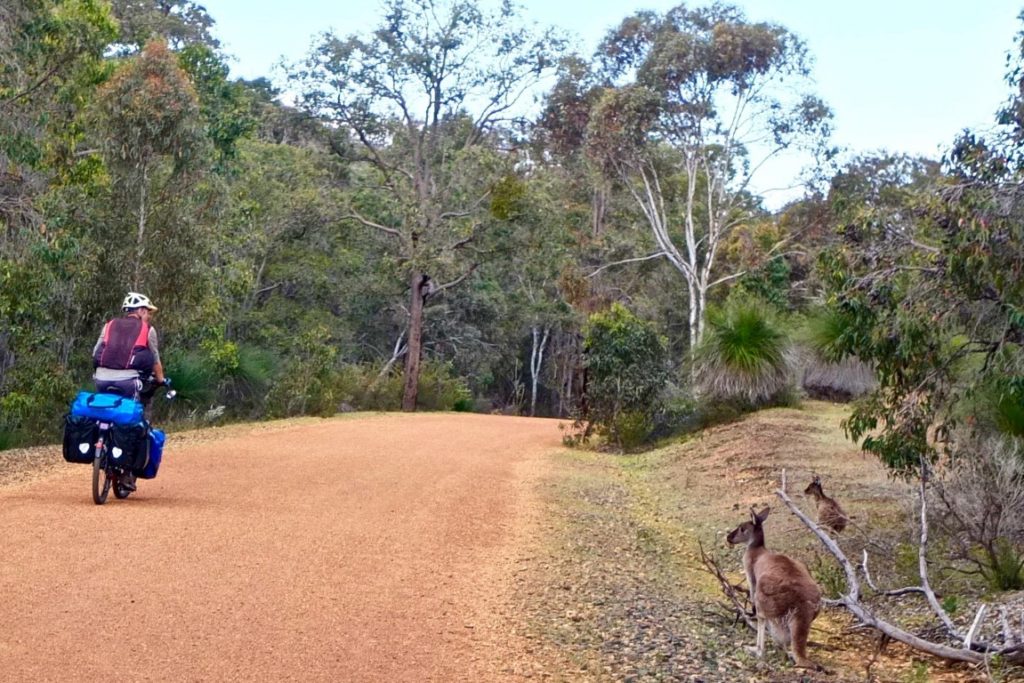 Inland of Perth lies the Western Australian wheatbelt: thousands of square kilometres of cropland interspersed with sleepy country towns that seem to have escaped the modern era. Population density here was the opposite of India, the last place I had travelled, and a welcome relief for that. Day by day we settled into our touring rhythm. Every night I marked our campsite on my map. Our eastward progress looked minuscule across this enormous state that covered half the Australian landmass. The distance between settlements was already a decent interval, but we were barely getting started.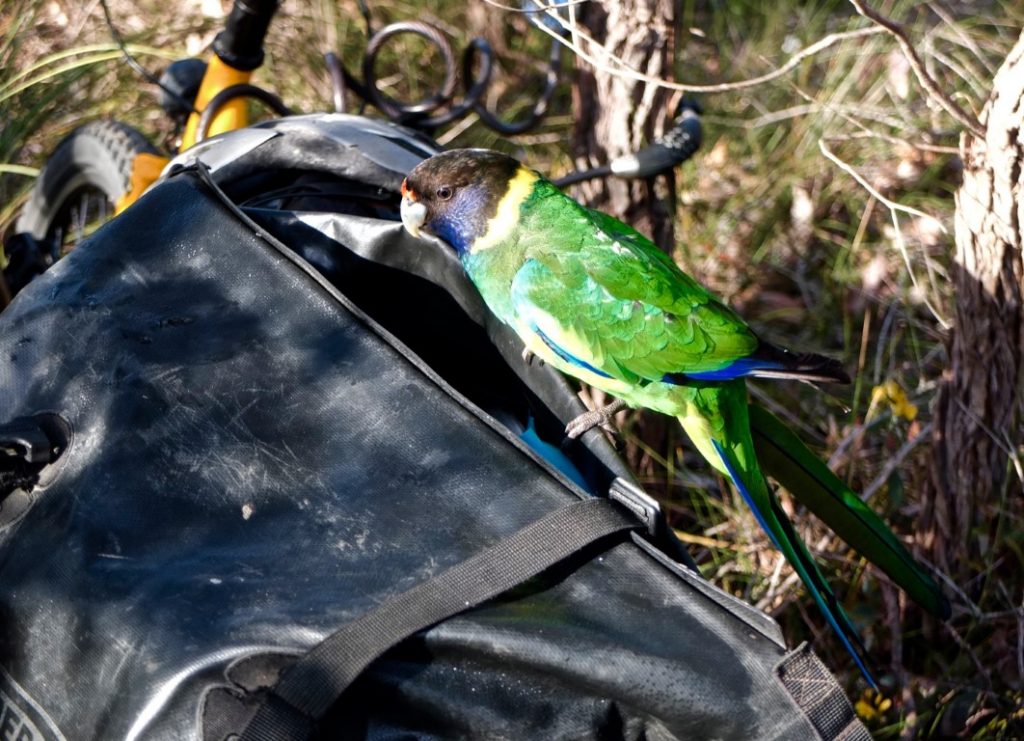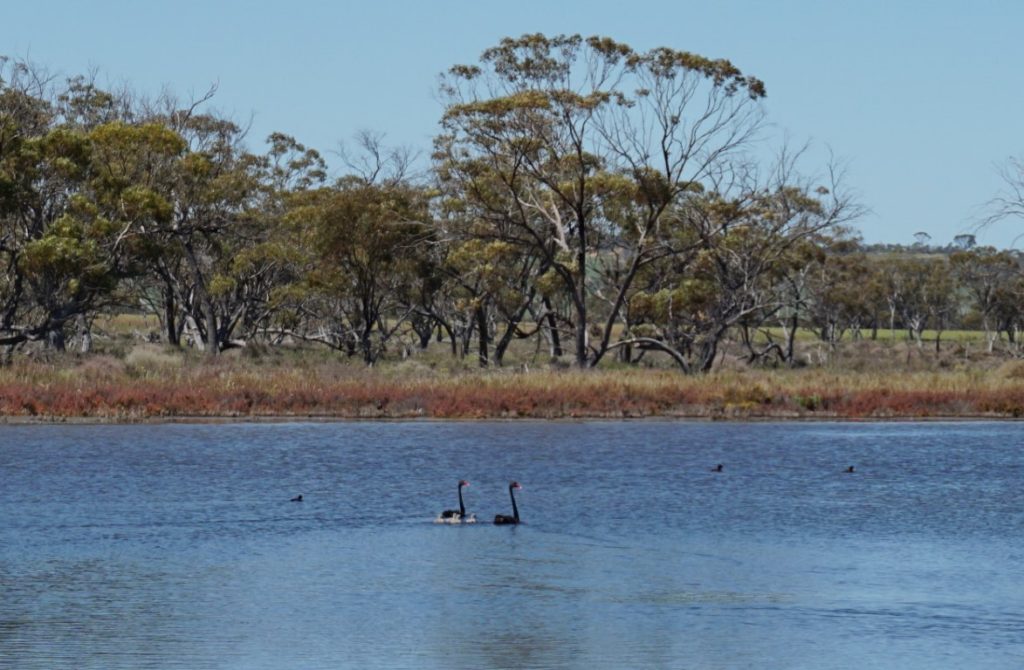 Wheatbelt towns had a wild west feel to them. Metaphorical tumbleweed blew down the deserted main streets, utes (utility vehicles or pick-up trucks) parked end-on to the kerb instead of horses hitched to a post. A solitary milk bar or small provisions store was usually the only business open. As we leapfrogged between these anachronistic settlements, I tried to focus on the pleasure of riding on quiet, out-of-the-way roads. Most of the time the road was all ours, so we amused ourselves practising riding with no hands, drafting team time trial style, and doing sprint chases over the gentle hills. Bobtailed lizards, or skinks, scurried across the road, many flattened on their ill-timed traverses.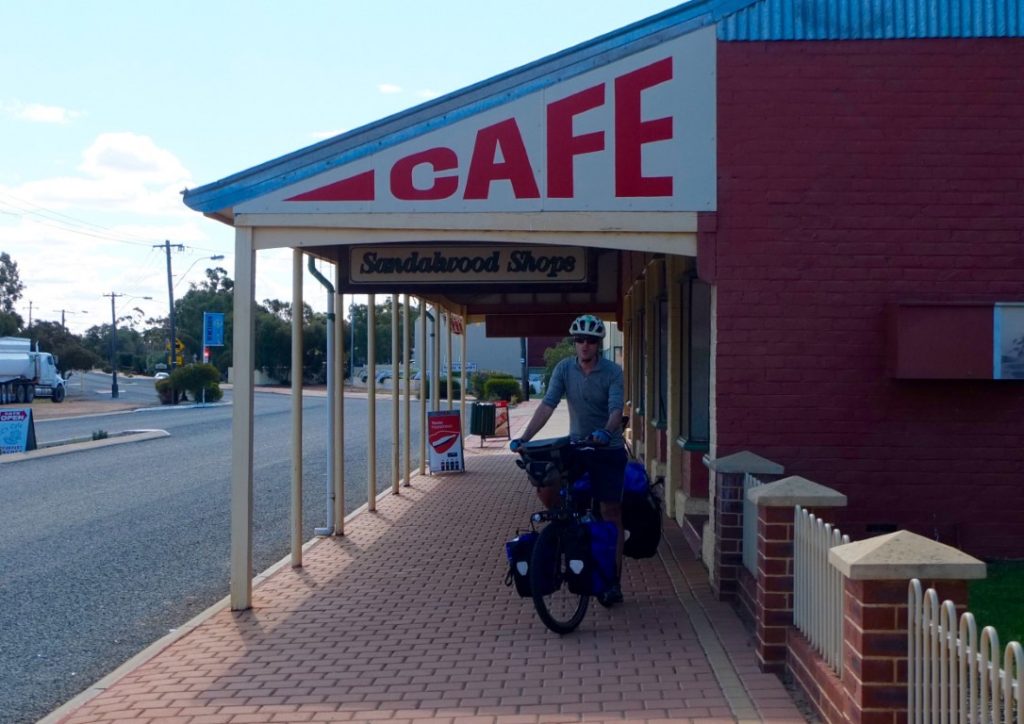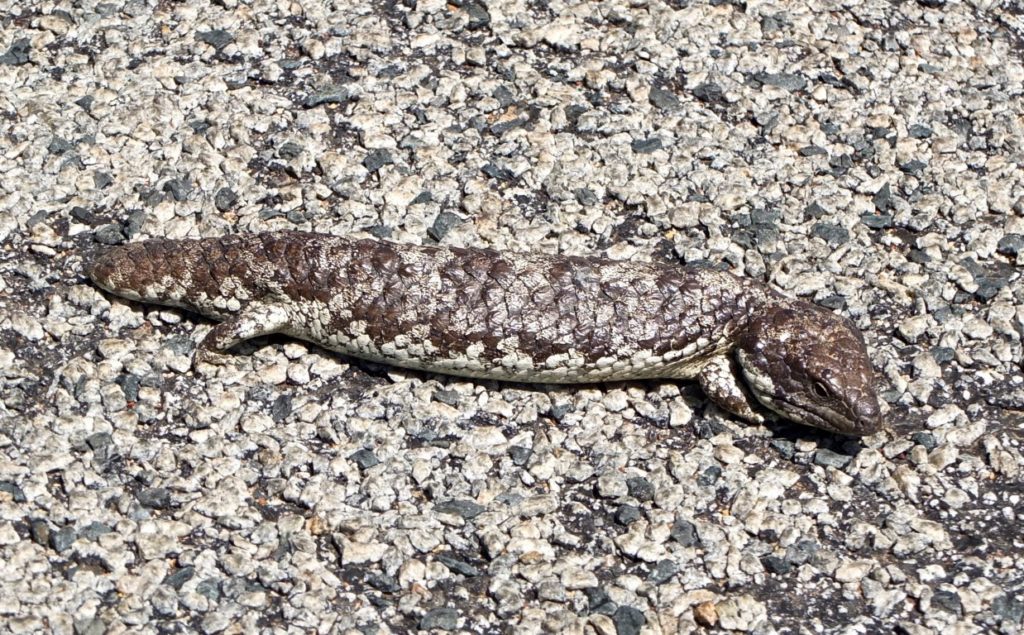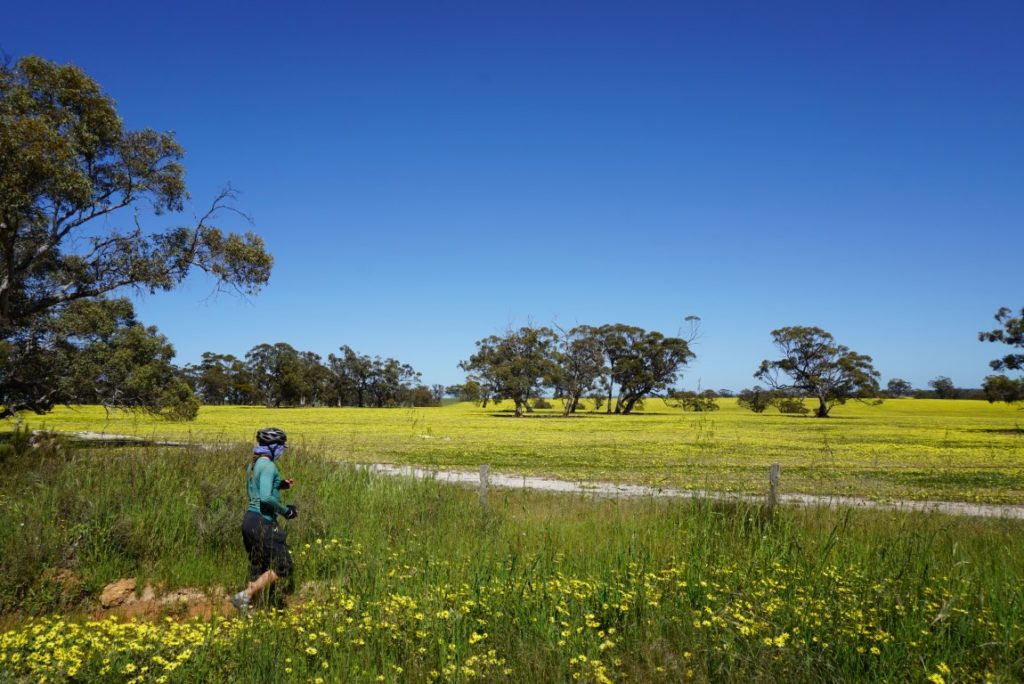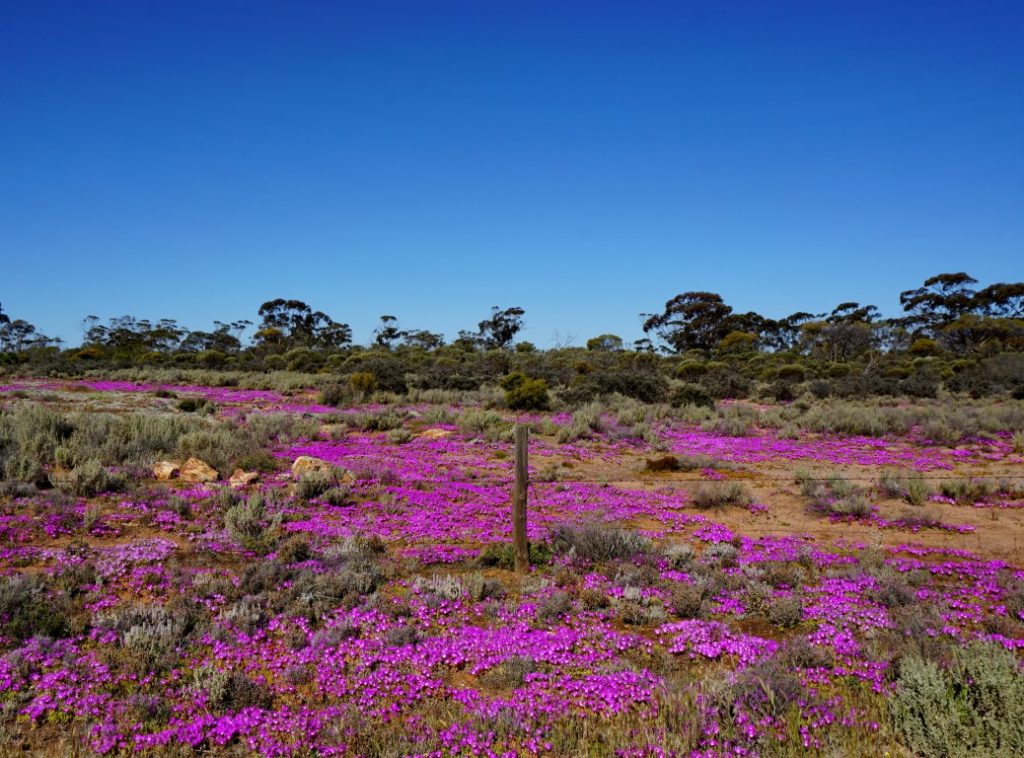 Near Bolgart we abandoned a prime riverside camping spot when the mosquitoes found us, rising demoniacally from the tall grass. Continously fenced-off arable land and boggy reed beds made our wild-camping prospects look poor. It was time to start knocking on doors, but it could be 10km of dirt track between doors. At the first roadside farm I took the initiative, trundling up the ponderous driveway, on guard for the inevitable hounds. But not a woof was heard. The barns stood wide open, dilapidated machinery and vehicles strewn about the place. On closer inspection the house was derelict. The back door was off its hinges and several windows were broken. The interior was more or less gutted, only a random jumble of household items remained, gathering mouse shit and cobwebs. There is always something a bit sinister about exploring abandoned places like this – my imagination conjures all kinds of ghastly history – I watched too many TV and film crime dramas as a kid. One suspects axe marks or bullet holes in the walls, or tide marks of blood in the bathtub. No such gruesomeness could be detected here though. The one thing that gave us pause for thought was a solitary calf in a small paddock. Clearly, someone still had an interest in this place. Someone had to feed the calf.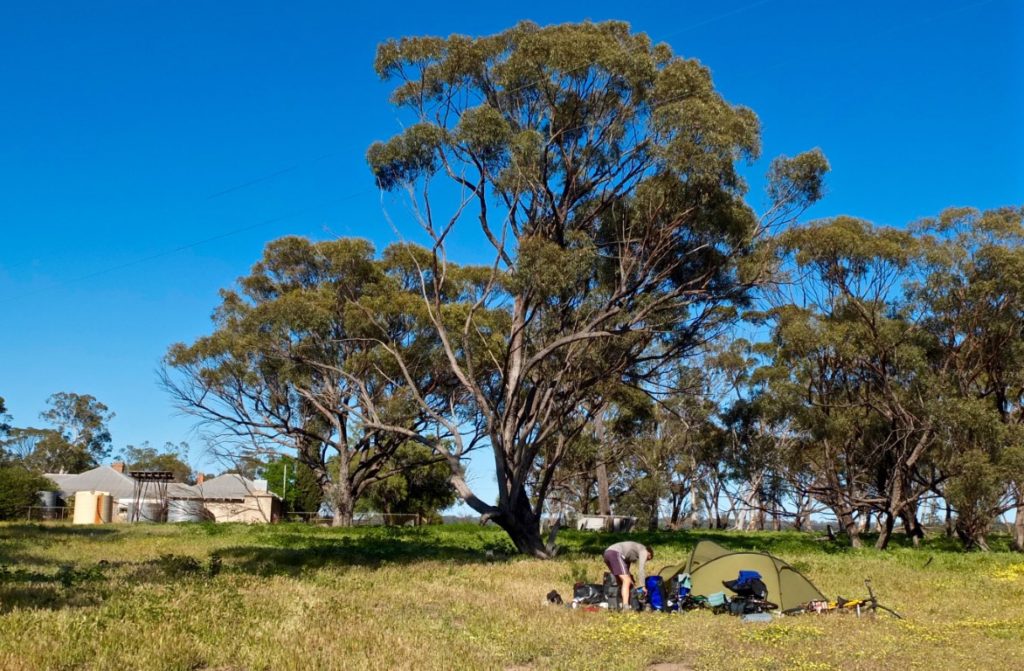 It was going dark and we were out of options, so we set up camp. As we packed up in the morning a ute blaring music from its stereo swept though the grounds and pulled up next to our tent. I hailed the driver in as innocent and friendly a way as I know how. No fear, the young farmer couldn't care less and was only impressed that we were cycling across his country. He was the manager of a nearby farm, the owner of which had bought the one we were on now, but didn't know what to do with it. He wished us well and we resolved to be less reluctant to ask for permission to camp in future.
Near Cadoux we camped on the village sportsground, a tranquil spot at sunset. Pre-dawn, hundreds of cockatoos and galahs (roseate cockatoos) took up their cacophanous squawking for two hours, sounding like they were perched directly above our tent. The shriek of these birds has to be heard to be believed. Drag a chair across a concrete floor, scratch your nails on a chalkboard… torture a crow … and you're still not even close. One of these foul creatures is unpleasant. En masse they are deafening.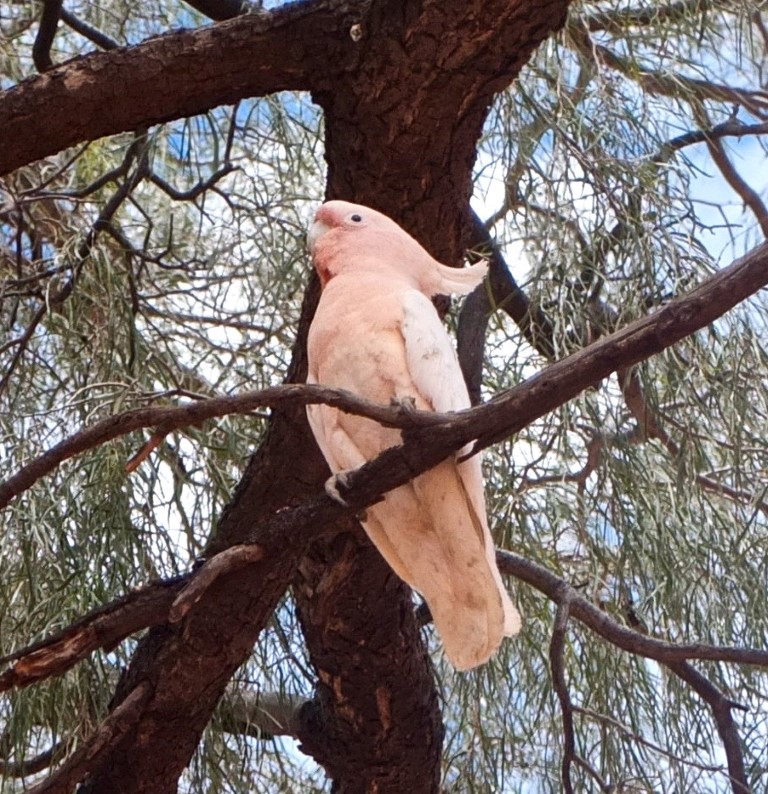 We diverted to the rocky promontory of Marshall Rock near Bencubbin, camping atop an outcrop with 360 degree views of the enormous prairie of Western Australia. To paraphrase the classics, you might think it's a long way down the street to the chemist, but that's peanuts compared to WA. As big as Western Europe (check out these maps if you don't believe me!), WA straddles two time zones. Perched on that windswept bluff, we witnessed our first Great Australian Storm. The ionically-charged air quickened the pulse as the storm passed to the south of us.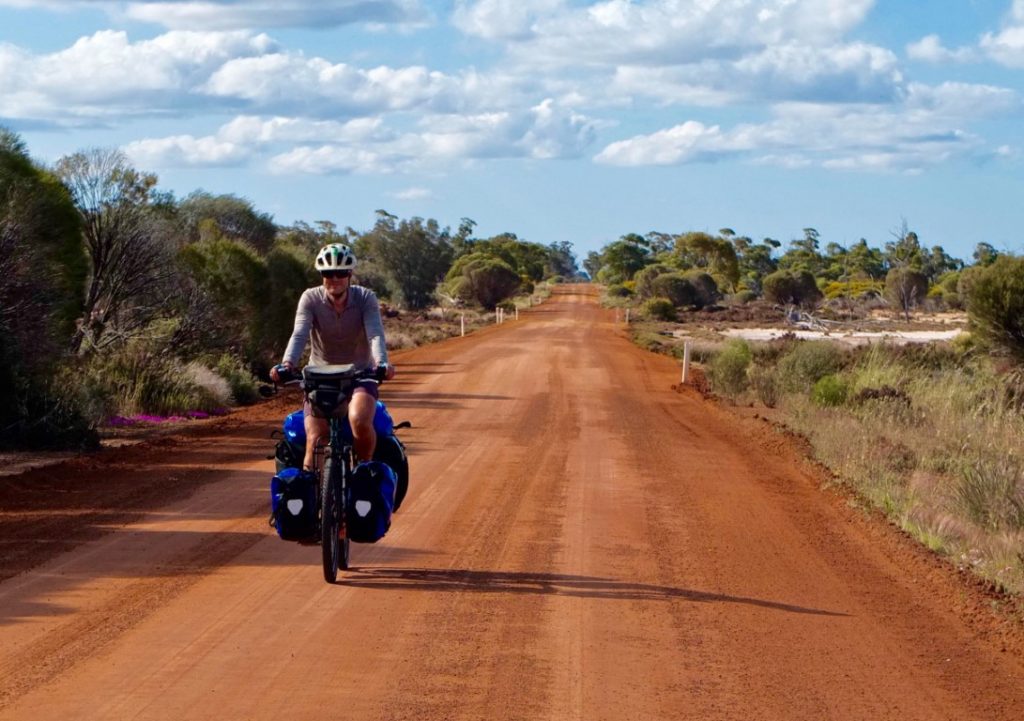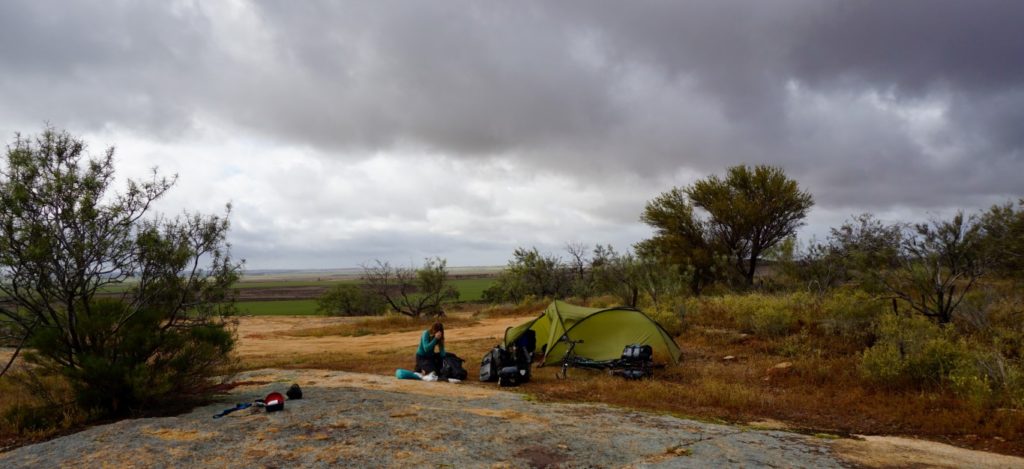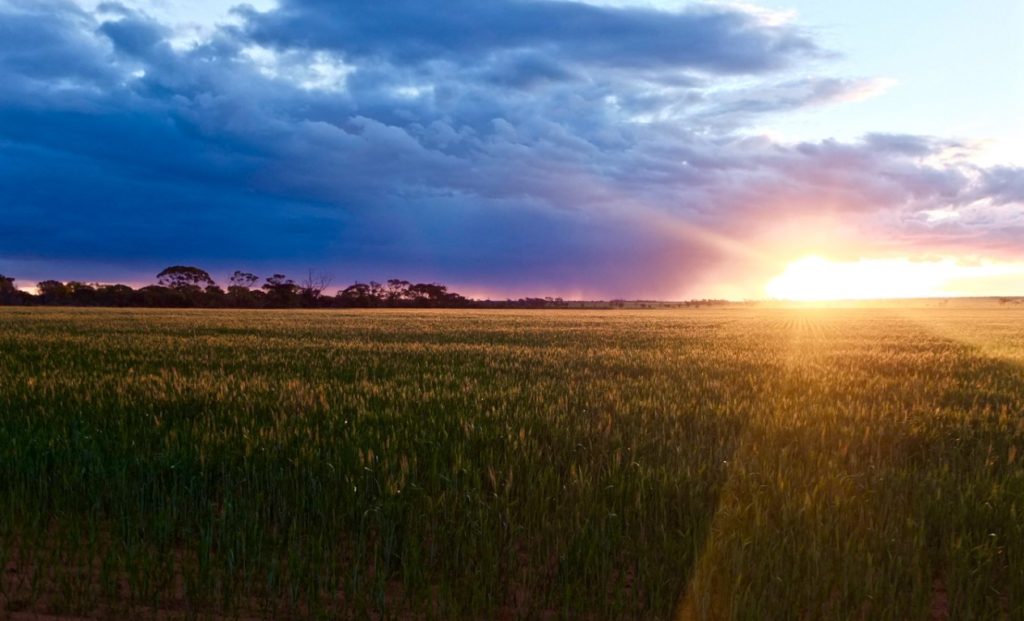 A few days later, near Bullfinch, we hauled our bikes over the Koolyanobbing iron ore freight railway line and sneaked along the service road to Kalgoorlie. Early on, I misjudged my line and got the bike stuck in a mud trap. Sticky orange mud clogged between the wheels and mudguards, although Tara managed to get away with barely a splash. Thinking this was portent of the state of the road ahead, I cursed the decision to take this dirt track just to avoid a bit of traffic on the highway. I needn't have worried. It was the last puddle we saw in Australia. As if to confirm that we had reached the start of the Outback proper, an emu mother and six giant chicks emerged from the bush in front of us. Realising that they had unexpected company, they panicked and fled directly down the road ahead of us, all bobbing tail feathers and comically floppy backsides. Kangaroos abounded, clearing high fences at a jump. Finding flat ground to make camp meant hacking our way into the bush every night, but the pay-off was utter tranquility and the clearest starry skies I had seen since central Asia.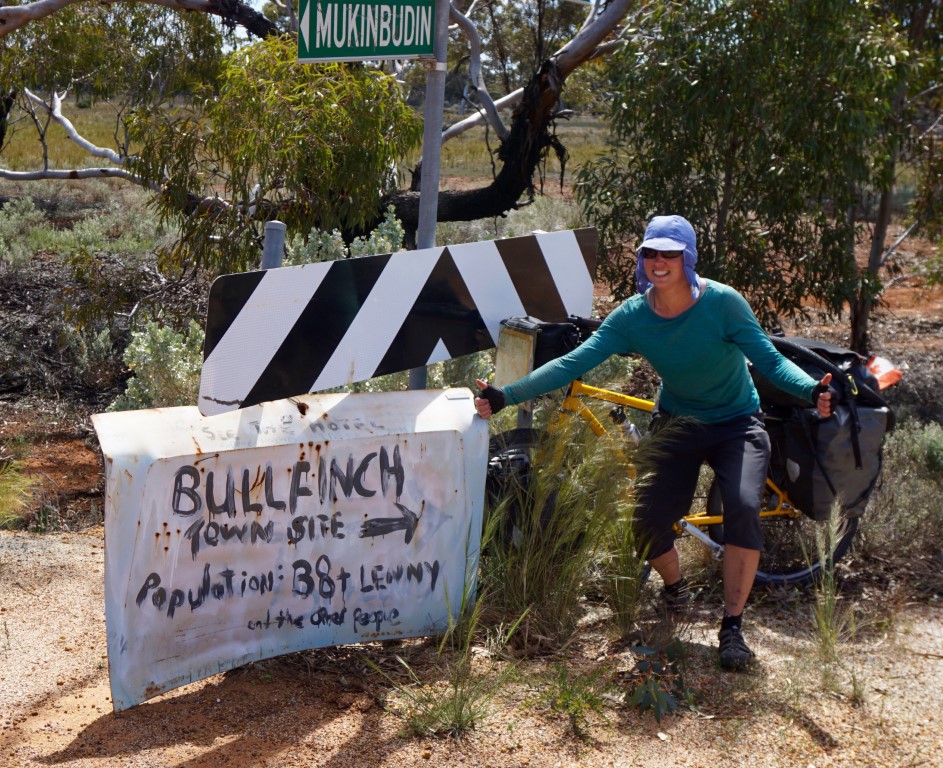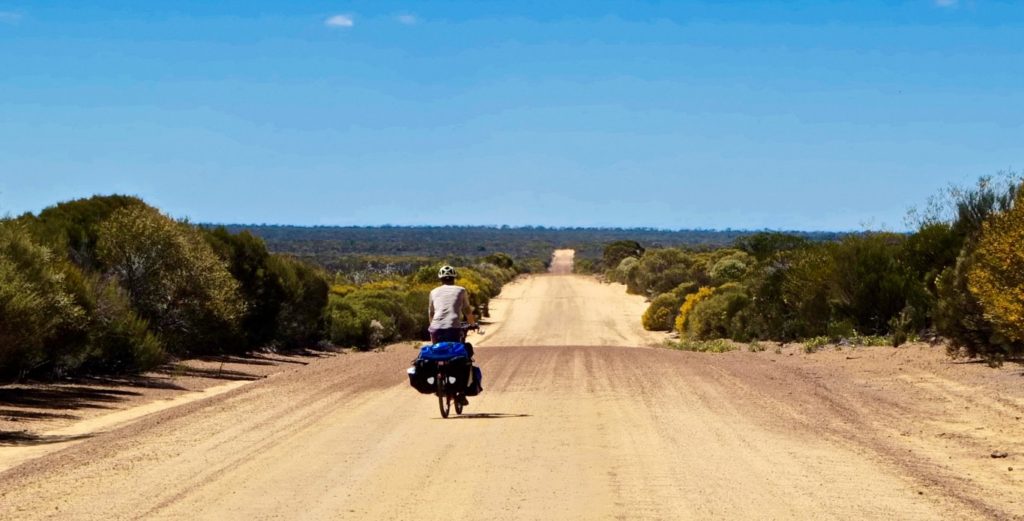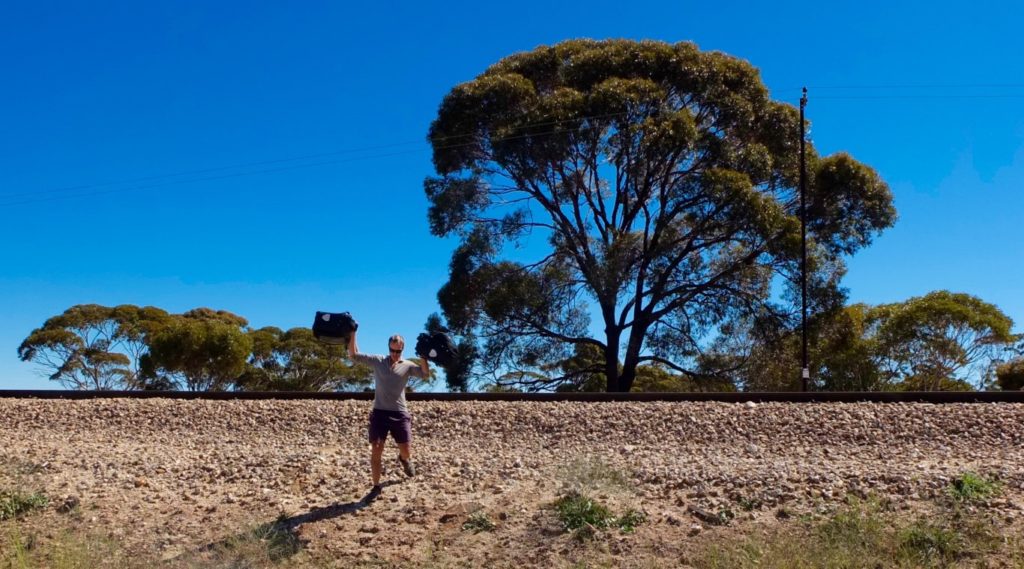 Little more than a scrape of burnt umber earth cutting through the bush, the untrafficked service road was by turns hard-packed clay and corrugated sand and gravel. Transitions from one surface to the other were dicey at speed. It was a repeated test of nerve and skill to keep the bike upright and moving forward as it slewed into one sandpit after another. It is impossible to gain any benefit by drafting on this kind of surface. It is 'every rider for themselves', a trial of strength against friction and inertia. Fortunately, both Tara and I have a similarly gutsy approach to this kind of physical challenge. We made excellent time along this first leg of our Great Traverse, arriving in Kalgoorlie a day ahead of schedule.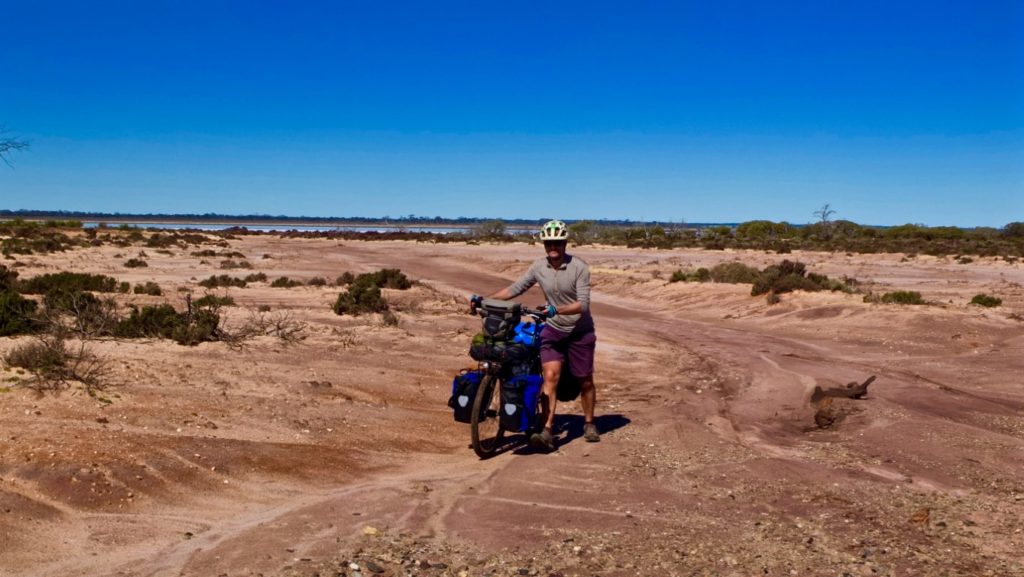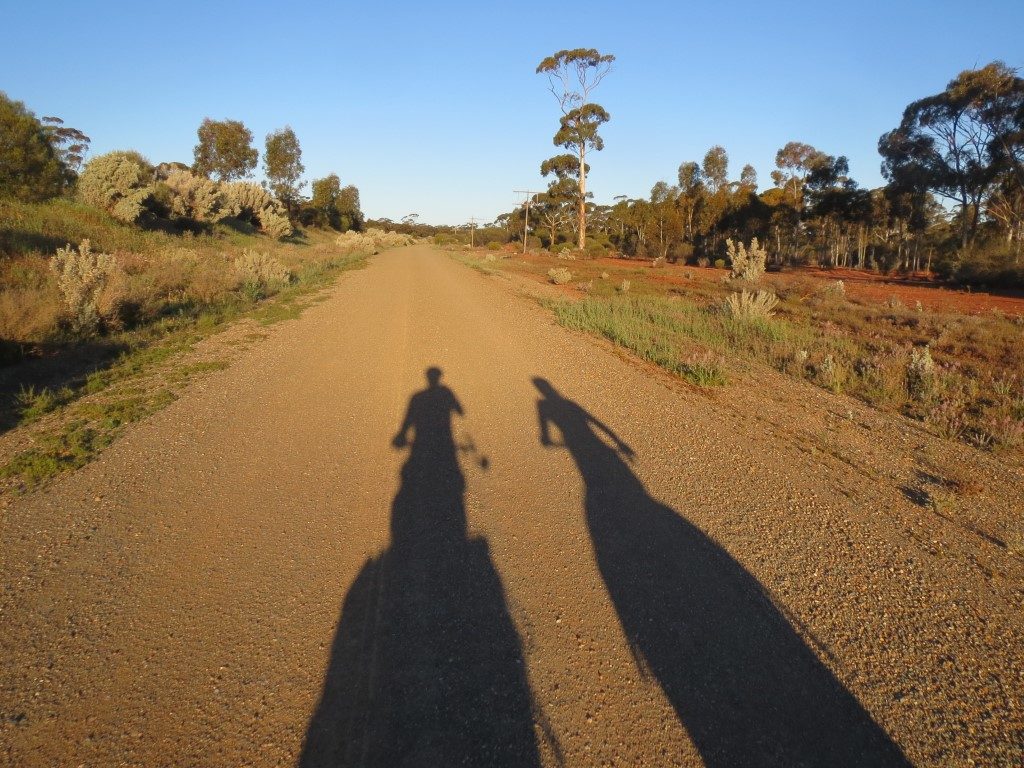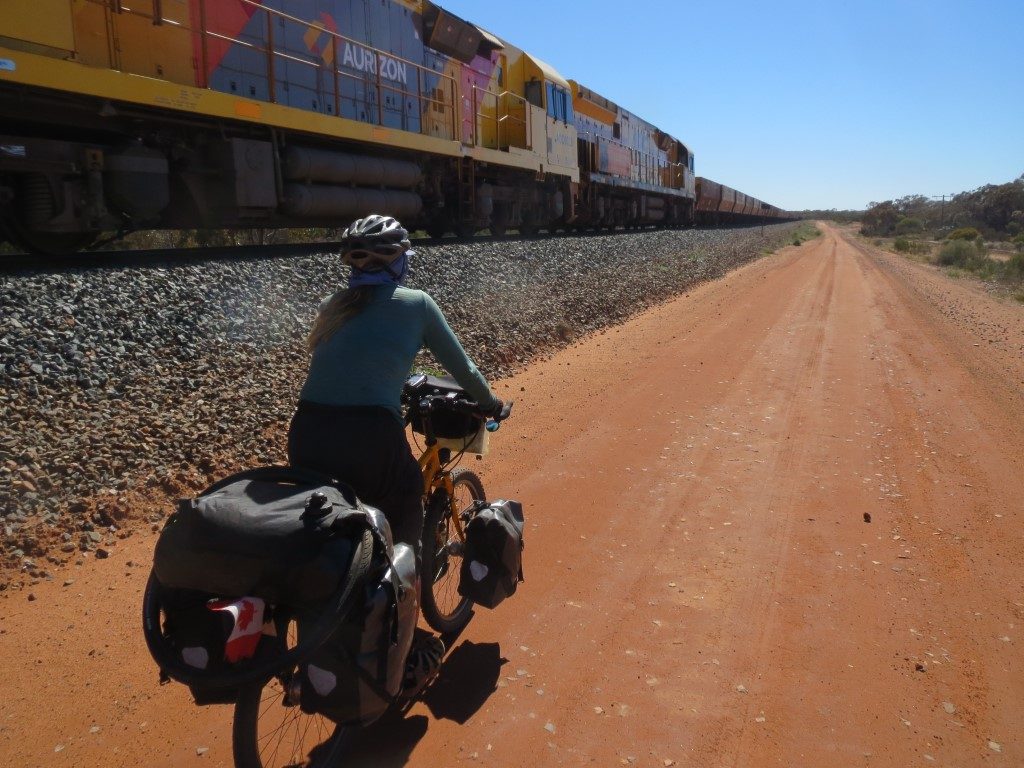 A couple of days rest was on the cards, staying with Bev, Ruth's cousin whom we had met in Perth the month before. Bev was a fantastic host, showing us round the town's famous super-pit and helping us track down essential kit replacements. We gorged on home-cooked food, wine and laughter at this last homely house at the edge of the wilderness. We had been tipped off about a back road that cut out a long section of highway riding. Poring over the satellite imagery, we found an even more direct route to the town of Leonara.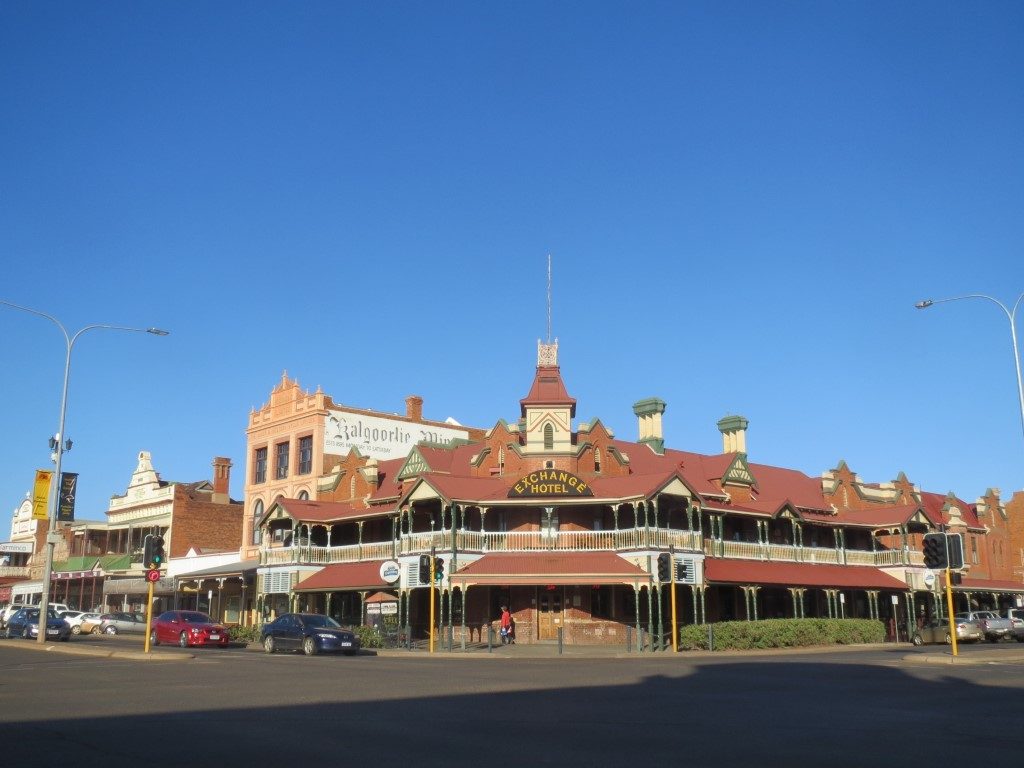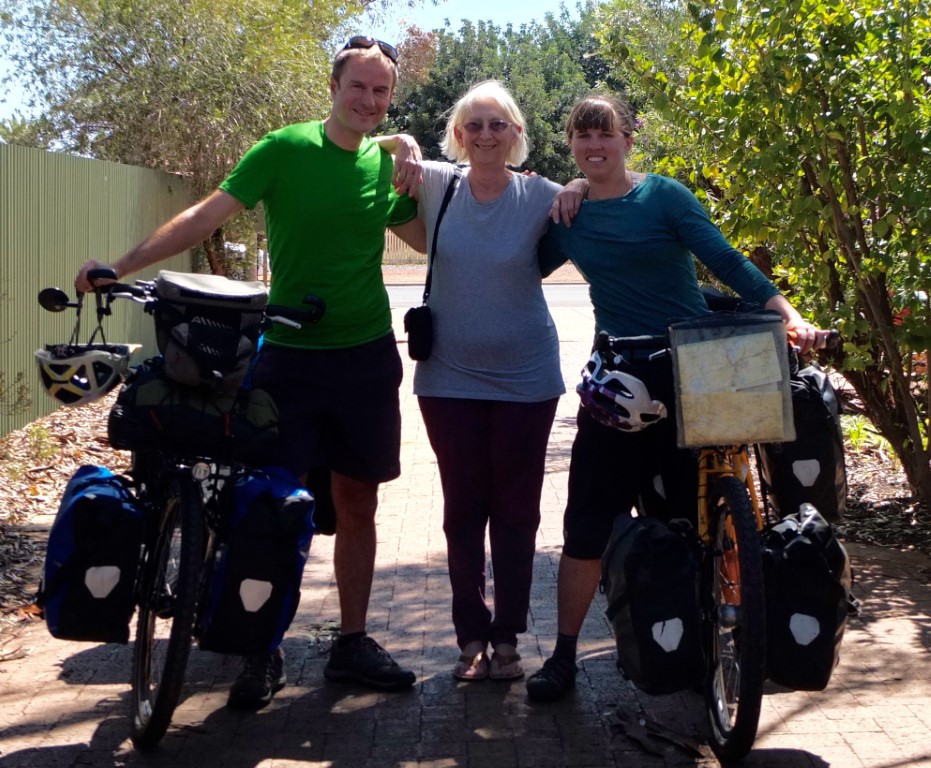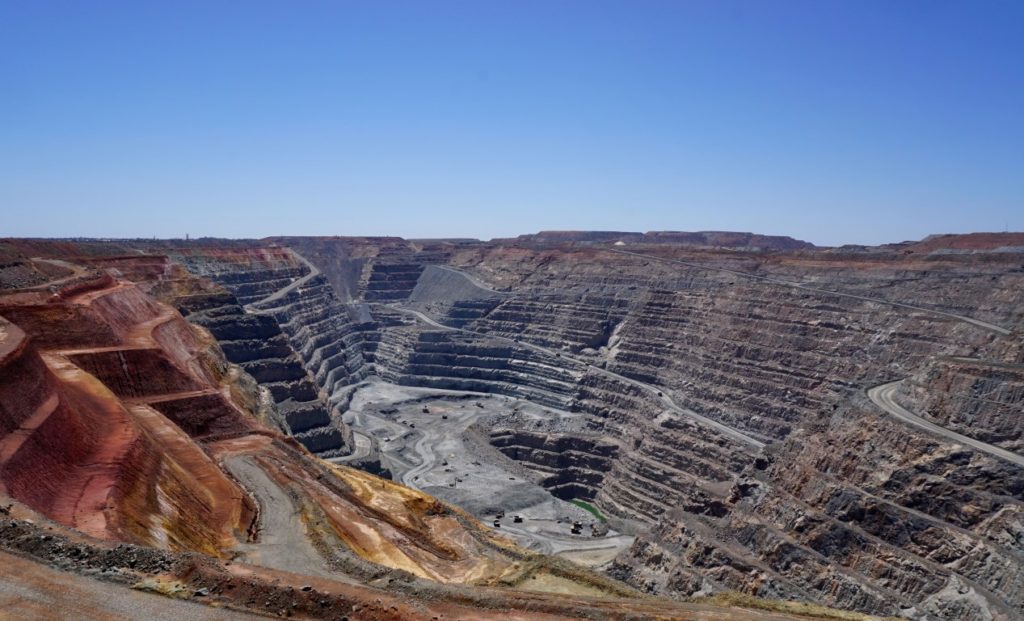 Out on the road next day, as we struggled to locate where our shortcut departed from the minor road we were on, a ute pulled over and asked what on earth we were doing on bikes out here (a recurring motif for the next 6000km). The two guys handed out cold beers and did their best to deter us from taking Donkey Rocks Road – our intended shortcut. "It's not really a road, it's hard enough with a four-wheel drive," they cautioned. Regular readers will know that this kind of nay-saying is but grist to my mill, so we politely thanked them for the tips and downplayed the likely difficulty. A bike can get places 4WDs can't, we reasoned.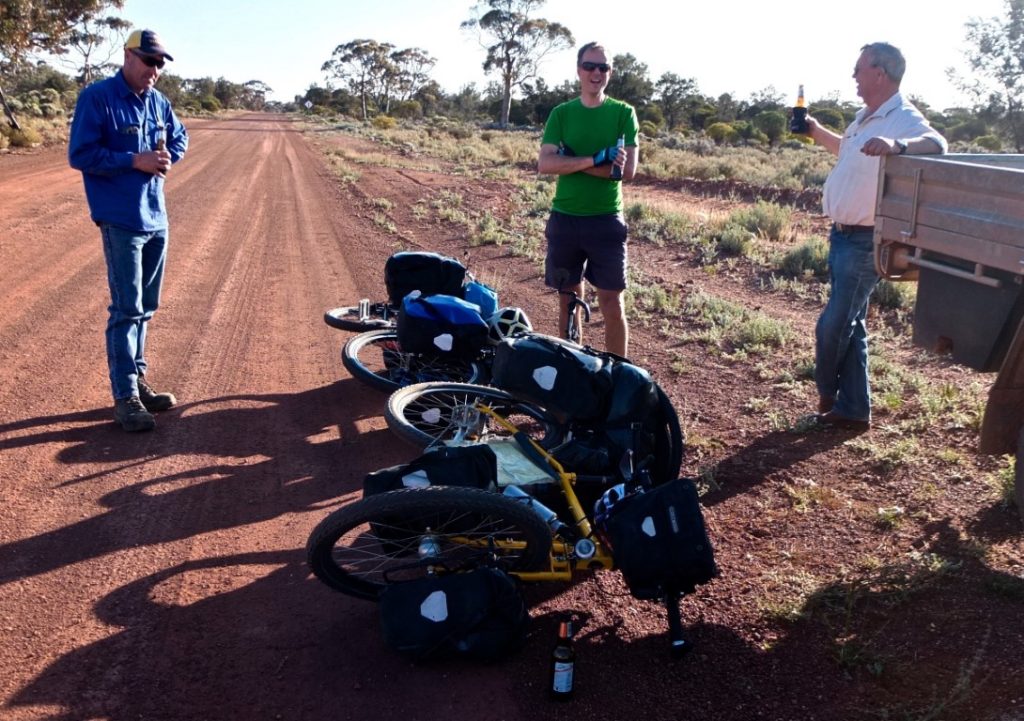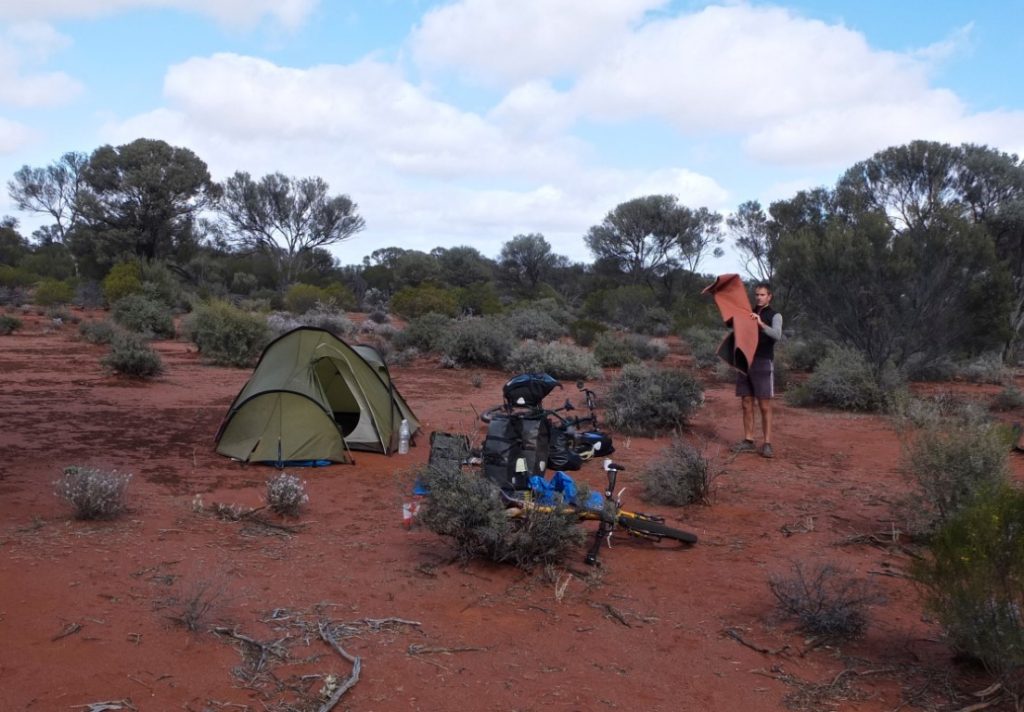 Later as we pitched camp in near darkness, Tara warned me about wandering off into the bush alone without a compass. She recounted her experiences working in the forests of British Columbia, where a person could easily get turned around and hopelessly lost. The wind had picked up, so even 20m out of camp one could not hear a shout. At little further away, even the spot of a headtorch beam was all but invisible when obscured by bushes. Next morning I started to understand how remote this area was, when I managed to get completely spun around and missed the tangent of the dirt track we had entered by. I scratched about on a parallel line for 200m before Tara persuaded me of my error. From here, the true character of Donkey Rocks Road began to reveal itself. First it petered out in a grassy field, becoming more like a walking track barely discernible between the tussocks. Then it crossed a dry river of deep sand, across which we pushed and hauled the bikes. Then… it just became a river of sand. No more crossings, this was our route. The scar we had seen on Google Earth was in fact a trench of fine sand a foot deep. At some points there were opportunities to push the bikes through the adjacent bush, crashing though branches and startling perenties (large goanna lizards). Where the bush was too dense we had to push through the energy-sapping sand, grunting, swearing… until eventually laughing. We were covering barely 2km an hour.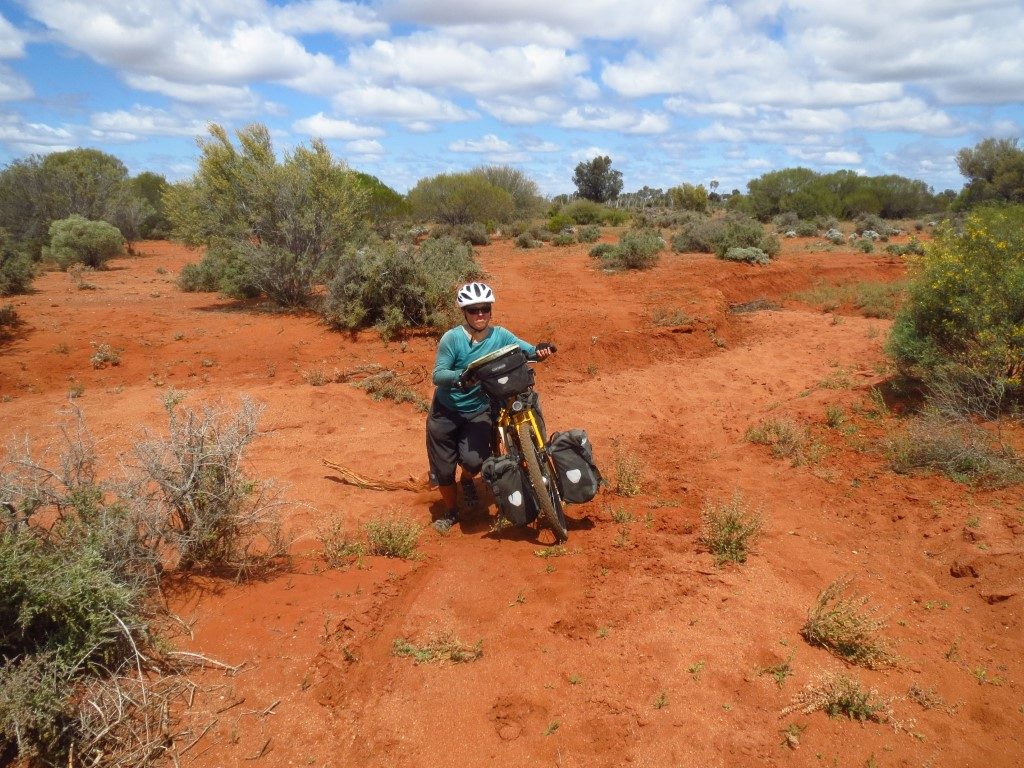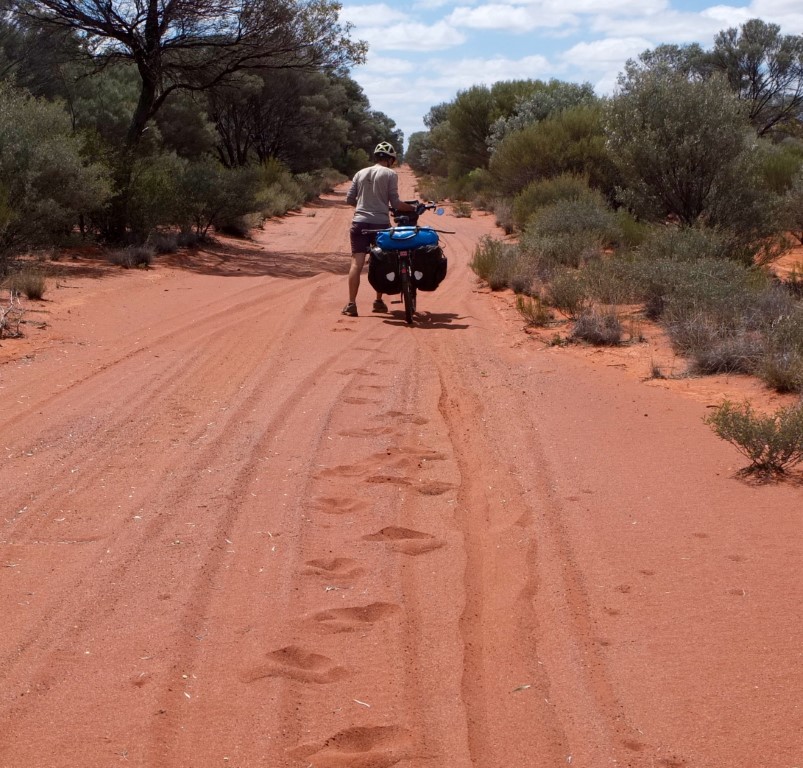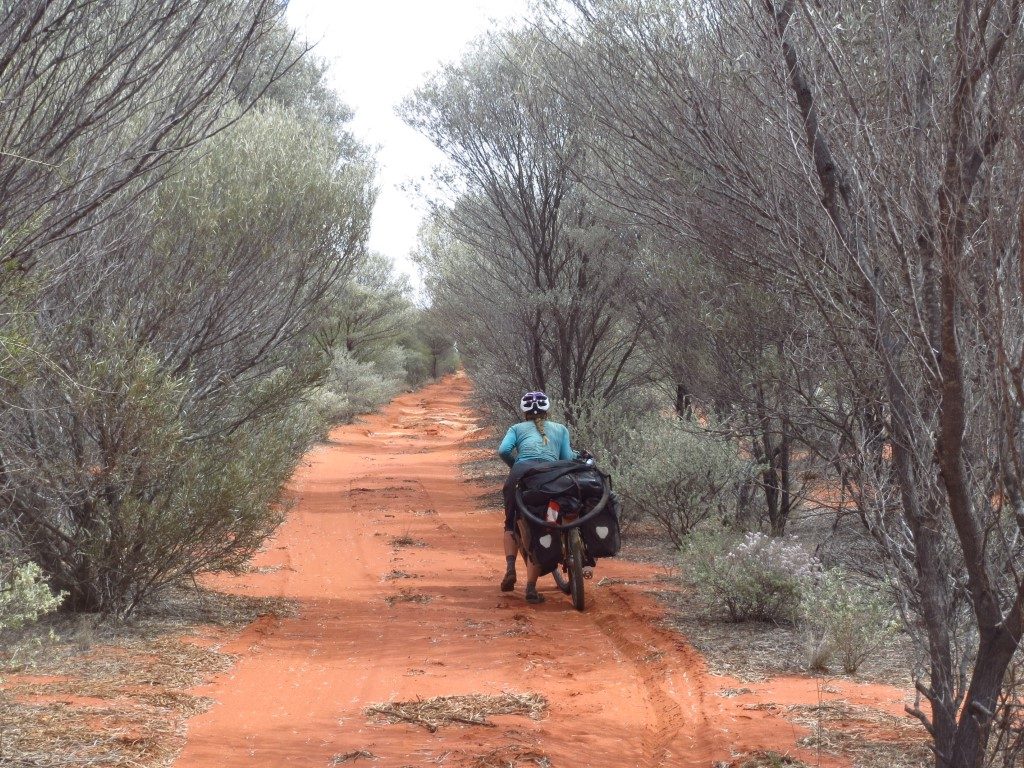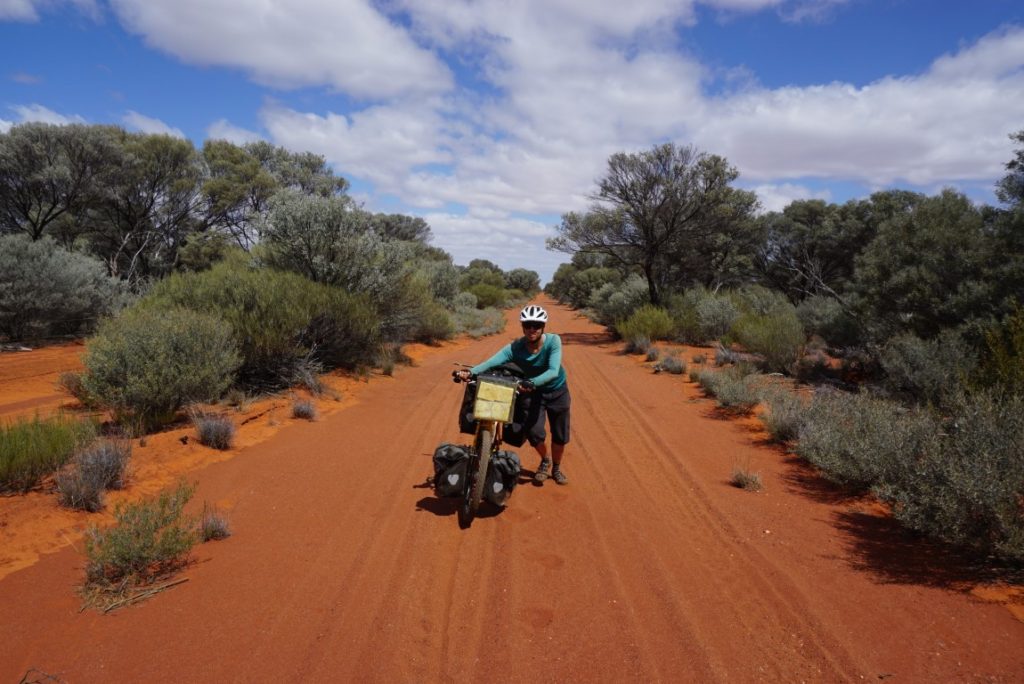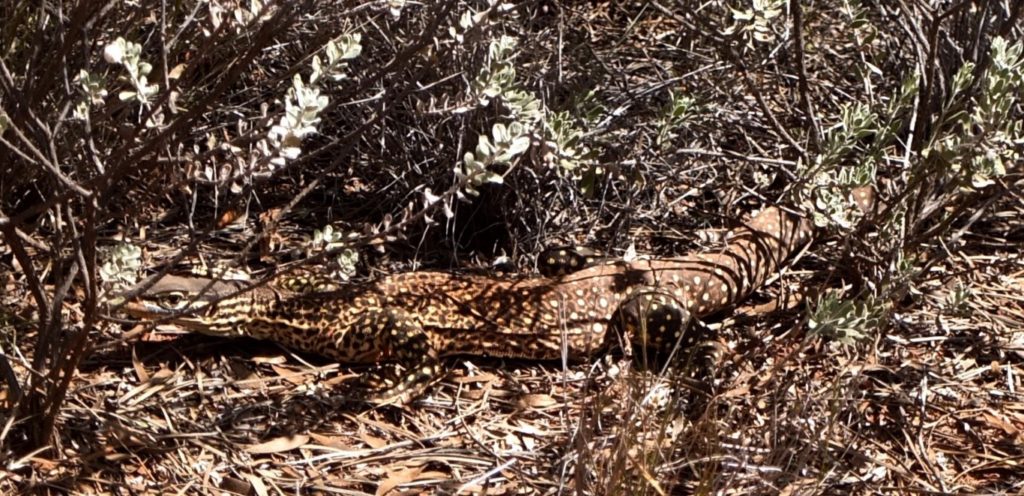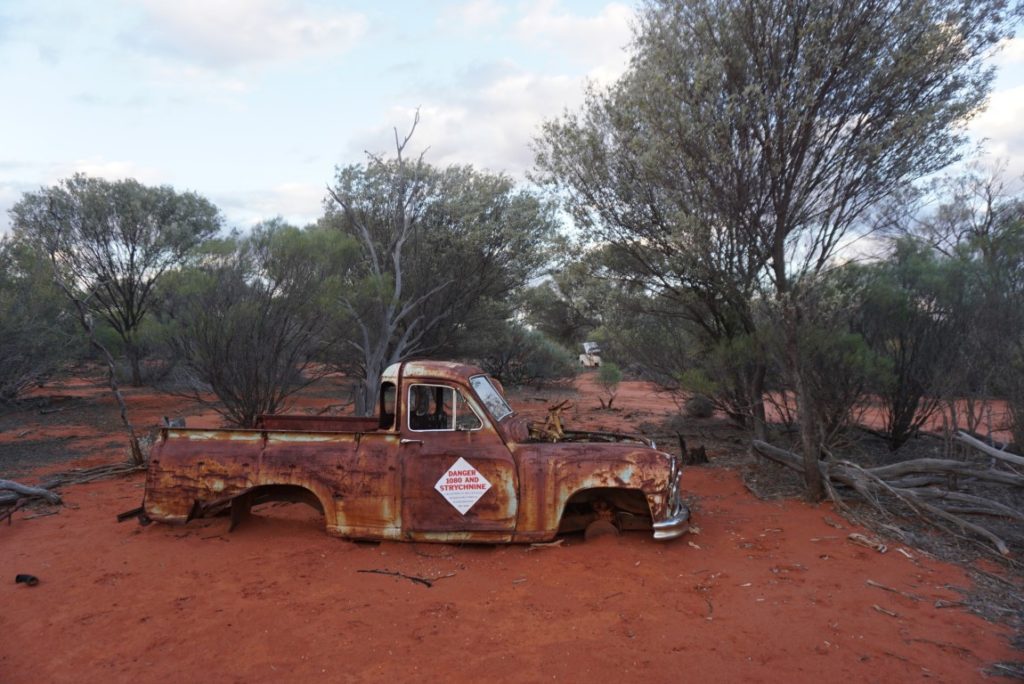 By early afternoon, the effort had decimated our energy reserves. We brewed up tea and wolfed sandwiches. We reflected, dejectedly, on what arduous slog lay ahead of us in the Great Victoria Desert, if this backroad was anything to go by. As is so often the case, we were impelled forward by the simple truth that we couldn't stay there. On and on we pushed. Occasionally we carried enough momentum through the sand to stay on the bike, pedals whirring away in bottom gear (any higher meant immediate loss of traction). Mostly, every 10 meters or so, we were forced to dismount and push. After eight or nine interminable hours of this back-breaking, temper-fraying, work we gained a rocky, dry river bed that we followed for a couple hours more until we touched down on asphalt in the early evening.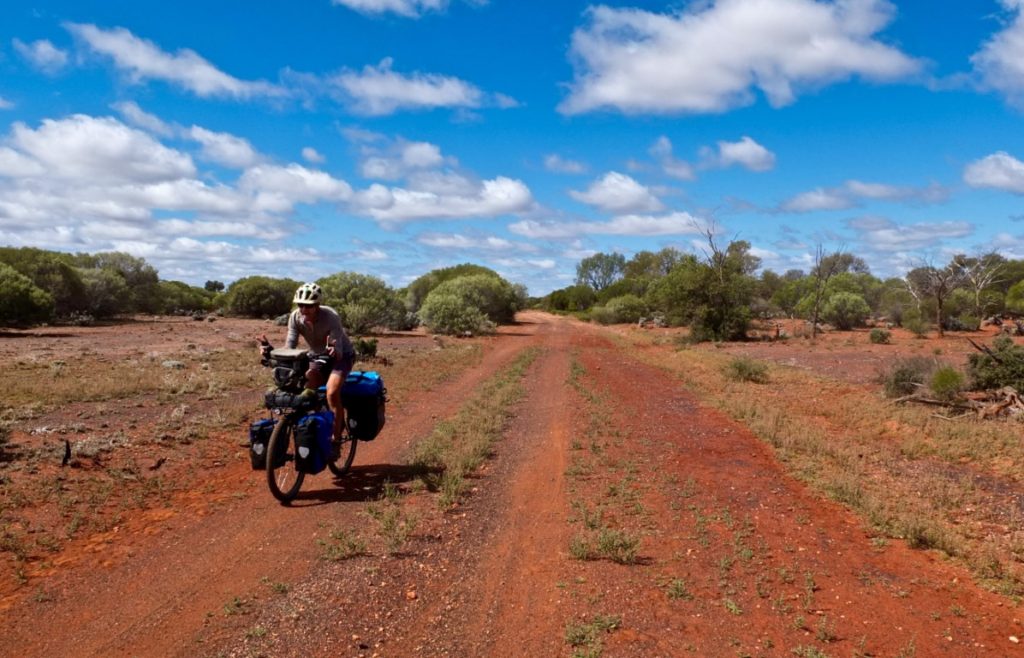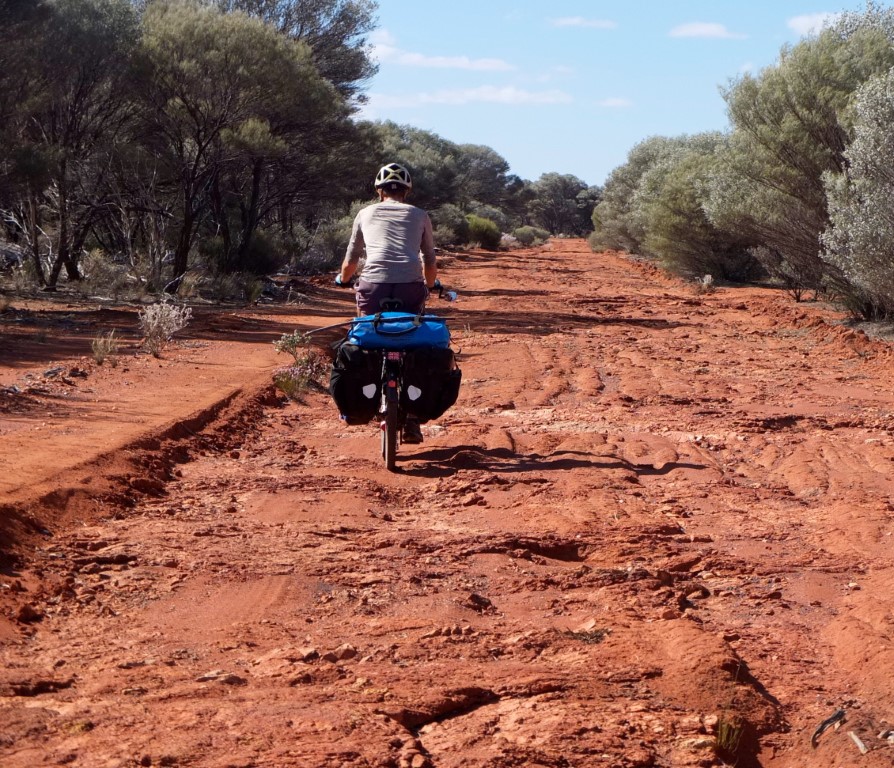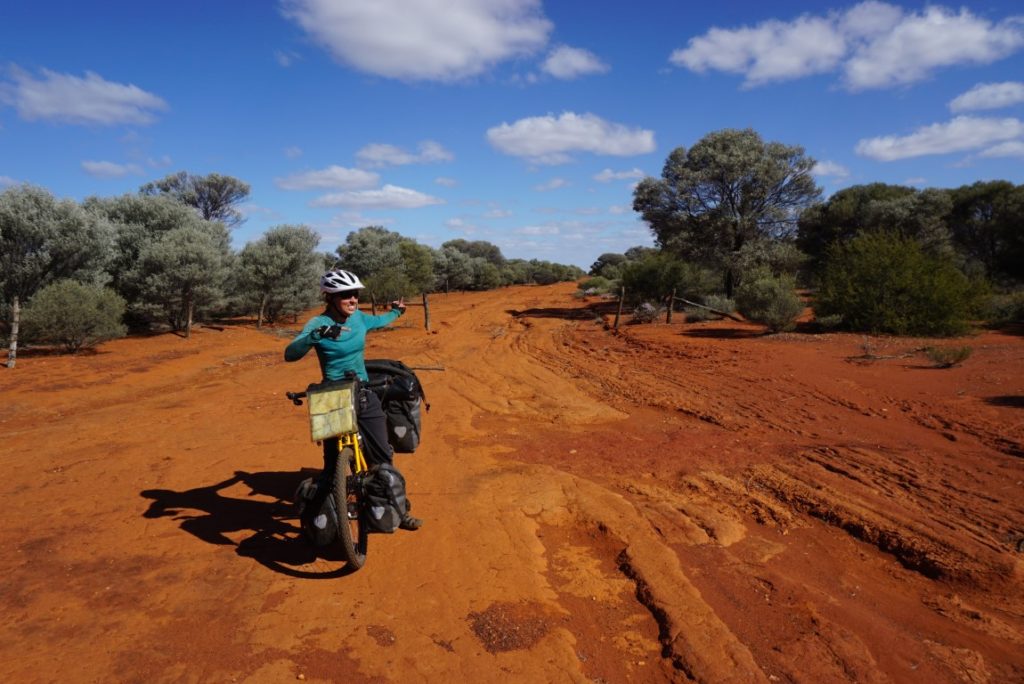 We weren't out of the woods yet – our dwindling water stocks had been what compelled us to keep going. We found an eerily untenanted holiday park close to where we emerged on the asphalt road. Our voices echoed off the rusting shacks and chalets, but the place looked not long since abandoned. We found a working tap, quickly filled our water bags and vamosed. After the Trojan effort of the last two days, a cosmically-deserved tailwind propelled us whooping and singing for a fast thirty kilometres towards Leonara.
Leonara was another unappealing wild west kind of town: poorly stocked 'milk bar' cafe, overpriced minimarket. Locals staggered in and out of the pub all morning, where their beers were poured by women dressed only in skimpies (Aussie slang for underwear). Restocked for a few more days, we rode hard for Laverton, the final staging post before the asphalt disappeared for 1600km and became the (in)famous Great Central Road through the Great Victoria Desert. Camping that night amongst tussocks and thorn trees, there was a decrepit old tyre lying on the sand where I wanted to place the tent. Tired, hot and impatient, I unthinkingly kicked the tyre aside. In a flash, a startled lizard darted from under the tyre and shot into the grass (most likely a southern leaf-tailed gecko). Its discarded tail thrashed frantically, tracing circles in the dirt. As the adrenaline from my surprise subsided, I realised how stupid and lucky I had just been. Australia is home to many of the world's deadliest snakes. Had it been a death adder or eastern brown under that tyre, I could easily have been bitten – and it would've been my own stupid fault. I promised to heed Tara's warnings about not wandering about in tall grass and stepping on (not over) logs from now on, and to remember that snakes are real!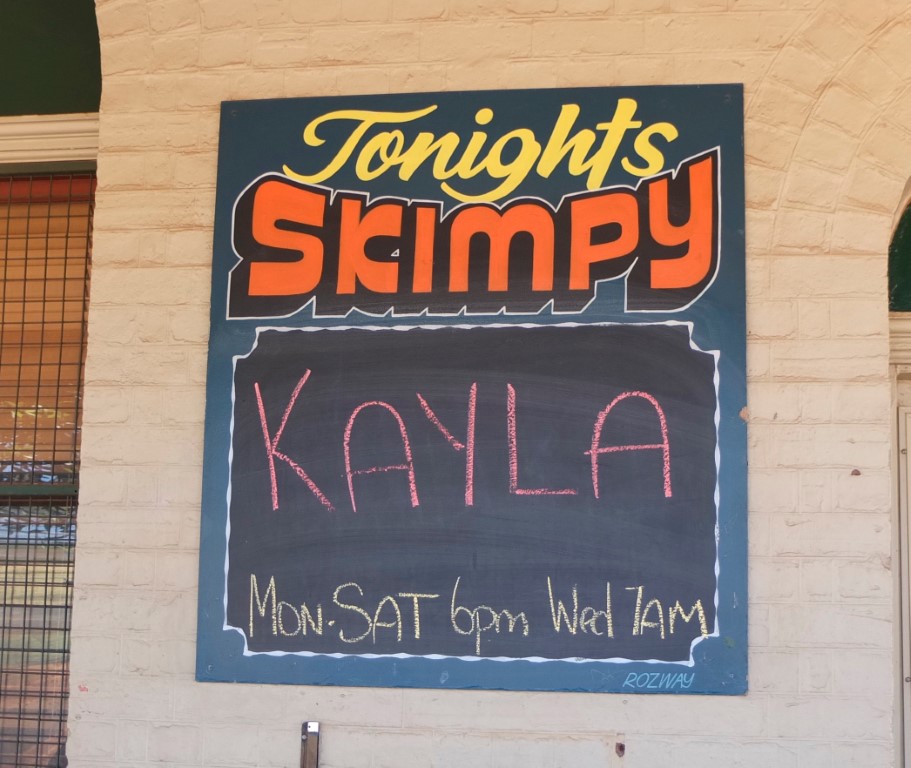 In Laverton we rewarded ourselves with a stay on the campsite, with hot showers, kitchen and luxury of luxuries, shaded grass to pitch the tent. Next morning, loaded with food for a week we headed out into a warm headwind and the start of the Great Central Road. Let me tell you something about Australian naming conventions. Lots of things are called 'great' that frankly aren't all that great. The GCR was one of them. The surface deteriorated and improved in unpredictable ebbs and flows of soft, sand-filled corrugations and hard-packed, riven sandstone beds – often not even a 'road' worth the name. Whenever our confidence at handling the bikes on this murderous surface grew it was quickly smacked down by a hidden sandy rut that pulled the front wheel sideways and threw the bike over. Repeated forced dismounts and pedal-barked shins were very frustrating, but gradually things eased off. Surprisingly, on that first afternoon close to Laverton, there was more traffic than we had bargained for, with a truck or roadtrain every ten minutes or so. It may not sound like much, but the effect of these gigantic beasts on the crushed rock and fine sand road surface was devastating. One had to quickly get upwind of the approaching vehicles or be consumed in the passing tornado of choking dust and hot exhaust gases.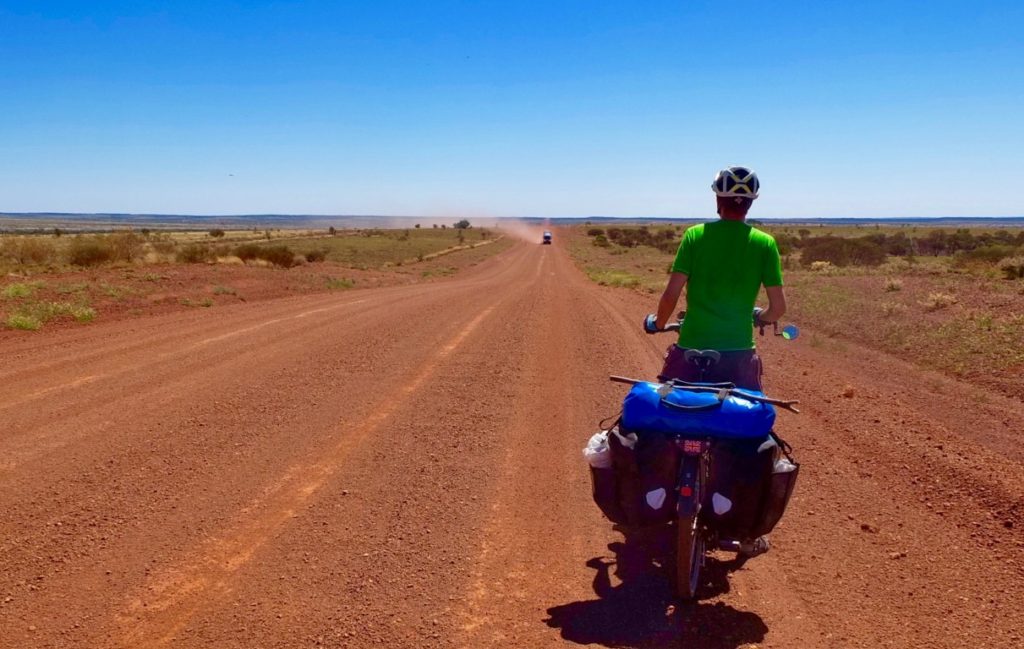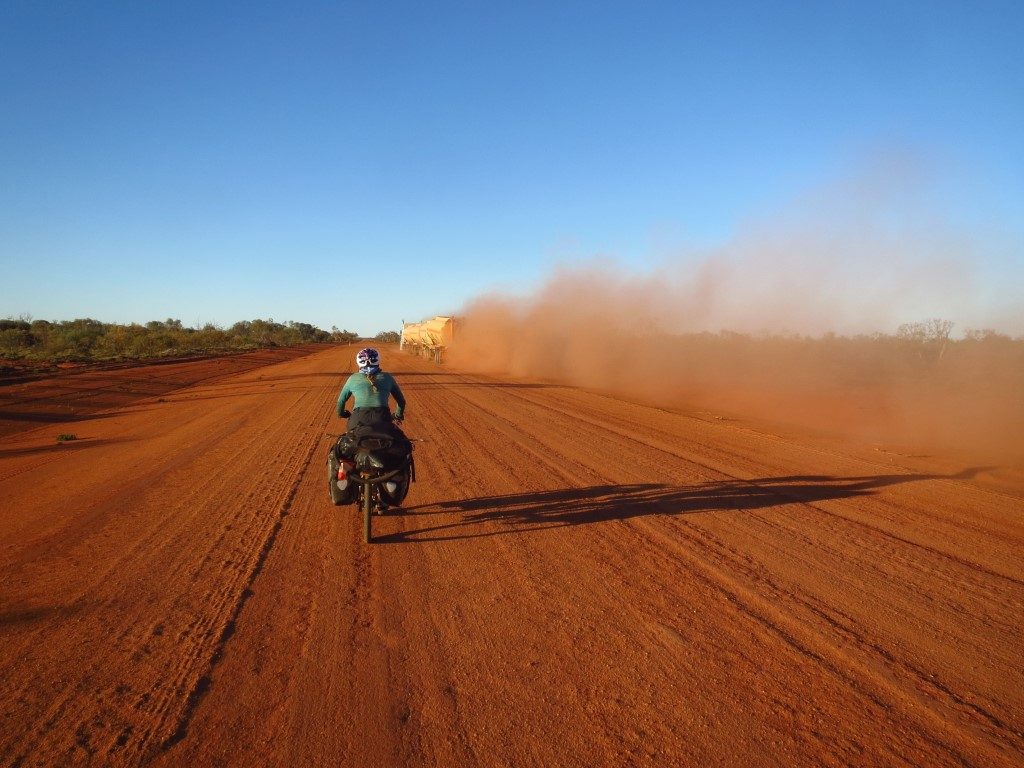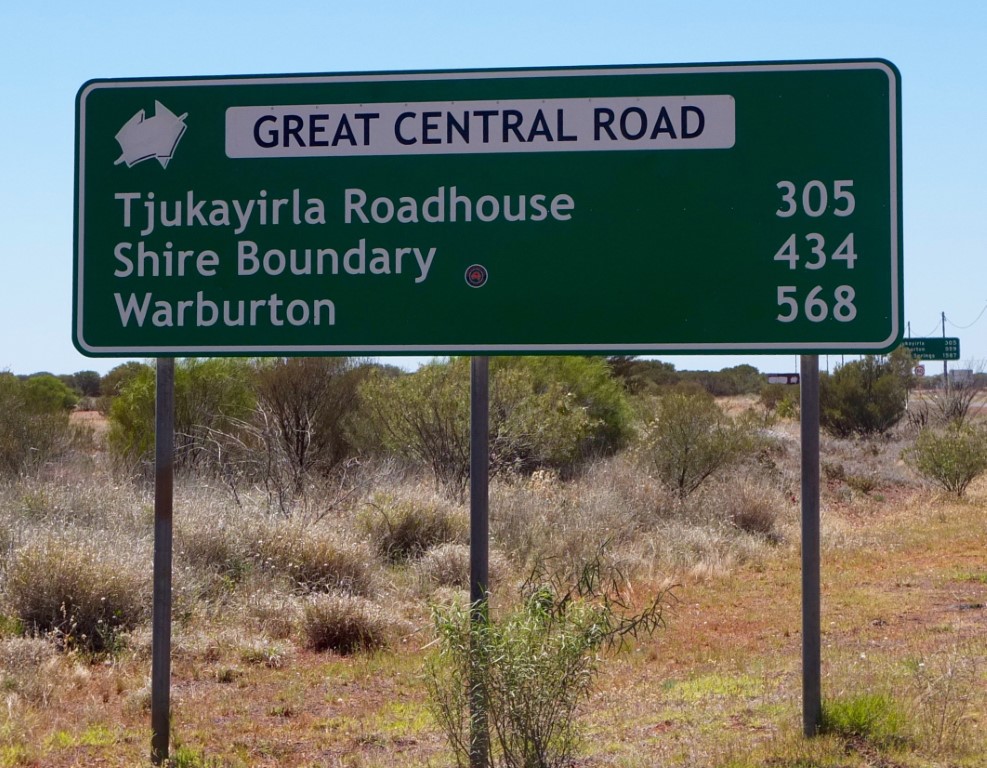 After a quick pitstop in the remote, indigenous township of Cosmo Newberry for three days worth of water, we were committed. The next man-made structure we would see would be in 220km at Tjukayirla Roadhouse. We couldn't sensibly hope to cross that gulf in under two days on this road surface and in this heat, so it meant two overnight camps. We'd had a foretaste of Western Australian remoteness on the deplorable Donkey Rocks Road. There, our water bags were virtually wrung dry when we limped out of the bush licking our wounds. On that dummy run, we'd budgeted 16 litres each for what should have been a one camp haul (it had taken two). While we had not been as scrupulous about water conservation and rationing as we might have if we'd known how slow our overland progress was set to be, we weren't careless either. Now we were a week closer to summer, and as we inched eastward into the red interior of the continent, temperatures were getting steadily higher. For that first three-day leg of the GCR to Tjukayirla I packed 29 litres of water, Tara 24 litres.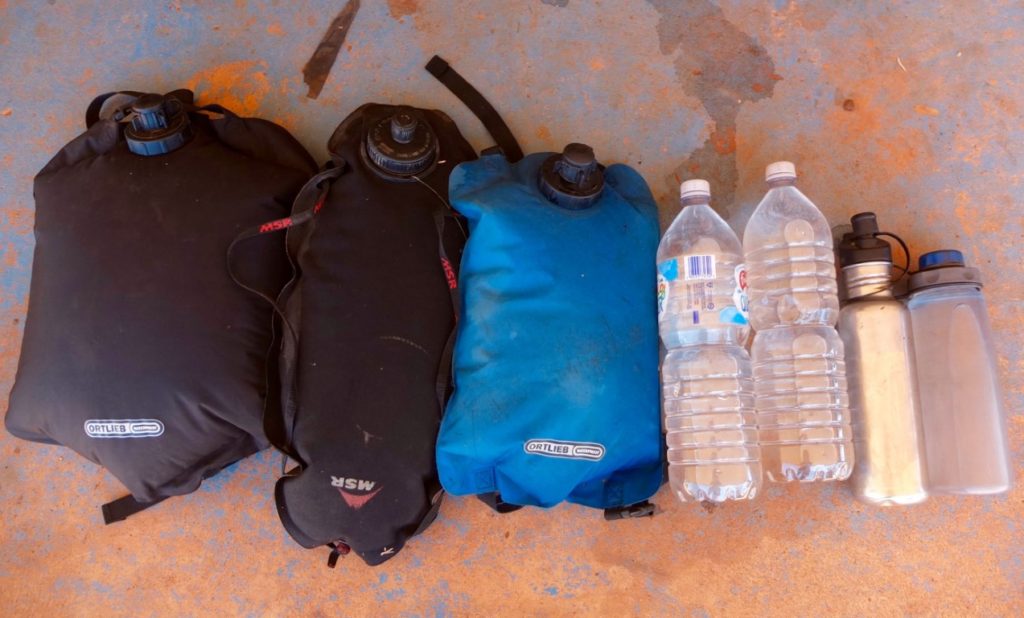 Wobbling out of Cosmo, we wrestled the heavy steering like unsteady novices. Our tyres cut deep grooves like drunken snakes in the sand. It seemed preposterous that we were about to try to propel these unwieldy machines through a desert in early summer. But just as on the first time I rode with full panniers, we soon adapted to the bikes' inertia. Within ten minutes everything felt natural again and handling was back under control. We found our rhythm. Starting progressively earlier each day, we rode as far as we could manage before the midday heat made us wilt. Shade was our most valued amenity. The sporadic, litter-strewn 'rest areas' were our highly-prized lunch stops. Cowering beneath desert pines in the solar noon, we loaded up on sandwiches, tea and biscuits, then dozed in the shade, sprawled out on a tarp until the ants or the flies became too bothersome to endure. Restored by food and rest, we were back in the saddle by 3pm and rode until dusk. During periods when the road was easily rideable, I would drift into a kind of trance, hypnotized by the repetitive scenery. I would come to, unsure of whether it had been minutes or hours since my last moment of spatial and temporal awareness.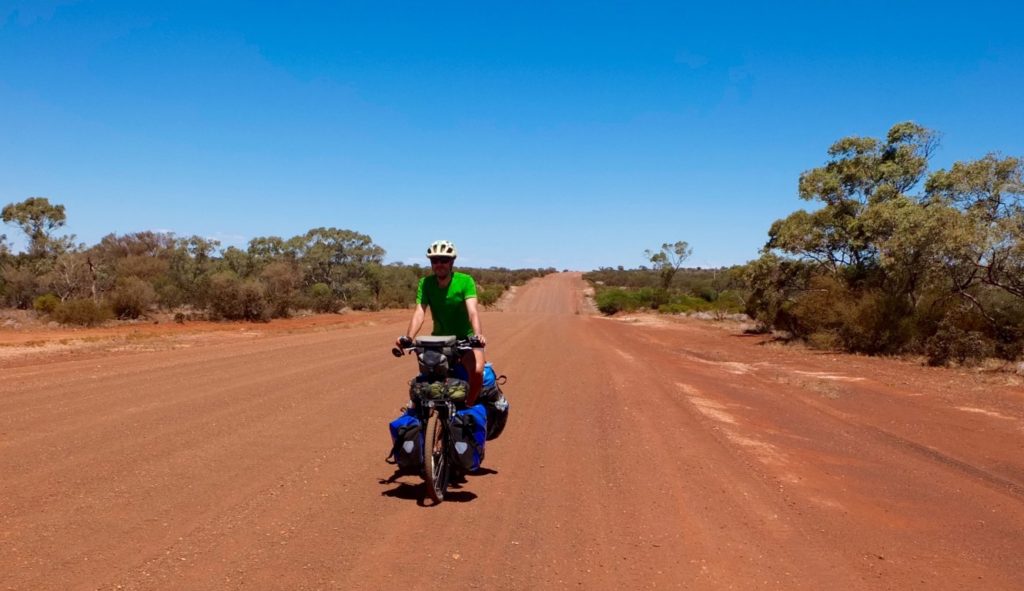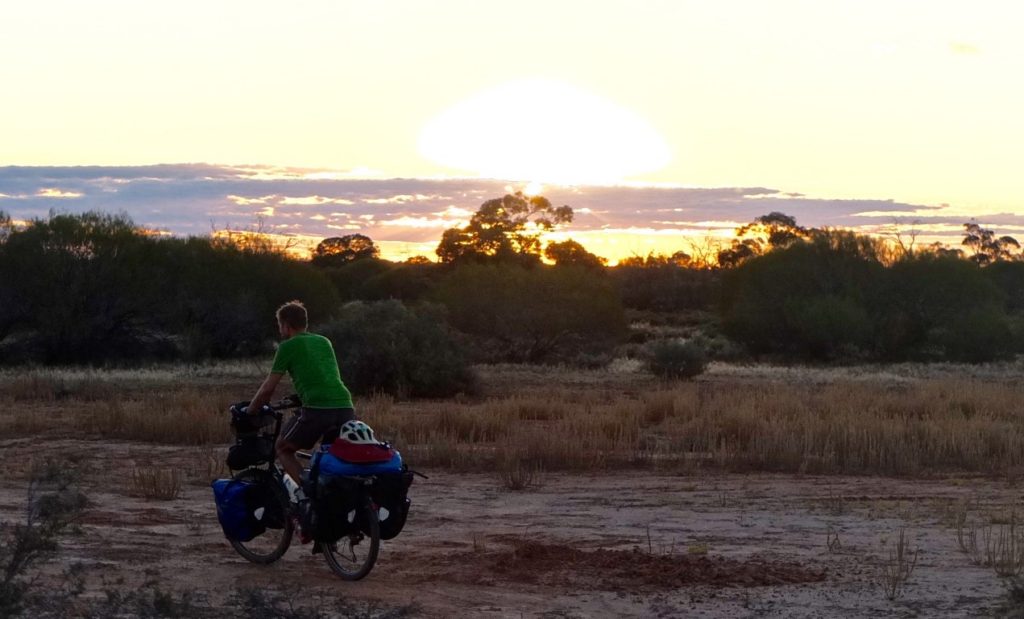 A vastness opened up around us, 3 million square kilometres of sand, spinifex and mulga. We had entered the Red Centre of Australia, the world's second largest subtropical desert. Only the Sahara is bigger (taking together the contiguous named deserts of Western Australia and Northern Territory). Agoraphobics beware! The arrow-straight scar of the Great Central Road road is but a tenuous modern encroachment, lightly etched onto this primordial wilderness. The road was both my purgatory and lifeline. It connected us with water, with the womb of the world. It was St-Exupery's cord made concrete.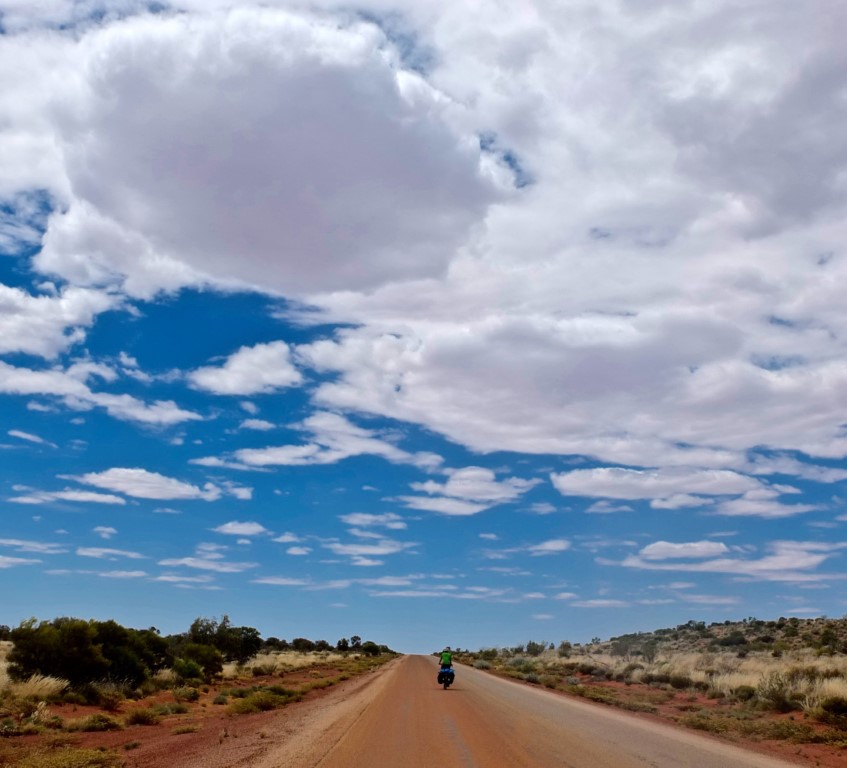 I had a schoolboy notion that the Australian desert was an all-day party of kangaroos hopping over mulberry bushes and camels. In reality, daytime wildlife sightings were rare, limited to the occasional lizard or solitary camel at dusk. Most waterholes are dry during summer, so large beasts retreat into shade and restrict movement, but insect life proliferated. Our principal daytime foe was the notorious bushfly. Although it does not sting or bite, it is mercilessly persistent. It seeks ears, mouth, nostrils – and it invites all its friends.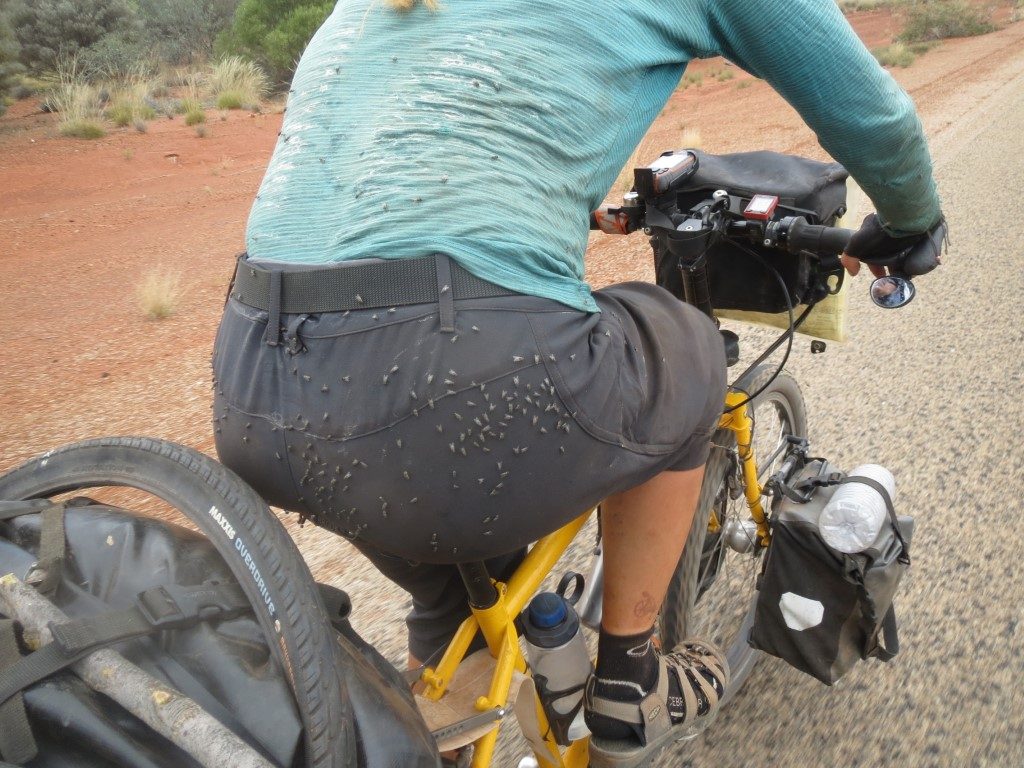 By night, ants were the scourge of many an otherwise idyllic wildcamp. We became adept at quickly assessing the density of the local ant population. 'Ant superhighways' were to be avoided at all costs – millions of ants in convoy between nests. Despite our best efforts placing decoy food scraps and sacrificing a splash of water here and there, the formic horde usually found us in the end. Camping became a kind of 'insect roulette': one could never properly assess the quality of a campsite until half an hour after occupation, when the various plagues of flies, mosquitoes, ants, aphids, moths and other random nuisances had detected our presence.
Now mid-October, daytime temperatures were in the high thirties Centigrade. Our progress was further hindered by a strong headwind. With fully-laden bikes on a frequently awful road surface, this was seriously heavy work. The desert desiccated us with its baking heat, sucking the moisture from our lungs and pores. Nights were arguably worse. Ambient air temperature hovered in the mid-twenties overnight, but the ground itself was a massive storage heater. The red sandstone bedrock had been soaking up solar energy all day and radiated infrared heat directly into our tent throughout the night. Basic camp activities like pitching the tent and making our beds generated more body heat and left us drenched in perspiration. Sleep was fitful and poor.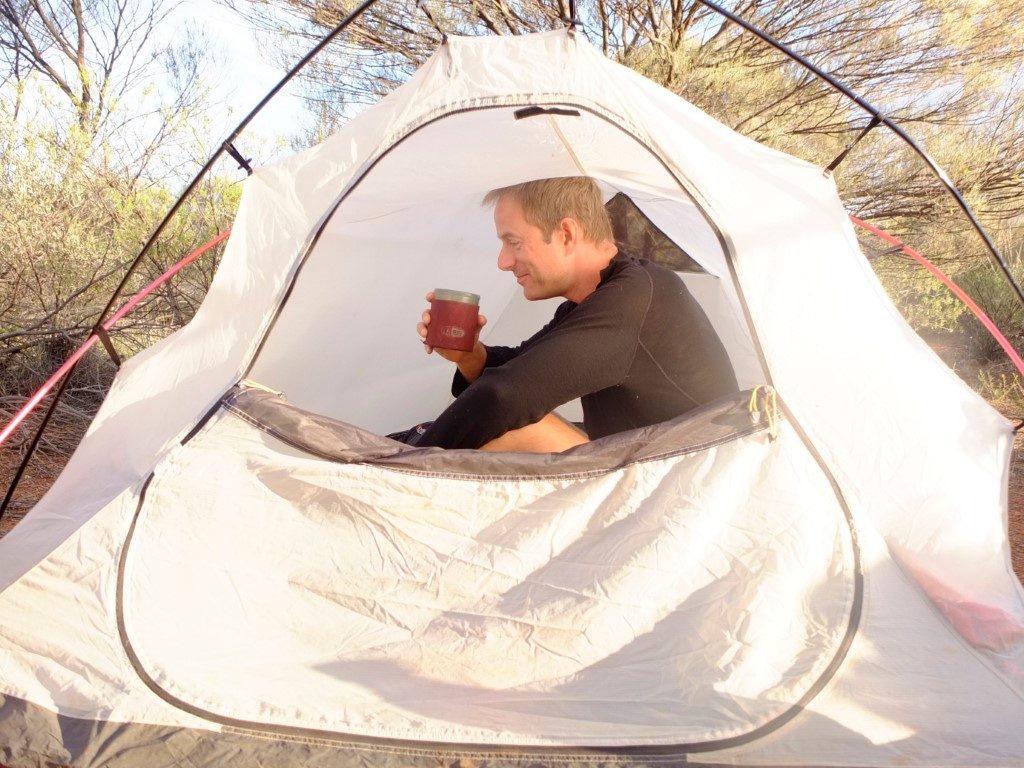 But… at dusk came the pay-off to the daily ordeal of heat, fatigue, monotony and pestilence: the Great Outback Sky Show. The Outback sky is a canvas of impossible width. High cirrus and stratus sketched an iridescent wash of purples, oranges, reds and pinks across the deepening blue firmament. The daily meteorological light show never failed to impress. We would frequently interrupt our campsite search to pause and stare skyward, too dumbstruck to talk much, just admiring the spectacle and feeling tiny.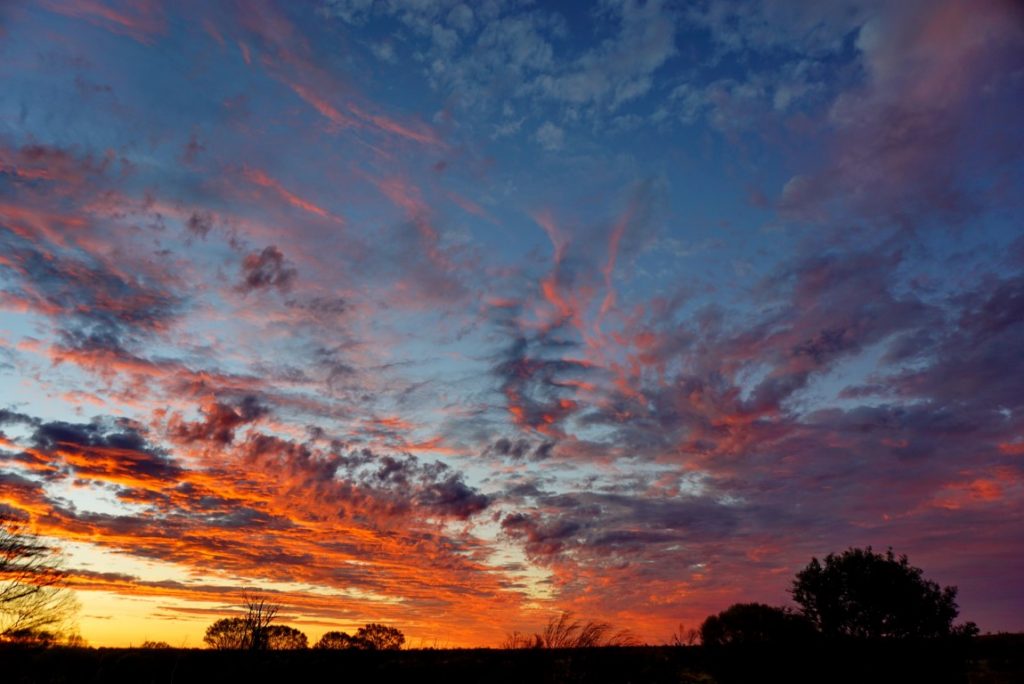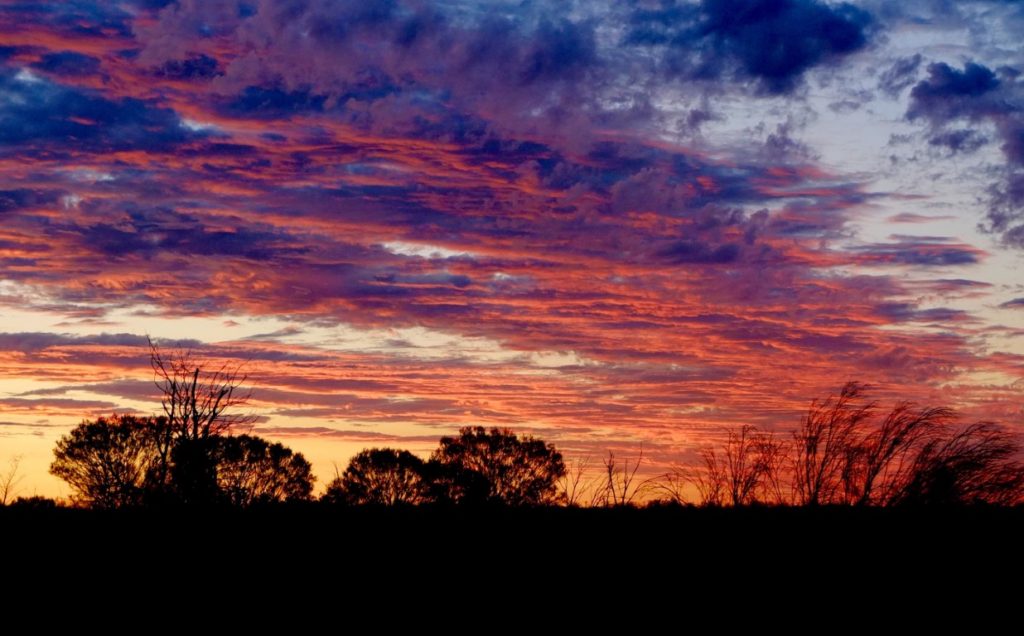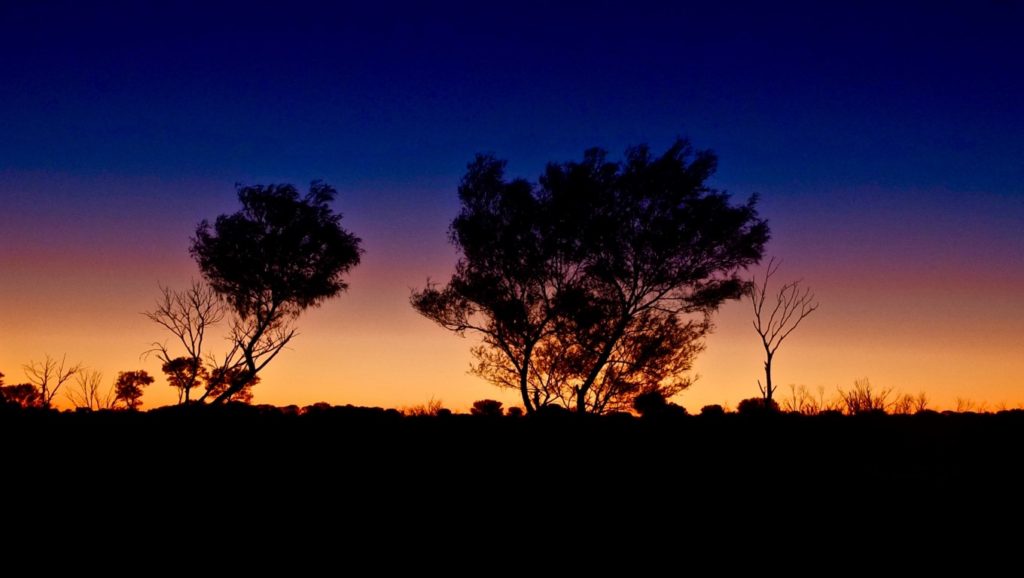 What little traffic there was on the GCR was mostly tourists in huge touring campervan rigs, and few drivers had any concept of what it was like to be passed at speed in such a dusty, gritty environment. In a welcome change from the usual 'blast' treatment, a lone ute (pick-up truck) stopped for a chat. The driver was an East Timorese who worked for a mining company. He made it his habit to stop for cyclists on the remote outback roads he patrolled. He showed us pictures on his iPad of other similar lunatics and added us to his collection. The friendly chap made our day with donations of chilled fruits from his eski box. A cold orange and apple never tasted so good in my life. We battled on to Tjukayirla Roadhouse, where a feast of giant homemade veggie burgers awaited. The lure of an air conditioned cabin was more than we could resist. We cleaned up and crashed out under the aircon, glimpsing what it must be like to live in a pod on Mars.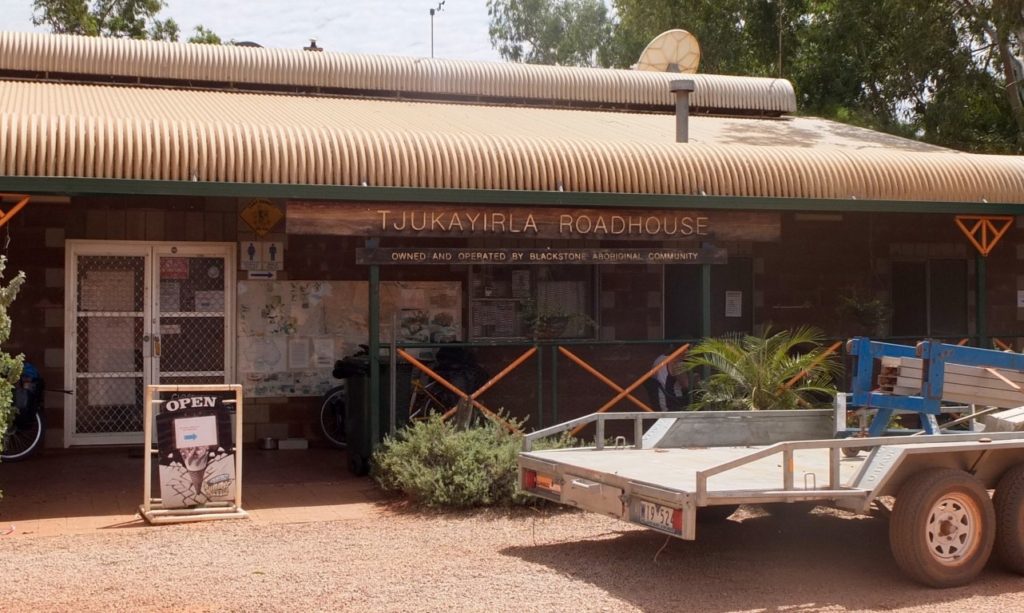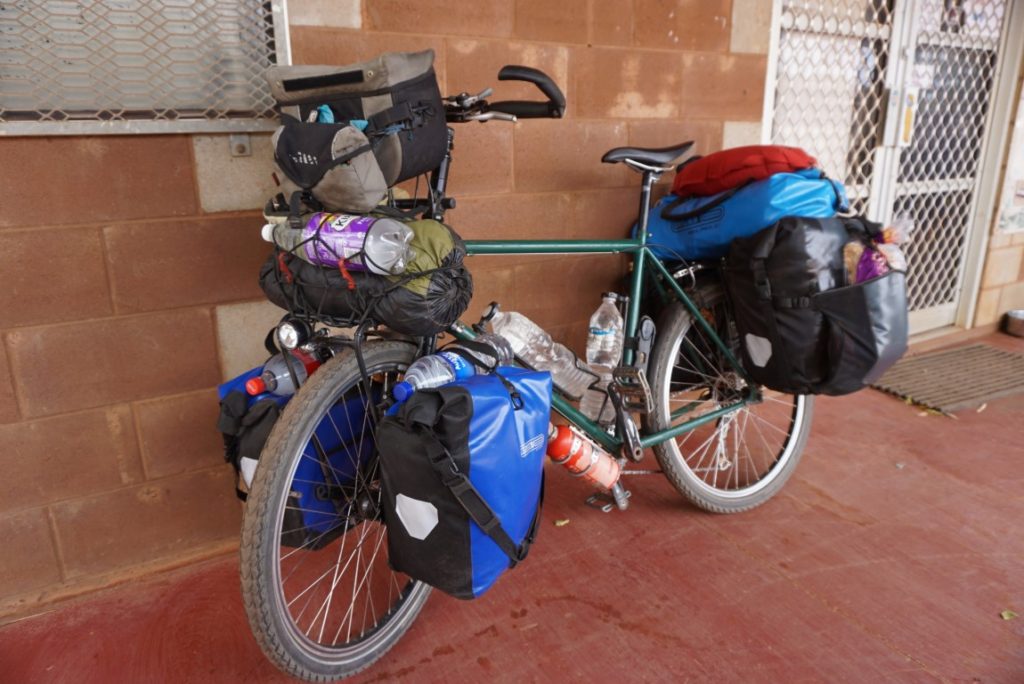 Ahead lay another daunting three day pull to Warburton, our next water and food resupply point. I quizzed the owner of the roadhouse about a few places I'd spotted on the map – the enticingly named 'Paradise Camp' and 'Desert Surf'. Were they seasonal campsites for tour groups? Any water, I asked hopefully? "Oh yeah", says the owner, nodding enthusiastically. "There's water, vending machines, they've got everything." For real?! He laughed like a drain, shaking his head at my credulity. No waterholes, just dusty pull offs.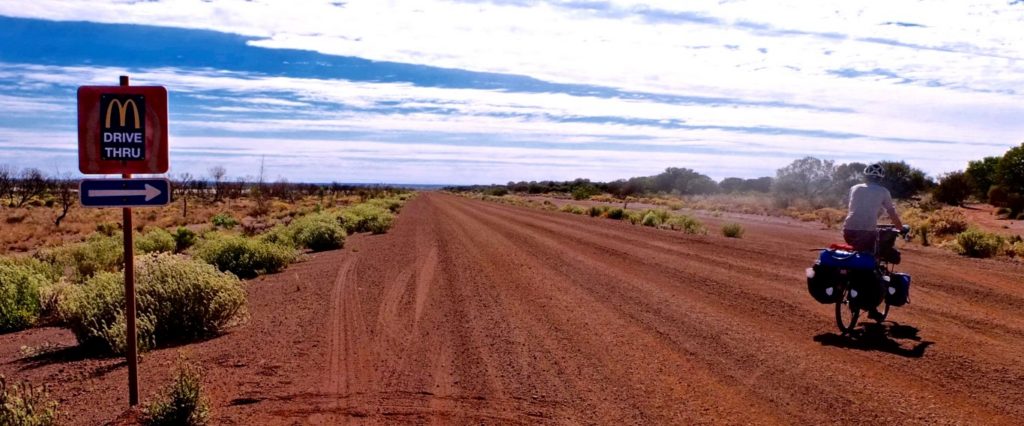 We had heard there was a well-stocked supermarket in the township of Warburton, but that we would need permission to enter the Aborginal community. Our hopeful enquiries were rebuffed at the roadhouse. The manager was nonplussed and assured us that there was no chance of our accessing the main community, the police would not allow it without an official permit, which must be obtained in advance. The security gate of the roadhouse campsite made it feel more like a compound. The mise en scene of burned out cars, litter, barking dogs and noisy engines gave the place a post-apocalyptic edginess. Virtually all outback communities in WA are strictly dry, with heavy penalties for bringing in alcohol. In place of alcoholism, these communities now suffer the blight of petrol sniffing – a particularly insidious form of substance abuse that rots the brain and face. Refilling petrol for the stove meant buying Opal fuel, as regular unleaded petrol was prohibited.
We picked over the shelves of the small service station shop to restock. As we packed our bulging panniers, passersby felt obliged to point out that 'there are easier ways to see Australia'. One woman was much more enthusiastic, and asked about our trip and whether we had managed to get everything we needed in the roadhouse. She kindly offered to drive into town for any missing luxuries we craved from the supermarket there. Leisel's persistence and genuine care made it impossible to refuse, and twenty minutes later we were fully provisioned with real coffee, olive oil and vegetables. She refused to accept payment and gave us her number in case we ran into difficulties. "We look out for each other out here," was her only explanation.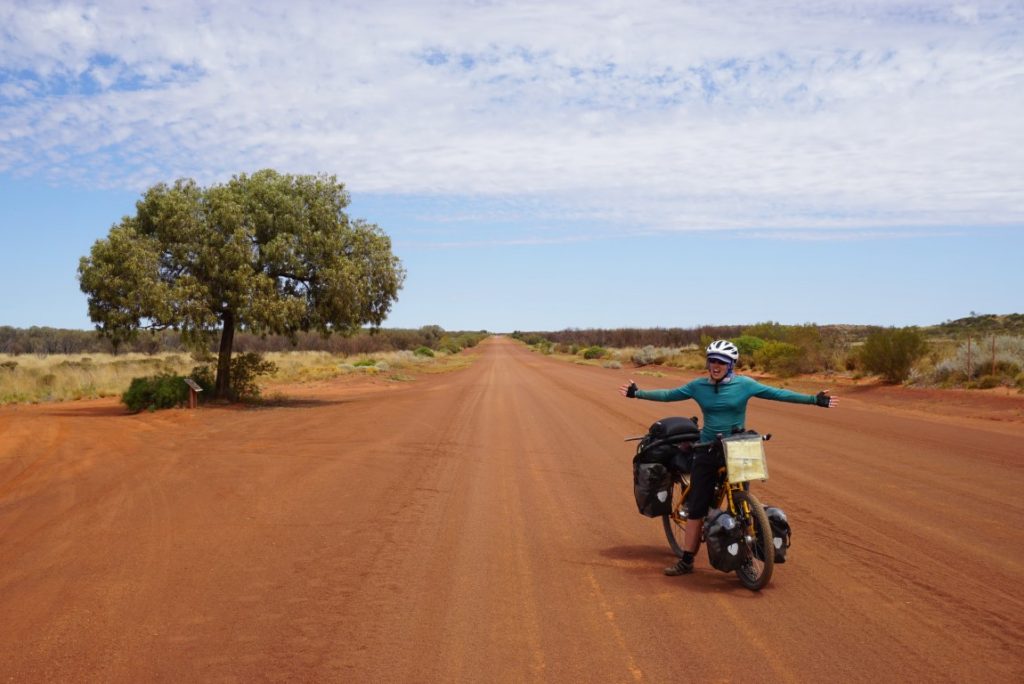 We had pushed hard to reach Warburton, covering over 80km that morning into a stiff headwind. As strong as the urge to collapse right there was, paying to camp always chafes. Unlike the 'grey nomads' in their RVs ('bitumen parasites' as we called them), we could make camp anywhere. We didn't need an electric hook-up or bathroom or gas barbecue. We scoffed fish and chips and cold sugary drinks, sneaked a free shower in the campsite ablutions block and rolled out of town. Half an hour out of town we headed into the bush a kilometre or so and settled down for another peaceful night under the stars. To be honest, I also relish the freedom and privacy of wide open spaces. There's nothing like warming your body in the first rays of morning sunlight to let you know you are alive. We struck out early next day toward Warakurna, on the third of our long, waterless stints.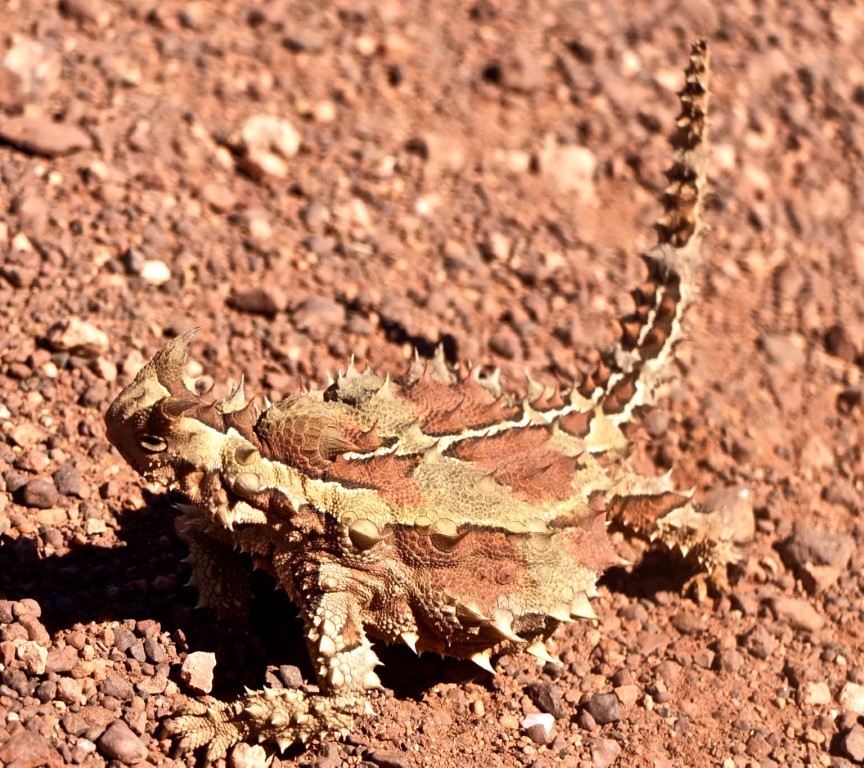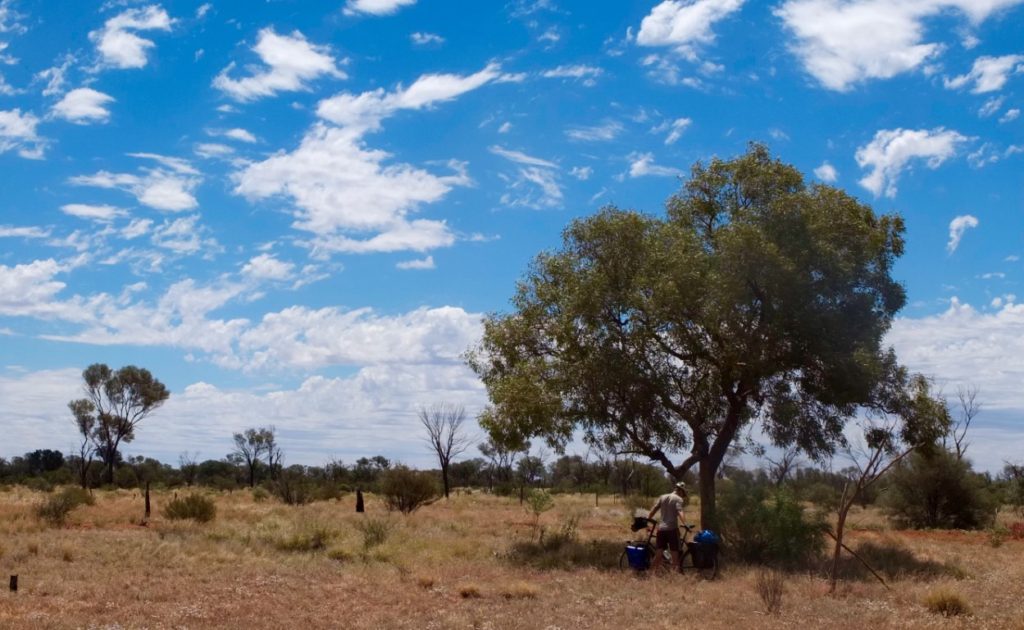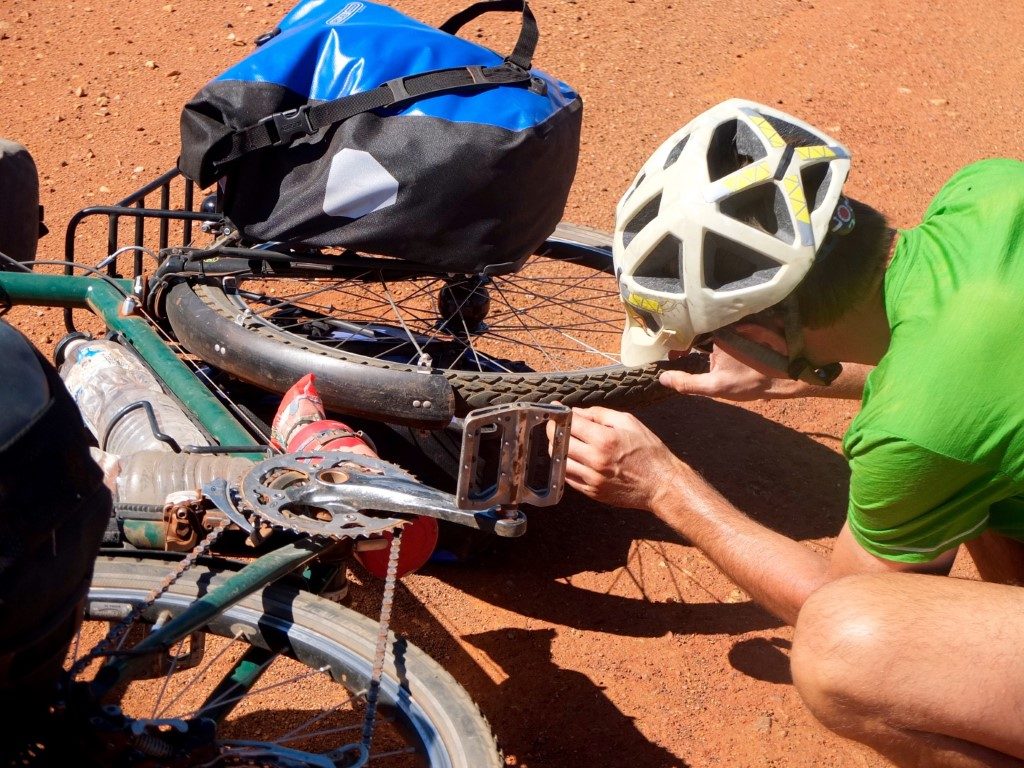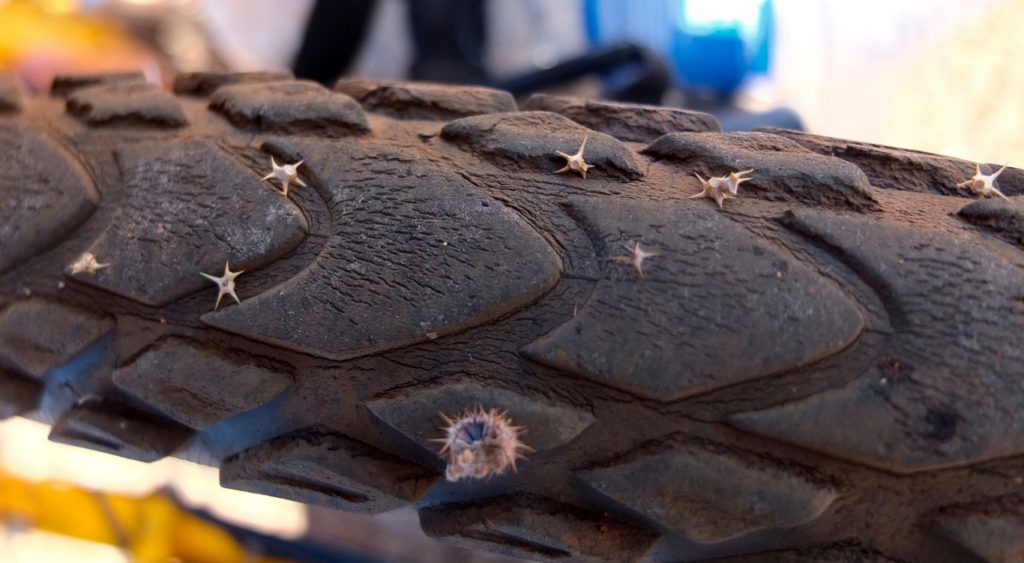 One of our logistical challenges on these big three day hops between waterholes was ensuring we arrived at the next resupply point during shop opening hours. We had ascertained that Warakurna RH would close in the early evening around 5.30pm, so we didn't go all out to get there early afternoon as we had done with Tjukayirla and Warburton, which closed much earlier. We cruised into town with a good hour or two in hand, found the roadhouse and breathed easy. I entered the shop-cum-takeaway-cum-servo and started the usual shelf-scanning. Something about the bustling of the staff told me that closing time was imminent, and they confirmed yes they were closing in 10 minutes. Although still 93km shy of the interstate border, Warakurna uses Northern Territory time, an hour-and-a-half ahead of Western Australia. A frantic scramble to gather provisions meant we had no time to deliberate whether to stay there that night. At $10 per person this was half the price of other Outback campsites. With all the campsite and facilities to ourselves it was a no brainer. We found the kitchen block was actually pretty well shaded and ventilated, with two big tables, power points and a 4G signal. A rest day here was as good as it would get anywhere in the Red Centre, so we set up office and got to work researching our next moves.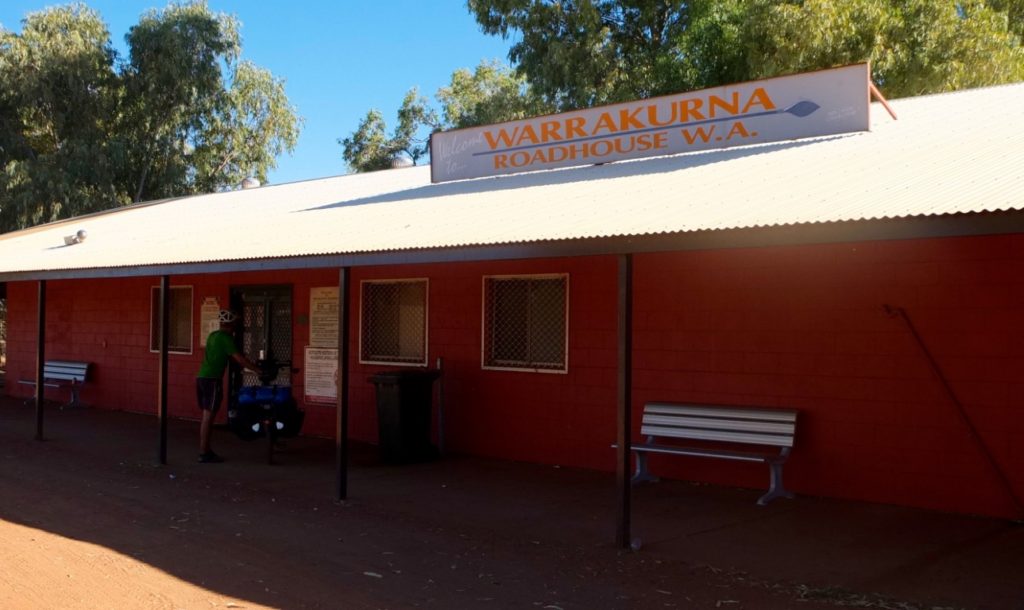 A day off was badly needed. Morale was suffering, not least because the nighttime heat had been robbing us of restful sleep for two weeks straight since leaving Kalgoorlie. I might as well admit that two days previously I had had a full on temper tantrum during a morning of atrocious road conditions, wind, heat, flies and traffic dust. During similar trials as a solo traveller, there was only the sky and earth to rail at. Here, unfortunately for her, Tara was on hand for me to vent to. To my enduring shame, I behaved like a fractious toddler. To her enduring credit, Tara handled the situation with grace and stoicism. My major beef was that the desert riding was both arduous and monotonous. For almost three weeks we had been inching through a travelling matte of spinifex, mulga, burned out cars and… nothing. I don't mind riding the rough stuff, providing there is a trade off with absorbing scenery. Mountain roads in the higher Asian ranges are seldom smooth, as they take an annual beating by harsh winters. Those roads have been some of the most rewarding of my trip, but the difficult conditions are the price you pay for spectacular mountain scenery – a fair trade off.
By contrast, Tara maintained that the sense of isolation and remoteness in the desert was its own reward. She was in her element here, so it seemed peevish to argue, but I have to admit that at the time I wasn't getting it. Oddly, in Australia I didn't get the sense of solitude that I had experienced in ostensibly less remote places on my travels. Probably this was because Tara and I were together now. But also, when occasional traffic did stop and interact with us, we were guaranteed conversation. There was no language barrier here. And then we had access to familiar food. Welcome comforts, all. My interest and motivation lay chiefly in the logistical and endurance challenges of this expedition. As it turned out, those rather arbitrary and academic considerations are not particularly sustaining in the heat of the midday sun.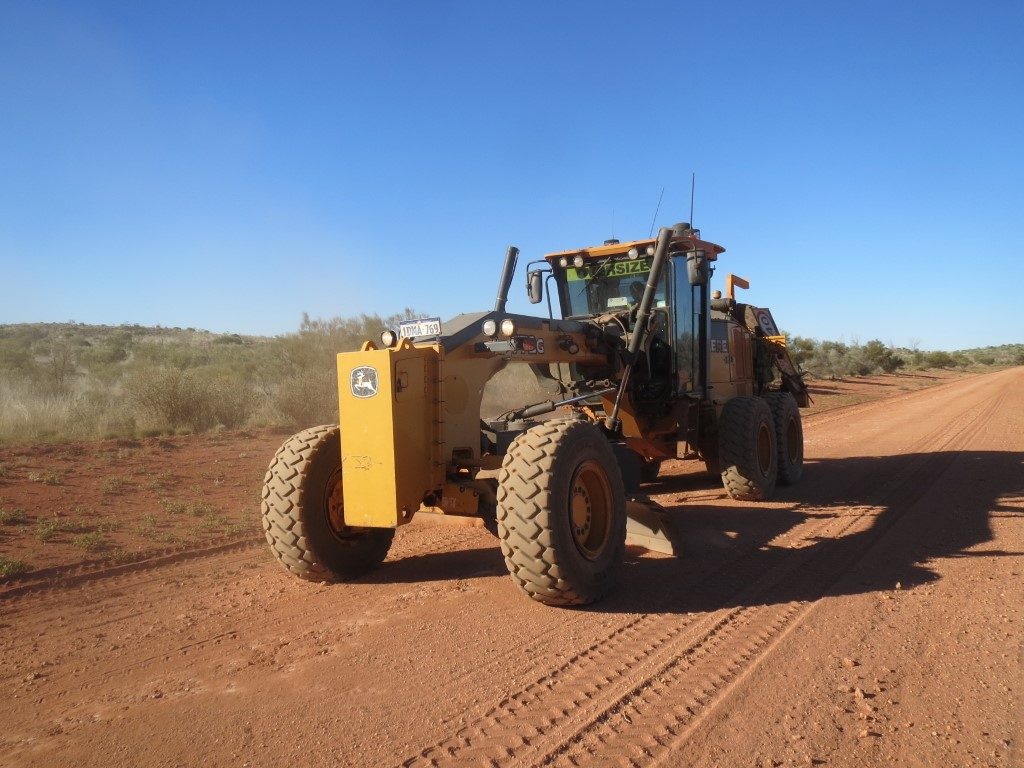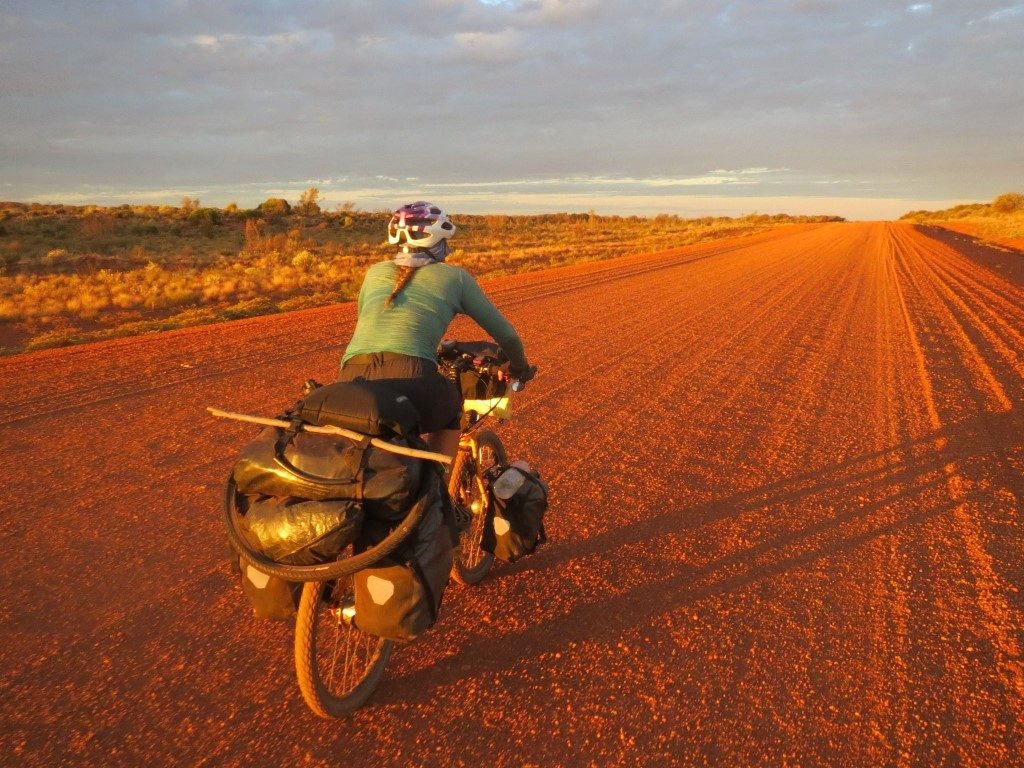 Perhaps also my mind was still on the formidable distance that sprawled ahead of us to the coast. Our intial idea to cycle all the way to Brisbane via Adelaide and Sydney was looking unachievable. At our current rate of progress, I couldn't see how we could make it to Sydney in time for Christmas, let alone Brisbane. I had left Perth happy to follow Tara's MO, but my innate preferences were much more capricious. I was used to being able to junk one route and try another if I wasn't enjoying it or if I was short on time. Now that I knew first hand what riding these desert 'roads' entailed, I strained to justify the expenditure of time and energy when there were perfectly good, smooth asphalt roads that would take us to the same destinations. Difficult discussions ensued. We researched the various route choices ahead, trying to get a feel for how strenuous the dirt roads were likely to be compared to our recent trials. Flip-flopping this way and that, we ended up with a workable compromise: we would take the Mereenie Loop to Alice, but forgo the longer detours of the Finke Road and Oodnadatta Track.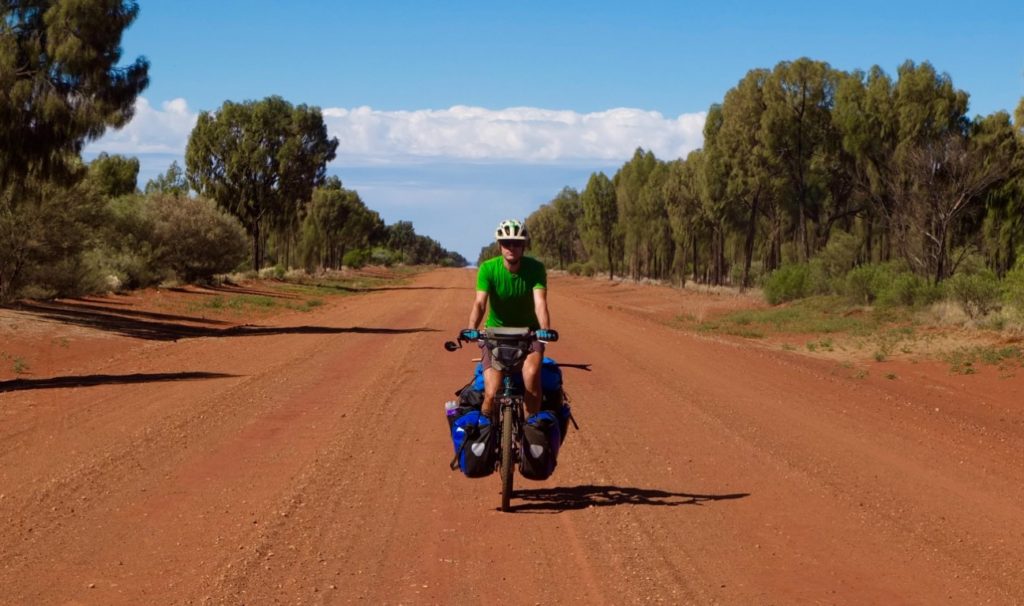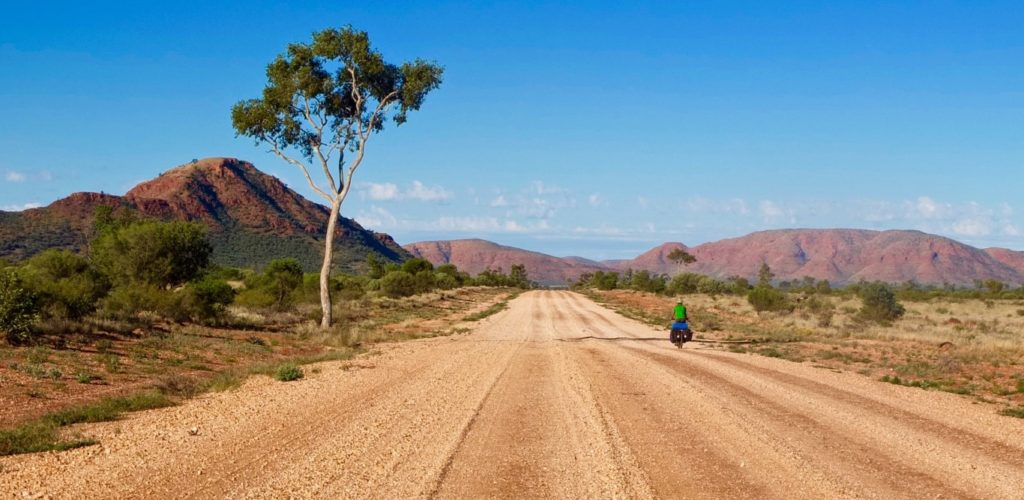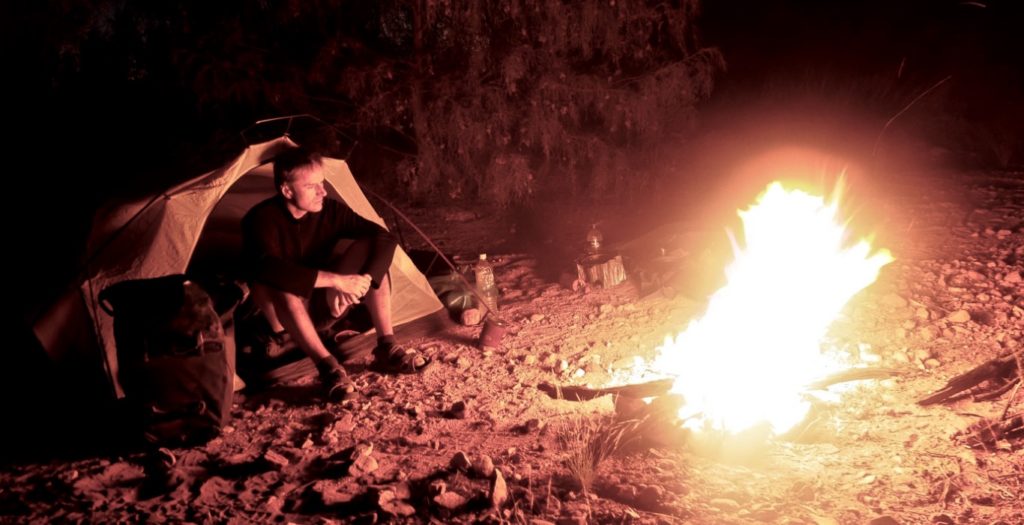 Two long days out of Warakurna, we had a resupply stop in the remote aboriginal community of Docker River. The edginess was tangible. Social deprivation was visible throughout the scruffy town. In stark contrast to the dilapidated aboriginal housing, government buildings bristled with multiple air con units, security and telecommunications apparatus. Locals answered personal calls on the badly damaged pay phone outside the solitary shop. We sat on a bench and regathered our strength after the hard push to arrive here before the noon closing time. Flies buzzed around us as we watched the listless comings and goings of this middle-of-nowhere community. Photography is strictly prohibited in Aboriginal communities, but let's be clear, these are not photogenic places in the conventional sense. The urge to document these moments photographically may come from an amateur ethnographic instinct, but I'm not convinced that is significantly more noble than prurient, voyeuristic horror at other people's misfortune. People do not look healthy or happy out there. Clothes were old and dirty. Faces careworn and overweight. Dogs raked through overturned rubbish bins. Cars screeched into the semi-desolate gas station forecourt and filled gerry cans with Opal fuel. Arguments erupted over payments. Kids are as kids are everywhere, playful and mischievous, but the light in the eyes of adults had long been extinguished.
We refilled our water bags from the town centre stand pipe and pushed off from Docker River as quickly as we could marshal our faculties. From here we had another two days of dirt riding before we regained the blacktop at Kata Tjuta, a sandstone outcrop around 50km west of its more famous cousin, Uluru. As we approached the outcrop, its many heads grew from distant golf balls to monoliths of breathtaking proportion. The sheerness and smoothness of its blank red walls and gullies lent the edifice a quasi-organic aspect, like a gargantuan, petrified colony of jellyfish, bulging impassively in the afternoon sun. Heat-induced torpor snuffed out thoughts of a day hike through the windy valleys that cut between the rocks. We spread out under the picnic shelter as tour bus after tour bus disgorged their payloads of wide-eyed twenty-something 'backpackers' and Chinese families. It was a strange experience to stagger off the GCR, wild-eyed, encrusted with salt sweat and enfeebled by the depredations of the last three weeks into the world of air-conditioned coaches and hundreds of people.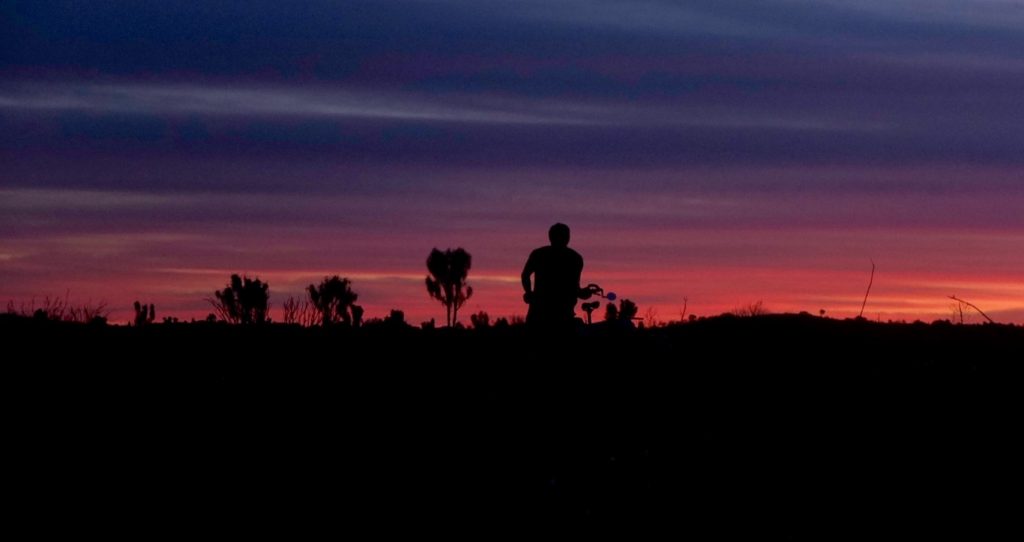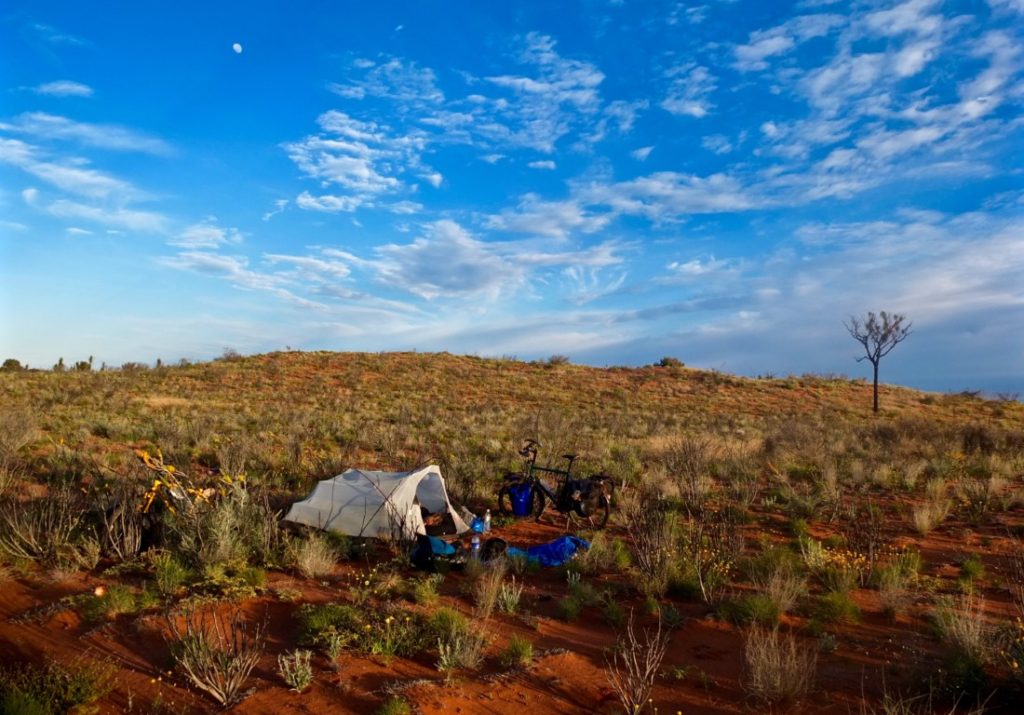 Camping amid wildflowers in the desert. Photo: T.Weir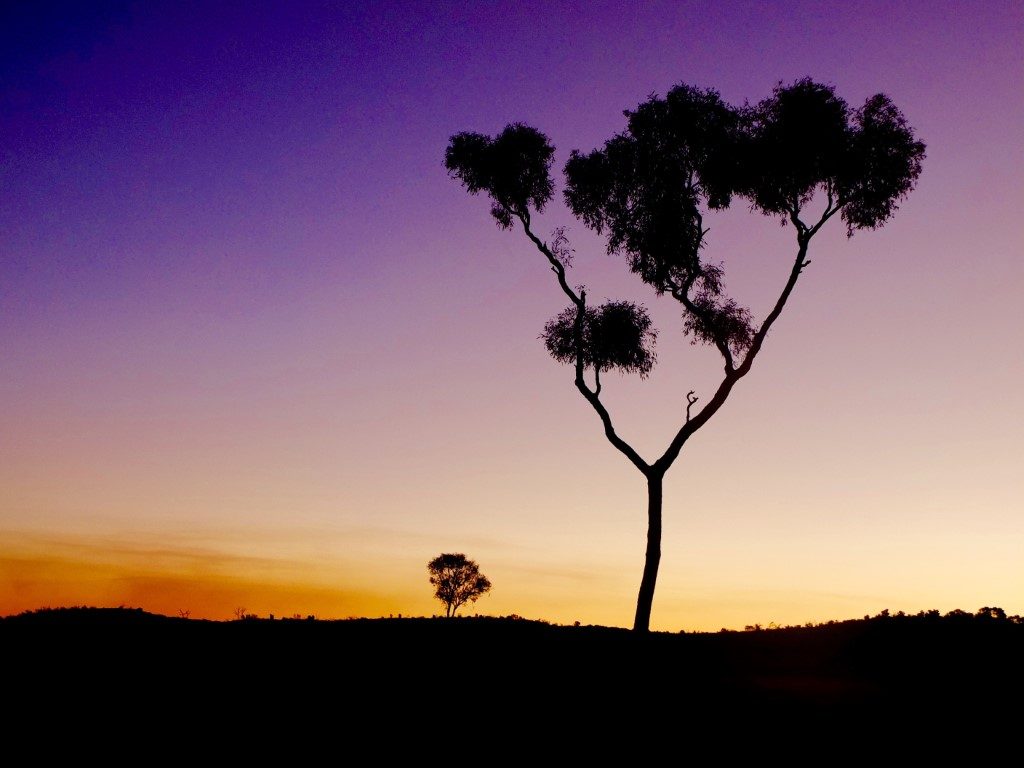 Uluru is probably the most famous and visited rock in the world. In recognition of my tendency to find over-hyped touristic draws underwhelming, I had tried to downplay the significance of visiting Uluru. Although of course we were always going to check it out, I was adamant that it wouldn't bother me if we missed it and went a different route. I was keen not to allow the destination to become the goal, to reject the Lonely Planet 'must see' approach of my former 'control-junkie' lifestyle. One of the downsides of researching everything, being on top of everything, is that you limit opportunities for discovery and serendipity. I'm not suggesting that it's feasible that anyone nowadays could just stumble on a world landmark like Uluru. But preconception is antithetical to wonder. I revile bucket lists and travel books with titles like '100 places to see before you die'. Trip itineraries based around big ticket sights have so far proved unsatisfying. Better to have a vague mental map of where all the famous stuff is, and find my way according to how I feel at the time. If I'm craving solitude, then a remote region will exert the strongest pull. If I'm finding the traffic tedious, then some time on a dirt road starts to appeal. If I've been too long in the wilderness, it's time to seek community in a hostel or with a host. To hold myself to a route plan designed around hitting bucket list sights feels unnatural. To do so negates the main advantages of bicycle touring for me – specifically freedom and flexibility.


If all this sounds like the pretentious warblings of a jaded know-all, well that's a fair cop. Disingenuous though it may be, the mental trick worked. My expectations for Uluru remained low and the occasion of arriving there was about as natural and unburdened by anticipation as could realistically be hoped for. And it genuinely did impress. We had been tracking slowly across the flat expanse of the Great Victoria Desert desert for three weeks by this point. On a horizon untroubled by hill or peak, Uluru dominates the plain. Visible from 50km away, its colossal bulk exerted a palpable gravity on us. Out there on that endless plain, the Rock broods like a sleeping beast. Arriving by bicycle allows you to absorb the enormity of the scene. Perspective shifts as you slowly, inexorably, zoom in. Close enough to peruse its fissures and convexities, the monolith's shape resolved repeatedly into different forms before our eyes. A caterpillar, a grub, a sloth, various bodily appendages.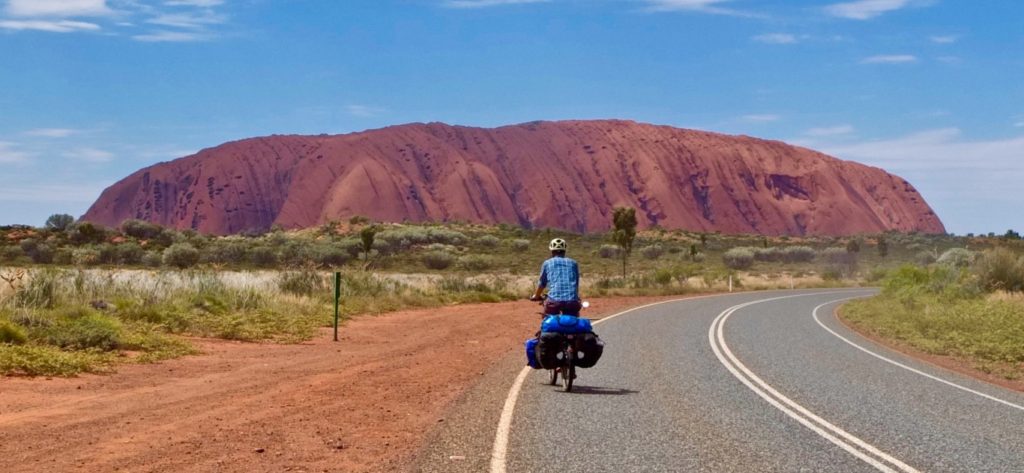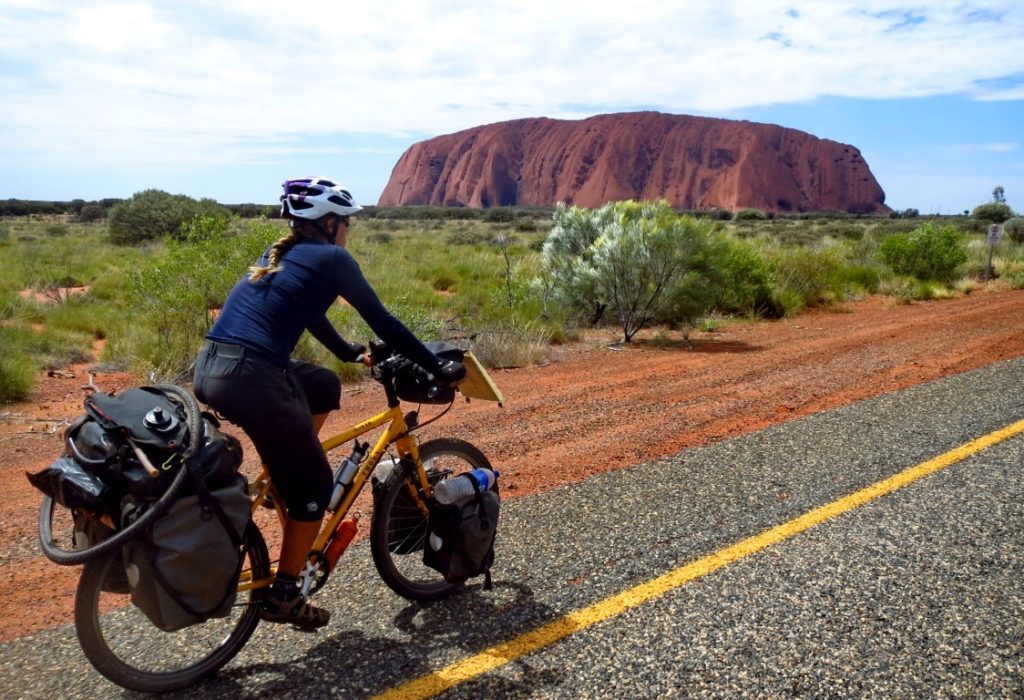 In Asia, coming out of the wilderness into a town one feels conspicuous because of one's skin colour, novel mode of travel and and wealth. Conversely, in Australia, one stands out simply for being dirty. The resort town of Yulara centres around a tiny mall of souvenir shops, tour company offices, a decent supermarket and pricey restaurants catering for tourists who come to see Uluru. We sat in a pizza restaurant beside overweight, groomed hotel guests. But we were too hungry to give two hoots what anyone thought. Long distance bicycle touring works wonders to reset your personal appearance standards and prioritise what's important: food and rest!
Twenty kilometres or so east of Yulara a series of rolling dunes offered views of Uluru. Signs at every access point declared the bush Native Title Land, and listed the penalties for trespass. After passing several such tracks we saw one that had no 'keep out' sign. There were no fresh tyre tracks and no reason to expect that anyone would come out here off season (we were well into summer now), especially on a night with heavy rain forecast. We scouted about and pitched below a huge dune. The wind had intensified and the storm was visibly tracking eastwards over the plain. Above us, an armada of grumbling thunderheads lumbered across an El Greco canvas of a sky, spitting lightning in their wake. We clambered up the giant dune and gazed out over a sea of dense bush all the way to Uluru and Kata Tjuta, awestruck by the scale of it. The Outback was starting to win me over.